KEDUDUKAN JANDA DALAM HUKUM WARIS ADAT PADA MASYARAKAT PARENTAL
Eka Susylawati

Dosen Tetap Jurusan Syari'ah STAIN Pamekasan
Abstract views:
280
,
PDF downloads:
1258
Abstract
The field of succession law in Indonesia up to now prevails law
pluralism in which Islamic succession, custom succession and
western succession law (Burgerlijk Wetboek) exist in society.
Among those succession laws, the custom succession one is the
most dominant law in society. The custom law that has dynamic
characteristics also influences to the status of widow to the
legacy oh her late husband, that from time to time it changes. In
parental society, in the early (before RI freedom), a widow was
not a heir, then the next development, the widow inherit the
legacy of her late husband although the change has not received
well. The cause of the change is the awareness of society in
respecting the status of the widow and also because the most
Indonesian society are Islam that develops the custom
succession law influenced by Islamic law.
Downloads
Download data is not yet available.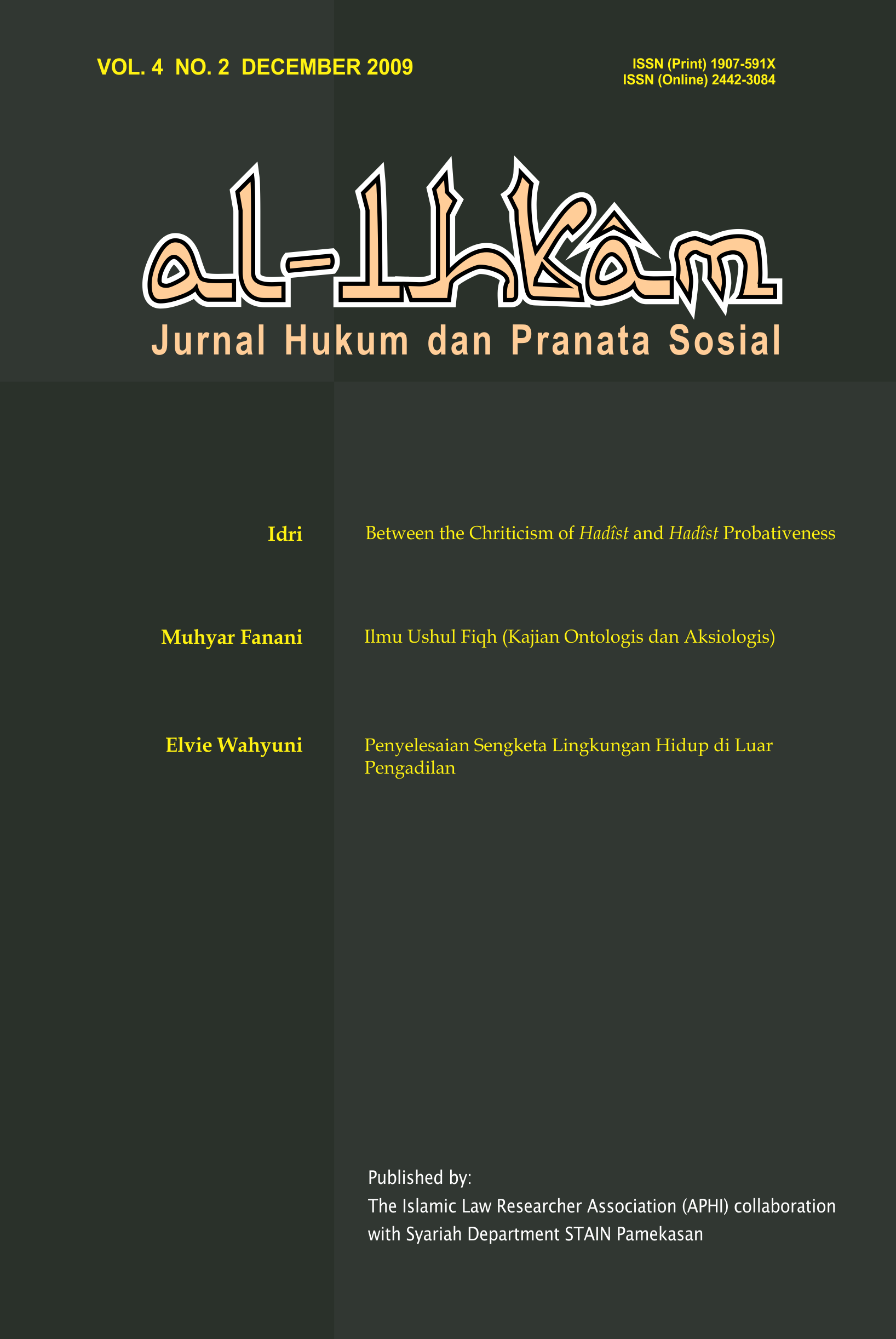 Publishing your paper with Al Ihkam (Jurnal Hukum & Pranata Sosial/Journal of Law & Social Studies) means that the author or authors retain the copyright in the paper. Al Ihkam granted an exclusive non commercial reuse license by the author(s), but the author(s) are able to put the paper onto a website, distribute it to colleagues, give it to students, use it in your thesis etc, so long as the use is not directed at commercial advantage or toward private monetary gain. The author(s) can reuse the figures and tables and other information contained in their paper published by Al Ihkam in future papers or work without having to ask anyone for permission, provided that the figures, tables or other information that is included in the new paper or work properly references the published paper as the source of the figures, tables or other information, and the new paper or work is not direct at private monetary gain or commercial advantage.
Al Ihkam journal (Journal of Law & Social Studies) provides immediate open access to its content on the principle that making research freely available to the public supports a greater global exchange of knowledge. This journal is licensed under a Creative Commons Attribution-ShareAlike 4.0 International License.This license lets others remix, tweak, and build upon your work non-commercially, and although their new works must also acknowledge & be non-commercial, they don't have to license their derivative works on the same terms.

Al Ihkam journal Open Access articles are distributed under this Creative Commons Attribution-ShareAlike 4.0 International License (CC BY-SA). Articles can be read and shared for noncommercial purposes under the following conditions:
BY: Attribution must be given to the original source (Attribution)
NC: Works may not be used for commercial purposes (Noncommercial)