Nikah Sirri Perspektif Maqashid Syariah
Muhamad Taufiq

International Islamic University Malaysia, Jalan Gombak, 53100, Selangor, Malaysia
Abstract views:
535
,
PDF downloads:
1101
Abstract
Nikah sirri menimbulkan pro kontra di berbagai lapisan masyarakat, dari ulama, praktisi hukum hingga tokoh masyarakat. Perbedaan pendapat ini karena perbedaan persepsi. Ulama melihat dari sisi legalitas Syariah, praktisi hukum berpedoman pada Kompilasi Hukum Islam, sedangkan tokoh masyarakat lebih melihat kepada tatanan sosial. Paper ini mencoba mengkaji hukum Nikah Sirri perspektif Maqashid Syariah dengan mempertimbangkan antara maslahat dan mafsadat dalam kajian filsafat hukum Islam. (Sirri marriage raises the pros and cons in various walks of life, from scholars, legal practitioners to community leaders. This difference of opinion is due to differences in perception. Ulama see in terms of Sharia legality, legal practitioners are guided by the Compilation of Islamic Law, while community leaders look more at social order. This paper tries to examine Sirri's marriage law perspective Maqashid Sharia by considering between maslahat and mafsadat in the study of Islamic legal philosophy.)
Downloads
Download data is not yet available.
References
Ahmad Al-Hamwy, Al-Mishbah al-Munir, Beirut: al-Maktabah al-Ilmiyah, tc, tt.
Ahmad ibn Umar al-Syathiri al-Yamany, Yaqut al-Nafis, Demasyqus: Muassasah al-Risalah Nasherun, cet. I, tt..
Alauddin al-Kasany, Badai' Shona-i', Beirut: Dar al-Kutub al-Ilmiyah, cet. 2, 1986 M/1406 H.
Al-Bayhaqi, al-Sunan al-Kubra, India: Dairah al-Ma'arif al-Ustmaniyah, cet. 1, 1344 H.
Al-Ghazaly, al-Mustashfa, Beirut: Dar al-Kutub al-Ilmiyah, cet. 1, 1993 M/ 1413 H.
Al-Mahally, Syarh al-Jalal Mahally 'ala Jam'i al-Jawami', Beirut: Dar al-Kutub al-Ilmiyah, tt, tc..
Al-Manawi, Faidhu al-Qadir, Mesir: al-Maktabah al-Tijariyah al-Kubra, cet. 1, 1356 H.
Al-Syatiby, al-Muwafaqat, Dar Ibnu Affan, cer. 1, 1997 M/1417 M.
Ibnu Asyur, Maqashid al-Syariah al-Islamiyah, Yordania; Dar al-Nafais, cet. II, 1421 H/ 2001 M.
Ibnu Qudamah, al-Mughni, Kairo: Maktaba al-Qahirah, tc. 1968 M/1388 H.
Imam al-Tirmidzi, Sunan al-Tirmidy, Mesir: al-Halby, cet. II, 1975 M/ 1395 M.
Imam Malik, al-Muwaththa', Demasyqus: Dar al-Qalam, cet. I, 1991 M/ 1413 H.
Kamus Al-Munawwir aplikasi offline.
Malik al-Madani, al-Mudawwanah, Beirut: Dar al-Kutub al-Ilmiyah, 1994 M/ 1415 H.
Muhammad al-Dasuqi, hasiyah al-Dasuqi, Beirut: Dar al-Fikr, tc, tt.
Muhammad al-Mawardi, al-Hawi al-Kabir, Beirut: Dar al-Kutub al-Ilmiyah, cet. 1, 1999 M/ 1419 H.
Syamsuddin al-Ru'ayni, Mawahibu al-Jalil, Beirut: Dar al-Fikr, cet. III, 1992 M/ 1412 H.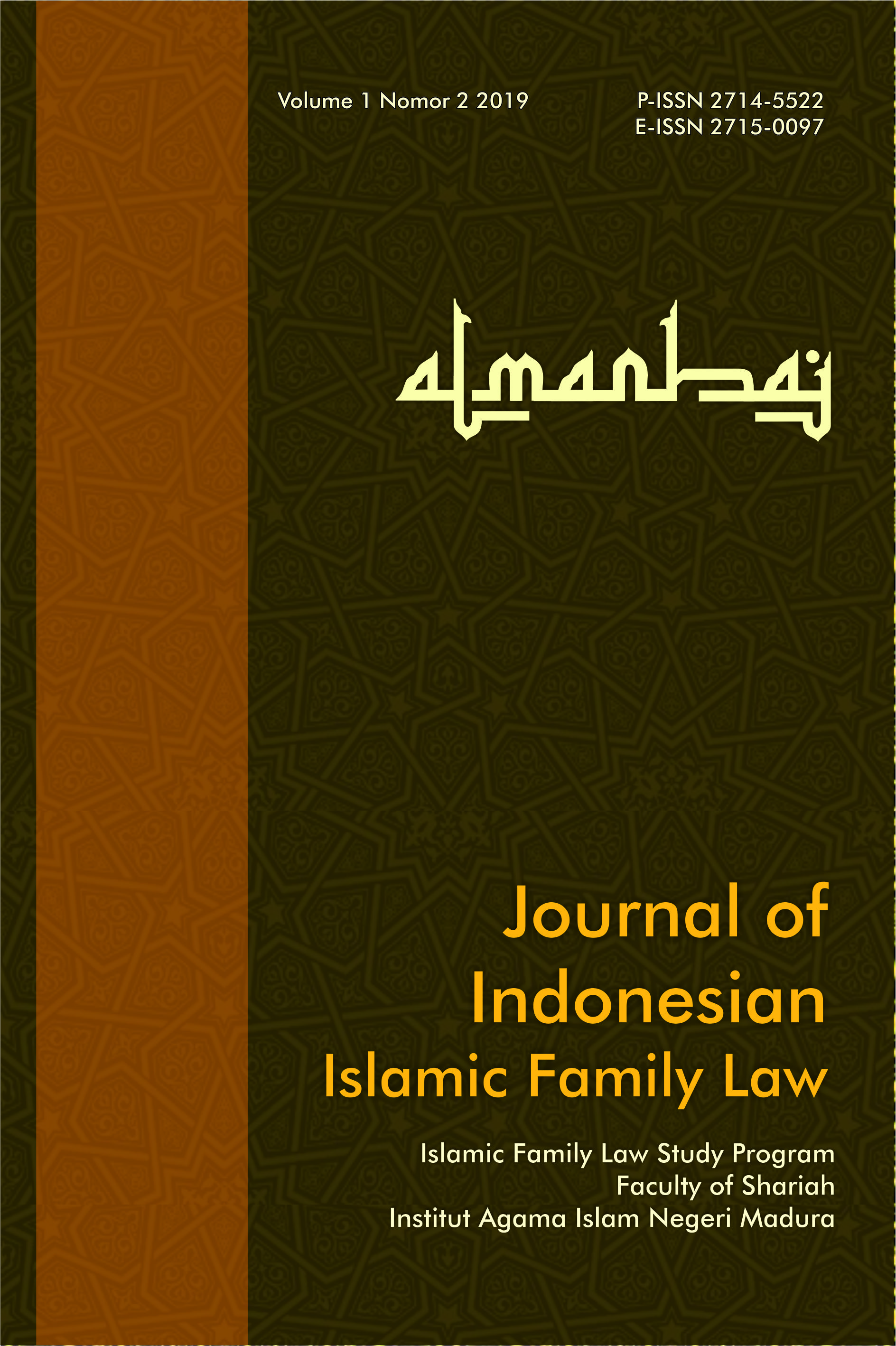 How to Cite
Taufiq, M. (2019). Nikah Sirri Perspektif Maqashid Syariah. Al-Manhaj: Journal of Indonesian Islamic Family Law, 1(2), 114-123. https://doi.org/10.19105/al-manhaj.v1i2.3138