The Dynamics Of Illegitimate Child Status In Sharia And National Law Of Indonesia: Is There A Harmonization?
Ahmad Rizza Habibi

International Islamic University of Malaysia
Abstract views:
180
,
PDF downloads:
246
Abstract
Putusan Mahkamah Konstitusi Nomor 46/PUU-VIII/2010 adalah upaya reformasi hukum. karena menilai anak di luar nikah memiliki status yang sama dengan anak lainnya. meski terdapat ketidakharmonisan antara keputusan dan pengaturan bagi anak yang lahir di luar nikah akibat zina dalam hukum Islam. Artikel ini mengungkap peran Majelis Ulama Indonesia (MUI) terhadap proses harmonisasi hukum. Putusan ini menerapkan konsep Sadd al-Dzari'ah untuk menutupi kemungkinan zina sekecil apa pun sekaligus melindungi hak-hak anak. (The decision of the Constitutional Court Number 46/PUU-VIII/2010 is an effort to reform the law because they judge that children out of wedlock have the same status as other children. However, disharmony exists between decisions and arrangements for children born out of wedlock due to adultery in Islamic law. This article reveals the Indonesian Ulama Council (MUI) legal harmonization process. However, this decision applies the concept of Sadd al-Dzari'ah to cover the slightest possibility of adultery while protecting children's rights.)
Downloads
Download data is not yet available.
References
Al-Jaziry, Abdurrahman, Al-Fiqh 'Ala al-Madzahib al-Arba'ah. Beirut: Dar al-Kutub al-Ilmiyyah, 2003.
Al-Syâthibî, al-Muwâfaqât, t.tp: Dâr ibn Affân, 1997
Gawas, Vijay M, Doctrinal legal research method a guiding principle in reforming the law and legal system towards the research development. International Journal of Law, Vol 3, 2017.
Irfan, M. Nurul, "Anak Luar Nikah Pasca Putusan Mahkamah Konstiusi Perspektif Konsep Nasab dalam Hukum Islam", Vol. 16, No. 1, Juni, 2012.
Irfan, M. Nurul, Nasab Dan Status Anak Dalam Hukum Islam, Jakarta: Amzah, 2013.
Kamali, Hashim, "Sharī'ah and Civil Law: Towards a Methodology of Harmonization", Islamic Law and Society Journal, Vol. 14, No. 3, 2007.
Kusum, "Rights and Status of Illegitimate Children", Journal of the Indian Law Institute, Vol. 40. No. 1/4, 1998.
Manan, H. Abdul, Pembaruan Hukum Islam di Indonesia, Depok: Kencana, 2017.
Salim, Zafrullah, Kedudukan Fatwa dalam Negara Hukum Republik Indonesia, Puslitbang lektur dan Khazanah Keagamaan, 2012, Fatwa Majelis Ulama Indonesia (MUI) dalam Perspektif Hukum dan Perundang-undangan, Badan Litbang dan Diklat Kementerian Agama, Jakarta.
Taufiki, Muhammad, Konsep Nasab, Istilhaq, dan Hak Perdata Anak Luar Nikah. Al-Ahkam, Vol. XII, No. 2, 2012.
Decision of Constitutional Court Number 46 / PUU-VIII / 2010.
Fatwa of Indonesian Council of Ulama (MUI) Number 11 of 2012.
https://www.hukumonline.com/klinik/detail/lt55ed743e643cb/pengajuan-itsbat-nikah-demi-kepentingan-anak-hasil-kawin-siri, accessed on 10 November 2020.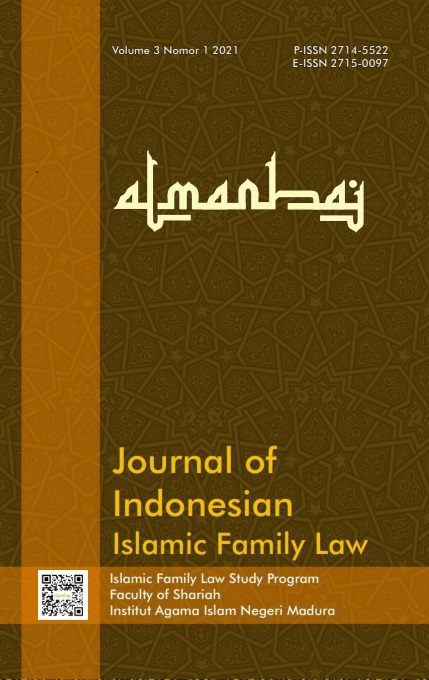 How to Cite
Habibi, A. R. (2021). The Dynamics Of Illegitimate Child Status In Sharia And National Law Of Indonesia: Is There A Harmonization? . Al-Manhaj: Journal of Indonesian Islamic Family Law, 3(1), 70-80. https://doi.org/10.19105/al-manhaj.v3i1.4787