Hukum Poligami: Analisis Komparatif Terhadap Pemikiran Musdah Mulia Dan Muhammad Syahrur
Abdurrahman Muqsith

UIN Maliki Malang

Sudirman

Pascasarjana UIN Maulana Malik Ibrahim Malang

Fadil Sj

Pascasarjana UIN Maulana Malik Ibrahim Malang
Abstract views:
293
,
PDF downloads:
201
Keywords:
Polygamy Law, Legal Istinbat, Thought, Comparative
Abstract
This study focuses on the law of polygamy by comparing the thoughts of two contemporary scholars, namely Musdah Mulia and Muhammad Syahrur in punishing polygamy so that the results obtained are Musdah punishing polygamy Haram Lighairihi provided that the fair conditions given in polygamy are impossible to implement in the present because the obligation to act fairly lies in the biological realm. Meanwhile, Muhammad Syahrur argues that polygamy is lawful and in certain situations polygamy is recommended to be carried out with the consideration that polygamy justice is only limited to the social realm of society so that being fair can still be realized in the practice of polygamy. In addition, the difference between the two figures lies in the legal istinbat used, where Musdah uses the Maudu'i interpretation method, while Syahrur uses the tahlili interpretation method.
Downloads
Download data is not yet available.
References
Andawati, "Hakikat Interpretasi Muhammad Syahrur Tentang Poligami dan Relevansinya Dengan Hukum Perkawinan Nasional", Al-Risalah Jurnal Hukum Keluarga Islam, Vol. II, Juli - Desember 2016
Dzakir, Syahiron Syamsuddin, Burhanuddin, Prinsip dan Dasar hermeneutika Hukum Islam komtemporer, (Yogyakarta: aLSAQ Press, 2007)
Harahap, Syahrini, Metodologi Studi Tokoh Islam, (Jakarta: Prenada Media Group. 2011)
Hidayat, Riyan Erwin, "Poligami Menurut Wahbah Az-Zuhaili dan Muhammad Syahrur", Jurnal Tana Mana, Vol. 1, No. 2, Desember 2020
Makmun, Rodli, dkk, Poligami dalam Tafsir Muhammad Syahrur, (Ponorogo: Stain Ponorogo Press, 2009)
Mulia, Musdah, Islam Menggugat Poligami, (Jakarta: PT Gramedia Utama; 2004)
Sakeria, Muhammad, dkk, "Hermeneutika Musdah Mulia Terhadap Ayat Poligami", Al Amin: Jurnal Kajian Ilmu dan Budaya Islam, Vol. 4, No. 01, 2021
Soekanto, Soerjono, Pengantar Penelitian Hukum, (Jakarta: UI-Press, 2010)
Sufyan, Akhmad Farid Mawardi. "Analisis Terhadap Tingginya Nikah Siri Di Kabupaten Pamekasan." Al-Manhaj: Journal of Indonesian Islamic Family Law 1, no. 2 (2019): 161–95.
Sufyan, Akhmad Farid Mawardi, and Badruddin Amin. "Pandangan Masyarakat Desa Panempan Terhadap Pelaksanaan Akad Nikah Pada Bulan Muharram." Al-Manhaj: Journal of Indonesian Islamic Family Law 3, no. 1 (2021): 54–69.
Syahrur, Muhammad, Al Kitab wa Al Qur'an Qira'ah Mu'atsirah, (Damaskus: Dar Ahali, 1990)
Ulfiyati, Nur Shofa, "Pemikiran Muhammad Syahrur (Pembacaan Syahrur Terhadap Teks-Teks Keagamaan)", Jurnal Et-Tijarie, Volume 5, Nomor 1 2018
Yusefri, "Hukum Poligami Menurut Siti Musdah Mulia (Suatu Tinjauan Metodologis)", Jurnal Mizan; Jurnal Ilmu Syariah, FAI Universitas Ibn Khaldun (UIKA) Bogor Vol. 3 No. 2 (2015)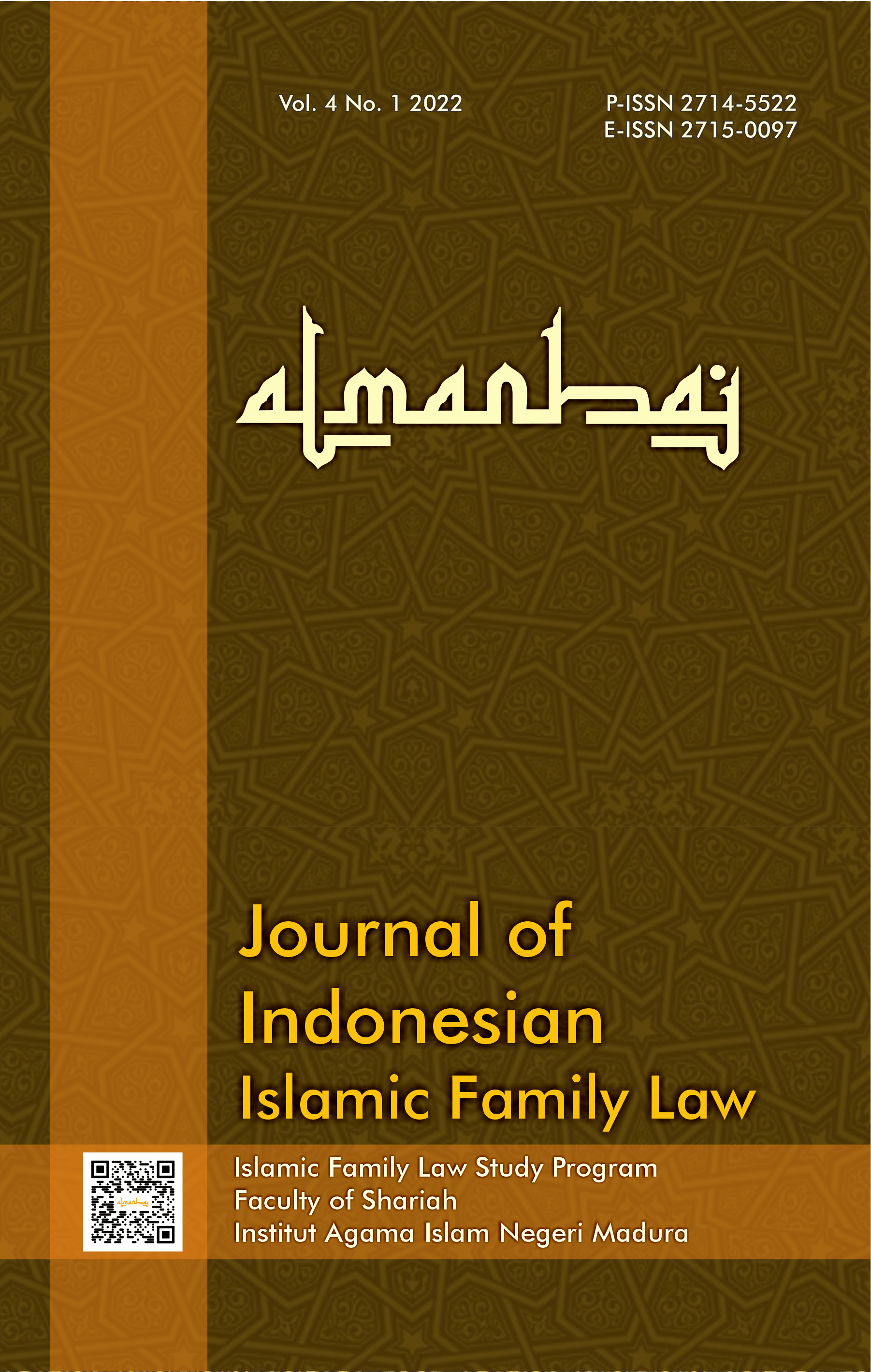 How to Cite
Muqsith, A., Sudirman, & Fadil Sj. (2022). Hukum Poligami: Analisis Komparatif Terhadap Pemikiran Musdah Mulia Dan Muhammad Syahrur. Al-Manhaj: Journal of Indonesian Islamic Family Law, 4(1), 52-65. https://doi.org/10.19105/al-manhaj.v4i1.6153
Copyright (c) 2022 Al-Manhaj: Journal of Indonesian Islamic Family Law
This work is licensed under a Creative Commons Attribution-ShareAlike 4.0 International License.