Multiparadigma Sosiologi Hukum Keluarga Islam
Abstract views:
335
,
PDF downloads:
652
Abstract
This paper elaborate various paradigms in contradictory and relatively ambiguous in sociological of Islamic family law in Indonesia. The discussion will be focused on the paradigm of the sociology of law and developed on the Islamic law also its implication in social aspects. By using an interdisciplinary approach with a normative-juridical study, the aim of this paper is to solve various social problems. This model is very crucial to be carried out immediately. The result show that the paradigms provide several new points of view and very useful in solving various problems in the study of administrative of marriage, inheritance and the age of marriage
Downloads
Download data is not yet available.
References
Abdul Haq Syawqi. Sosiologi Hukum Islam. Pamekasan: Duta Media Publishing, 2019.
Ahmad Tholabi Kharlie. Hukum Keluarga Indonesia. Jakarta: Sinar Grafika, 2013.
Amran Suadi. Sosiologi Hukum ; Penegakan, Realitas, Dan Nilai Moralitas Hukum. Jakarta: Prenada Media Group, 2018.
Dawood el Alami dan Doreen Hinchcliffe. Islamic Marriage and Divorce Laws of the Arab World. London: Kluwer Law International, 1996.
Dean Alfange Jr. "Jeremy Bentham and the Codification of Law." Cornell Law Review 555, no. 1 (1969).
Dkk, Gaib Hakiki. Pencegahan Perkawinan Anak : Percepatan Yang Tidak Bisa Ditunda. Edited by Nur Sahrizal dkk. Jakarta: BPS, UNICEF, PUSKAPA, 2020.
Erick Eckholm and Kathleen Newland. Perempuan, Kesehatan Dan Keluarga Berencana. Edited by Masri Maris dan Ny Soekarno. Jakarta: YOI dan Sinar Harapan, n.d.
George Ritzer. Sosiologi Ilmu Pengetahuan Berparadigma Ganda. Edited by Alimandan. 2nd ed. Jakarta: Rajawali Pers, 2016.
Goodman, George Ritzer-Douglas J. Toeri Sosiologi Modern. Jakarta: Prenada Media, 2004.
Harriet Martineu. The Positive Philosophy Of Augute Comte. New York: Cambridge University Press, 2009.
Hazairin. "Hukum Kewarisan BIlateral Menurut Al Quran." Jakarta: Tinta Mas, 1964.
J. N. D. Anderson. Islamic Law in the Modern World. New York: New York University Press, 1959.
Khallaf, Abd. Wahhab. 'Ilm Ushul Al Fiqh. Kairo: Maktabah al-Da'wah al-Islamiyah, 1942.
Khoiruddin Nasution. Pengantar Dan Pemikiran Hukum Keluarga (Perdata) Islam Indonesia. Yogyakarta: Acdemia & Tazzafa, 2007.
Michael S Northcott. "Pendekatan Sosiologis." In Aneka Pendekatan Studi Agama, edited by Peter Connolly. Yogyakarta: LKiS Yogyakarta, 1999.
Muhammad ibn Nashr Al Marwazi. Ikhtilaf Ulama. Beirut: 'Alim Kutub, 1985.
Puskumham UIN Jakarta dan Ditbinbapera Depag RI. "Studi Kebijakan Pencatatan Perkawinan Dan Perceraian: Laporan Penelitian Perilaku Perceraian Masyarakat Di Kabupaten Lebak Provinsi Banten." Jakarta, 2002.
Qarafi, Shiahabuddin Ahmad Idris Al. Al Dakhirah. Beirut: Dar al Gharb, 1994.
Ridla, M Rasyid. "Sosiologi Hukum Islam (Analisis Terhadap Pemikiran M. Atho' Mudzhar)." Al Ihkam : Jurnal Hukum Dan Pranata Sosial 7, no. 2 (2012).
Sarakhsy, Al. Al Mabsuth, 1989.
Satjipto Rahardjo. Hukum Dalam Perspektif Sosial. Bandung: Alumni Bandung, 1981.
Soerjono Soekanto. Sosiologi Sebuah Pengantar. Jakarta: Rajawali Press, 2010.
Sudirman Tebba. Sosiologi Hukum Islam. Yogyakarta: UII Press Indonesia, 2003.
Sufyan, Akhmad Farid Mawardi. "Analisis Terhadap Tingginya Nikah Siri Di Kabupaten Pamekasan." Al-Manhaj: Journal of Indonesian Islamic Family Law 1, no. 2 (2019): 161–95.
Syaifullah. "Refleksi Sosiologi Hukum." Bandung: PT. Refika Aditama, 2007.
Syekh Muhammad Ali al Shabuni. Rawa'iul Bayan : Tafsir Ayat Al Ahkam Min Al Quran. 2nd ed. Jakarta: Dar Kutub Al Islamiy, 2001.
Tahir Mahmood. Family Law Reform in the Muslim World. India: N.M Tripathi PVT. LTD, 1972.
Umar Sulaiman al Ashqar. Tarikh Fi Al Fiqh Al Islam. Amman: Dar al Nafaais, 1991.
Wahbah Zuhaili. Al-Fiqh Al-Islāmi Wa Adillatuh. Damaskus: Dar al Fikr, 2010.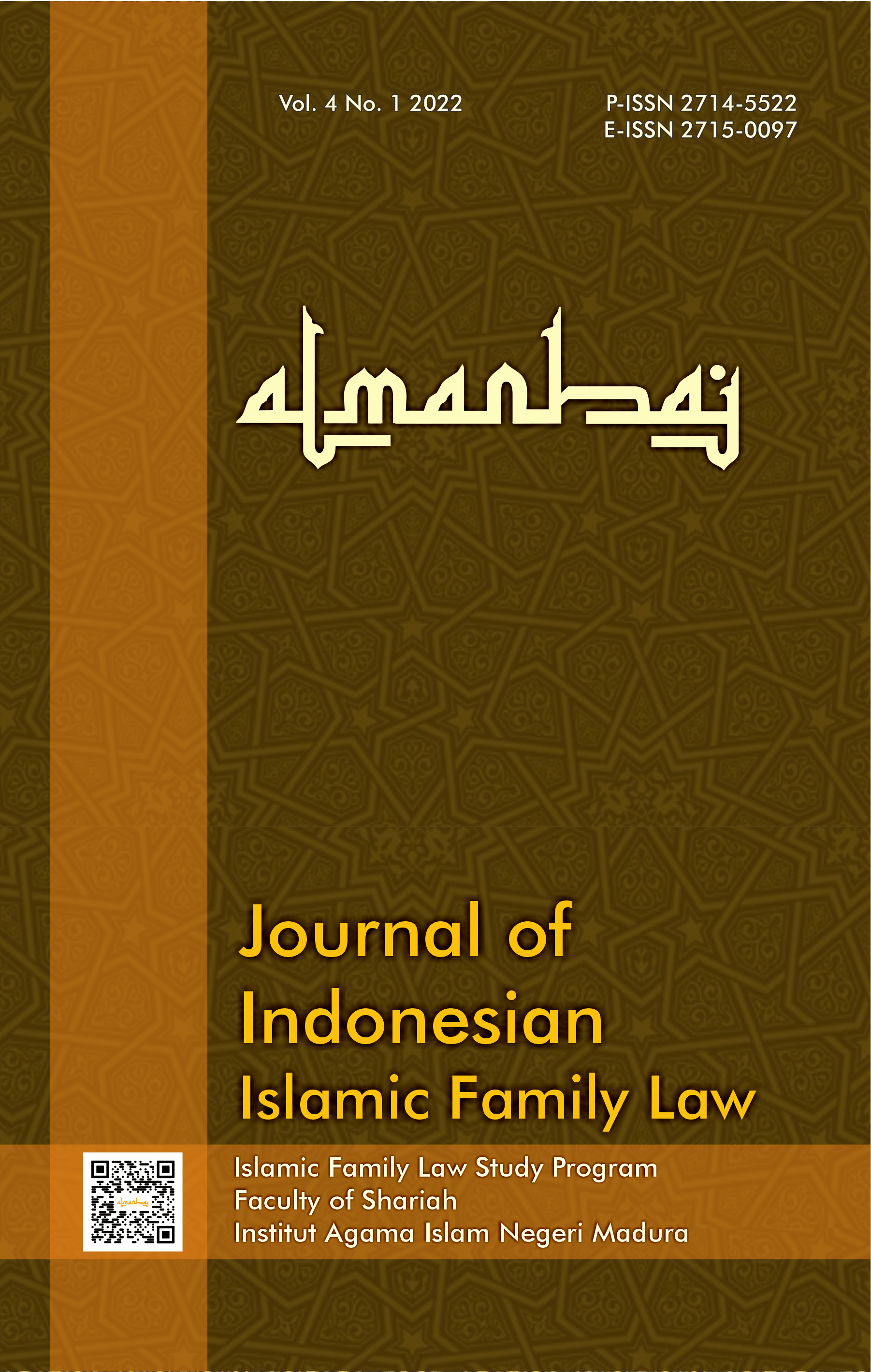 How to Cite
Syawqi, A. H. (2022). Multiparadigma Sosiologi Hukum Keluarga Islam. Al-Manhaj: Journal of Indonesian Islamic Family Law, 4(1), 66-89. https://doi.org/10.19105/al-manhaj.v4i1.6200
Copyright (c) 2022 Al-Manhaj: Journal of Indonesian Islamic Family Law
This work is licensed under a Creative Commons Attribution-ShareAlike 4.0 International License.