ANALISIS PENERAPAN INTERNET FINANCIAL REPORTING (IFR) PADA BANK UMUM SYARIAH DI INDONESIA
Muhammad Iqbal Muttaqin

Program Studi Akuntansi Syariah/STEI SEBI

Ahmad Baehaqi

Program Studi Akuntansi Syariah/STEI SEBI

Roni Hidayat

STEI SEBI dan UIN Syarif Hidayatullah Jakarta
Abstract views:
492
,
PDF downloads:
357
Keywords:
Internet Financial Reporting (IFR), Pengungkapan, Bank Syariah
Abstract
[Penelitian ini bertujuan untuk menganalisis praktik IFR pada BUS di Indonesia. Penelitian ini menggunakan teknik scoring. Data penelitian didapatkan dari website resmi masing-masing BUS berupa keterangan/informasi keuangan dan nonkeuangan yang diamati pada tahun 2020. Hasil dari penelitian ini menunjukkan bahwa rata-rata BUS telah berhasil mengungkapkan variabel isi dengan cukup luas. Diketahui, 10 dari 13 bank atau 77% dari sampel penelitian telah berhasil menyajikan item pengungkapan dengan skor 70% - 79,9%. Sementara sisanya mendapatkan skor sebesar 60% - 69.9%. Kurang lebih ada 8 BUS yang berhasil mempertahankan dan meningkatkan skornya dalam variabel ini. Sedangkan untuk variabel tampilan, peringkat pertama diraih oleh BNIS dengan skor 75% atau setara dengan 15 dari 20 item pengungkapan yang diujikan. Sementara, rata-rata BUS telah menggunakan lebih dari 50% item indikator tampilan yang diujikan. Tetapi, masih ada dua BUS yang menggunakan item indikator tampilan di bawah 50%, yaitu BSMI dan BCAS dengan skor 45%. Untuk variabel ketepatwaktuan menunjukkan hasil yang kurang memuaskan. Dimana skor terbesar didapatkan oleh BRIS dengan skor mencapai 36%. Sementara sisanya, hanya mampu mengungkapkan item indikator ketepatwaktuan berkisar antara 9% - 27%.]
Downloads
Download data is not yet available.
References
Abdelsalam, Omneya, and Ahmed El-Masry. "The Impact of Board Independence and Ownership Structure on The Timeliness of Corporate Internet Reporting of Irish-Listed Companies." Journal of Managerial Finance 34, no. 12 (2008). https://doi.org/10.1108/03074350810915842.
Almilia, Luciana Spica. "Analisa Komparasi Indeks Internet Financial Reporting Pada Website Perusahaan Go Publik Di Indonesia." Seminar Nasional Aplikasi Teknologi Informasi 2009, 2009.
———. "Faktor-Faktor Yang Mempengaruhi Pengungkapan Sukarela 'Internet Financial and Sustainability Reporting.'" Jurnal Akuntansi Dan Auditing Indonesia 12, no. 2 (2008).
Indrianto, Nur, and Bambang Soepomo. Metodologi Penelitian Bisnis Untuk Akuntansi Dan Manajemen. 1st ed. Yogyakarta: BPFE, 2011.
Insani, Taqiyah Dinda, and Noven Suprayogi. "Internet Financial Reporting: Studi Komparasi Bank Umum Syariah Di Indonesia Dan Malaysia." Jurnal Ekonomi Syariah Teori Dan Terapan 3 (2016). https://doi.org/10.20473/vol3iss201611pp886.
Jensen, Michael C. "Value Maximisation, Stakeholder Theory, and The Corporate Objective Function." Journal of Applied Corporate Finance 14, no. 3 (2001). https://doi.org/10.1111/1468-036X.00158.
Khan, Mohd Noor Azli Ali, and Noor Azizi Ismail. "The Level of Internet Financial Reporting of Malaysian Companies." Asian Journal of Accounting and Governance 2, no. 1 (2011). https://doi.org/10.17576/ajag-2011-2-6539.
———. "Users' Perceptions of Various Aspects of Malaysian Internet Financial Reporting." Journal of Organizational Management Studies 2012 (2012). https://doi.org/10.5171/2012.852558.
Lipunga, Andrew Munthopa. "Internet Financial Reporting in Malawi." International Journal of Business and Management 9, no. 6 (2014).
Narsa, I Made, and Fitri Fenti Pratiwi. "Internet Financial Reporting , Pengungkapan Informasi Website , Luas Lingkup Pelaporan Internet, Dan Nilai Perusahaan." Jurnal Ekonomi Dan Keuangan 18, no. 80 (2014). https://doi.org/10.24034/j25485024.y2014.v18.i2.152.
Otoritas Jasa Keuangan. "Salinan Surat Edaran Otoritas Jasa Keuangan Nomor 18/SEOJK.03/2015 Tentang Transparansi Dan Publikasi Laporan Bank Umum Syariah Dan Unit Usaha Syariah," 2015.
———. "Statistik Perbankan Syariah," 2019.
Pertiwi, Imanda Firmantyas Putri. "Kinerja Keuangan Dan Internet Financial Reporting Index (IFRI): Sebuah Studi Relevansi Pada Sektor Perbankan Syariah Di Kawasan ASEAN." Jurnal Ekonomi & Perbankan Syariah 4, no. 1 (2017). https://doi.org/10.19105/iqtishadia.v4i1.1221.
Purba, Lizzcharly, Henny Medyawati, Widya Silfianti, and Budi Hermana. "Internet Financial Reporting Index Analysis: An Overview from the State Owned Enterprises in Indonesia." Journal of Economics, Business and Management 1, no. 3 (2013).
Rizqiyah, Ria Nur, and Ahmad Tarmizi Lubis. "Penerapan Internet Financial Reporting (IFR) Pada Bank Umum Syariah Di Indonesia." Jurnal Akuntansi Dan Keuangan Islam 5, no. 1 (2017). https://doi.org/10.35836/jakis.v5i1.14.
Saud, Ilham Maulana, Bustanul Ashar, and Peni Nugraheni. "Analisis Pengungkapan Internet Financial Reporting Perusahaan Asuransi-Perbankan Syariah Di Indonesia-Malaysia." Jurnal Media Riset Akuntansi, Auditing & Informasi 19, no. 1 (2019). https://doi.org/10.25105/mraai.v19i1.3011.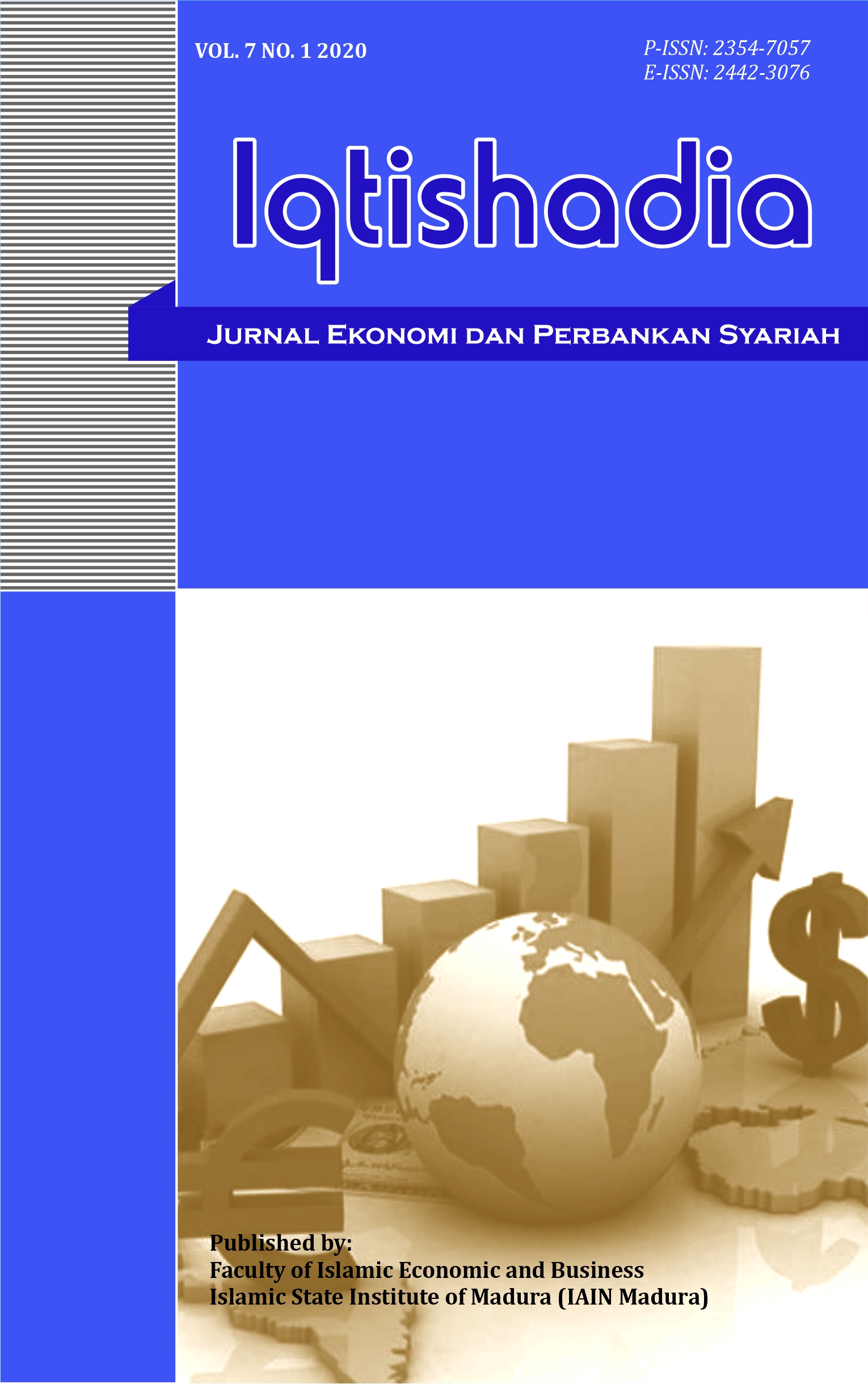 The journal operates an Open Access policy under a Creative Commons Non-Commercial Share-Alike license. All articles published Open Access will be immediately and permanently free for everyone to read and download.
• Creative Commons Attribution-NonCommercial (CC-BY-NC)

Iqtishadia: Jurnal Ekonomi dan Perbankan Syariah by http://ejournal.iainmadura.ac.id/index.php/iqtishadia is licensed under a Creative Commons Attribution-NonCommercial 4.0 International License.
Based on a work at http://ejournal.iainmadura.ac.id.