CASHLESS PAYMENT: POTRET E-MONEY DI PESANTREN
Harisatun Niswa

UIN Maulana Malik Ibrahim Malang
Abstract views:
320
,
PDF downloads:
300
Keywords:
Cashless Payment, E-Money, Pesantren
Abstract
Non-cash payments or cashless payments are the latest and hottest issue in the pesantren world. The existence of cashless payment is the impact of increasingly rapid technological developments. Islamic boarding schools that have a characteristic of simplicity in building architecture, curriculum and operations are able to transmigrate to boarding schools that are able to collaborate with technological developments that do not violate the rules of the Qur'an and Hadish. This study analyzes the perceptions of santri at Nurul Jadid Paiton Probolinggo Islamic Boarding School regarding the application of non-cash payments applied in the boarding school. The method used is a qualitative method using direct observation techniques and interviews. The results showed that the perceptions of the students of Nurul Jadid Islamic Boarding School were safety oriented, lose financial, power hegemony, boarding moderation in the virtual era, and social stratification
Pembayaran Non tunai atau cashless payment merupakan issu terbaru dan terhangat di dalam dunia pesantren. Keberadaan cashless payment merupakan dampak dari perkembangan serta kemajuan teknologi yang semakin dinamis. Pondok pesantren yang memiliki ciri khas akan kesederhanaan pada arsitektur bangunan, kurikulum dan operasionalnya mampu bertransmigrasi menuju pondok pesantren yang mampu berkolaborasi dengan perkembangan teknologi yang tidak melanggar aturan Al-Qur'an dan Hadis. Studi ini menganalisis tentang persepsi santri pada Pondok Pesantren Nurul Jadid Paiton Probolinggo mengenai aplikasi pembayaran non tunai yang diterapkan dalam pondok pesantren tersebut. Metode yang digunakan pada kasus ini menggunakan metode kualitatif dengan menggunakan teknik observasi langsung serta wawancara. Hasil penelitian menunjukkan bahwa persepsi santri Pondok Pesantren Nurul Jadid adalah safety oriented, lose financial, hegemoni kekuasaan, moderasi pesantren di era virtual, dan stratifikasi sosial.
Downloads
Download data is not yet available.
References
Bakti, A. F., & Meidasari, V. E. " Trendsetter Komunikasi di Era Digital: Tantangan dan Peluang Pendidikan Komunikasi dan Penyiaran Islam". Komunikasi Islam, 4, no. 1. (2014).20–44.
Dhofier, Z. Tradisi Pesantren Studi Pandangan Hidup Kyai dan Visinya mengenai Masa Depan Indonesia. Jakarta Barat: LP3S, 2011.
Jati, W. R. "Less Cash Society : Menakar Mode Konsumerisme Baru Kelas Menengah Indonesia." Sosioteknologi, 14 no. 2, (2015) .102–112.
Masyitha, D., & Fathony, A. "Studi Analisis Peran Pesantren Sidogiri Dalam Pembentukan Karakter Kemandirian Ekonomi Masyarakat Perspektif Sosiologi." Profit, 1 no.1.(2017). 130–161.
Maunah, B." Stratifikasi Sosial dan Perjuangan Kelas dalam Perspektif Sosiologi Pendidikan." Ta'allum, 3 no 1, (2015). 19–38.
Pranggono, B. "Pendidikan Tinggi di Era Digital dan Tantangan bagi UNISBA." Mimbar, 17 no. 1. (2001).1–19.
Prayitno, P. "Pemberdayaan Sumber Daya Santri melalui Entrepreneurship di Pondok Pesantren Al-Ashriyyah Nurul Iman Islamic Boarding School Parung Bogor." Quality, 4 no.2(2016). 310–331.
Radiansyah, M. "Analisis Persepsi Masyarakat Muslim terhadap Penggunaan Alat Pembayaran Non Tunai di Kota Medan. "At-Tawassuth, 1.no.1. (2016).125–151.
Salsabila, N., & Giri, R. R. W. "Peta Positioning Uang Elektronik berdasarkan Persepsi Masyarakat di Indonesia Tahun 2017." Riset Bisnis Dan Manajemen (JRBM), 10. no.2. (2017). 34–41.
Sanusi, H. "Jurnalisme Data : Transformasi dan tantangan Era Digital (Hartina Sanusi)." Tabligh, 19. no.1. (2018). 20–43.
Sari, P., & Indra, A. "Hegemoni Pemerintah terhadap Pedagang Pasar (Analisis Dominasi Pemerintah Pasca Revitalisasi Pasar Kite Sungailiat Menurut Antonio Gramsci)." Society, (2015).1–11.
Sari, P. Z., Harianto, R., & Andini, B. N. "Determinan Efisiensi Perbankan (Bank Umum Konvensional dan Bank Syariah)." Media Mahardhika, 17 no.1. (2017). 110–131.
Tazkiyyaturrohmah, R. "Eksistensi Uang Elektronok sebagai Alat Transaksi Keuangan Modern." Muslim Heritage, 1 no.1, (2018). 21–39.
Usman, R. "Karakteristik Uang Elektronik dalam Sistem Pembayaran." YURIDIKA, 32 no. 1. (2017). 134–166.
Zulhimma. "Dinamika Perkembangan Pondok Pesantren di Indonesia." Darul 'Ilmi, 1.no.2. (2013) .165–181.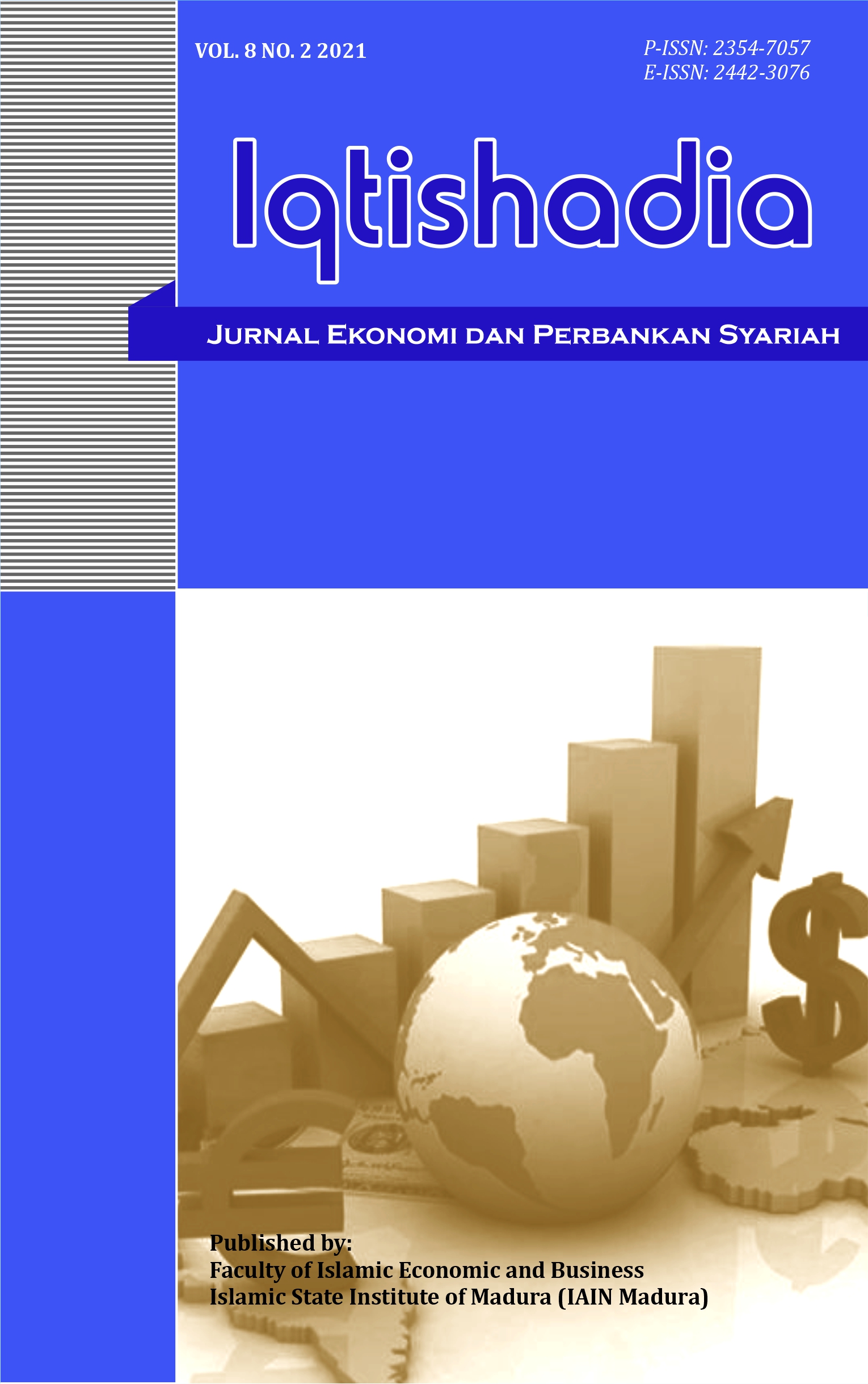 The journal operates an Open Access policy under a Creative Commons Non-Commercial Share-Alike license. All articles published Open Access will be immediately and permanently free for everyone to read and download.
• Creative Commons Attribution-NonCommercial (CC-BY-NC)

Iqtishadia: Jurnal Ekonomi dan Perbankan Syariah by http://ejournal.iainmadura.ac.id/index.php/iqtishadia is licensed under a Creative Commons Attribution-NonCommercial 4.0 International License.
Based on a work at http://ejournal.iainmadura.ac.id.