Peran Kepuasan Sebagai Variabel Mediasi Kualitas Layanan dan Kepercayaan Nasabah terhadap Loyalitas Nasabah Bank Syariah
Tri Winasih

Universitas Negeri Surabaya

Luqman Hakim

Universitas Negeri Surabaya
Abstract views:
708
,
PDF downloads:
217
Keywords:
Kualitas layanan, kepercayaan nasabah, kepuasan nasabah, loyalitas nasabah.
Abstract
Abstrak:
Islamic banking is one of the global phenomenon in banking industry which continues to develop. Indonesia at the 9 rank in the world based on total assets and market share of Islamic banking. Nationally, East Java  becomes provinces in Indonesia with the largest number of Islamic banks. The composition of young customers has not yet dominated, even though this age group has a role in determining people's attitudes in transacting at Islamic banks. This research purpose to analyze the effect of service quality and customer trust on customer loyalty with customer satisfaction as a mediating variable for students of State Universities in Surabaya. This quantitative research using 210 respondents as samples. Data collected by a questionnaire and analyzed using Partial Least Square (PLS) with the application SmartPLS 3.0. This research conclude that service quality and costumer's trust didn't directly effect customer loyalty but had an indirect effect on customer loyalty through customer satisfaction.
[Perbankan syariah merupakan salah satu fenomena global dalam bidang industri perbankan yang terus mengalami perkembangan. Indonesia menempati urutan ke-9 dunia berdasarkan jumlah aset dan pangsa pasar perbankan syariah. Secara nasional, Jawa Timur menjadi salah satu provinsi di Indonesia dengan jumlah bank syariah terbanyak. Komposisi nasabah dari kalangan muda belum mendominasi, padahal kelompok usia ini memiliki peran dalam menentukan sikap masyarakat dalam bertransaksi di bank syariah. Penelitian ini bermaksud menganalisis pengaruh kualitas layanan dan kepercayaan terhadap loyalitas nasabah dengan kepuasan sebagai variabel mediasi pada mahasiswa Perguruan Tinggi Negeri di Surabaya. Penelitian kuantitatif ini menggunakan 210 responden sebagai sampel penelitian. Data dikumpulkan menggunakan kuesioner dan dianalisis menggunakan Partial Least Square (PLS) dengan aplikasi SmartPLS 3.0. Penelitian ini menyimpulkan kualitas layanan maupun kepercayaan nasabah tidak berpengaruh secara langsung terhadap loyalitas nasabah namun berpengaruh secara tidak langsung melalui kepuasan nasabah.]
Downloads
Download data is not yet available.
References
Aisyah, M. (2018). Islamic Bank Service Quality and It's Impact on Indonesian Customers' Satisfaction and Loyalty. Al-Iqtishad: Jurnal Ilmu Ekonomi Syariah (Journal of Islamic Economics), 10(2), 367–388.
Azhar Muttaqin, D. A. D. (2017). Kualitas Produk, Pelayanan dan Nilai Syariah terhadap Persepsi Mahasiswa Ekonomi Islam untuk Menjadi Nasabah Bank Syariah. FALAH: Jurnal Ekonomi Syariah, 2(2), 196. https://doi.org/10.22219/jes.v2i2.5106
Dewi, K. A. N. (2016). PENGARUH KUALITAS LAYANAN TERHADAP LOYALITAS PELANGGAN MELALUI KEPUASAN PELANGGAN SEBAGAI VARIABEL INTERVENING (STUDI PADA PELANGGAN DUNKIN' DONUTS DI SURABAYA DAN SIDOARJO). BISMA - Bisnis Dan Manajemen, 9(1), 43–55.
Faisal, M., Shabbir, M. S., Javed, S., & Shabbir, M. F. (2016). Measuring Service Quality and Customer Satisfaction in Pakistan : Evidence Based on Carter Model. International Business Management, 10(20), 5011–5016.
Fitriyana, F., Mustafid, & Suparti. (2013). ANALISIS PENGARUH KUALITAS LAYANAN DAN KUALITAS PRODUK TERHADAP LOYALITAS PELANGGAN PADA ONLINE SHOP MENGGUNAKAN STRUCTURAL EQUATION MODELING. JURNAL GAUSSIAN, 2(2), 98–108.
Ghozali, I., & Latan, H. (2015). Partial Least Squares : Konsep, Teknik dan Aplikasi Menggunakan Program SmartPLS 3.0 (Edisi 2). Universitas Diponegoro.
Haryono, T. (2010). Pentingnya menjaga dan meningkatkan hubungan baik dengan konsumen dalam masa krisis. JEJAK, 3(c), 75–82.
Hidayat, R., Akhmad, S., & Machmud, M. (2015). Effects of Service Quality, Customer Trust and Customer Religious Commitment on Customers Satisfaction and Loyalty of Islamic Banks in East Java. Al-Iqtishad: Journal of Islamic Economics, 7(2), 151–164. https://doi.org/10.15408/ijies.v7i2.1681
Ishak, M. Z., & Azzahroh, E. P. (2017). Pengaruh Kualitas Layanan Terhadap Loyalitas Nasabah Bank Syariah Dengan Kepuasan Nasabah Sebagai Variabel Intervening. Jurnal Ekonomi Dan Bisnis Islam (Journal of Islamic Economics and Business), 3(1), 26. https://doi.org/10.20473/jebis.v3i1.3599
Khotimah, N. (2018). pengaruh religiusitas, kepercayaan, citra perusahaan dan sistem bagi hasil terhadap minat nasabah menabung dan loyalitas di bank syariah mandiri (Studi Kasus Pada Nasabah Bank Syariah Mandiri Gresik). Jurnal Ilmu Ekonomi & Manajemen, 05(01), 37–48.
Lapasiang, D., Moniharapon, S., Loindong, S., & Ratulangi, U. S. (2017). Pengaruh Kepercayaan Dan Komitmen Terhadap Loyalitas Nasabah Pada Pt. Pegadaian (Persero) Cabang Karombasan Manado. Jurnal EMBA: Jurnal Riset Ekonomi, Manajemen, Bisnis Dan Akuntansi, 5(3), 3068–3077. https://doi.org/10.35794/emba.v5i3.17371
Mahyuni, & Firdaus, M. R. (2014). Loyalitas Nasabah Pada Bank Mumalat Indonesia. Jurnal Wawasan Manajemen, 2(2), 119–137.
Malhotra, N. K. (2017). Riset Pemasaran Pendekatan Terapan. Indeks.
Muzaki, M. H., & Ridlwan, A. A. (2019). Determinan Faktor Yang Memengaruhi Disloyalitas Nasabah Bank Pembiayaan Rakyat Syariah. Iqtishadia, 6(1), 1–12. https://doi.org/10.19105/iqtishadia.v6i1.2338
Ndubisi, N. O. (2007). Relationship marketing and customer loyalty. Marketing Intelligence & Planning, 25(1), 98–106. https://doi.org/10.1108/02634500710722425
Ningtyas, F., & Rachmad, B. (2011). Pengaruh Kepercayaan, Komitmen, Komunikasi, Penanganan Masalah Dan Kepuasan Nasabah Terhadap Loyalitas Nasabah Bank Muamalat Di Surabaya. Journal of Business and Banking, 1(1), 51. https://doi.org/10.14414/jbb.v1i1.152
OJK. (2019). Laporan Ekonomi Dan Keuangan Syariah.
OJK. (2019). Laporan Perkembangan Keuangan Syariah Indonesia.
Okatviani, E. (2012). Pengaruh Kualitas Layanan, Kepuasan Nasabah dan Citra Bank Terhadap Loyalitas Nasabah Bank Muamalat di Surabaya. Journal of Business and Banking, 2(2), 171–184.
Report, S. (2019). Stability report 2019.
Ridwan, H., Pusporini, & Samin. (2018). Pengaruh Kepercayaan, Kualitas Pelayanan, Dan Nilai Nasabah Terhadap Loyalitas Pelanggan Melalui Kepuasan Sebagai Variabel Intervening Pada Bank BNI. "Pengabdian Pada Masyarakat Melalui Desiminasi Hasil - Hasil Penelitian Terapan."
Selnes, F. (1993). An Examination of the Effect of Product Performance on Brand Reputation, Satisfaction and Loyalty. European Journal of Marketing, 27(9), 19–35.
Sugiyono. (2018). Metode Penelitian Kuantitatif, Kualitatif dan R&D. Alfabeta.
Tjiptono, F. (2019). Pemasaran Jasa. Penerbit ANDI.
Tjokro, C. I. (2018). DETERMINAN KEPUASAN NASABAH DALAM MEMBENTUK LOYALITAS NASABAH PT BTN CABANG AMBON. Jurnal Manajemen, Ide, Inspirasi (MINDS), 5(1), 1–19.
Warsito, C. (2015). The Image of Financial Institution as Islamic Bank In Mediation Service Quality and Customer Satisfaction on Customer Loyalty in Purwokerto. Al-Iqtishad: Journal of Islamic Economics, 7(2), 217–228. https://doi.org/10.15408/ijies.v7i2.1699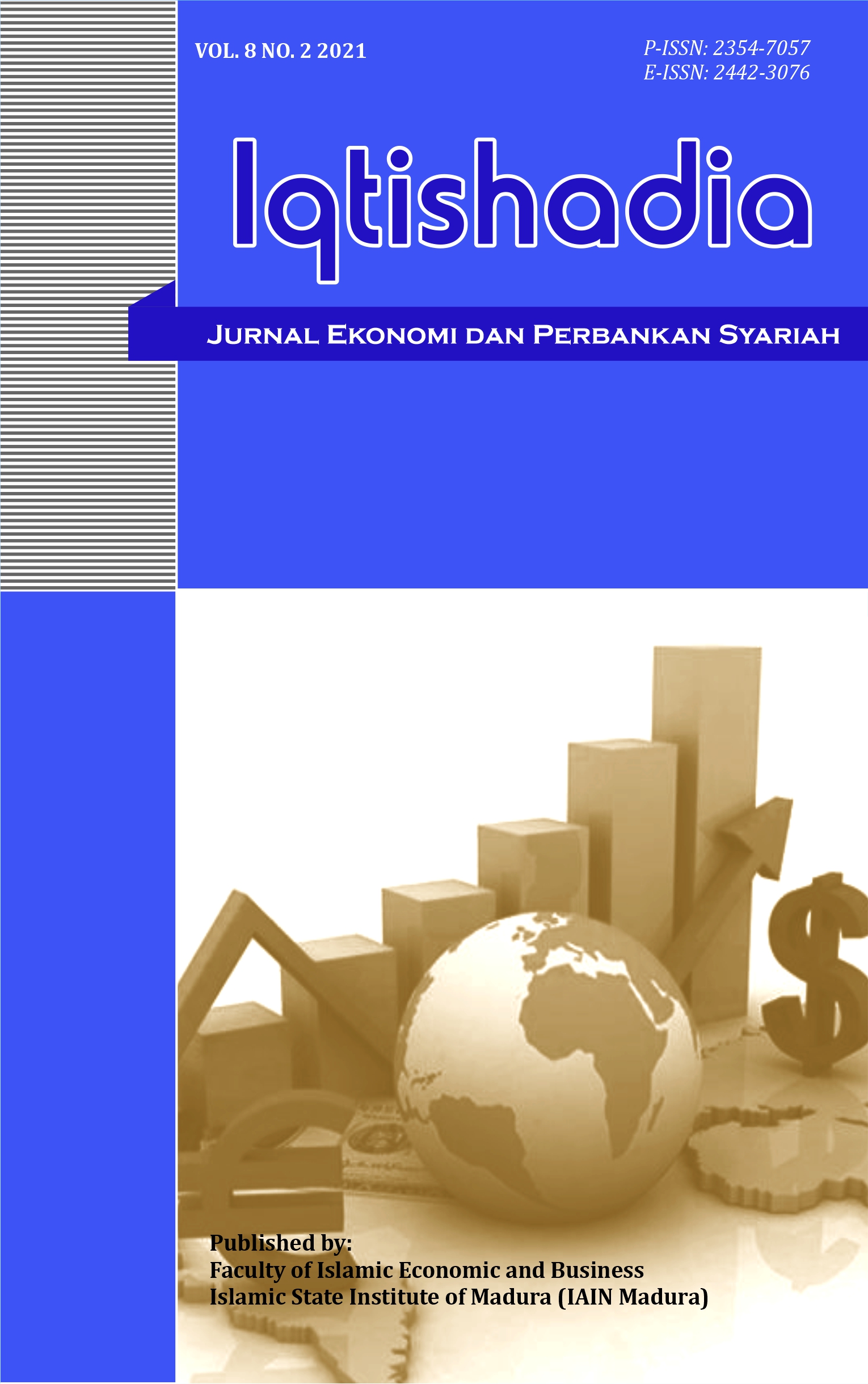 The journal operates an Open Access policy under a Creative Commons Non-Commercial Share-Alike license. All articles published Open Access will be immediately and permanently free for everyone to read and download.
• Creative Commons Attribution-NonCommercial (CC-BY-NC)

Iqtishadia: Jurnal Ekonomi dan Perbankan Syariah by http://ejournal.iainmadura.ac.id/index.php/iqtishadia is licensed under a Creative Commons Attribution-NonCommercial 4.0 International License.
Based on a work at http://ejournal.iainmadura.ac.id.