Komparasi Kinerja Keuangan PT Bank Syariah Indonesia Tbk Sebelum dan Sesudah Merger
Rakhmat Hadi Sucipto

Universitas Bina Sarana Informatika
Abstract views:
351
,
PDF downloads:
354
Keywords:
kinerja keuangan, rasio keuangan, merger bank
Abstract
Tiga bank syariah nasional yang terdiri dari PT Bank Syariah Mandiri, PT Bank BRIsyariah Tbk, dan PT Bank BNI Syariah melakukan merger pada Februari 2021 menjadi PT Bank Syariah Indonesia Tbk. Strategi korporasi ini bisa berdampak positif, tetapi bisa juga membawa efek yang negatif. Untuk melihat efek tersebut, maka penelitian ini hadir dengan tujuan spesifik untuk mengamati financial performance sebelum dan sesudah merger serta mengidentifikasi tingkat signifikansi rasio keuangan dari dua kondisi tersebut. Penelitian menggunakan data sekunder dengan bantuan analisis uji-t sampel berpasangan. Hasil penelitian menunjukkan, merger ketiga bank mampu meningkatkan kinerja keuangan. Analisis uji-t sampel berpasangan menunjukkan hasil yang tak berbeda terhadap rasio kewajiban pemenuhan modal minimum (KPMM), rasio pembiayaan bermasalah kotor (NPF gross), rasio pengembalian aset (ROA), rasio pengembalian ekuitas (ROE), dan financing to deposit ratio (FDR). Namun, hasil uji-t sampel berpasangan menunjukkan hasil yang berbeda secara signifikan terhadap rasio pembiayaan bersih (NPF net), rasio margin operasi bersih (NOM), dan rasio total beban operasional terhadap total pendapatan operasional (BOPO).
Downloads
Download data is not yet available.
References
Badan Pusat Statistik. Biaya Operasional Dan Pendapatan Operasional (BOPO). 2015. https://sirusa.bps.go.id/sirusa/index.php/indikator/459.
Bank Indonesia. "Peraturan Bank Indonesia No.15/12/PBI/2013 Tanggal 12 Desember 2013 Tentang Kewajiban Penyediaan Modal Minimum Bank Umum." Jakarta, 2013.
Corporate Finance Institute. "Merger vs. Acquisition." 2022. https://corporatefinanceinstitute.com/resources/knowledge/deals/merger-vs-acquisition/.
Djakaria, Azzahra, and Kristianingsih Kristianingsih. "Analisis Komparatif Kinerja Keuangan Bank Umum Syariah Pemerintah dan Bank Umum Syariah Swasta Nasional Dengan Metode RGEC Periode 2015-2019". In Prosiding Industrial Research Workshop and National Seminar, 12:1568–73, 2021.
Drake, P P, and F J Fabozzi. The Basics of Finance: An Introduction to Financial Markets, Business Finance, and Portfolio Management. Frank J. Fabozzi Series. Wiley, 2010.
Gaughan, P A. Mergers, Acquisitions, and Corporate Restructurings. Wiley Corporate F&A. Wiley, 2017.
Gestel, T Van. Credit Risk Management: Basic Concepts: Financial Risk Components, Rating Analysis, Models, Economic and Regulatory Capital. OUP Oxford, 2008.
Ghosh, A. Managing Risks in Commercial and Retail Banking. Wiley Finance. Wiley, 2012.
Hassan, Mohamad, and Evangelos Giouvris. Bank Mergers: "The Cyclical Behaviour of Regulation, Risk and Returns." Journal of Financial Economic Policy, 2021.
Ikatan Bankir Indonesia. Mengelola Bank Syariah. Jakarta: Gramedia Pustaka Utama, 2018.
Jorion, P. Financial Risk Manager Handbook: FRM Part I / Part II. Wiley Finance. Wiley, 2011.
Kasmir. Analisis Laporan Keuangan. Jakarta: RajaGrafindo Persada, 2019.
Kirchner, T. Merger Arbitrage: How to Profit from Global Event-Driven Arbitrage. Wiley Finance. Wiley, 2016.
Krishnamurti, C, and S R Vishwanath. Mergers, Acquisitions, and Corporate Restructuring. SAGE Publications, 2008.
Kumar, B Rajesh. "Mergers and Acquisitions in the Finance Sector. In Mega Mergers and Acquisitions", 181–202. Springer, 2012.
Mamun, Abdullah, George Tannous, and Sicong Zhang. "Do Regulatory Bank Mergers Improve Operating Performance?" International Review of Economics & Finance 73: 152–74, 2008.
Mawardi, Imron. Pakar UNAIR Sebut 2 Keuntungan BSI Menjadi Bank BUMN. 2022. https://news.unair.ac.id/2022/03/22/pakar-unair-sebut-2-keuntungan-bsi-menjadi-bank-bumn/?lang=id.
Munawir, S. Analisa Laporan Keuangan. Yogyakarta: Penerbit Liberty, 2021.
Nagara, Satya. "Pengaruh Merger terhadap Kinerja Perusahaan Perbankan yang Terdaftar di BEI", 2021.
Nurapifah, Agnia. "Analisis Kinerja Keuangan Pada Bank Umum Syariah Bumn Di Indonesia Sebelum dan Sesudah Merger Dengan Metode VECM (Vector Error Correction Model)", 2021.
Otoritas Jasa Keuangan. Surat Edaran Bank Indonesia Nomor 15/8/DPbS Tentang Pembukaan Jaringan Kantor Bank Umum Syariah Dan Unit Usaha Syariah Berdasarkan Modal Inti. 2013. https://peraturan.bpk.go.id/Home/Details/143399/se-ojk-no-9seojk032020.
———. 2016. Peraturan Otoritas Jasa Keuangan Nomor 11/POJK.03/2016 Tentang Kewajiban Penyediaan Modal Minimum Bank Umum. Jakarta.
———. 2020. Salinan Surat Edaran Otoritas Jasa Keuangan Republik Indonesia Nomor 9 /SEOJK.03/2020 Tentang Transparansi Dan Publikasi Laporan Bank Umum Konvensional. 2020. https://peraturan.bpk.go.id/Home/Details/143399/se-ojk-no-9seojk032020.
Ruppert, D, and D S Matteson. Statistics and Data Analysis for Financial Engineering: With R Examples. Springer Texts in Statistics. Springer New York, 2015.
Sengar, Neeraj, Gaurav Kumar Badhotiya, Ritvik Dobriyal, and Desh Bandhu Singh. "Study of Post-Merger Effect on Performance of Banks in India". Materials Today: Proceedings 46: 10766–70, 2021.
Siregar, Erwin Saputra, and Sissah Sissah. "Analisis Dampak Kebijakan Merger Dalam Pengembangan Bank Syariah di Indonesia". Jurnal Ekonomi Syariah, Akuntansi Dan Perbankan (JESKaPe) 5 (1): 16–24, 2021.
Sofyan Syafri Harahap. Analisis Kritis Atas Laporan Keuangan. Depok: PT. RajaGrafindo Persada, 2018.
Sultoni, Hasan, and Kiki Mardiana. "Pengaruh Merger Tiga Bank Syariah Bumn terhadap Perkembangan Ekonomi Syariah di Indonesia". EKSYAR: Jurnal Ekonomi Syari'ah & Bisnis Islam 8 (1): 17–40, 2021.
Surbhi, S. Difference Between Merger and Acquisition. 2018. https://keydifferences.com/difference-between-merger-and-acquisition.html.
Ulfa, Alif. "Dampak Penggabungan Tiga Bank Syariah Di Indonesia". Jurnal Ilmiah Ekonomi Islam 7 (2): 1101–6, 2021.
Venardos, A M. "Islamic Banking & Finance in South-East Asia: Its Development & Future. Asia-Pacific Business Series". World Scientific, 2006.
Yuniarti, Fauziah Rizki, and Dikky Setiawan. Ini Untung dan Rugi Merger Bank BUMN Syariah. 2020. https://insight.kontan.co.id/news/ini-untung-dan-rugi-merger-bank-bumn-syariah.
Zaharias, Bryan Mikail, and Hanif Pradipta. "Penaksiran Dampak Merger dan Akuisisi terhadap Efisiensi Perbankan, Analisis Sebelum dan Setelah Merger dan Akuisisi". Jurnal Ekonomi Dan Pembangunan 24 (2): 85–95, 2016.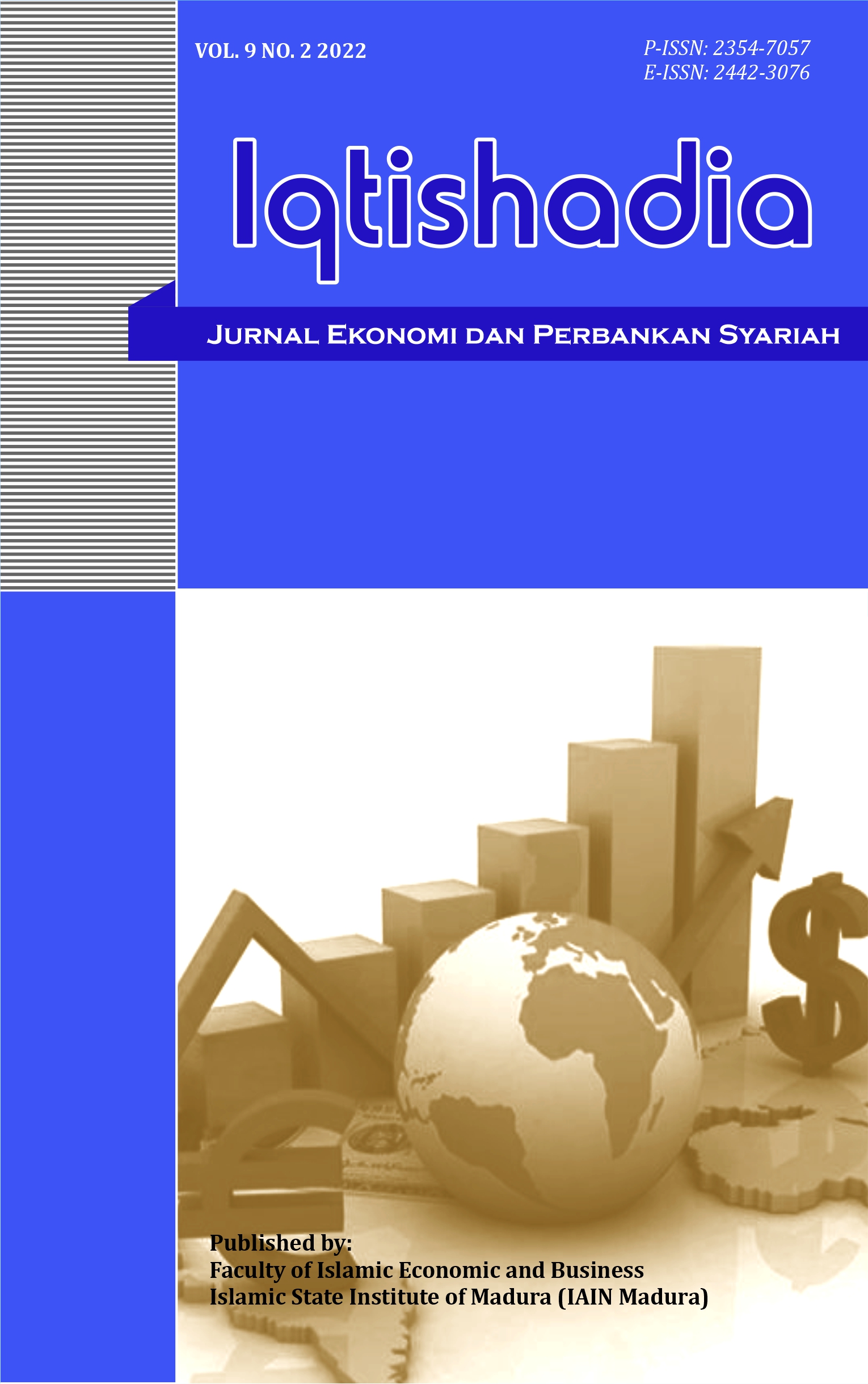 The journal operates an Open Access policy under a Creative Commons Non-Commercial Share-Alike license. All articles published Open Access will be immediately and permanently free for everyone to read and download.
• Creative Commons Attribution-NonCommercial (CC-BY-NC)

Iqtishadia: Jurnal Ekonomi dan Perbankan Syariah by http://ejournal.iainmadura.ac.id/index.php/iqtishadia is licensed under a Creative Commons Attribution-NonCommercial 4.0 International License.
Based on a work at http://ejournal.iainmadura.ac.id.