Pentahelix's Collaboration In The Development of Halal Tourism For Sustainable Regional Economic Development
Lukman Santoso

IAIN Ponorogo

Yutisa Tri Cahyani

IAIN Ponorogo
Abstract views:
183
,
PDF downloads:
188
Keywords:
pentahelix collaboration; halal tourism; sustainable tourism
Abstract
This paper aims to explore the implementation of the pentahelix collaboration policy in the development of halal tourism in the region, as well as to design an ideal synergy model for the development of sustainable halal tourism. They use the qualitative methodology and a comparative approach to two halal tourism development areas, Malang city and Banyuwangi regency. This research discovered comparative advantages to implementing the penta-helix collaboration policy in establishing halal tourism in the two locations where there are variances and diversity in implementing the pentahelix collaboration in halal tourism. Each region has advantages that multi-sector and multi-stakeholder institutions complement. The development of halal tourism in Malang and Banyuwangi is further stymied by the absence of rules as a legal framework for development. However, the two regions are working to assure and expedite the development of halal tourism following local wisdom. This research helps to fill gaps in the development of halal tourism in Malang and Banyuwangi. Furthermore, this research contributes to the region's role as a paradigm for developing sustainable halal tourism.
Downloads
Download data is not yet available.
References
Alika, Rizky. "Jokowi Targetkan RI Jadi Pusat Industri Halal Dunia Pada 2024," Oktober 2021. https://katadata.co.id/ameidyonasution/berita/6170fad8b12e3/jokowi-targetkan-ri-jadi-pusat-industri-halal-dunia-pada-2024.
Anas, Abdullah Azwar. Creative Collaboration: 10 Tahun Perjalanan Transformasi Banyuwangi. Jakarta: Expose, 2020.
Ansell, C., and A. Gash. "Collaborative Governance in Theory and Practice." Journal of Public Administration Research and Theory 18, no. 4 (October 17, 2007): 543–71. https://doi.org/10.1093/jopart/mum032.
Baharuddin, Kasmarini, Norliya Ahmad Kassim, Siti Khairiyah Nordin, and Siti Zahrah Buyong. "Understanding the Halal Concept and the Importance of Information on Halal Food Business Needed by Potential Malaysian Entrepreneurs." International Journal of Academic Research in Business and Social Sciences 5, no. 2 (2015): 170–80.
Bichler, Bernhard Fabian, and Magdalena Lösch. "Collaborative Governance in Tourism: Empirical Insights into a Community-Oriented Destination." Sustainability 11, no. 23 (2019): 1–19.
Damanik, Janianton. Pariwisata Indonesia: Antara Peluang Dan Tantangan. Yogyakarta: Pustaka Pelajar, 2017.
El-Gohary, Hatem. "Coronavirus and Halal Tourism and Hospitality Industry: Is It a Journey to the Unknown?" Sustainability 12, no. 21 (2020): 1–26.
Feener, R. Michael. "Social Engineering Through Shari'a: Islamic Law and State-Directed Da'wa in Contemporary Aceh." Indonesia Law Review 3, no. 3 (September 1, 2014): 285. https://doi.org/10.15742/ilrev.v3n3.42.
Haspramudilla, Dara. "Siap Jadi Pusat Halal Dunia, Ini Strategi Indonesia." Media Keuangan, February 1, 2022. https://mediakeuangan.kemenkeu.go.id/article/show/siap-jadi-pusat-halal-dunia-ini-strategi-indonesia.
Ismanto, Kuat. "Pengelolaan Pariwisata Halal Pekalongan Studi Peran Pedagang Kuliner Dan Kesejahteraan Masyarakat." IQTISHADIA Jurnal Ekonomi & Perbankan Syariah 7, no. 2 (November 16, 2020): 138–55. https://doi.org/10.19105/iqtishadia.v7i2.3522.
Mashuri, Ilham. "Implementation of Sharia Compliance in The Halal Tourism Industry In Indonesia (A Study on Sharia Hotels and Beaches)." Prophetic Law Review 2, no. 2 (December 28, 2020): 200–220. https://doi.org/10.20885/PLR.vol2.iss2.art5.
Maturbongs, Edoardus E., and Ransta L. Lekatompessy. "Kolaborasi Pentahelix Dalam Pengembangan Pariwisata Berbasis Kearifan Lokal Di Kabupaten Merauke." Transparansi : Jurnal Ilmiah Ilmu Administrasi 3, no. 1 (June 30, 2020): 55–63. https://doi.org/10.31334/transparansi.v3i1.866.
Mufli, Muhammad. "East Java Halal Tourism Outlook: Potential Analysis and Strategy for East Java Halal Tourism Development." East Java Economic Journal 2, no. 2 (August 5, 2018): 187–209. https://doi.org/10.53572/ejavec.v2i2.19.
Mulyani, Sri, Retno Dewi Pramodia Ahsani, and Daya Negri Wijaya. "Collaborative Governance on Ecotourism: Towards Sustainable Tourism Development." Jurnal Borneo Administrator 17, no. 3 (December 28, 2021): 319–34. https://doi.org/10.24258/jba.v17i3.958.
Muntholib, Abdul. "Strategi Pengelolaan Wisata Halal pada Pondok Pesantren." Jihbiz: Journal of Islamic Economy, Finance, and Banking 4, no. 1 (January 25, 2020): 1–19. https://doi.org/10.33379/jihbiz.v4i1.840.
Nainggolan, Mangido, I. Wayan Ardika, I. Ketut Ardhana, and I. Ketut Setiawan. "Pentahelix Model Application for Tourism Development Strategy." International Journal of Linguistics, Literature and Culture 6, no. 2 (March 2, 2020): 12–18. https://doi.org/10.21744/ijllc.v6n2.864.
Novianti, Khusnul Rofida. "Maximizing Bali Village Tourism Potential Using Penta-Helix Model." International Journal of Social Science and Business 5, no. 1 (March 15, 2021): 86–92. https://doi.org/10.23887/ijssb.v5i1.30650.
Putri, Diva Lufiana. "Indonesia Peringkat Kedua Wisata Halal Dunia 2022." KOMPAS.com, July 18, 2022. https://www.kompas.com/tren/read/2022/07/18/093100565/indonesia-peringkat-kedua-wisata-halal-dunia-2022.
Putro, Heru Purboyo Hidayat, and Astri Briliayanti. "The Effectivity of Stakeholders' Collaboration on Tourism Destination Governance in Pangandaran, West Java, Indonesia." ASEAN Journal on Hospitality and Tourism 17, no. 1 (June 15, 2019): 25–37. https://doi.org/10.5614/ajht.2019.17.1.3.
Qodriyatun, Sri Nurhayati. "Implementasi Kebijakan Pengembangan Pariwisata Berkelanjutan di Karimunjawa." Aspirasi: Jurnal Masalah-masalah Sosial 9, no. 2 (March 26, 2019): 240–59. https://doi.org/10.46807/aspirasi.v9i2.1110.
Rahardjo, M. Dawam. Pembangunan Pascamodernis: Esai-Esai Politik. Yogyakarta: Insist Press, 2012.
Ramadhani, Marina. "Dilema Regulasi Pariwisata Halal Di Indonesia." Ar Rehla: Journal of Islamic Tourism, Halal Food, Islamic Traveling, and Creative Economy 1, no. 1 (April 27, 2021): 89–105. https://doi.org/10.21274/ar-rehla.2021.1.1.89-105.
Redaksi. "Kongres Halal Internasional 2022 Cetuskan 9 Butir Resolusi Halal Dunia." Majelis Ulama Indonesia (blog), June 16, 2022. https://mui.or.id/berita/35833/kongres-halal-internasional-2022-cetuskan-9-butir-resolusi-halal-dunia/.
———. "Wisata Halal, 'Vaksin' Pariwisata Di Masa Pandemi Covid-19," Desember 2020. https://diskominfotik.ntbprov.go.id/.
Redaksi HAI. "Prinsip Wisata Halal Sejalan Dengan Megatren Wisata Global," Desember 2020. https://www.harianaceh.co.id/.
Rifa'i, Mochamad Novi. "Integrasi Pariwisata Halal Di Kota Malang." Falah: Jurnal Ekonomi Syariah 4, no. 2 (2019): 194–201.
Santoso, Lukman, and Yutisa Tri Cahyani. "Pengaturan Wisata Halal Untuk Pembangunan Daerah: Transformasi Industri Halal Di Era Disrupsi." Supremasi Hukum: Jurnal Kajian Ilmu Hukum 9, no. 1 (July 9, 2020): 57–75.
Santoso, Lukman, Yutisa Tri Cahyani, and Suryani Suryani. "Dilema Kebijakan Wisata Halal Di Pulau Lombok." Jurnal Sosiologi Reflektif 15, no. 1 (November 9, 2020): 23–44. https://doi.org/10.14421/jsr.v15i1.1968.
Santoso, Lukman, Agus Triyanta, and Jawahir Thontowi. "Halal Tourism Regulations in Indonesia: Trends and Dynamics in the Digital Era." Ijtihad : Jurnal Wacana Hukum Islam Dan Kemanusiaan 22, no. 1 (August 1, 2022): 73–94. https://doi.org/10.18326/ijtihad.v22i1.73-94.
Santoso, R. Slamet, and Titik Djumiarti. "Collaborative Governance in Tourism Development at the Protected Area Sangiran Indonesia," 351–55. Atlantis Press, 2020. https://doi.org/10.2991/assehr.k.201219.053.
Sofia, Hanni. "Pariwisata Diproyeksikan Jadi Penyumbang Devisa Terbesar," April 20, 2020. https://www.antaranews.com/berita/1114530/.
Stiglitz, Joseph E. Making Globalization Work. WW Norton & Company, 2007.
Sutono, Anang, Shaharuddin Tahir, Sumaryadi Sumaryadi, Andre Hernowo, and Wisnu Rahtomo. "The Implementation of Halal Tourism Ecosystem Model in Borobudur Temple as Tourism Area." Indonesian Journal of Halal Research (IJHAR) 3, no. 1 (February 28, 2021): 13–20. https://doi.org/10.15575/ijhar.v3i1.11119.
Sya, Ahman, Muhammad Zid, Asma Irma S, Anita Eka Putri Anita, and Revi Mainaki. "Pengelolaan Destinasi Pariwisata Berkelanjutan: Kasus Tanjung Lesung Provinsi Banten." Jurnal Geografi, Edukasi Dan Lingkungan (JGEL) 5, no. 1 (January 29, 2021): 27–32. https://doi.org/10.22236/jgel.v5i1.5311.
Tim Detik. "Bisakah RI Jadi Pusat Industri Halal Dunia 2024?," Desember 2021. https://finance.detik.com/berita-ekonomi-bisnis/d-5839955/bisakah-ri-jadi-pusat-industri-halal-dunia-2024.
Tou, Harne julianti, Melinda Noer, and Sari Lenggogeni. "Pengembangan Desa Wisata Yang Berkearifan Lokal Sebagai Bentuk Pembangunan Pariwisata Berkelanjutan." JURNAL REKAYASA 10, no. 2 (December 10, 2020): 95–101. https://doi.org/10.37037/jrftsp.v10i2.63.
Umiyati, Sri, and M. Husni Tamrin. Pengembangan Wisata Halal, Tanggung Jawab Siapa? Studi Kasus Kolaborasi Stakeholder Halal Tourism Di Kota Malang. Jakarta: Penerbit Akses, 2020.
———. "Penta Helix Synergy in Halal Tourism Development," 75–81. Atlantis Press, 2021. https://doi.org/10.2991/assehr.k.210120.108.
Wahida, Siti Nurul, Yana Syafrieyana, and Oman Sukmana. "Collaboration with Pentahelix Model in Developing Kajoetangan Heritage Tourism in Malang City." Journal of Local Government Issues (LOGOS) 3, no. 1 (March 30, 2020): 1–17. https://doi.org/10.22219/logos.v3i1.10699.
Yuningsih, Tri, Titi Darmi, and Susi Sulandari. "Model Pentahelik Dalam Pengembangan Pariwisata Di Kota Semarang." JPSI (Journal of Public Sector Innovations) 3, no. 2 (May 31, 2019): 84–93. https://doi.org/10.26740/jpsi.v3n2.p84-93.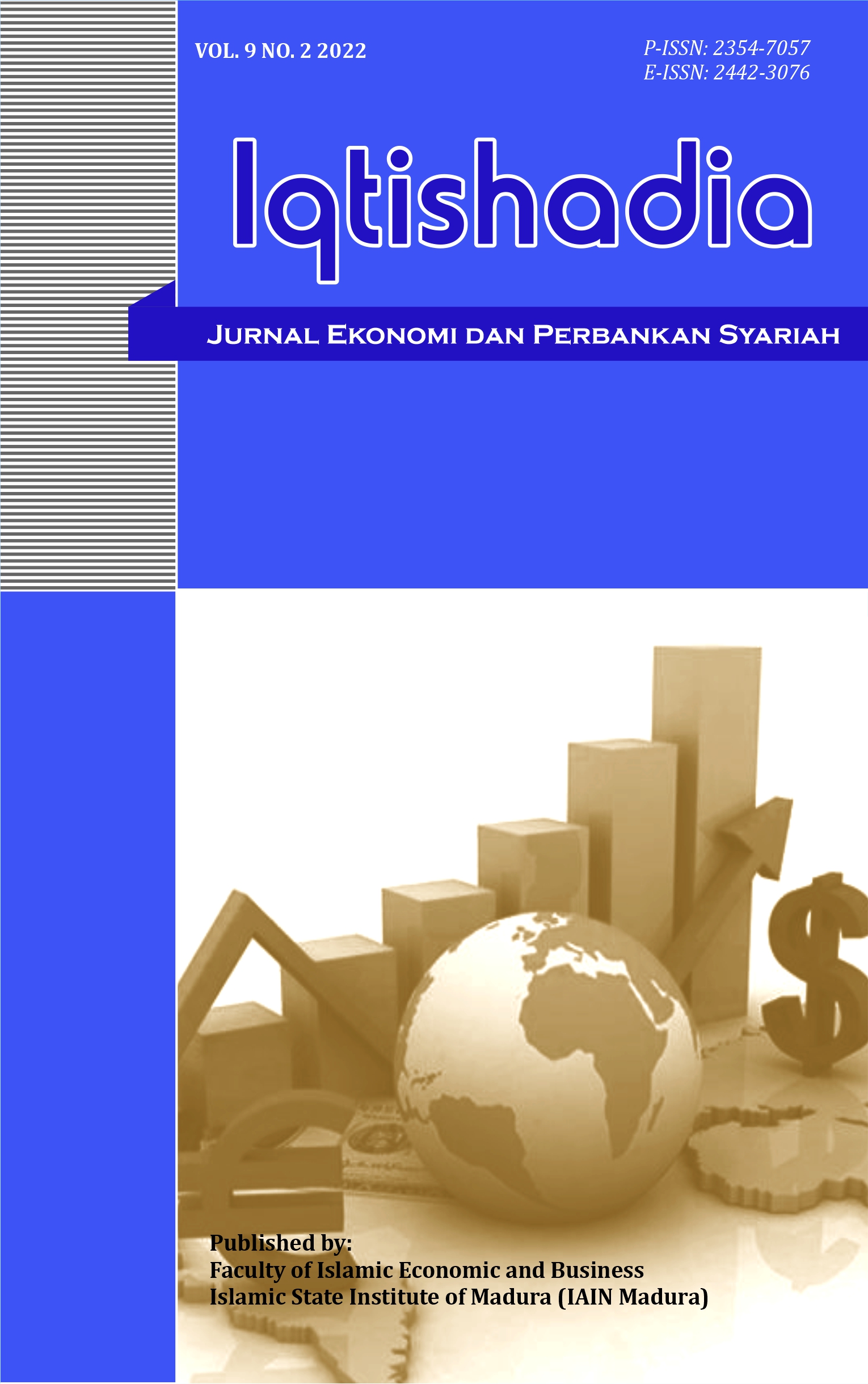 The journal operates an Open Access policy under a Creative Commons Non-Commercial Share-Alike license. All articles published Open Access will be immediately and permanently free for everyone to read and download.
• Creative Commons Attribution-NonCommercial (CC-BY-NC)

Iqtishadia: Jurnal Ekonomi dan Perbankan Syariah by http://ejournal.iainmadura.ac.id/index.php/iqtishadia is licensed under a Creative Commons Attribution-NonCommercial 4.0 International License.
Based on a work at http://ejournal.iainmadura.ac.id.