Maslahah Oriented sebagai Rasionalitas Bisnis dalam Ekonomi Islam
Fadllan Fadllan

Institut Agama Islam Negeri Madura

Lailatul Maufiroh

Institut Agama Islam Negeri Madura
Abstract views:
264
,
PDF downloads:
255
Keywords:
Maslahah Oriented, Rasionalitas Bisnis dalam Ekonomi Islam
Abstract
Abstract:
The concept of economic rationality developed by capitalists and socialists today invites very serious problems in society. The current economic rationale is more in favor of personal interests and ignores the values ​​of humanism so that it often clashes with other economic actors. Humans are considered to act rationally if the individual directs his behavior to reach the maximum stage in accordance with Islamic law. The benefit orientation in business is one of the most needed orientations in Islamic Economics. Enforcement of benefit is oriented to the goodness of life throughout the universe. Life in this world is the beginning of the afterlife. The benefit that occurs in the world becomes the forerunner to the realization of benefit in the hereafter. Benefit rests on the values ​​of justice, compassion, welfare and perfect wisdom. The existence of the concept of maslahah in the Islamic economic system can accommodate all forms of economic behavior and actions of every human being, both concerning interpersonal and inter-group relations. This is because the concept of maslahah is constructed not only for individual or personal interests but also for collective or community interests.
Keywords: Maslahah Oriented, Business Rationality in Islamic Economics
Abstrak:
Konsep rasionalitas ekonomi yang dibangun oleh kapitalis dan sosialis saat ini mengundang problem yang sangat serius di masyarakat. Rasionalitas ekonomi yang dijalankan saat ini lebih berpihak pada kepentingan pribadi dan mengabaikan nilai-nilai humanisme sehingga sering berbenturan dengan pelaku ekonomi lain. Manusia dianggap bertindak rasional apabila individu tersebut mengarahkan perilakunya untuk mencapai tahapan maksimum sesuai dengan syariat Islam. Orientasi kemaslahatan dalam bisnis menjadi salah satu orientasi yang sangat dibutuhkan dalam Ekonomi Islam. Penegakan kemaslahatan berorientasi pada kebaikan kehidupan seluruh alam semesta. Kehidupan di dunia ini merupakan awal dari adanya kehidupan akhirat. Kemaslahatan yang terjadi dunia menjadi cikal bakal terwujudnya kemaslahatan di akhirat. Kemaslahatan bertumpu pada nilai-nilai keadilan, kasih sayang, kesejahteraan dan kebijaksanaan yang sempurna. Adanya konsep maslahah dalam sistem ekonomi Islam dapat mengakomudir semua bentuk perilaku dan tindakan ekonomi setiap manusia, baik menyangkut hubungan antar pribadi maupun antar kelompok. Hal ini dikarenakan konsep maslahah dikonstruksi tidak hanya untuk kepentingan individu atau pribadi tetapi juga kepentingan kolektif atau masyarakat secara bersama-sama.
Kata Kunci: Maslahah Oriented, Rasionalitas Bisnis dalam Ekonomi Islam
Downloads
Download data is not yet available.
References
Afrina, Dita, dan Siti Achiria. "Rasionalitas Muslim Terhadap Perilaku Israf Dalam Komsumsi Perspektif Ekonomi Islam." EkBis: Jurnal Ekonomi dan Bisnis 2, no. 1 (t.t.).
Al-Ghazali. Al-Mushtafa. Kairo: Maktabah at-Tija'iyah al-Kubra, 1997.
Al-Jauziyah, Ibnu Qayyim. I'lam al-Muwaqi'in. Kairo: Maktabah at-Tija'iyah al-Kubra, 1955.
As- Shatibi. al-Muwafaqat fi Ushul al-Ahkam. Vol. 2. Kairo: Al-Matba'ah al-Madani, 1969.
Chapra, M. Umer. The Future of Economic: An Islamic Perspective. Diterjemahkan oleh Amdiar Amir. Jakarta: Penerbit SEBI, 2001.
Deliarnov. Perkembangan Pemikiran Ekonomi. Jakarta: PT. Raja Grafindo Persada, 2003.
Hasan, Zubair. Introduction to Microeconomics: An Islamic Perspective. Malaysia: Prantice Hall, 2006.
Hornby, AS. Oxford Advance Learners' Dictionary of Current English. IV. USA: Oxford University Press, 1989.
Isfandiar, Ali Amin. "Melacak Teori Rasionalitas Ekonomi berbasis Islamic Ethics." Jurnal Muqtasid 6, no. 2 (Desember 2015).
Karim, Adiwarman A. Ekonomi Mikro Islam. Jakarta: Rajawali Pers, 2011.
Kuntowijoyo. Identitas Politik Umat Islam. Bandung: Mizan, 1999.
Mannan, M. Abdul. Teori dan Praktek Ekonomi Islam. Diterjemahkan oleh M. Nastangin. Yogyakarta: Dana Bakti Prima Yasa, 1997.
Muhammad. Manajemen Keuangan Syariah: Analisis Fiqh dan Keuangan. Jakarta, 2013.
Munir, Misbahul. "Rasionalitas Gerakan Kewirausahaan Organisasi Tarekat Siddiqiyah di Jombang." ISLAMICA: Jurnal Studi Keislaman 9, no. 2 (Maret 2015).
Rahmawaty, Anita. Ekonomi Mikro Islam. Kudus: Nora Media Enterprise, 2011.
Rivai, Viethzal, dan Andi Buchori. Islamic Economic: Ekonomi Syariah bukan Opsi, tapi Solusi. Jakarta: Bumi Aksara, 2009.
Sari, Milya, dan Asmendri. "Penelitian Keperpustakaan (Library Research) dalam Penelitian IPA." NATURAL SCIIENCE: Jurnal Penelitian Bidang IPA dan Pendidikan IPA 6, (1) (2020).
Soros, George. Open Society: Reforming Global Capitalism. Diterjemahkan oleh Sri Kusdantiyah. Jakarta: Yayasan Obor Indonesia, 2007.
Sudarsono, Heri. Konsep Ekonomi Islam: Suatu Pengantar. Yogyakarta: Ekonisia, 2002.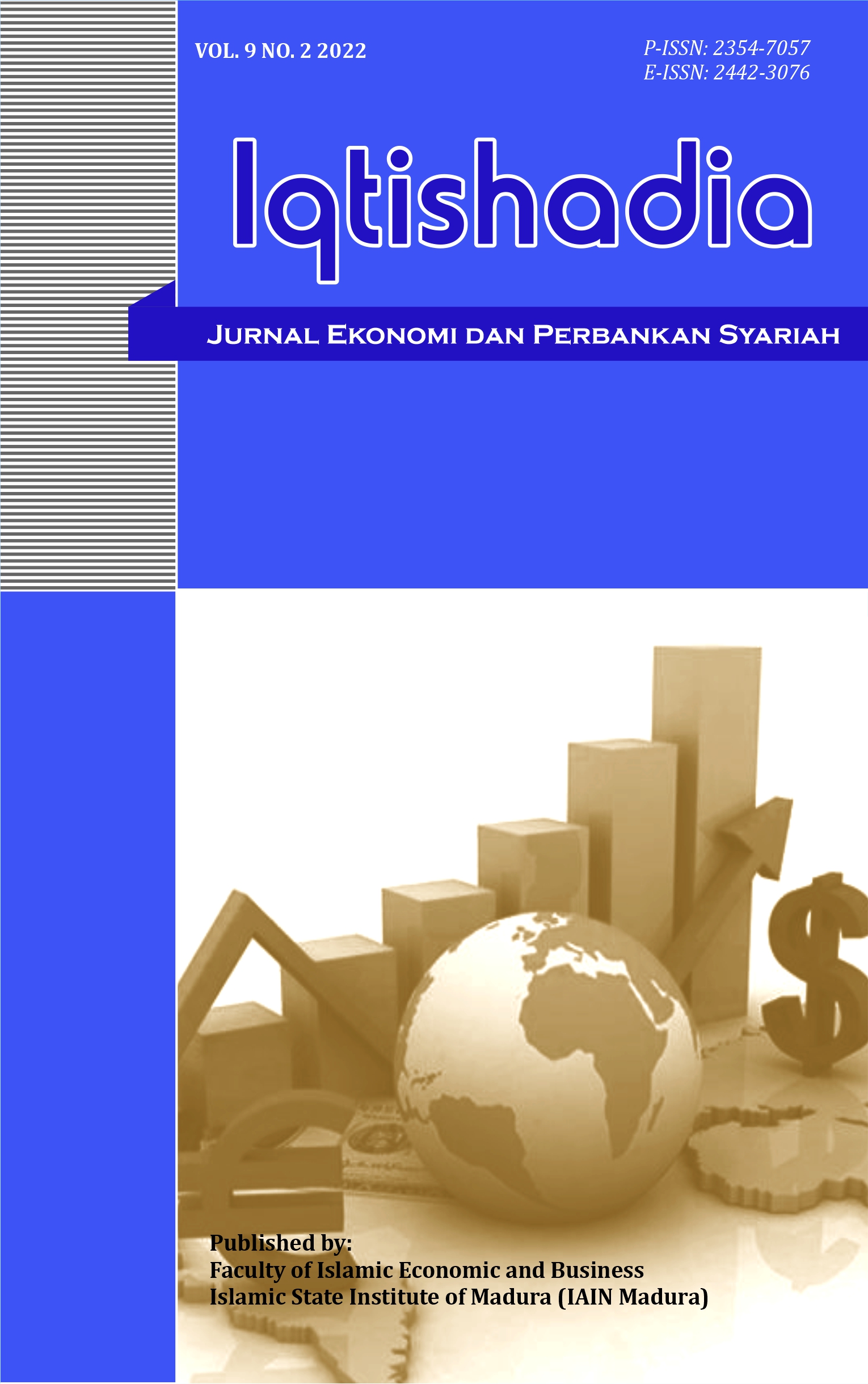 The journal operates an Open Access policy under a Creative Commons Non-Commercial Share-Alike license. All articles published Open Access will be immediately and permanently free for everyone to read and download.
• Creative Commons Attribution-NonCommercial (CC-BY-NC)

Iqtishadia: Jurnal Ekonomi dan Perbankan Syariah by http://ejournal.iainmadura.ac.id/index.php/iqtishadia is licensed under a Creative Commons Attribution-NonCommercial 4.0 International License.
Based on a work at http://ejournal.iainmadura.ac.id.