Syncretism of Slametan Tradition As a Pillar of Islam Nusantara
Faqihul Muqoddam

Universitas Airlangga

Virgin Suciyanti Maghfiroh

Universitas Airlangga
Abstract views:
284
,
PDF downloads:
152
Keywords:
Islam nusantara, syncretism, slametan
Abstract
Slametan is a tradition which is still embraced by Javanese in general, especially who is in rural areas. The slametan has different characteristics in each region that due to heterogeneity factors. The research purposes to describe slametan forms, process, and syncretism patterns of slametan tradition in Ngaringan village, Gandusari district, Blitar. The research used a qualitative tradition with descriptive narrative approach which is thematic analysis for data analysis process used. The research were participated by public figures in Ngaringan village. Data collection with in-depth interviews and observation. It found (1) Slametan forms generally includes birth, death, marriage, cleaning the village, feast day, welcoming Ramadhan, celebrating after coming back from abroad for the work, and celebrating when harvest comes. (2) The slametan process consists of serving food (such as; chicken in ingkung form, buceng rice, jenang colors red and white, jenang sengkolo) and prayer. (3) The slametan tradition is a pattern of syncretism between Java and Islam as a pillar of "Islam Nusantara". The Slametan had already existed as a Javanese ritual before Islam came than they were merged into the one. The research conclusion reveals that the slametan tradition is a ritual which is combining between Javanese and Islamic traditions than became characteristic of "Islam Nusantara".
Downloads
Download data is not yet available.
References
Alma'arif. "Islam Nusantara: Studi Epistemologis dan Kritis". Analisis: Jurnal Studi Keislaman. 15 no.2 (2015): 265-291.
Astuti, Hanum Jazimah P. "Islam Nusantara: Sebuah Argumentasi Beragama dalam Bingkai Kultural". INJECT: Interdisciplinary Journal of Communication. 02, no. 1 (2017): 27-52.
Bafaqih, Hikmah. "Merawat Cita-cita Gus Dur: Menegakkan Visi Bernegara Pancasila dari Ancaman Radikalisme". Disampaikan pada acara Talk Show Mengenang Pemikiran Gus Dur dengan pembahasan pada tanggal 4 Oktober 2018 di Universitas Katolik Widya Mandala Surabaya, 2018.
Creswell. John.W. Penelitian Kualitatif & Desain Riset. Yogyakarta: Pustaka Pelajar, 2015.
De Graaf, HJ & TH.G.TH Pigeaud. Kerajaan-Kerajaan Islam di Jawa: Peralihan Dari Majapahit Ke Mataram. Jakarta: Grafiti Press, 1985.
Endraswara, Suwardi. Mistik Kejawen: Sinkretisme, Simbolisme, dan Sufisme dalam Budaya Spiritual Jawa. Yogyakarta: Narasi, 2006.
Geertz, Clifford. Agama Jawa. Depok: Komunitas Bambu, 2014.
Hakam, Ahmad. "Cummunal Feast Slametan: Belief System, Ritual, and the Ideal of Javanese Society". Hayula: Indonesian Journal of Multidisciplinary Islamic Studies. 1 no.1 (2017): 97-110. Doi 10.21009/hayula.001.1.06
Humaedi, M Alie. Islam dan Kristen di Pedesaan Jawa: Kajian Konflik Sosial Keagamaan dan Ekonomi Politik di Kasimpar dan Karangkobar. Jakarta: Badan Litbang dan Diklat Departemen Agama RI, 2008.
Kholil, Ahmad. Agama Kultural Masyarakat Pinggiran. Malang: UIN Maliki Press, 2011.
Kistanto, Nurdien. H. "The Javanese Slametan as Practiced as Tradition and Identity". International Journal of Humanities and Social Science. 6 no.11 (2016): 290-295.
Kosim, Mohammad. Pondok Pesantren di Pamekasan: Pertumbuhan dan Perkembangan. Pamekasan: Pusat Penelitian dan Pengabdian Kepada Masyarakat, 2002.
Miles, Matthew B & A. Michael Huberman. Qualitative Data Analysis. London: Sage Publication, 1994.
Mulder, Niels. Mistisisme Jawa: Ideologi di Indonesia. Yogyakarta: LKiS, 2001.
Purwadi. Upacara Tradisional Jawa: Menggali Untaian Kearifan Lokal. Yogyakarta: Pustaka Pelajar, 2005.
Ridwan, Suwito, Chakim S, & Supani. Islam Kejawen: Sistem Keyakinan dan Ritual Anak-Cucu Ki Bonokeling. Purwokerto: STAIN Purwokerto Press & Unggun Religi, 2008.
Rudianto, Widiyahseno B, & Susanti S. "Model Upacara Ritual Selametan Masyarakat Perkampungan Berbasis Masjid". Universitas Muhammadiyah Ponorogo (2016).
Siradj, Said Aqil. "Mengapa Islam Nusantara?". Youtube 164 Channel. Diperbaharui pada tanggal 24 Maret 2016. https://www.youtube.com/watch?v=8me2C7g1O-Q
Sutiyono. Benturan Budaya Islam: Puritan dan Sinkretis. Jakarta: PT Kompas Media Nusantara, 2010.
Suwardi. "Sinkretisme dan Simbolisme Tradisi Selamatan Kematian di desa Purwosari Kulon Progo". Universitas Negeri Yogyakarta (2012): 161-180.
Suyono, Capt, R.P. Dunia Mistik Orang Jawa. Yogyakarta: LKiS, 2007.
Syam, Nur. Islam Pesisir. Yogyakarta: LKiS, 2005.
Tim Aswaja NU Center PWNU Jawa Timur. Khazanah Aswaja: Memahami, Mengamalkan dan Mendakwahkan Ahlussunnah wal Jama'ah. Surabaya: Tim Aswaja NU Center PWNU Jawa Timur, 2016.
Woodward, Mark. Java, Indonesia, and Islam. London: Springer,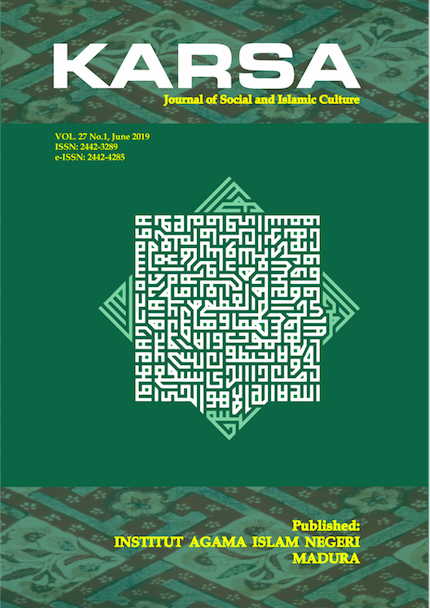 How to Cite
Muqoddam, Faqihul, and Virgin Suciyanti Maghfiroh. 2019. "Syncretism of Slametan Tradition As a Pillar of Islam Nusantara". Karsa: Journal of Social and Islamic Culture 27 (1), 75-94. https://doi.org/10.19105/karsa.v27i1.1950.
The journal operates an Open Access policy under a Creative Commons Non-Commercial Share-Alike license. Authors who publish with this journal agree to the following terms:
Authors retain copyright and grant the journal right of first publication with the work simultaneously licensed under a Creative Commons Attribution License that allows others to share the work with an acknowledgement of the work's authorship and initial publication in this journal.
Authors are able to enter into separate, additional contractual arrangements for the non-exclusive distribution of the journal's published version of the work (e.g., post it to an institutional repository or publish it in a book), with an acknowledgement of its initial publication in this journal.
Authors are permitted and encouraged to post their work online (e.g., in institutional repositories or on their website) prior to and during the submission process, as it can lead to productive exchanges, as well as earlier and greater citation of published work.