Defending The Country on The Movement of The Younger Generation in Lafran Pane's Perspective
Umi Azizah

Program Studi Pendidikan Sejarah, Universitas Sebelas Maret (UNS), Surakarta

Djono Djono

Universitas Sebelas Maret (UNS), Surakarta

Akhmad Arif Musadad

Universitas Sebelas Maret (UNS), Surakarta

Eko Ariwidodo

Visiting Scholar, Fakultät für Philosophie und Bildungswissenschaft, Universitäts Wien
Abstract views:
293
,
PDF downloads:
174
Keywords:
-, young muslims; defending nation; thought of Lafran Pane
Abstract
This research discusses the defensive attitude of the younger generation, especially the younger generation of muslims, based on Lafran Pane's thoughts. Lafran Pane is one of the hero figures in Indonesia who had a significant influence on maintaining Indonesia's independence. This research aims to determine and understand Lafran Pane's thoughts on defending the country by the younger generation, especially the younger generation of muslims in Indonesia. The method used in this research is the descriptive qualitative research method. This study found that Lafran Pane emphasized the young age to maintain Indonesian independence by returning to the Islamic teachings and practicing them in all activities. He has reformed thoughts in various fields, created a new education system, made Islamic and Indonesian-ness the starting point for the movement.
Downloads
Download data is not yet available.
References
Alam, Wira Yuda. "Aktivisme Organisasi Mahasiswa Ekstra Kampus dalam Pemilihan Umum Raya Mahasiswa FISIP Unair." Jurnal Politik Indonesia 1, no. 2 (2012): 91-98. http://journal.unair.ac.id /JPI@aktivisme-organisasi-mahasiswa-ekstra-kampus-dalam-pemilihan-umum-raya-mahasiswa-fisip-unair-article-5258-media-142-category-8.html.
Aiyub, A. and H. Huwaida. "Anak-Anak Muslim dan Dampak Era Globalisasi Bagi Pendidikan Islam Mereka." Gender Equality: Internasional Journal of Child and Gender Studies 1, no. 2 (2015): 1-14. https://jurnal.ar-raniry.ac.id/index.php/equality/article/view /785.
Asror, Ahidul. "Pemikiran Islam Kebangsaan: Pandangan Kyai NU Jembar Tentang Khilafah." Jurnal al-Tatwir 2, no.1 (2015): 205–228. http://ejournal.iain-jember.ac.id/index.php/altatwir/article/ view/149.
Azhar, Muhammad. "Perspektif Islam Tentang Bela Negara." Jurnal Ketahanan Nasional 6, no. 1 (2001): 31-63. https://jurnal.ugm. ac.id/jkn/article/view/22024.
Buwono X, Sri Sultan Hamengku. Merajut Kembali Keindonesiaan Kita. Jakarta: PT Gramedia Pustaka Utama, 2007.
Choirunniswah. "Organisasi Islam Dan Perannya Terhadap Pendidikan Islam di Indonesia." Ta'dib: Jurnal Pendidikan 18, no. 1 (2013): 56-84. https://doi.org/10.19109/td.v18i01.39.
Gredinan, Dony. "Penerapan Pendidikan Bela Negara di Perguruan Tinggi." Jurnal Prodi Strategi Pertahanan Darat 3, no.2 (2017): 1-27. http://jurnalprodi.idu.ac.id/index.php/SPD/article /view/45.
Ikrar, I. "Partai-Partai Islam di Indonesia: Latar Belakang dan Dinamika Perjalanannya." Jurnal Ilmiah Al Syir'ah 1, no. 2 (2003):1-13. http://journal.iain-manado.ac.id/index.php/JIS/article/view/199.
Khatibah. "Penelitian Kepustakaan." Iqro': Jurnal Perpustakaan dan Informasi 5, no. 1 (2011): 38- 39. http://repository.uinsu.ac.id/id/ eprint/640.
Mariani, Nina. "Ahmadiyah, Conflicts, and Violence in Contemporary Indonesia." IJIMS: Indonesian Journal of Islam and Muslim Societies 3, no.1 (2013): 1-30. https://doi.org/10.18326/ijims. v3i1.1-30.
Masruri, Siswanto. "Jong Islamieten Bond dan Cendekiawan Muslim di Indonesia." UNISIA: Jurnal Ilmu-Ilmu Sosial 11, no.3 (1991): 46-57. https://journal.uii.ac.id/Unisia/article/view/5155.
Miftahuddin, Danar Widiyanta, and Dina Dwikurniarini. "Peran Organisasi Islam: Dari Perjuangan Menuju Kemerdekaan Sampai Masa Perang Kemerdekaan 1936-1949." Laporan Penelitian Payung. Jurusan Pendidikan Sejarah. Universitas Negeri Yogyakarta (2012): 1-58. http://staffnew.uny.ac.id/upload/1316 55976/penelitian/penlt-2012-peran-orgnsasi-islam.pdf.
Naafs, Suzanne and Ben White. "Generasi Antara: Refleksi tentang Pemuda Indonesia." Jurnal Studi Pemuda 1, no. 2 (2012): 89-106. https://journal.ugm.ac.id/jurnalpemuda/article/viewFile/32063/19387.
Naruwihardjo, A. Dahlan. Pergerakan Pemuda Setelah Proklamasi. Jakarta: Yayasan Idayu, 1979.
Pane, Lafran. 5 Tulisan Lafran Pane. Jakarta: KAHMI Centre, 2015.
Posha, Betti Yanuri. "Perkembangan Islam di Indonesia Pasca Kemerdekaan." Historia: Jurnal Program Studi Pendidikan Sejarah 3, no. 2 (2015): 81. https://fkip.ummetro.ac.id/journal/ index.php/sejarah/article/view/84.
Ridwan, H. Pemuda Islam dalam Dinamika Politik Bangsa 1925-1984. Jakarta: CV Rajawali, 1948.
Rumagit, Stev Koresi. "Kekerasan dan Diskriminasi Antar Umat Beragama di Indonesia." Lex Administratum 1, no. 2 (2013): 56-64. https://ejournal.unsrat.ac.id/index.php/administratum/article/ view/3016.
Rusli, Muh. "Pemikiran Keagamaan dan Kebangsaan Gus Dur." Jurnal Farabi 12, no.1 (2015): 50-71. http://journal.iaingorontalo.ac.id/ index.php/fa/article/download/789/588.
Satria, Hariqo Wibawa. Lafran Pane: Jejak Hayat dan Pemikirannya. Jakarta: Penerbit Lingkar, 2010.
Sitompul, Agus Salim. Sejarah Perjuangan Himpunan Mahasiswa Islam 1947-1975. Jakarta: Misaka Galiza, 2008.
Sumadi, Eko. "Keislaman dan Kebangsaan: Modal Dasar Pengembangan Organisasi Dakwah." Tadbir: Jurnal Manajemen Dakwah 1, no. 1 (2016): 167-184. https://journal.iainkudus.ac.id/ index.php/tadbir/article/view/238.
Tuahunse, Trisnowati. "Hubungan Antara Pemahaman Sejarah Pergerakan Nasional Indonesia Dengan Sikap Terhadap Bela Negara." Jurnal Kependidikan 39, no.1 (2009): 1-10. https:// journal.uny.ac.id/index.php/jk/article/view/226.
Wahyudi, Catur and Bambang Noor Setya. "Kekuatan Interaksi Inklusif dalam Menyelesaikan Konflik Agama (Kasus Interaksional JAI, NU, dan Aktivis Muhammadiyah di Kota Bandung)." Karsa: Jurnal of Social and Islamic Culture 25, no. 2 (2017): 1-26. http:// ejournal.iainmadura.ac.id/index.php/karsa/article/view/1414/2308.
Widianto, A.A. "Meninjau Radikalisme Pemuda Dalam Polemik Kontestasi Ideologi di Indonesia (Sebuah Refleksi Sosiologis)." Makalah, Disampaikan dalam Kegiatan Sarasehan Kebangsaan Di UPT Pusat Pengkajian Pancasila Universitas Negeri Malang. 6 April 6, 2018.
Zuchairiyah, Rofiqoh. "Kekerasan Terhadap Pengikut Aliran yang Dinilai Sesat dalam Persepektif Hukum Islam (Studi Terhadap Ahmadiyah di Indonesia)." In Right: Jurnal Agama dan Hak Azazi Manusia 1, no. 2 (2012): 369-396. http://ejournal.uinsuka. ac.id/syariah/inright/article/view/1224.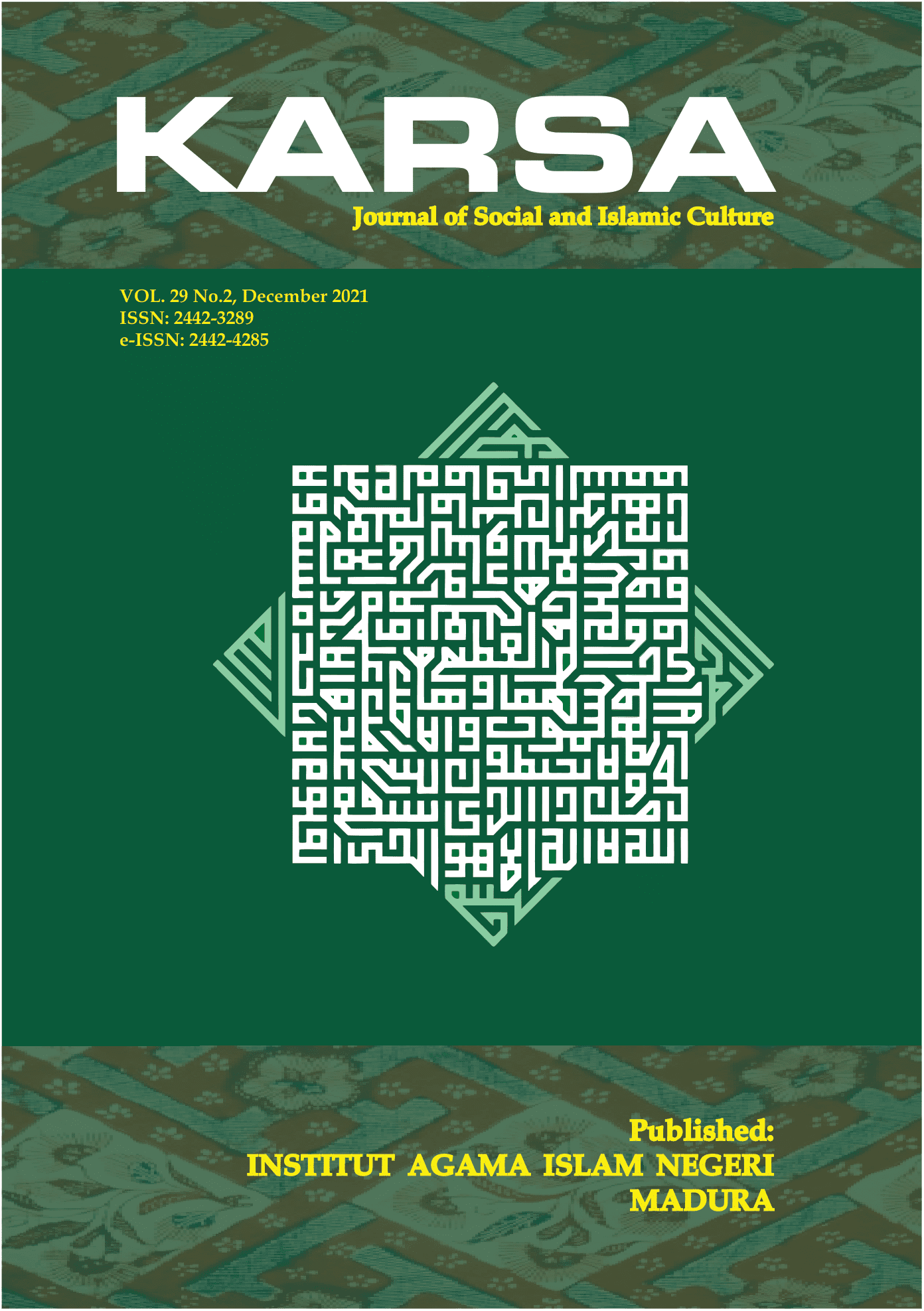 How to Cite
Azizah, Umi, Djono Djono, Akhmad Arif Musadad, and Eko Ariwidodo. 2021. "Defending The Country on The Movement of The Younger Generation in Lafran Pane's Perspective". KARSA Journal of Social and Islamic Culture 29 (2), 310-31. https://doi.org/10.19105/karsa.v29i2.3203.
The journal operates an Open Access policy under a Creative Commons Non-Commercial Share-Alike license. Authors who publish with this journal agree to the following terms:
Authors retain copyright and grant the journal right of first publication with the work simultaneously licensed under a Creative Commons Attribution License that allows others to share the work with an acknowledgement of the work's authorship and initial publication in this journal.
Authors are able to enter into separate, additional contractual arrangements for the non-exclusive distribution of the journal's published version of the work (e.g., post it to an institutional repository or publish it in a book), with an acknowledgement of its initial publication in this journal.
Authors are permitted and encouraged to post their work online (e.g., in institutional repositories or on their website) prior to and during the submission process, as it can lead to productive exchanges, as well as earlier and greater citation of published work.