Transformational Model: Pela Communicative Action and Systemic Action
Andhika Rahmat Saputra

Universitas Muhammadiyah Malang

Putri Zahra Azizah

Azman Hashim International Business School (AHIBS), Universitas Teknologi Malaysia (UTM)

Adilati Sari

Faculty of al-Dirasat al-Islamiyah wa al-'Arabiyah lil Banat, Al-Azhar University, Cairo
Abstract views:
233
,
PDF downloads:
76
Keywords:
Pela; Maluku; transformational; post-secular
Abstract
This study refers to how the Pela concept within the Maluku. This study relates to how the Pela concept within the Maluku community has a broad influence on the rationalization of the life-world. Modernity, liberalism, and the currents of globalization that fuel technical progress can jeopardize the rationalization of our life-world, which is essential for the integrity and solidarity of society, but neglect of technological progress should not be a proposition. Therefore, researchers, with the help of the dialectic of Habermas and Hardiman's thoughts with their post-secular thoughts, found a motive to examine how Indonesian multiculturalism has the potential to rationalize the development of society. Using the perspective of Jurgen Habermas and Hardiman based on post-secular theory, the purpose of this study helped researchers study the forms of deliberation from the Pela system. Qualitative research is the research method used. The critical paradigm is the chosen solution. This study combines Pela concepts associated with Habermas and Hardiman's post-secular thinking and uses Habermas' critical hermeneutic theory. The results of this study show the decision-making process. In this context, the researchers found the Pela concept as the initial capital of the Maluku people to support technical progress without neglecting the roots of solidarity. This research can be a reference for further researchers in sociology, ethnology, and even human resource management.
Downloads
Download data is not yet available.
References
Agger, Ben. Teori Sosial Kritis: Kritik, Penerapan dan Implikasinya. Yogyakarta: Kreasi Wacana, 2003.
Dharapos.com. "M1R Salam Sarane Kampanyekan Hidup Damai dan Bagi-Bagi Masker." last modified October 26, 2020. https:// www.dharapos.com/2020/10/m1r-salam-sarane-kampanyekan-hidup.html.
Farid, Muhammad. "Dialog dan Toleransi Beragama di Kota Ambon: Perspektif Bekas Pejuang Muslim Ambon." International Journal of Islamic Thought 9, no. 1 (June, 2016): 44–50. http://www.ukm. my/ijit/wp-content/uploads/2016/06/IJIT-Vol-9-June-2016_5_ 44-50.pdf.
Habermas, Jurgen. Teori Tindakan Komunikatif I : Rasio dan Rasionalitas Masyarakat. Bantul: Kreasi Wacana, 2019.
Habermas, Jurgen. Teori Tindakan Komunikatif II : Kritik Atas Rasio Fungsionalis. Bantul: Kreasi Wacana, 2019.
Hakis, Hakis. "Komunikasi Antar Umat Beragama di Kota Ambon." Jurnal Komunikasi Islam 5, no. 1 (2015): 98–113. http://jki.uin sby.ac.id/index.php/jki/article/view/73.
Hardiman, F. Budi. Demokrasi dan Sentimentalitas: Dari Bangsa Setan-Setan, Radikalisme Agama Sampai Post-Sekularisme. Yogya- karta: Kanisius, 2018.
Hardiman, F. Budi. Demokrasi Deliberatif : Menimbang 'Negara Hukum' dan 'Ruang 'Publik' dalam Teori Diskursus Jürgen Habermas. Yogyakarta: Kanisius, 2009.
Hardiman, F. Budi. Kritik Ideologi: Menyingkap Kepentingan Pengetahuan Bersama Jurgen Habermas. Yogyakarta: Buku Baik, 2004.
Hardiman, F. Budi. Melampaui Positivisme dan Modernitas. Yogya-karta: Kanisius, 2003.
Hardiman, F. Budi. Menuju Masyarakat Komunikatif : Ilmu, Masyarakat, Politik dan Postmodernisme Menurut Juergen Habermas. Yogyakarta: Kanisius, 2008.
Hardiman, F. Budi. Seni Memahami Hermeneutik Dari Schleiermacher Sampai Derrida. Yogyakarta: Kanisius, 2015.
Hasudungan, Anju Nofarof, and Lianda Dewi Sartika. "Model Pendidikan Perdamaian Berbasis Kearifan Lokal Pela Gandong Pada Pembelajaran IPS Pasca Rekonsiliasi Konflik Ambon." Indonesian Journal of Social Science Education (IJSSE) 2, no.1 (2020): 20–32. https://doi.org/10.29300/ijsse.v2i1.2658.
Hehanussa, Jozef. "Pela dan Gandong: Sebuah Model untuk Kehidupan Bersama dalam Konteks Pluralisme Agama di Maluku." Gema Teologi 33, no. 1 (2009): 1-15. https://journal-theo.ukdw.ac.id/ index.php/gema/article/view/40.
Jena, Yeremias. "Toleransi Antarumat Beragama di Indonesia dari Perspektif Etika Kepedulian." Jurnal Sosial Humaniora 12, no. 2 (2019): 183-95. https://doi.org/10.12962/j24433527.v12i2.5941.
Montana, Osbert, Riris Loisa, and Lusia Savitri Setyo Utami. "Masyarakat dan Kearifan Budaya Lokal (Bentuk Pela Masyarakat di Negeri Batu Merah Kota Ambon Pasca Rekonsiliasi)." Koneksi 2, no. 2 (2018): 507-514. https://doi.org/ 10.24912/kn.v2i2.3930.
Nisa, Suvia. "Toleransi Masyarakat Beda Agama." Repository Universitas Airlangga (2019): 1-22. https://repository.unair.ac.id/ 87540/1/_JURNAL_SUVIA%20NISA_071511433090.pdf.
Nugroho, Heru. "Demokrasi dan Demokratisasi: Sebuah Kerangka Konseptual untuk Memahami Dinamika Sosial-Politik di Indonesia." JPS: Jurnal Pemikiran Sosiologi 1, no. 1 (2012): 1-15. https://doi.org/10.22146/jps.v1i1.23419.
Nuris, Anwar. "Tindakan Komunikatif: Sekilas Tentang Pemikiran Juergen Habermas." Al-Balagh: Jurnal Dakwah dan Komunikasi 1, no. 1 (2016): 39-66. https://doi.org/10.22515/balagh.v1i1.45.
Perda Provinsi Maluku No. 16 Tahun 2019, Peraturan Daerah Tentang Penataan Desa Adat.
Perda Kota Ambon No. 7 Tahun 2012, Peraturan Daerah Tentang Negri.
Piris, Sammy, and Sonny Tilaar. "Graha Wisata Adat Pela Gandong di Maluku (Simbiosis Mutualisme)." Jurnal Arsitektur DASENG 2, no. 3 (2013): 79–88. https://ejournal.unsrat.ac.id/index.php/ daseng/article/view/3626.
Priastana, Jo. "Teori Tindakan Komunikasi Jurgen Habermas Sebagai Titik Pijak Dialog Antar Agama." M.A. thesis, Universitas Indonesia, 1998. https://opac.perpusnas.go.id/DetailOpac.aspx? id=184614.
Pusey, M. Habermas: Dasar dan Konteks Pemikirannya. Yogyakarta: Resist Book, 2011.
Rahawarin, Yunus. "Kerjasama Antar Umat Beragama: Studi Rekonsiliasi Konflik Agama di Maluku dan Tual." Kalam 7, no. 1 (2013): 95-120. https://doi.org/10.24042/klm.v7i1.451.
Ritiauw, Yakob Godlif Malatuny, and Samuel Patra. "Eksistensi Pela Gandong Sebagai Civic Culture." Social Science Education Journal 5, no. 2 (2018): 35-46. https://doi.org/10.15408/sd.v5i2. 10554.
Roubrenda N. Ralahallo, "Kultur Damai Berbasis Tradisi Pela dalam Perspektif Psikologi Sosial." Jurnal Psikologi 36, no. 2 (2009): 177–88. https://doi.org/10.22146/jpsi.7894.
Rosyidi, Mohammad Fuad Al Amin Mohammad. "Konsep Toleransi dalam Islam dan Implementasinya di Masyarakat Indonesia." Jurnal Madaniyah 9, no. 2 (2019): 277-96. https://journal.stit pemalang.ac.id/index.php/madaniyah/article/download/129/113/.
Setiawan, Arif. "Konsep Ruang Publik Menurut Jürgen Habermas." Repository UIN Sunan Kalijaga (2015): 1-80. http://digilib.uin-suka.ac.id/id/eprint/19211/2/08510001_bab-i_iv-atau-v_daftar-pustaka.pdf.
Setyowati, Yuli. "Tindakan Komunikatif Masyarakat 'Kampung Preman' dalam Proses Pemberdayaan." Jurnal ASPIKOM 3, no. 1 (2016): 16-32. https://doi.org/10.24329/aspikom.v3i1.96.
Sholahudin, Umar. "Membedah Teori Kritis Mazhab Frankfurt." Jurnal of Urban Sociology 3, no. 2 (2020): 71-89. https://journal.uwks. ac.id/index.php/sosiologi/article/view/1246.
Sholeh, Moh. "Pesantren dan Kontruksi Realitas Sosial." Aspirasi: Jurnal Masalah-Masalah Sosial 7, no.1 (2016): 105-11. http:// jurnal.dpr.go.id/index.php/aspirasi/article/view/1283.
Souhaly, Robert. "Sasi Adat: Kajian Terhadap Pelaksanaan Sasi Adat dan Implikasinya." KENOSIS: Jurnal Kajian Teologi 2, no. 2 (2016): 192–205. https://doi.org/10.37196/kenosis.v2i2.41.
Supriadi, Yadi. "Relasi Ruang Publik dan Pers Menurut Habermas." KJ: Kajian Jurnalisme 1, no. 1 (2017): 1–20. https://doi.org/10.24198/ kj.v1i1.12228.
Undang-Undang no. 7 Tahun 2012, Undang-Undang Tentang Penanganan Konflik Sosial.
Wenno, I.H., and Wilma Akihary. "Kebutuhan Model Budaya Pela Gandong Berbasis Pembangunan di Provinsi Maluku." LiNGUA: Jurnal Ilmu Bahasa dan Sastra 5, no. 2 (2011): 128-33. https:// doi.org/10.18860/ling.v5i2.626.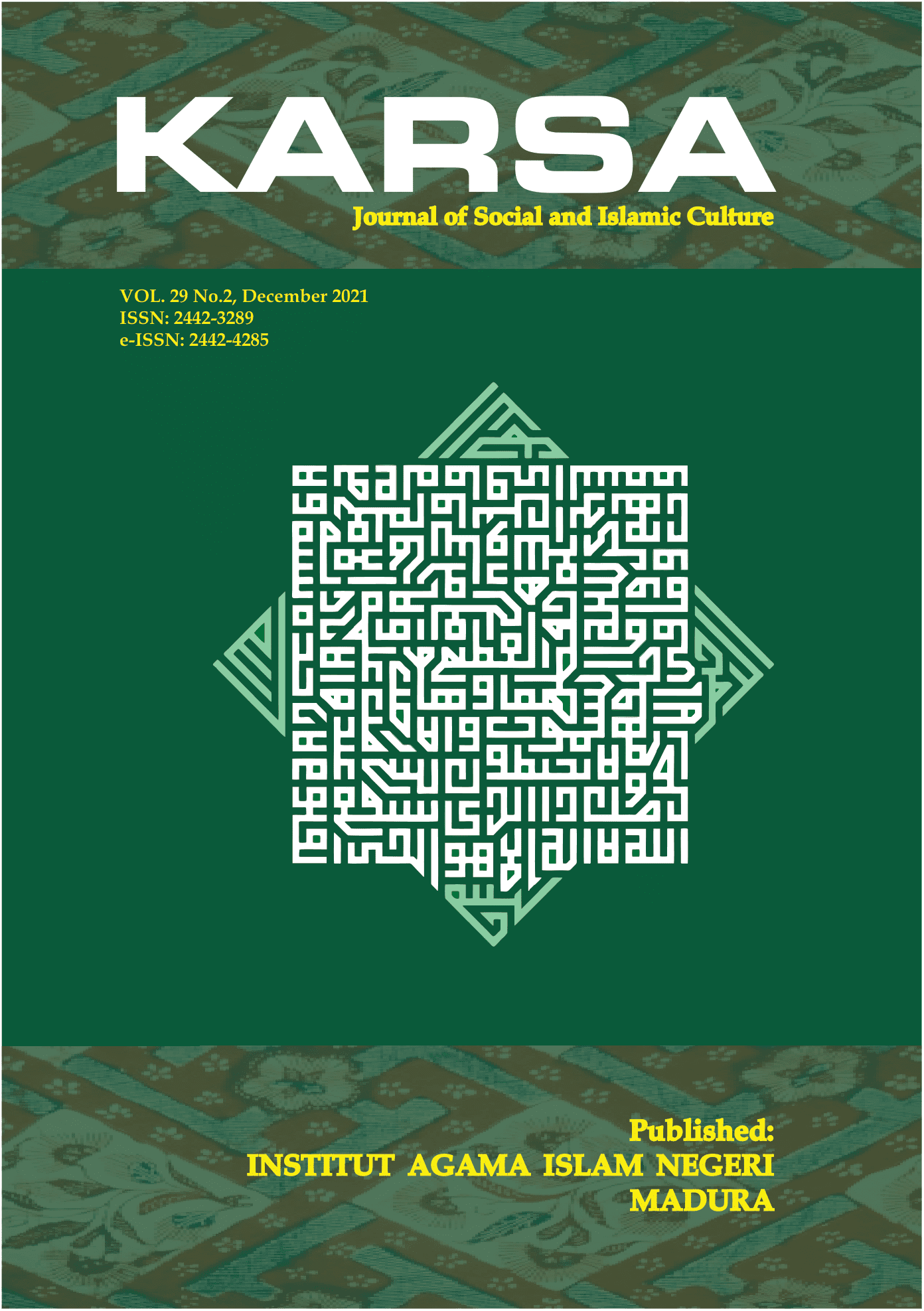 How to Cite
Rahmat Saputra, Andhika, Putri Zahra Azizah, and Adilati Sari. 2021. "Transformational Model: Pela Communicative Action and Systemic Action: ". Karsa: Journal of Social and Islamic Culture 29 (2), 354-87. https://doi.org/10.19105/karsa.v29i2.4742.
The journal operates an Open Access policy under a Creative Commons Non-Commercial Share-Alike license. Authors who publish with this journal agree to the following terms:
Authors retain copyright and grant the journal right of first publication with the work simultaneously licensed under a Creative Commons Attribution License that allows others to share the work with an acknowledgement of the work's authorship and initial publication in this journal.
Authors are able to enter into separate, additional contractual arrangements for the non-exclusive distribution of the journal's published version of the work (e.g., post it to an institutional repository or publish it in a book), with an acknowledgement of its initial publication in this journal.
Authors are permitted and encouraged to post their work online (e.g., in institutional repositories or on their website) prior to and during the submission process, as it can lead to productive exchanges, as well as earlier and greater citation of published work.