PENGEMBANGAN BAHAN AJAR BALAGHAH BERBASIS PENDEKATAN ADÂBÎ
Yayan Nurbayan

Jurusan Pendidikan Bahasa Arab Universitas Pendidikan Indonesia, Bandung Jln. Dr. Setiabudhi No. 229 Bandung 40154
Abstract views:
69
,
pdf downloads:
254
Abstract
Penelitian ini dilatarbelakangi oleh lemahnya tingkat apresiasi mahasiswa ter-
hadap materi kesastraan, khusunya balaghah. Untuk itu, dilakukan penelitian
ini dengan fokus sebagai berikut: a) bagaimana gambaran materi ajar balaghah
dengan menggunakan pendekatan adâbî?; b) Bagaimana pelaksanaan pembelajaran

mata kuliah balaghah dengan menggunakan materi yang disusun berdasarkan

pendekatan adâbî?; c) Bagaimana persepsi mahasiswa yang belajar
balaghah dengan menggunakan materi ajar berbasis pendekatan adâbî?; d)
Bagaimana kualitas prestasi balaghah mahasiswa yang belajar dengan
menggunakan materi ajar yang berbasis pendekatan adâbî? Metode yang
digunakan dalam penelitian ini adalah kuasi eksperimen. Sampel dalam
penelitian ini adalah mahasiswa yang mengikuti perkuliahan balaghah
sebanyak 48 orang. Hasil penelitian sebagai jawaban atas permasalahan di atas
adalah: 1) tersusunnya bahan ajar balaghah dengan pendekatan adâbî; 2) Tersusunnya

langkah-langkah pembelajaran balaghah dengan pendekatan adabi
yang meliputi: persiapan, pelaksanaan dan evaluasi. 3) Langkah-langkah pendekatan

adâbî adalah sbb: pengajar menyampaikan suatu konsep yang
mengandung aspek bahasan kepada para mahasiswa, kemudian mereka
mengungkapkannya ke dalam bahasa Arab dengan menggunakan uslûb yang
variatif, setelah itu pengajar tidak  menyampaikan konsep-konsep dan kaidahkaidah
balaghah
secara
berlebihan
dan
cukup
menyampaikan
hal-hal
yang
bersifat

'umdah (pokok), dan materi serta tema-tema dalam pembelajaran lebih
banyak berkaitan dengan teks-teks sastra yang memiliki keindahan bahasa dan
makna; 4) Pendekatan adabi menuntut untuk memperbanyak latihan-latihan
apresiasi sehingga dalam diri mahasiswa tumbuh dzauq (perasaan) pada seni
dan keindahannya; 5) ada lima aspek yang ditanyakan kepada para mahsiswa
mengenai pendekatan adabi, yaitu: apersepsi yang dilakukan oleh dosen,
metode pembelajaran yang digunakan, teknik menjelaskan materi, media pembelajaran
yang
digunakan,
dan
contoh-contoh
yang
disajikan
oleh
dosen.
Sebagian

besar mahasiswa menyatakan kelima aspek tersebut menarik. Mengenai
pengaruh pendekatan adabi terhadap apresiasi mahasiswa sebagian besar mahasiswa
menyatakan

bahwa
pendekatan
adabi
berpengaruh
pada
kemampuan

apresiasi
mereka.



Downloads
Download data is not yet available.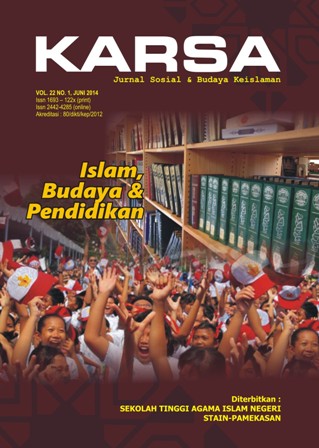 How to Cite
Nurbayan, Yayan. 2015. "PENGEMBANGAN BAHAN AJAR BALAGHAH BERBASIS PENDEKATAN ADÂBΔ. Karsa: Journal of Social and Islamic Culture 22 (1), 137 -49. https://doi.org/10.19105/karsa.v22i1.552.
The journal operates an Open Access policy under a Creative Commons Non-Commercial Share-Alike license. Authors who publish with this journal agree to the following terms:
Authors retain copyright and grant the journal right of first publication with the work simultaneously licensed under a Creative Commons Attribution License that allows others to share the work with an acknowledgement of the work's authorship and initial publication in this journal.
Authors are able to enter into separate, additional contractual arrangements for the non-exclusive distribution of the journal's published version of the work (e.g., post it to an institutional repository or publish it in a book), with an acknowledgement of its initial publication in this journal.
Authors are permitted and encouraged to post their work online (e.g., in institutional repositories or on their website) prior to and during the submission process, as it can lead to productive exchanges, as well as earlier and greater citation of published work.