RAGAM KAJIAN GENDER DI KALANGAN MAHASISWA SEKOLAH TINGGI AGAMA ISLAM NEGERI (STAIN) PAMEKASAN
Siti Musawwamah

Pamekasan State College for Islamic Studies (STAIN), Pamekasan
Abstract views:
105
,
PDF downloads:
249
RAGAM KAJIAN GENDER DI STAIN PAMEKASAN downloads:
0
Keywords:
kajian gender, analisis gender, tekstual-kontekstual
Abstract
The differences of understanding and point of view on gender and gender equity have become the basis of this study. It exploits the distinction any further particularly in academic community. The focus of study is specifically on the orientation of research theme and the direction of gender study analysis which are written by in undergraduate thesis. The study is successful in identification that gender study themes have been dominated by the contextual study or ap-licative-empiric instead of the study of textual or normative-legalistic. Gender study is viewed as the study about women not about gender or the study utili-zing gender as tool of analysis. The analysis of women study mostly use des-criptive one, it only describes position and role of women, whereas the gender study uses critical analysis, that ilustrate the arguments behind the role and position of women. It could be identified wether the position and role of women  are equal or not wiht men.
Copyright (c) 2015 by KARSA. All right reserved
Downloads
Download data is not yet available.
References
Departemen Agama RI. Al-Quran dan Ter-jemahnya. Jakarta: Bumi Aksara, 1998.
Engineer, A.A. Hak-hak Perempuan dalam Islam. Yogyakarta: LSPPA, 2000.
Fakih, M. Analisis Jender dan Transformasi Sosial. Edisi IV. Yogyakarta: Pus-taka Pelajar, 1999.
Moleong, L.J. Metodologi Penelitian Kua-litatif. Bandung: Remaja Rosda-karya, 1990.
Munhanif, Ali (Ed), Mutiara Terpendam: Perempuan dalam Literatur Islam Klasik, cet. I, Jakarta: Gramedia Pustaka Utama bekerasama de-ngan PPIM IAIN Syarif Hidaya-tullah, 2001.
Sabiq, Sayid. Fiqh Sunnah, jilid 6, Ban-dung: Al-Ma'arif, 1980.
Shihab, M. Quraish. Tafsir al-Misbah, vol. I. Tangerang: Lentera Hati, 2005.
Umar, Nasaruddin. Argumen Kesetaraan Jender: Perspektif Al-Quran. Jakarta: Paramadina Mulya, 1999.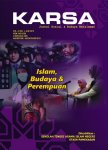 How to Cite
Musawwamah, Siti. 2015. "RAGAM KAJIAN GENDER DI KALANGAN MAHASISWA SEKOLAH TINGGI AGAMA ISLAM NEGERI (STAIN) PAMEKASAN". Karsa: Jurnal Sosial Dan Budaya Keislaman 23 (1), 113-31. https://doi.org/10.19105/karsa.v23i1.612.
Section
Original Articles
The journal operates an Open Access policy under a Creative Commons Non-Commercial Share-Alike license. Authors who publish with this journal agree to the following terms:
Authors retain copyright and grant the journal right of first publication with the work simultaneously licensed under a Creative Commons Attribution License that allows others to share the work with an acknowledgement of the work's authorship and initial publication in this journal.
Authors are able to enter into separate, additional contractual arrangements for the non-exclusive distribution of the journal's published version of the work (e.g., post it to an institutional repository or publish it in a book), with an acknowledgement of its initial publication in this journal.
Authors are permitted and encouraged to post their work online (e.g., in institutional repositories or on their website) prior to and during the submission process, as it can lead to productive exchanges, as well as earlier and greater citation of published work.