KONSEP PENDIDIKAN KARAKTER DALAM AL-QUR'AN
Abd. Mukhid

STAIN Pamekasan
Abstract views:
3467
,
PDF downloads:
2685
Abstract
The kind of character problems in the Indonesian nation until now is still alarming. The various of the facts about negative character has real shown by indonesian society with the specific reason as if it has true to do it. Drugs has increasingly, corruption has widespreadly, spoliate with violence, bullying in schools, sexual crimes on the learners, students online transactional sex, domestic violence, and others. The various issues are demanding character of the Indonesian nation that character education really can create a positive character of the Indonesian nation. Given Indonesia is a Muslim majority, then there are two issues to be answered in writing this article: first, how the concept of character education in the Qur'an; and second, how the concept of character education in Islamic education.
Downloads
Download data is not yet available.
References
Aziz, H. Pendidikan Karakter Berpusat Pada Hati, (Jakarta: PT AlMAwardi Prima, 2011)
Badan Penelitian dan Pengembangan Kementerian Pendidikan Nasional, Ringkasan Eksekutif Seminar Nasional Pendidikan:Pendidikan Karakter Bangsa, (Jakarta: Puslitbang Kemdiknas, 2010)
Fihris, Pendidikan Karakter di Madrasah Salafiyah, (Semarang: PUSLIT IAIN Walisongo, 2010)
Fitri, Agus Zeanul. "Pendidikan Karakter Berbasis Nilai dan Etika di Sekolah", (Jogjakarta: Ar-Ruzz Media, 2012)
Gunawan, Heri.Pendidikan Karakter Konsep dan Impementasi, (Bandung: Alfabeta, 2012)
Haris, Abd. Etika Hamka, (Yogyakarta: Elkis, 2010)
Ilyas, Yunahar. Kuliah Akhlak, (Yogyakarta: LPPI, 2007)
Kemendiknas, Pendidikan Karakter Bangsa Dalam Perpustakaan.go.id/download/ Pendidikan%20Karakter.pdf, diakses 15 Juli 2015
Koesoema A., Doni. Pendidiakn Karakter, (Jakarta: Grasindo, 2010)
Lickona, Thomas. Educating for Character: How Our School Can Teach Respect and Responsibility. (New York: Bantam Books. 1991)
Marzuki, Prinsip Dasar Pendidikan Karakter Perspektif Islam
Megawangi, R. Semua Berakar Pada Karakter: Isu-isu Permasalahan Bangsa (Jakarta: Fakultas Ekonomi Universitas Indonesia, 2007)
Megawangi, R. Pendidikan Karakter Solusi yang Tepat untuk Membangun Bangsa, (Jakarta: BPMIGAS dan Star Energi, 2004)
Mishad, Pendidikan Karakter: Perspektif Islam, Jurnal Edukasi MPA, No. 308, Mei 2012
Mulyasa, E. Manajemen Pendidikan Karakter, (Jakarta: Bumi Aksara. 2011)
Nata, Abuddin. Akhlak Tasawuf, (Jakarta: Rajawali Pers, 2009)
Purwanto, M. Ngalim. Ilmu Pendidikan Teoritis dan Praktis, (Bandung: PT Remaja Rosdakarya Offset,2007)
Pusat kurikulum Kementerian Pendidikan Nasional, Pedoman Pelaksanaan Pendidikan Karakter, (Jakarta: Puskurbuk, 2011)
Samani, Muchlas & Hariyanto, Konsep dan Model Pendidikan Karakter. (Jakarta: Remaja Rosda Karya, 2012)
Shihab, M. Quraish, Tafsir al-Misbah, Vol. I, Cet. II, (Jakarta: Lentera Hati, 2009)
Simanjuntak, Desmon. Pendidikan Karakater: Membentuk Karakter Unggul, Jurnal Pendidikan Penabur, No. 19, Tahun 2012
Suprayogo, Imam. Pendidikan Berparadigma Al-Qur"ân (Malang: Aditya Media dan UIN Malang Press, 2004)
Wibowo, Agus dan Hamrin, Menjadi Guru Berkarakter Strategi Mambangun Kompetensi dan Karakter Guru, (Yogyakarta: Pustaka Pelajar 2012)
Yunus, Mahmud. Pokok-pokok Pendidikan & Pengajaran. (Jakarta : PT Hidakarya Agung)
Zubaedi. Design Pendidikan Karakter (Jakarta: Prenada Media Group, 2011)
Zuhairini, Filsafat Pendidikan Islam. (Jakarta : Bumi Aksara, 1995)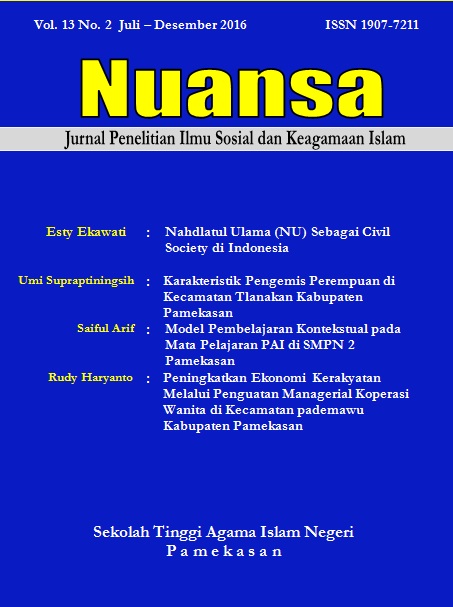 The journal operates an Open Access policy under a Creative Commons Attribution-NonCommercial 4.0 International License (CC-BY-NC)
Authors who publish with this journal agree to the following terms:
Authors retain copyright and grant the journal right of first publication with the work simultaneously licensed under a Creative Commons Attribution License that allows others to share the work with an acknowledgement of the work's authorship and initial publication in this journal.
Authors are able to enter into separate, additional contractual arrangements for the non-exclusive distribution of the journal's published version of the work (e.g., post it to an institutional repository or publish it in a book), with an acknowledgement of its initial publication in this journal.
Authors are permitted and encouraged to post their work online (e.g., in institutional repositories or on their website) prior to and during the submission process, as it can lead to productive exchanges, as well as earlier and greater citation of published work.