SYAIR RATAPAN (RITSÂ) DAN CINTA (GHAZAL) DALAM BUDAYA PERANG BANGSA ARAB JAHILIYAH (KAJIAN SOSIOLOGI SASTRA)
Abstract views:
1862
,
pdf downloads:
963
Abstract
Bagi bangsa Arab Jahiliyah, syair merupakan media multifungsi, selain digunakan untuk mengekspresikan hal-hal yang bersifat imajinasi dan emosi, juga digunakan untuk untuk menginformasikan berbagai hal yang berhubungan dengan kehidupan mereka, sehingga tidak salah bila kemudian syair dinamakan dengan dîwan al-Arab atau catatan sejarah bangsa Arab.
Salah satu fenomena yang banyak tercatat dalam syair Jahiliyah adalah tradisi berperang atau lebih dikenal dengan istilah ayyâm al-'arab. Syair memberi kontribusi yang sangat luar biasa dalam tradisi peperangan bangsa Arab jahiliyah. Perang atau damai sangat bergantung pada kekuatan sebuah syair. Oleh karena itu, perang dan syair ibarat dua sisi mata uang yang tak terpisahkna dalam kehidupan bangsa Arab Jahiliyah. Melalui kajian sosiologi sastra dan analisis wacana, hubungan antara syair dan perang tersebut tampak sangat jelas dalam setiap tema syair (aghrâd alsyi'r) yang digubah oleh mereka. Air mata (al-dumû') dan tangisan (al-bukâ) yang tersurat dalam bait-bait syair Jahiliyah menjadi simbol kepedihan dan kegelisahan orang-orang yang ditinggal mati dalam peperangan. Bahkan Ghazal yang identik dengan syair percintaan pun tidak terlepas dari konteks peperangan. Syair ghazal meskipun lebih bersifat individu, namun memberi effek yang sangat luar biasa dalam wacana peperang. Semangat berperang (hamâsah), tangguh dalam menghadapi musuh, hingga menjadi pengobat rasa sakit akibat luka perang, di antaranya adalah hubungan ghazal dengan perang. Dalam perang, cinta merubah pecundang menjadi pejuang.
Demikian, sekilas tentang gambaran hubungan syair ritsa dan ghazal dengan dunia perang pada masa Jahiliyah. Wallahu 'alam bi al-Shawab
Downloads
Download data is not yet available.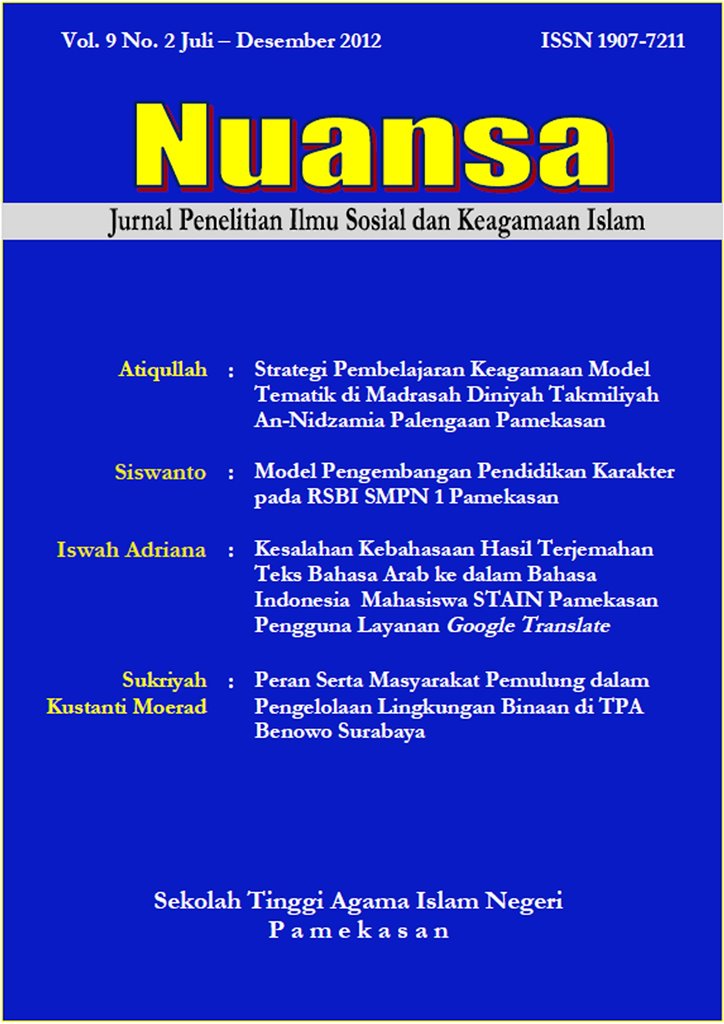 The journal operates an Open Access policy under a Creative Commons Attribution-NonCommercial 4.0 International License (CC-BY-NC)
Authors who publish with this journal agree to the following terms:
Authors retain copyright and grant the journal right of first publication with the work simultaneously licensed under a Creative Commons Attribution License that allows others to share the work with an acknowledgement of the work's authorship and initial publication in this journal.
Authors are able to enter into separate, additional contractual arrangements for the non-exclusive distribution of the journal's published version of the work (e.g., post it to an institutional repository or publish it in a book), with an acknowledgement of its initial publication in this journal.
Authors are permitted and encouraged to post their work online (e.g., in institutional repositories or on their website) prior to and during the submission process, as it can lead to productive exchanges, as well as earlier and greater citation of published work.