DINAMIKA KAJIAN AL-QUR'AN DI BARAT DAN DAMPAKNYA PADA KAJIAN AL-QUR'AN KONTEMPORER
Abstract views:
2210
,
pdf downloads:
1008
Abstract
Dalam perkembangannya, seiring dengan kebangkitan Islam pada abad pertengahan, Barat berupaya mendalami Islam. Sebagai pintu masuk memahami Islam adalah dengan memahami Al-Qur"an. Oleh karena itu, model kajian Al-Qur"an pertama yang dilakukan Barat adalah penerjemahan Al-Qur"an ke Bahasa Latin dan bahasa Eropa lainnya kemudian berkembang pada kajian lain terkait dengan Al-Qur"an. Ada dua teori yang digunakan yaitu: teori kesinambungan dan perubahan (continuity dan change theory) dan teori "peminjaman budaya" (cultural borrowing theory). Tulisan ini menjawab bagaimana asal-usul kajian Al-Qur"an di Barat? Bagaimana potret dan dinamika kajian Al-Qur"an di Barat? Bagaimana pengaruh kajian Al-Qur"an di Barat bagi kajian Al-Qur"an kontemporer? Dengan pendekatan teoritik semacam ini mengungkap asal-usul perjumpaan Islam dan Barat bermula ketika ketika Islam meluas hingga Spanyol. Tulisan ini menggunakan pendekatan kualititatif dengan aksentuasi pada model penelitian bibliografis. Kajian Al-Qur"an di Barat berdampak pada dinamika kajian Al-Qur"an di belahan dunia lainnya, tidak terkecuali di kalangan umat Islam. Massifnya dunia percetakan menjadikan pertukaran gagasan demikian gencar menyebar. Ditambah lagi dengan kemajuan teknologi yang memungkinkan semua orang dengan mudah mengakses berbagai informasi. Melalui jurnal dan buku-buku yang diterbitkan atau diunggah di dunia maya, menjadikan informasi itu dengan mudah dibaca di berbagai penjuru dunia. Selain itu, investasi pengetahuan melalui beasiswa Islamic Studies ke berbagai pusat kajian Islam di Barat turut membantu "penularan" kajian Barat tentang Al-Qur"an ke para koleganya di dunia Islam.
Downloads
Download data is not yet available.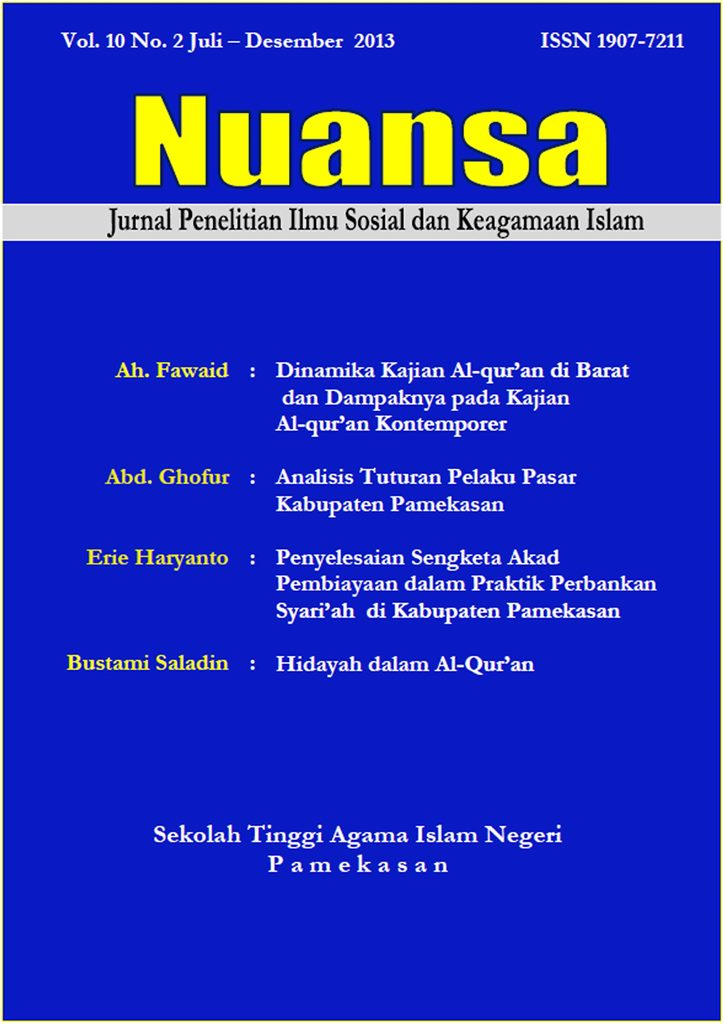 The journal operates an Open Access policy under a Creative Commons Attribution-NonCommercial 4.0 International License (CC-BY-NC)
Authors who publish with this journal agree to the following terms:
Authors retain copyright and grant the journal right of first publication with the work simultaneously licensed under a Creative Commons Attribution License that allows others to share the work with an acknowledgement of the work's authorship and initial publication in this journal.
Authors are able to enter into separate, additional contractual arrangements for the non-exclusive distribution of the journal's published version of the work (e.g., post it to an institutional repository or publish it in a book), with an acknowledgement of its initial publication in this journal.
Authors are permitted and encouraged to post their work online (e.g., in institutional repositories or on their website) prior to and during the submission process, as it can lead to productive exchanges, as well as earlier and greater citation of published work.