ANALISIS RAGAM TUTURAN PARA PELAKU PASAR KABUPATEN PAMEKASAN ( Studi Sosiolinguistik Penggunaan Variansi Sapaan )
Abstract views:
550
,
pdf downloads:
407
Abstract
Sapaan adalah morfem, kata, atau frase yang dipergunakan untuk saling merujuk dalam situasi pembicaraan dan yang berbeda-beda menurut sifat hubungan antara pembicara. Walaupun setiap orang hanya memiliki satu nama diri, istilah yang digunakan orang akan sangat beragam dalam memanggil atau menyebutnya. Adapun masalah yang diketengahkan dalam penelitian ini ada 3 yakni, 1) Apa saja sapaan yang digunakan didalam tuturan yang digunakan dalam kegiatan jual beli di Pasar?, 2) Bagaimanakah ragam sapaan yang muncul didalam respon petutur?, 3) Faktor-faktor apa saja yang melatar belakangi penggunaan sapaan tersebut didalam respons? Dalam penelitian ini metode yang digunakan dalam penelitian ini adalah metode analisis deskriptif, yaitu mendeskripsikan fakta-fakta yang kemudian disusul dengan analisis. Hasil analisis menunjukkan bahwa pemilihan suatu istilah tertentu untuk memanggil atau menyebut orang lain yang beragam dipengaruhi oleh aspek-aspek di luar bahasa itu sendiri, yaitu konteks situasi. Akan tetapi, pada konteks situasi yang berbeda, kata sapaan dipakai pula oleh penutur yang berasal dari kelas sosial yang berbeda, contoh: ning, Ummi, Jih (baca: Haji), walaupun mereka tahu bahwa sapaan tersebut belum tentu sesuai digunakan untuk kelas sosial dari orang yang dimaksud.
Downloads
Download data is not yet available.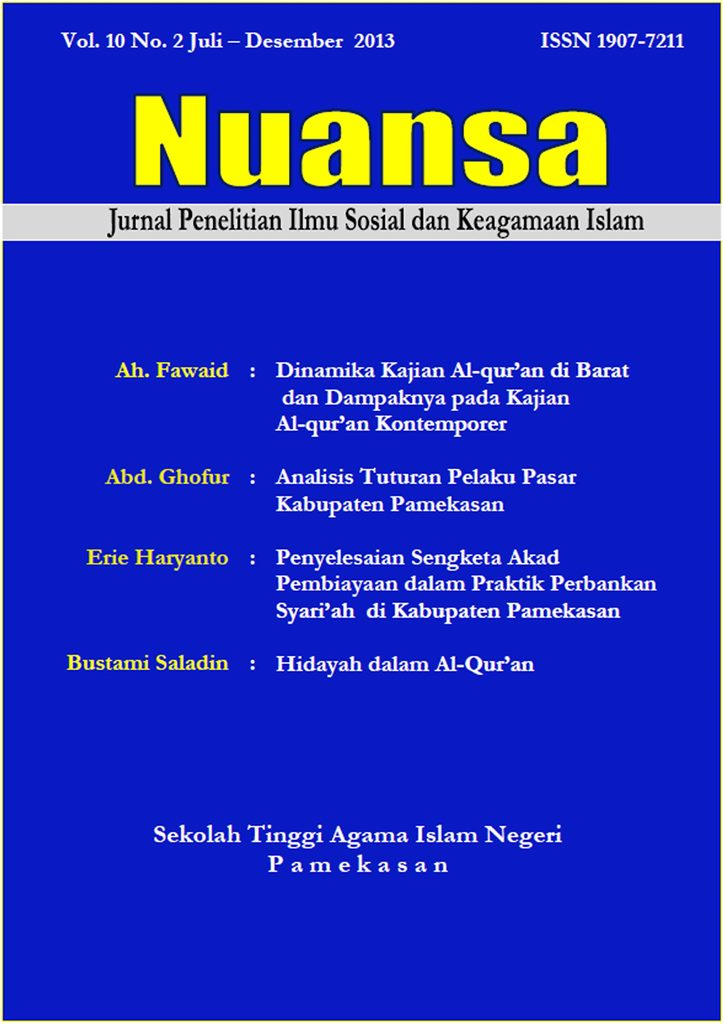 The journal operates an Open Access policy under a Creative Commons Attribution-NonCommercial 4.0 International License (CC-BY-NC)
Authors who publish with this journal agree to the following terms:
Authors retain copyright and grant the journal right of first publication with the work simultaneously licensed under a Creative Commons Attribution License that allows others to share the work with an acknowledgement of the work's authorship and initial publication in this journal.
Authors are able to enter into separate, additional contractual arrangements for the non-exclusive distribution of the journal's published version of the work (e.g., post it to an institutional repository or publish it in a book), with an acknowledgement of its initial publication in this journal.
Authors are permitted and encouraged to post their work online (e.g., in institutional repositories or on their website) prior to and during the submission process, as it can lead to productive exchanges, as well as earlier and greater citation of published work.