TRADISI MAWLID DAN KEKUASAAN SIMBOLIK KYAI DI MADURA
Abstract views:
190
,
pdf downloads:
147
Abstract
Dalam sebuah peradaban tertentu terdapat tradisi besar dan tradisi kecil. Tradisi mawlid dalam kebanyakan masyarakat Indonesia, termasuk di Madura, kadangkala merepresentasikan sebuah tradisi kecil. Di Desa Sumber Gayam Kec. Omben, Sampang, sebagaimana kebanyakan di wilayah Sampang lainnya, peringatan mawlid berlangsung secara meriah. Setiap keluarga merasa "berkewajiban" untuk mengadakan peringatan mawlid secara individual dan mandiri setiap tahunnya. Karenanya, permasalahan yang dikaji dalam penelitian ini dirumuskan dalam bentuk pertanyaan sebagai berikut: (1) Bagaimana konstruksi sosial atas mawlid dilakukan oleh kyai sebagai bentuk kekuasaan simbolik kepada masyarakat Karang Gayam Kec. Omben Sampang sebagai bentuk kekuasaan simbolik kyai? (2) Bagaimanakah respon yang ditunjukkan oleh masyarakat Karang Gayam Kec. Omben Sampang atas kekuasaan simbolik kyai tersebut? Penelitian yang menggunakan pendekatan kualitatif dengan jenis penelitian etnografis ini menghasilkan beberapa temuan, yaitu: Pertama, kyai melakukan konstruksi sosial kepada masyarakat dengan cara: (1) Melakukan menafsiran atas teks-teks keagamaan; (2) menghubungkan perayaan mawlid dengan konsep keberkahan harta benda; (3) menekankan pada pentingnya perayaan mawlid secara individual. Kedua, Konstruksi sosial yang dilakukan oleh kyai didasarkan pada modal simbolik, yaitu: (1) posisi kyai sebagai elit sosial; (2) modal Ilmu pengetahuan keagamaan; (3) relasi sosial kyai. Ketiga, respon masyarakat atas konstruksi sosial kyai adalah: (1) menerima konstruksi sosial kyai; (2) menolak konstruksi sosial oleh kyai.
Downloads
Download data is not yet available.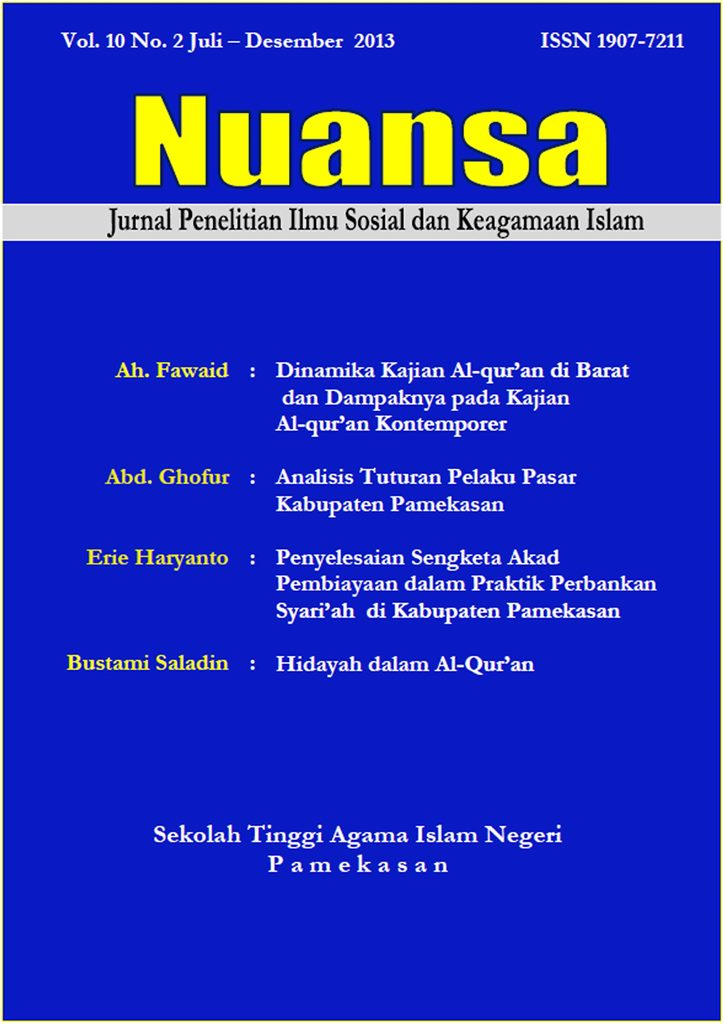 The journal operates an Open Access policy under a Creative Commons Attribution-NonCommercial 4.0 International License (CC-BY-NC)
Authors who publish with this journal agree to the following terms:
Authors retain copyright and grant the journal right of first publication with the work simultaneously licensed under a Creative Commons Attribution License that allows others to share the work with an acknowledgement of the work's authorship and initial publication in this journal.
Authors are able to enter into separate, additional contractual arrangements for the non-exclusive distribution of the journal's published version of the work (e.g., post it to an institutional repository or publish it in a book), with an acknowledgement of its initial publication in this journal.
Authors are permitted and encouraged to post their work online (e.g., in institutional repositories or on their website) prior to and during the submission process, as it can lead to productive exchanges, as well as earlier and greater citation of published work.