HIDÂYAH DALAM AL-QUR'ÂN
Abstract views:
12224
,
pdf downloads:
541
Abstract
Kata Hidâyah adalah dari bahasa Arab atau bahasa Al-Qur"ân yang telah menjadi bahasa Indonesia. Akar katanya: hadâ, yahdî, hadyan, hudan, hidyatan, hidâyatan. Khusus yang terakhir, kata hidâyatan kalau wakaf (berhenti) di baca: Hidâyah, nyaris seperti ucapan bahasa Indonesia. Hidâyah secara bahasa berarti petunjuk. Lawan katanya adalah: "Dholalah" yang berarti "kesesatan" Secara istilah (terminologi), Hidâyah ialah penjelasan dan petunjuk jalan yang akan menyampaikan kepada tujuan sehingga meraih kemenangan di sisi Allah. Hidâyah/Hudan Dalam Al-Qur"ân tercantum sekitar 171 ayat dan terdapat pula dalam 52 Hadits. Sedangkan pengertian Hidâyah / Hudan dalam Al-Qur"ân dan Hadits terdapat sekitar 27 makna. Di antaranya bermakna: penjelasan, agama Islam, Iman (keyakinan), seruan, pengetahuan, perintah, lurus/cerdas, rasul /kitab, Al-Qur"an, Taurat, taufiq/ketepatan, menegakkan argumentasi, Tauhid/ mengesakan Allah, Sunnah/Jalan, perbaikan, ilham/insting, kemampuan menilai, pengajaran, karunia, mendorong, mati dalam Islam, pahala, mengingatkan, benar dan kokoh/konsisten.
Downloads
Download data is not yet available.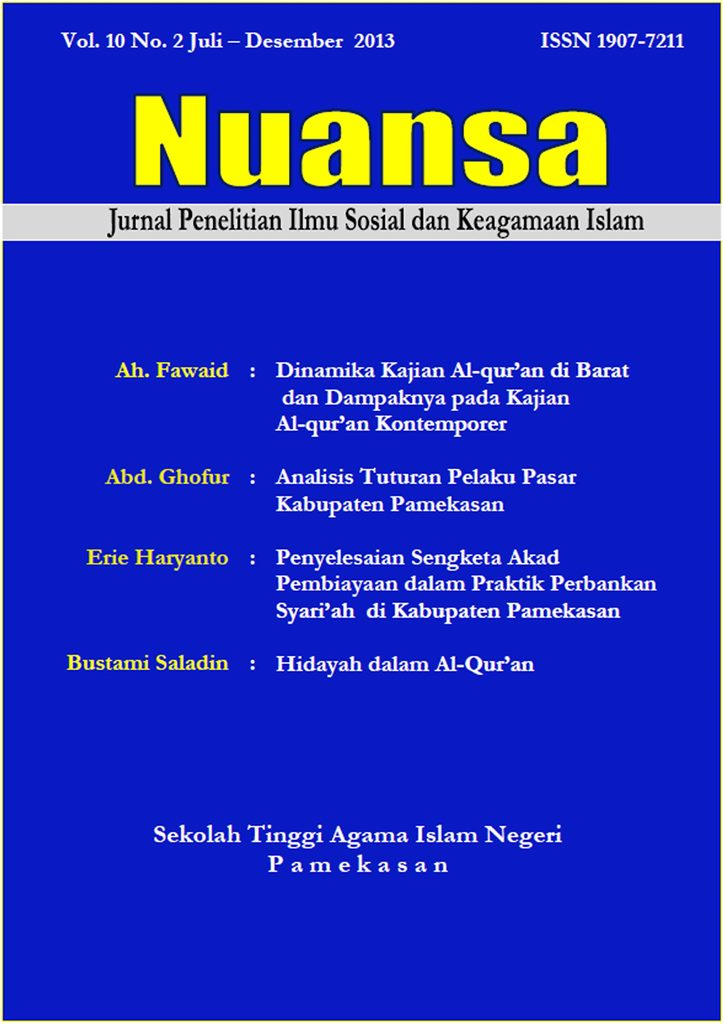 The journal operates an Open Access policy under a Creative Commons Attribution-NonCommercial 4.0 International License (CC-BY-NC)
Authors who publish with this journal agree to the following terms:
Authors retain copyright and grant the journal right of first publication with the work simultaneously licensed under a Creative Commons Attribution License that allows others to share the work with an acknowledgement of the work's authorship and initial publication in this journal.
Authors are able to enter into separate, additional contractual arrangements for the non-exclusive distribution of the journal's published version of the work (e.g., post it to an institutional repository or publish it in a book), with an acknowledgement of its initial publication in this journal.
Authors are permitted and encouraged to post their work online (e.g., in institutional repositories or on their website) prior to and during the submission process, as it can lead to productive exchanges, as well as earlier and greater citation of published work.