ANALISIS FUNGSIONALISME STRUKTURAL UNTUK MELIHAT OPTIMALITAS PELAKSANAAN GERBANG SALAM DI PAMEKASAN
Ibnu Ali

Universitas Islam Madura

Ali Tohir

Universitas Islam Madura
Abstract views:
356
,
PDF downloads:
301
Abstract
This research is aimed to find out the obstacles that cause the implementation of Gerbang Salam is not optimal and how to make a formulation for optimizing this movement. This research is focused more on the theory of functionalism in the perspective of Talcott Person and Robert K. Merton. From Parson will be taken the theory of AGIL (adaptation, goal attainment, integration, and latent). And from Robert K. Merton will be taken theory of a thought of functions, dysfunctions, manifest functions and latent functions.
Through AGIL analysis is known that the social system built on Islamic values has lost its balance. That is because these parts have experienced the dysfunctions, especially in the function of goal attainment and integration. So that the implementation of Gerbang Salam does not work optimally.
Downloads
Download data is not yet available.
References
Abdurrahman Wahid, Mengurai Hubungan Agama dan Negara, editor : Kacung Marijan dan Ma'mun Murod al-Brebesy. Jakarta : Grafindo, 1999
Abdul Chalik, Islam dan Kekuasaan. Yogyakarta : Interpena, 2002
Abdul Chalik, Pertarungan Elit dalam Politik Lokal. Yogyakarta : Pustaka pelajar, 2017
Amsal Bakhtiar, Filsafat Ilmu. Jakarta : PT Raja Grapindo Persada, 2012
George Ritzer, Sosiologi Ilmu Pengetahuan Berpradigma Ganda (terjemahan Alimandan). Jakarta : Rajawali Pres, 1992
Gumilar Rusliwa Somantri, "Memahami Metode Kualitatif", Makara, jurnal ilmu sosial humaniora Vol. 9, No.2 Desember 2005. Jakarta, UI
Holifatur Rafi'ah. Sejarah Gerbang Salam Di Kabupaten Pamekasan Madura. Skripsi : Fakultas Adab dan Humaniora Universitas Islam Negri Sunan Ampel Surabaya, 2015
I.B.Irawan,Teori-Teori Sosial Dalam Tiga Paradigma. Jakarta : Kencana, 2012
Kaelan, Pendidikan Pancasila. Yogyakarta : Paradigma, 2014
Kaelan, Metode Penelitian Kualitatif Bidang Filsafat. Yogyakarta: Paradigma, 2005
Kamus Besar Bahasa Indonesia. Jakarta : Balai Pustaka,1994
Moh. Toriquddin, Relasi Agama dan Negara dalam Pandangan Intelektual Muslim Kontemporer. Malang : UIN-Malang Press, 2009
Ramdani Wahyu, Ilmu Sosial Dasar. Bandung : Pustaka Setia, 2007
Robert K. Merton, Sosial Theory And Sosial Structure. Free Press, 1969
Rahmat Rosyadi dan Rais Ahmad, Formalisasi Syari'at Islam dalam Perspektif Tata Hukum Indonesia Bogor: Ghalia Indonesia, 2006
Sutaryo, Dinamika Masyarakat dalam Perspektif Konflik. Yogyakarta : Fisifol-Universitas gajah Mada, tt
Supandi, Model Pengembangan Masyarakat melalui Penguatan Pendidikan Islam (Studi Kebijakan Pemerintah tentang Gerakan Pembangunan Masyarakat Islam di Pamekasan). Surabaya : Disertasi Pasca Sarjana Universitas Islam Negri Sunan Ampel Surabaya, 2017
Tim LP2SI, Mengenal Gerbang Salam. Pamekasan: LP2SI, 2010
Zamroni, Pengantar Pengembangan Teori Sosial. Jakarta : Proyek Pengembangan Lembaga Pendidikan tenaga Kependidikan, 1988
Zainuddin Syarif, "Pergeseran Perilaku Politik Kiyai dan Santri", Al-Tahrir, Jurnal Pemikiran Islam vol 16 no 2 November 2016. Ponorogo, IAIN
Jaringan Dokumentasi dan Informasi Hukum (JDIH) Kabupaten Pamekasan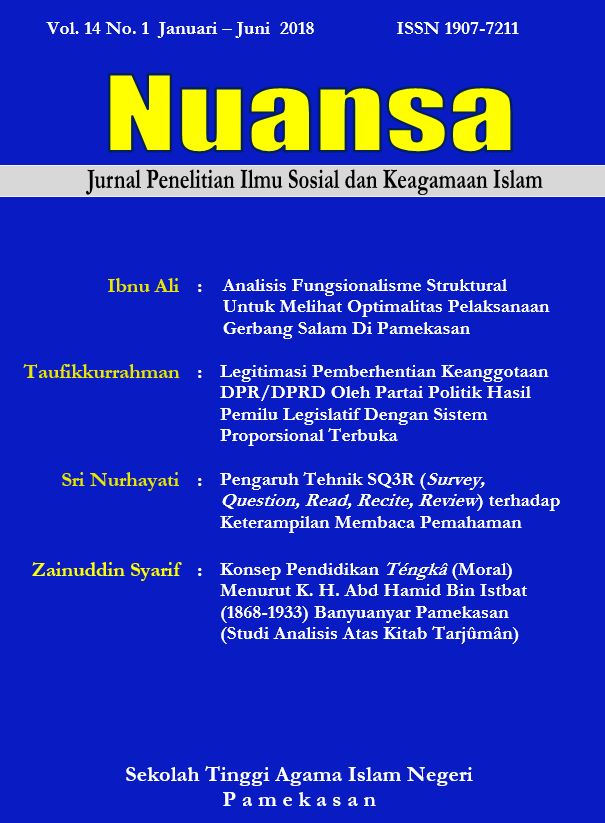 The journal operates an Open Access policy under a Creative Commons Attribution-NonCommercial 4.0 International License (CC-BY-NC)
Authors who publish with this journal agree to the following terms:
Authors retain copyright and grant the journal right of first publication with the work simultaneously licensed under a Creative Commons Attribution License that allows others to share the work with an acknowledgement of the work's authorship and initial publication in this journal.
Authors are able to enter into separate, additional contractual arrangements for the non-exclusive distribution of the journal's published version of the work (e.g., post it to an institutional repository or publish it in a book), with an acknowledgement of its initial publication in this journal.
Authors are permitted and encouraged to post their work online (e.g., in institutional repositories or on their website) prior to and during the submission process, as it can lead to productive exchanges, as well as earlier and greater citation of published work.