PENERAPAN STRATEGI PAIKEM DALAM MENINGKATKAN PEMBELAJARAN PAI DI SMK SUMBER BUNGA SLETRENG KAPONGAN SITUBONDO
Rusdi Rusdi

Universitas Nurul Jadid Paiton Probolinggo
Abstract views:
185
,
PDF downloads:
1357
Abstract
There are many components that influence the islamic education teaching learning process, one of which is "the method of Religious Education".  Nowadays, the method of Islamic Education is still using the old method such as giving speech, memorizing and demonstrating worship practices which look very empty. It is obvious that this kind of method makes the students bored, tired and unmotivated in learning Religion. Alternatively, to increase  the quality of education, teacher can apply the PAIKEM strategy (active, inovative, creative, effective, and happy learning) in the Islamic Education teaching learning process. It is expected through PAIKEM strategy, the teacher and students become more active and creative  in the process of teaching and learning. The conclusion of this research is  the application of PAIKEM strategy can increase the Islamic Education teaching learning process in SMK Sumber Bunga Situbondo from the process of planning, acting, and evaluating. Factors that support the application of PAIKEM strategy are the teachers' ability in applying PAIKEM and the students' readiness in studying. The weaknesses of the application of PAIKEM strategy are the infrastructure, environment and the time allocation.
Downloads
Download data is not yet available.
References
Arief Amin, Pengantar Ilmu dan Metodologi Pendidikan Islam,(Jakarta: Ciputat Pers, 2002)
Arikunto Suharsimi, Prosedur Penelitian Suatu Pendekatan Praktik,(Jakarta: Renika Cipta, 2002),
Bungin Burhan, Analisis Data Penelitian Kualitatif (Jakarta: PT Raja Grafindo, 2007),
Departemen Agama RI, Undang-undang No. 20 Tahun 2003 tentang sistem pendidikan nasional.
Hadi Sutrisno, Metodologi Reseach II, (Yogyakarta: Fak. Psikologi UGM, 2001),
Hamalik.Oemar, Proses Belajar Mengajar. (Jakarta: PT Bumi Aksara, 2008),
Hamzah B. Uno, M.Pd. Belajar dengan pendekatan PAILKEM. Cet III, PT Bumi aksara Jakarta, 2012,
Ismail. Strategi Pembelajaran Agama Islam Berbasis PAIKEM (Semarang: Rasail Media Group, 2009),
Meleong Lexy.J Metodologi Penelitian Kualitatif, (Bandung: PT. Remaja Rosda Karya, 2000), 6.
Muhaimin, , Paradigma Pendidikan Islam: Upaya Mengefektifkan Pendidikan Agama Islam di Sekolah (Bandung: Remaja Rosdakarya, 2001),
Nazir Muhammad, Metode Penelitian, (Jakarta: Ghalia Indonesia, 2002),
Ramadhan, A. Tarmizi. 2008. Pembelajaran Aktif, Inovatif, Kreatif, Efektif, dan Menyenangkan.http://tarmizi.wordpress.com/2008/11/11/pembelajaran-aktif-inovatif-kreatif-efektif-dan-menyenangkan/. Diakses tanggal 8 Februari 2009.
Sardiman, Interaksi dan Motivasi Belajar Mengajar, (Jakarta: PT Raja Grafindo Persada, 2004),
Surachmad Winarno, Dasar-Dasar dan Teknik Reseach, (Jakarta: Tarsito, 2005),
Uhbiyati Nur, Ilmu Pendidikan Islam 1untuk IAIN, STAIN, PTAIS (Bandung: Pustaka Setia, 2005)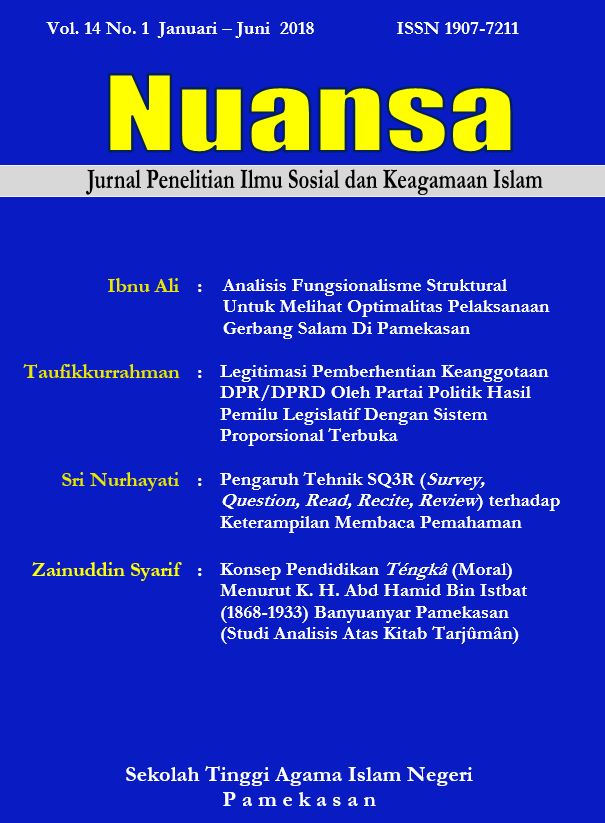 The journal operates an Open Access policy under a Creative Commons Attribution-NonCommercial 4.0 International License (CC-BY-NC)
Authors who publish with this journal agree to the following terms:
Authors retain copyright and grant the journal right of first publication with the work simultaneously licensed under a Creative Commons Attribution License that allows others to share the work with an acknowledgement of the work's authorship and initial publication in this journal.
Authors are able to enter into separate, additional contractual arrangements for the non-exclusive distribution of the journal's published version of the work (e.g., post it to an institutional repository or publish it in a book), with an acknowledgement of its initial publication in this journal.
Authors are permitted and encouraged to post their work online (e.g., in institutional repositories or on their website) prior to and during the submission process, as it can lead to productive exchanges, as well as earlier and greater citation of published work.