KONSEP PENDIDIKAN TÉNGKÂ (MORAL) MENURUT K.H. ABD HAMID BIN ISTBAT (1868-1933) BANYUANYAR PAMEKASAN (STUDI ANALISIS ATAS KITAB TARJÛMÂN)
Zainuddin Syarif

Pasca Sarjana IAIN Madura
Abstract views:
313
,
PDF downloads:
386
Abstract
K.H. Abdul Hamid in the Tarjuman Kitab states that Moral Education (Tengka) is an education concept of the effort to grow the awareness of the students (santri) to make them a better person in the world and the life after. This concept is putting forward the ethics (Akhlaq) than the intellectual development. There are some points in emphasizing Moral Education (Tengka) of K.H. Abdul Hamid in the Tarjuman Kitab. First, this education concept using philosophical-anthropological paradigm. Here it states that human being is Abdul Allah (hamba) and Khalifah Allah (the substitutes in the world). In this book, there are many explanation about Ethics related to the relationship to Allah and relationship with human beings. Islam itself has set how they should keep their attitude well which will be useful for himself and his environment including for others. Secondly, this education is stressed more on internalizing the awareness of Tauhid to every student (santri) in the pesantren or school to make them know the pure characteristic of human being. The third, Moral Education (tengka) of K.H. Abdul hamid in the Tarjuman Kitab is obviously implemented in Pondok Pesantren Banyuanyar Pamekasan Madura. Fourth, Moral Education (tengka) K.H Abdul Hamid in the Tarjuman Kitab is still suitable with the Character based Education which is developed in Indonesia.
Downloads
Download data is not yet available.
References
A.M. Saefuddin, et al, Desekularisasi Pemikiran Landasan Islamisasi, (Bandung: Mizan, 1991), hlm. 126 serta Samsul Nizar, Filsafat Pendidikan Islam Pendekatan Historis, Teoritis dan Praktis, (Jakarta: Ciputat Pers, 2002)
Abdul Hamid bin Kiai Ithbat bin Kiai Ishaq Tarjuman, (Pamekasan: PP Banyuanayar,tt)
Abdurrahman Wahid, "Pesantren sebagai Subkultur", dalam Dawam Rahardjo (Ed.), Pesantren dan Pembaharuan (Jakarta: LP3ES; 1988)
Ahmad Tafsir, Ilmu Pendidikan dalam Perspektif Islam (Bandung: Remaja Rosdakarya, 1994)
Al-Naquib Al-Alatas, Konsep Pendidikan Dalam Islam (Bandung: Mizan, 1990)
Azaman, F. N. M., & Badaruddin, F. (2016). Nilai-Nilai Kerohanian Dalam Pembangunan Modal Insan Menurut Al-Ghazali. Umran International Journal of Islamic and Civilizational Studies (EISSN: 2289-8204), 3(1).
Baharuddin, Paradigma Psikologi Islam, (Yogyakarta: Pustakan Pelajar, Cet. 2, 2007)
Biografi KH. Abdul Majid, dalam Majalah Fatwa, Edisi;03/th. 11/Agustus-September, 1996.
Fazlur Rahman, Major Themes of the Qur'an, (Minneapolis: Bibliotheca Islamica, 1989)
Imam Al-Gazali, Bidayah al-Hidayah (terj.) (Yogyakarta: Pustaka Sufi, 2003)
K.H. Muhammad Syamsul Arifin, Sejarah Singkat Pondok Pesantren Banyuanyar, (Pamekasan:1991)
M. Ridlwan Nasir, Mencari Tipologi Format Pendidikan Ideal, Pustaka Pelajar, Yogyakarta, 2005, hal. 23.
Muhaimin, Wacana pengembangan Pendidikan Islam, (Yogyakarta: Pustaka Pelajar, 2003)
Munir D. Ahmed, "Muslim Education Prior to The Establishment of Madrasah," dalam Journal Istitute of Muslim Minority Affair, Syed Z. Abedin (ed), Vol. VII, No 2)
Nurcholish Madjid, Bilik-Bilik Pesantren; Sebuah Potret Perjalanan, (Jakarta: Paramadina, 1997)
Tafsîr Ibnu Katsîr (7/421), dan lihat juga Tafsîr as-Sa'di, hlm. 889-890.
Zainuddin Syarif, Model Pendidikan Pondok Pesantren Studi Manajemen Pondok Pesantren Darul Ulum Banyuanyar, (Yogyakarta: MSI UII, 2001)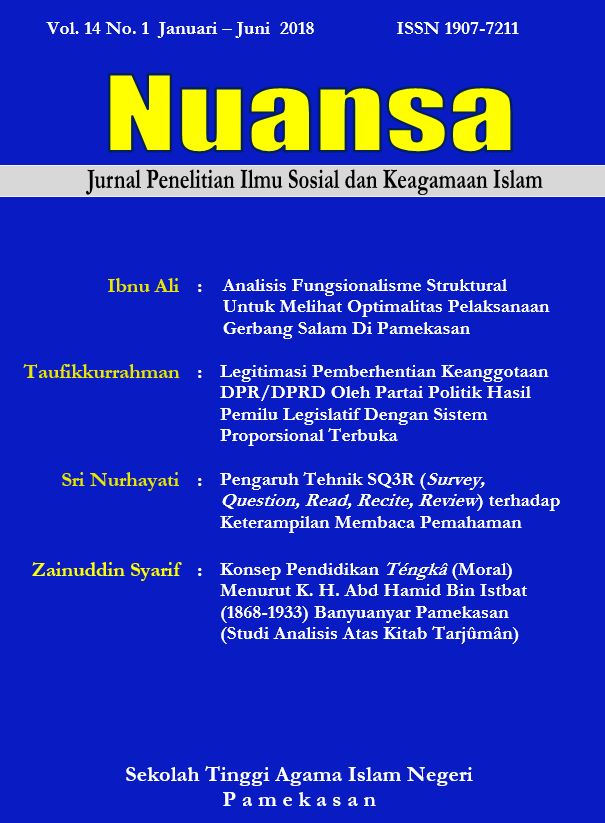 The journal operates an Open Access policy under a Creative Commons Attribution-NonCommercial 4.0 International License (CC-BY-NC)
Authors who publish with this journal agree to the following terms:
Authors retain copyright and grant the journal right of first publication with the work simultaneously licensed under a Creative Commons Attribution License that allows others to share the work with an acknowledgement of the work's authorship and initial publication in this journal.
Authors are able to enter into separate, additional contractual arrangements for the non-exclusive distribution of the journal's published version of the work (e.g., post it to an institutional repository or publish it in a book), with an acknowledgement of its initial publication in this journal.
Authors are permitted and encouraged to post their work online (e.g., in institutional repositories or on their website) prior to and during the submission process, as it can lead to productive exchanges, as well as earlier and greater citation of published work.