Kemampuan Berbicara Mahasiswa Program Studi Tadris Bahasa Indonesia Jurusan Tarbiyah STAIN Pamekasan
M. Ismail Makki

IAIN Madura

Aflahah Aflahah

IAIN Madura
Abstract views:
227
,
PDF downloads:
101
Keywords:
Skill, Speaking, Mixed Method, Sequential Explanatory Research Design,
Abstract
Kemampuan berbicara adalah kemampuan berbahasa yang paling sering digunakan. Pelajaran berbicara di sekolah-sekolah maupun di perguruan tinggi kurang mendapat perhatian dan pembinaan. Demikian pula di Program Studi Tadris Bahasa Indonesia yang sangat berkaitan dengan kemampuan berbicara. Akibatnya, mahasiswa kurang menguasai kemahiran ini. Penelitian ini mencoba untuk mengetahui bagaimana kemampuan berbicara mahasiswa Tadris Bahasa Indonesia angkatan 2017/2018 dari aspek kebahasaan dan aspek non-kebahasaan dan juga Faktor-faktor apakah yang menyebabkan kemampuan berbicara mahasiswa tersebut kurang maksimal. Peneliti menggunakan menggunakan Mixed Method (metode campuran) dengan desain Sequential Explanatory Research Design. Data penelitian yang akan dikumpulkan berupa pidato dari populasi seluruh mahasiswa Program Studi Tadris Bahasa Indonesia tahun 2017/2018, sedangkan sampel yang diambil adalah 13% atau 16 mahasiswa. Data kemudian dianalisis menggunakan statistik deskriptif dan Three Flow Model dari Miles dan Huberman. Hasil penelitian ini adalah kemampuan berbicara mahasiswa Program Studi Tadris Bahasa Indonesia Jurusan Tarbiyah STAIN Pamekasan Tahun Akademik 2017/2018 termasuk dalam kategori (cukup) dengan nilai 63,91. Pada aspek kebahasaan termasuk kategori (kurang) dengan nilai rata-rata 58,75; dan (cukup) pada aspek non-kebahasaan dengan nilai 69,06. Untuk itu diharapkan bagi guru dan mahasiswa untuk dapat meningkatkan kemampuan berbicara mahasiswa karena berbicara merupakan kemampuan berbahasa yang sangat penting.
(The ability to speak is the language skills most often used. Lessons learned in schools and in universities are not given enough attention and guidance. Likewise, in the Indonesian Language Tadris Study Program which is closely related to speaking ability. As a result, students lack mastery in this skill. The researcher used a Mixed Method with the Sequential Explanatory Research Design. The research data will be collected in the form of speeches from the population of all these students, while the samples taken were 13% or 16 students. Analyzed data using descriptive statistics and Three Flow Models from Miles and Huberman. The results of this study are the students' speaking ability of the Indonesian Language Study Program, Department of Tarbiyah STAIN Pamekasan 2017/2018 Academic Year included in the category (sufficient) with a value of 63,91. In linguistic aspects including (less) category with an average value of 58,75; and (sufficient) on non-linguistic aspects with a value of 69,06. For this reason, it is expected that teachers and students can improve students' speaking skills because speaking is a very important language ability.)
Downloads
Download data is not yet available.
References
Arikunto, Suharsimi. Prosedur Penelitian (Suatu Pendekatan Praktik). Jakarta: Rineka Cipta, 2006.
Arsyad, Maidar G. dan Mukti U.S. Pembinaan Kemampuan Berbicara Bahasa Indonesia. Jakarta: Erlangga, 1993.
Brown, H. Douglas. Principle of Language Learning and Teaching 5th Edition.San Francisco: Pearson Education, 2007.
Harmer, Jeremy. The Practice of English Language Teaching, Edisi ke-3. Longman: London dan Newyork, 1991.
Harris, David P. Testing English as a Second Language. USA: McGraw-Hill, 1969.
Hilliard, Amanda. "Spoken Grammar and Its Role in the English Language Classroom.," in English Teaching Forum, vol. 52 (ERIC, 2014), 3.
Hughes, Rebecca. Teaching and Researching Speaking, 2nd Edition. United Kingdom: Pearson Education, 2011.
Keraf, Gorys. Diksi dan Gaya Bahasa. Jakarta: Gramedia Pustaka Utama, 2002.
Littlewood, William. Communicative Language Teaching. Cambridge: Cambridge University Press, 2007.
Louma, Sari. Assessing Speaking. UK: Cambrige University Press, 2004.
Mahsun, Metode Penelitian Bahasa. Jakarta: PT Raja Grapindo Persada, 2005.
Margono. Metodologi Penelitian. Jakarta: Rineka Cipta, 2013.
Miles, Matthew B, and Michael Huberman, Qualitative Data Analysis 2nd Edition. California: Sage Publication, 1994.
Muhson, Ali. "Teknik Analisis Kuantitatif," Universitas Negeri Yogyakarta. Yogyakarta, 2006, http://staffnew.uny.ac.id/upload/132232818/pendidikan/Analisis+Kuantitatif.pdf.
Sugiyono. Metode Penelitian Kombinasi (Mixed Methods). Bandung: Alfabeta, 2011.
Tarigan, Djago. Pendidikan Bahasa Indonesia 1. Jakarta: Universitas Terbuka, 1990.
Tarigan, Henry Guntur. Berbicara Sebagai Salah Satu Keterampilan Berbahasa. Bandung: Angkasa, 1981.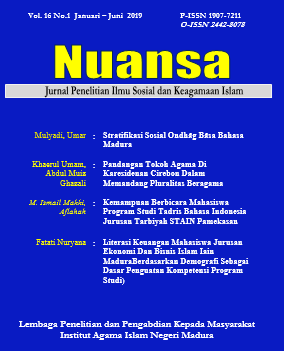 The journal operates an Open Access policy under a Creative Commons Attribution-NonCommercial 4.0 International License (CC-BY-NC)
Authors who publish with this journal agree to the following terms:
Authors retain copyright and grant the journal right of first publication with the work simultaneously licensed under a Creative Commons Attribution License that allows others to share the work with an acknowledgement of the work's authorship and initial publication in this journal.
Authors are able to enter into separate, additional contractual arrangements for the non-exclusive distribution of the journal's published version of the work (e.g., post it to an institutional repository or publish it in a book), with an acknowledgement of its initial publication in this journal.
Authors are permitted and encouraged to post their work online (e.g., in institutional repositories or on their website) prior to and during the submission process, as it can lead to productive exchanges, as well as earlier and greater citation of published work.