Eksistensi Kitab Kuning Di Perguruan Tinggi Keagamaan Islam (Studi Analisis Tentang Penggunaan Kitab Kuning Sebagai Referensi Kajian Keislaman Di STAIN Pamekasan dan STAI Al-Khairat Pamekasan)
Mohammmad Thoha

Institut Agama Islam Madura
Abstract views:
320
,
PDF downloads:
231
Keywords:
Kitab Kuning, Transisi Keilmuan, PTKIN, Muslim Progresif,
Abstract
Kitab kuning diyakini sebagai referensi studi keilmuan (Islamic studies) yang otoritatif. Keberadaannya senantiasa menyertai eksistensi pesantren sebagai insitusi pendidikan islam tertua. Perguruan Tinggi Keagamaan Islam (PTKI) diharapkan menjadi kelanjutan pesantren yang memadukan tradisi keilmuan klasik dengan metodologi studi yang beradaptasi dengan tuntutan zaman. PTKI sebagai wadah pendadaran sarjana muslim dituntut mampu melestarikan tradisi keislaman di satu sisi, dan juga mampu memformulasikan metode studi yang adaptif dan progresif di sisi yang berbeda, sehinga menjadi transimisi keilmuan yang konperhensif. Artikel ini mendiskripsikan potret keterpakaian kitab kuning di STAIN Pamekasan dan STAI Al-Khairat, juga di Pamekasan. Hasilnya, keterpakain kitab kuning sebagai referensi kajian keislaman berbeda antara kedua PTKI tersebut. STAIN Pamekasan, dengan jumlah program studi yang besar (18 prodi) keterpakaian kitab kuning relatif kecil, dikarenakan mayoritas mahasiswa tidak memiliki kompetensi dasar penguasaan kitab kuning. Demikian pula pola perkuliahan dan penguasan karya ilmiah oleh dosen yang tidak mewajibkan penggunaan referensi kitab kuning, juga menyebabkan rendahnya ketertarikan mahasiswa untuk menelaahnya. Hal ini berbeda dengan STAI Al-Khairat. Mahasiswa sudah terbiasa dengan penggunaaan kitab kuning sejak semester awal. Di samping mereka memiliki kompetensi yang dibutuhkan dalam menelaah kitab kuning, dukungan para dosen dan iklim kompetisi antar mahasiswa yang berasal dari beberapa pesantren juga menyebabkan tingginya penggunaan kitab kuning.
(Kitab Kuning is believed as the authoritative Islamic studies' reference. Its existence is accompanying the pesantren's existence as the oldest Islamic education institution. Islamic universities are expected to continue pesantren to combine classical knowledge tradition with research methodology which is adapted the demands in this era. Islamic university is as the place to make Moslems scholar able to put Islamic tradition in one side while in another side they are able to formulate an adaptive and progressive research method. So that it can be a comprehensible knowledge transmission. This research is trying to describe the use of kitab kuning in STAIN Pamekasan, STAI Al- Khairat and in Pamekasan too. The results are; there are differences in the usage of kitab kuning as reference in those two universities. STAIN Pamekasan with big amount of study programs (18 study programs) has low level on the usage of kitab kuning and it is caused by the students' lack of basic knowledge about it. Moreover, the terms of lecturing process and the lecturer's mastery of kitab kuning and they do not oblige the students to use it as reference is degrading the students' interest in analyzing it. It is different to what happen in STAI Al-Khairat. The students get used to make use of kitab kuning since the first semester. They both have the competency in analyzing kitab kuning and their lecturers also support them and create an atmosphere to have a competition among the students from any pesantren. These both reasons make the high kitab kuning usage in the latter Islamic university.)
Downloads
Download data is not yet available.
References
Bodgan, RC. dan S.J. Taylor, Introduction to Qualitative Research Methods: A Phenomenological Approach to the Social Sciences. New York: John Wiley and Sons. Inc.1985.
Bruinessen, Martin Van. Kitab Kuning, Pesantren dan Tarekat. Yogyakarta: Gading Publishing, 2012.
Dahlan, Abdul Aziz (et.al) Suplemen Ensiklopedi Islam. Jakarta PT Ichtiar Baru Van Hoeve. 2002.
Djaelani, Abdul Qadir. Peran Ulama dan Santri, dalam Perjuangan Politik Islam di Indonesia. Surabaya: PT Bina Ilmu, 1994.
Faiqoh. "Pengajaran Kitab Kuning di Pondok Pesantren Roudlotul 'Ulum Cidahu Pandeglang" dalam jurnal MIMBAR, Vol. 28, No. 2 (Desember, 2012)
Haningsih, Sri, "Peran Strategis Pesantren, Madrasah dan Sekolah Islam di Indonesia" dalam el-Tarbawi, Jurnal Pendidikan Islam edisi Vol. 1, No. 1, 2008.
Hasan. Muhammad, "Inovasi Dan Modernisasi Pendidikan Pondok Pesantren" dalam Karsa: Jurnal Sosial dan Budaya Keislaman Vol. 23 No. 2, Desember 2015:
Kartono, Kartini. Pengantar Metodologi Riset Sosial. Bandung: Mandar Maju, 1996.
Kholis, Nor. "Strategi Pembelajaran Kitab Kuning Bagi Anak Usia 7-12 Tahun (Studi Tentang Program Akselerasi baca kitab kuning di Maktab Nubdzatul Bayan Pondok Pesantren Mambaul Ulum Bata-Bata (Maktuba) Panaan Palengaan Pamekasan)". Tesis Program Magister Universitas Muhammadiyah Surabaya, 2013.
Moleong, Lexy J. Metodologi Penelitian Kualitatif. Bandung: PT. Remaja Rosda Karya, 2006.
Moosa, Ebrahim. "Transitions In The Progress of Civilization: Theorizing History, Practie, and Tradition", dalam Vincent Cornell dan Omid Safi (ed). Vices of Change. Westport: Praeger Publisher, 2007,
Muqoyyidin, Andik Wahyun. "Kitab Kuning Dan Tradisi Riset Pesantren Di Nusantara" dalam Ibda': Jurnal Kebudayaan Islam Vol. 12, No. 2, Juli - Desember 2014.
Nasution, S. Metode Penelitian Naturalistik-Kualititif. Bandung: Tarsito, 1992.
Nawawi, H. Hadari. Penelitian Terapan. Yogyakarta: UGM University Press,1994.
Raihani, dkk, "Delivering Islamic Studies And Teaching Diversity In Southern Thai Islamic Schools" dalam jurnal Al Jami'ah vol. 54. No.1, 2016M/1437H
Rakhmawati, Rani,"Syawir Pesantren Sebagai Metode Pembelajaran Kitab Kuning Di Pondok Pesantren Manbaul Hikam Desa Putat, Kecamatan Tanggulangin, Kabupaten Sidoarjo- Jawa Timur" dalam AntroUnairdotNet, Vol.V/No.2/Juli 2016.
SA, Nurul Huda. "Tradisi Menulis Populer di Pondok Pesantren Hasyim Asy'ari Yogyakarta" dalam Jurnal Islam-Indonesia. Vol. 01, No 01, 2009.
Safi, Omid. "Challeges and Oppuortunities for The Progressive Muslim in Nort America" dalam Muslim Public Affairs Journal, edisi Januari 2006.
Safi, Omid. "I and Thou in A Fluid Word: Beyond Islam Versus The West" dalam Vincent Cornell and Omid Safi (ed), hlm. Voice of Change. Westport: Praeger Publisher, 2007.
Safi, Omid. "I and Thou in A Fluid Word: Beyond Islam Versus the West" dalam Vincent Cornell and Omid Safi (ed), Voice of Change. Westport: Praeger Publisher, 2007.
Safi, Omid. "Progressive Islam In America" transkrip wawancara dengan Krista Tippet dalam Speakingof Fath, 28 Juli 2005.
Sudjana, Nana dan Ibrahim, Penelitian dan Penilaian Pendidikan. Bandung: Sinar Baru Algesindo, 2009.
Supandi, "Implementasi Program Akselerasi Pembelajaran Kitab Kuning Bagi Anak Usia 7-12 Tahun" (Studi Komparatif Maktab Nubdzatul Bayan Bata-Bata Panaan Palengaan Pamekasan dan Maktab Nubdzatul Bayan al-Majidiyah Palduding Plakpak Pegantenan Pamekasan) Tesis Pascasrjana IAIN Sunan Ampel Surabaya, 2012
Watt, William Montgomery. Islamic Fundamentalism And Modernity. London dan New York: Routledge, 1988.
Zuhriy, M. Syaifuddien, "Budaya Pesantren Dan Pendidikan Karakter Pada Pondok Pesantren Salaf" dalam jurnal: Walisongo, Volume 19, Nomor 2, November 2011.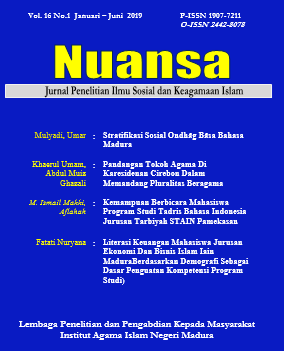 The journal operates an Open Access policy under a Creative Commons Attribution-NonCommercial 4.0 International License (CC-BY-NC)
Authors who publish with this journal agree to the following terms:
Authors retain copyright and grant the journal right of first publication with the work simultaneously licensed under a Creative Commons Attribution License that allows others to share the work with an acknowledgement of the work's authorship and initial publication in this journal.
Authors are able to enter into separate, additional contractual arrangements for the non-exclusive distribution of the journal's published version of the work (e.g., post it to an institutional repository or publish it in a book), with an acknowledgement of its initial publication in this journal.
Authors are permitted and encouraged to post their work online (e.g., in institutional repositories or on their website) prior to and during the submission process, as it can lead to productive exchanges, as well as earlier and greater citation of published work.