KEMANDIRIAN PESANTREN DI ERA REFORMASI
Mohammad Muchlis Solichin
Abstract views:
1336
,
pdf downloads:
846
Abstract
Sebagai lembaga pendidikan Islam, pesantren mendapat tantangan yang tidak ringan baik dari kalangan internal ummat Islam maupun pihak ekternal. Di era reformasi, tantangan tersebut semakin kuat, ketika kran demokrasi dibuka selebarlebarnya. Pesantren menjadi lahan subur pihak-pihak yang berkepentingan untuk mendapatkan keuntungan sesaat. Keadaan ini membuat banyak pesantren yang kehilangan kemandiriannya. Maka dari itu, penelitian ini bermaksud untuk mengetahui bagaimana pandangan pengasuh pesantren tentang kemandirian pesantren, bagaimana mempertahankan kemandiriannya, dan apa saja kendala pesantren dalam mempertahankan kemandiriaannya. Dalam hal ini, metode penelitian yang digunakan adalah kualitatif dengan jenis studi kasus. Hasil penelitian dapat ditegaskan sebagai berikut: pertama, pandangan Pengasuh Pondok Pesantren Al-Amin tentang kemandirian adalah tiadanya ketergantungan pesantren dengan pihak ekternal dalam berbagai aktivitasnya. Kedua, Pondok Pesantren al-Amin mempertahankan kemandiriannya dengan upaya-upaya, yaitu secara sosial politik; berupaya tetap berada di atas semua golongan dan kekuatan sosial politik di luar pesantren. Upaya secara ekonomi; mengembangkan berbagai badan usaha yang dengannya dapat membiayai kegiatan pendidikannya. Upaya secara pendidikan; melaksanakan kurikulum yang dirancang oleh pihak internal pesantren. Sedangkan kendala Pondok Pesantren dalam mempertahankan kemandiriannya adalah intervensi pihak eksternal, kurang kuatnya sumber daya manusia, dan kurangnya sarana dan prasarana pesantren.
Downloads
Download data is not yet available.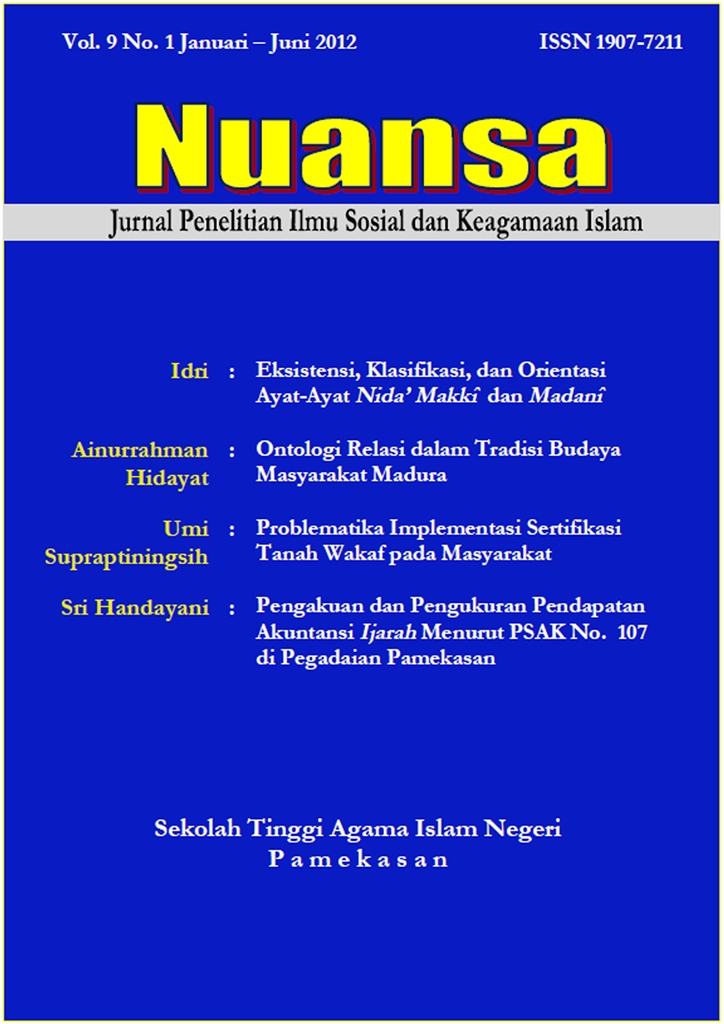 The journal operates an Open Access policy under a Creative Commons Attribution-NonCommercial 4.0 International License (CC-BY-NC)
Authors who publish with this journal agree to the following terms:
Authors retain copyright and grant the journal right of first publication with the work simultaneously licensed under a Creative Commons Attribution License that allows others to share the work with an acknowledgement of the work's authorship and initial publication in this journal.
Authors are able to enter into separate, additional contractual arrangements for the non-exclusive distribution of the journal's published version of the work (e.g., post it to an institutional repository or publish it in a book), with an acknowledgement of its initial publication in this journal.
Authors are permitted and encouraged to post their work online (e.g., in institutional repositories or on their website) prior to and during the submission process, as it can lead to productive exchanges, as well as earlier and greater citation of published work.