Wanita Inspiratif dalam Kajian Tafsir Al-Qur'an
Siti Nur Roikhatul Jannah

Institut Agama Islam Bani Fattah

Dian Erwanto

Intitut Agama Islam Bani Fattah
Abstract views:
182
,
PDF downloads:
197
Keywords:
Tafsir, Inspirator, Wanita
Abstract
Women are half of society and the male half, as the Prophet Muhammad has said. A society will be good if both men and women are good. In the current era, women really need inspiration from female role models. This study describes the inspirational female figures in the Qur'an who serve as role models for women. Using the interpretation perspective, this research takes 7 inspirational women whose stories have been immortalized in the Al-Qur'an. Seven female figures who are only mentioned in the Qur'an must be set as role models, including Imron's wife, Maryam bint Imran, Ibrahim's wife, Queen Balqis, Musa's mother, two Madyan women and Asiyah bint Muzahim. Based on the stories of these inspiring women, an inspiration or example is obtained, including: from Hanna's story we can learn that humans must be able to accept God's destiny sincerely, even though this destiny does not match expectations. Likewise with Maryam's story, from her, we can learn that women must be good at maintaining honor.
Downloads
Download data is not yet available.
References
Agama RI, Departemen. Kedudukan dan Peran Perempuan (Tafsir Al-Qur'an Tematik). Jakarta: Lajnah Pentashihan Mushaf Al-Qur'an, 2009.
Aryani, Aini. Wanita Dalam Al-Qur'an. Jakarta Selatan: Rumah Fiqih Publishing, 2019.
Chalil, Menawir. Nilai Wanita. Jakarta: Bulan Bintang, 1997.
Ermawati, Siti. Peran Ganda Wanita Karier Ditinjau Dalam Persepektif Islam. Jurnal Edutama Vol 2 No.2 Januari 2016.
Erwanto, Salim Azhar dan Dian. Metodologi Penelitian Tafsir al-Qur'an. (Yogyakarta: Bintang Pustaka, 2023).
Fitrian, Nailun Najah, Zaglul. Perempuan Dala Tafsir; Upaya Membaca Feminis Terhadap Teks-teks Agama. Revelatia: Jurnal Ilmu al-Qur'an dan Tafsir. Vol 2 No. 1 Mei 2021.
Haidir, Abdullah. Kisah-kisah Wanita Teladan. (Jakarta: al-Sulay, 2005).
Hanim, Hamidah. Peranan Wanita Dalam Islam Dan Feminisme Barat. At-Tarbawi: Jurnal Pendidikan, Sosial Dan Kebudayaan. Volume 12 Nomor 2 Tahun 2020.
Ismael, Ibn. Sang Penyeru: Sejarah Periode Para Rasul & Bani Israel. Kediri: Tetes Publishing, 2013.
Katsir, Ibnu. Tafsir Ibn Katsir, Terjemah Oleh M. Abdul Ghofur. Bogor: Pustaka Imam Asy-Syafi'i, 2003.
Mahmud. Keshalehan Ibu Mengantarkan Kesuksesan Pendidikan Anak. Ittihad Jurnal Kopertais Wilayah XI Kalimantan Volume 14 N0. 26 Oktober 2016.
Muslim, Musthafa. Mabahits Fit-Tafsir Al-Maudhu'i. Damaskus: Darul Qalam, 2000.
Mustaqim, Abdul. Metode Penelitian Al-Qur'an Dan Tafsir. Yogyakarta: Idea Press, 2014.
Qadri (al), Hamid Ja'far. Kisah Dan Hikmah Wanita Hadramaut. Jakarta Selatan: Nurani Publishing, 2017.
Shihab, M. Quraish. Tafsir Al-Misbah: Pesan, Kesan Dan Keserasian Al-Qur'an. Jakarta: Lentera Hati, 2005.
Shihab, M. Quraish. Wawasan Al-Qur'an. Bandung: Mizan, 1998.
Supriyadi, Tedi. "Perempuan Dalam Timbangan Al-Qur'an Dan Sunnah: Wacana Perempuan Dalam Persepektik Pendidikan Islam", Jurnal Sosioreligi Volume 16 Nomor 1, Edisi Maret 2008.
Thantawi, Mohammad Sayid. Inspiring Women In Qur'an: Kisah Para Perempuan Penggugah Iman. Jogjakarta: Darul Hikam, 2009.
Umairah, Abdurrahman. Wanita-Wanita Dalam Al-Qur'an. Terjemah Imam Awaluddin. Jakarta Timur: Pustaka Al-Kausar, 2020.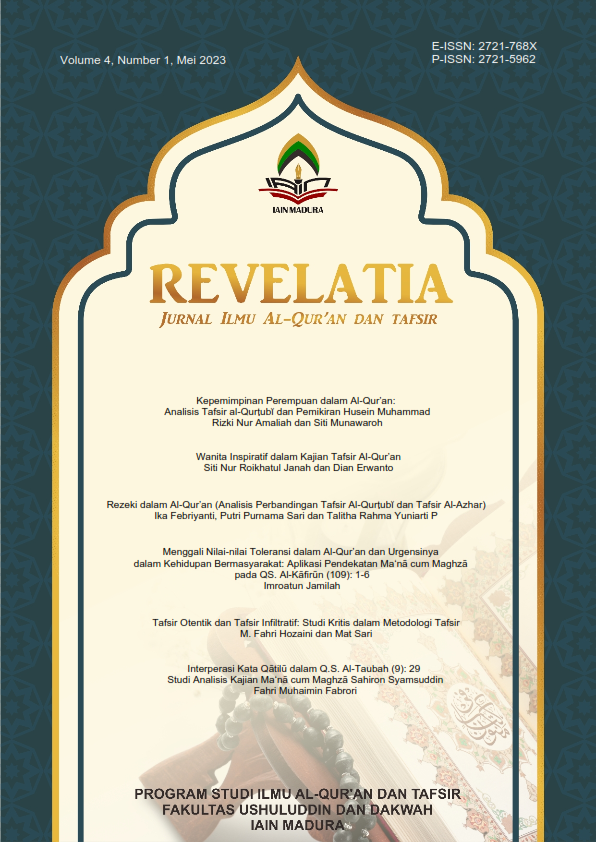 The journal operates an Open Access policy under a Creative Commons Non-Commercial Share-Alike license. All articles published Open Access will be immediately and permanently free for everyone to read and download.
• Creative Commons Attribution-NonCommercial (CC-BY-NC)
Revelatia: Jurnal Ilmu al-Qur`an and Tafsir by 
http://ejournal.iainmadura.ac.id/index.php/revelatia
is licensed under a 
Creative Commons Attribution-NonCommercial 4.0 International License
.
Based on a work at 
http://ejournal.iainmadura.ac.id.