Menggali Nilai-nilai Toleransi dalam Al-Qur'an dan Urgensinya dalam Kehidupan Bermasyarakat: Aplikasi Pendekatan Ma'nā cum Maghzā pada QS. Al-Kāfirūn (109): 1-6
Imroatun Jamilah

IAIN Madura
Abstract views:
107
,
PDF downloads:
127
Keywords:
Nilai-nilai, Toleransi, Kehidupan, Bermasyarakat
Abstract
Humans as social beings need to have a tolerant attitude to differences of ethnicity, culture, language, and religion because tolerance leads to good relations in social life, a peaceful and harmony life. However, in reality, differences often lead to intolerance, causing conflict and hostility. This problem becomes a basis for studying and exploring the values of tolerance in the Qur'an so that it can be understood and applied in everyday life. One of the surahs that contains the values ​​of religious tolerance is QS. al-Kāfirūn (109): 1-6. By using the hermeneutic approach of ma'nā-cum-maghzā theory, it can be concluded that: (1) humans are equipped with a mind and heart, thus, it needs to be utilized optimally so that human life can run well; (2) there will be no benefit for humans when aqidah or belief is obscured; (3) fellow human beings must respect each other and respect all differences. This attitude creates a life of peace and harmony, so that humans avoid conflict and hostility; and (4) preaching properly without coercion whicht is not justified in the Qur'an.
Downloads
Download data is not yet available.
References
Bakar, Abu. "Konsep Toleransi dan Kebebasan Beragama," Media Komunikasi Umat Beragama 7, no. 2 (Juli-Desember, 2015): 123, https://doi.org/10.24014/trs.v7i2.1426.
Casram. "Membangun Sikap Toleransi Beragama dalam Masyarakat Plural," Jurnal Ilmiah Agama dan Sosial Budaya 1, no. 2 (Juli, 2016): 188, https://doi.org/10.15575/jw.v1i2.588.
Fadilah, Adi. "Ma'na-Cum-Maghza sebagai Pendekatan Kontekstual dalam Perkembangan Wacana Hermeneutika Al-Qur'an di Indonesia," Journal of Qur'an and Hadith Studies 8, no. 1 (Januari-Juni, 2019): 12, https://doi.org/1015408/quhas.v8i1.13383.
Haitomi, Faisal dan Anisa Fitri. "Pemaknaan Ma'na Cum Maghza atas QS. (6): 108 dan Implikasinya terhadap Toleransi Antarumat Beragama," Al-Tadabbur 5, no. 2 (November, 2020): http://dx.doi.org/10.30868/at.v5i02.976.
Hamka. Tafsir Al-Azhar Jilid 10. Singapura: Pustaka Nasional Singapura, 1999.
Izutsu, Toshihiko. Konsep-konsep Etika Religius dalam Al-Qur'an, terj. Agus Fahri Husein, dkk. Yogyakarta: Tiara Wacana Yogya, 1993.
Izutsu, Toshihiko. Relasi Tuhan dan Manusia: Pendekatan Semantik terhadap Al-Qur'an, terj. Agus Fahri Husein, dkk. Yogyakarta: Tiara Wacana Yogya, 1997.
Jannah, Miftahul dan Moh Jufriyadi Sholeh. "Kebebasan Beragama dan Berbicara dalam Bingkai Kajian Tafsir Nusantara," Revelatia 2, no. 1 (Mei, 2021): 49, https://doi.org/10.19105/revelatia.v2i1.4366.
Kamus Besar Bahasa Indonesia Edisi Kelima Offline.
Laili, Ana Barikatul dan Delta Yaumin Nahri. "ANALISIS STILISTIKA PADA SURAH AL-QIYĀMAH." REVELATIA: Jurnal Ilmu al-Qur'an dan Tafsir, http://ejournal.iainmadura.ac.id/index.php/revelatia/article/view/5185, Vol 2 No 2, 2021.
Kementerian Agama RI. Al-Qur'an dan Terjemahannya. Jakarta: Lajnah Pentashihan Mushaf Al-Qur'an, 2019.
Makkĭ, 'Abd Allāh bin Kaṡĭr bin 'Amrū bin 'Abd Allāh bin Zādān bin Fairūz bin Hurmuz (al). Lubāb al-Tafsĭr min Ibn Kaṡĭr, vol. 8, terj. M. Abdul Ghoffar E.M., dkk. Jakarta: Pustaka Imam Asy-Syafi'i, 2003.
Manẓūr, Ibn. Lisān al-'Arab. Kairo: Dār al-Ma'ārif, t.th.
Mĭdānĭ, 'Abd ar-Raḥmān Ḥasan Ḥabannakah (al). Ma'ārij al-Tafakkur wa Daqā'iq al-Tadabbur, vol. 1. Damaskus: Dār al-Qalam, 1998.
Qaṣṣāṣ, Musṭāfā (al). al-Mu'allaqāt al-Sab'. Karachi: al-Maktabah al-Busyrā,
Quṭb, Sayyid. Fĭ Ẓilāl al-Qur'ān, vol. 6. Beirut: Dār al-Syurūq, 1968), 3991.
Ritajuddiroyah, Alifah. "Menemukan Toleransi dalam Tafsir Fī Ẓilāl Al-Qur'ān," Ṣuḥuf 9, no. 1 (Juni, 2016): https://doi.org/10.22548/shf.v9i1.112.
Shihab, M. Quraish. Tafsir Al-Mishbah, vol. 15. Jakarta: Lentera Hati, 2002.
Syamsuddin, Sahiron. Hermeneutika dan Pengembangan Ulumul Qur'an.
Yogyakarta: Pesantren Nawesea Press, 2017.
Ṭabārĭ, Abu Ja 'far Muhammad bin Jarir (at). Tafsir at-Ṭabārĭ, vol. 26, terj. Ahsan Ahkan. Jakarta: Pustaka Azzam, 2007.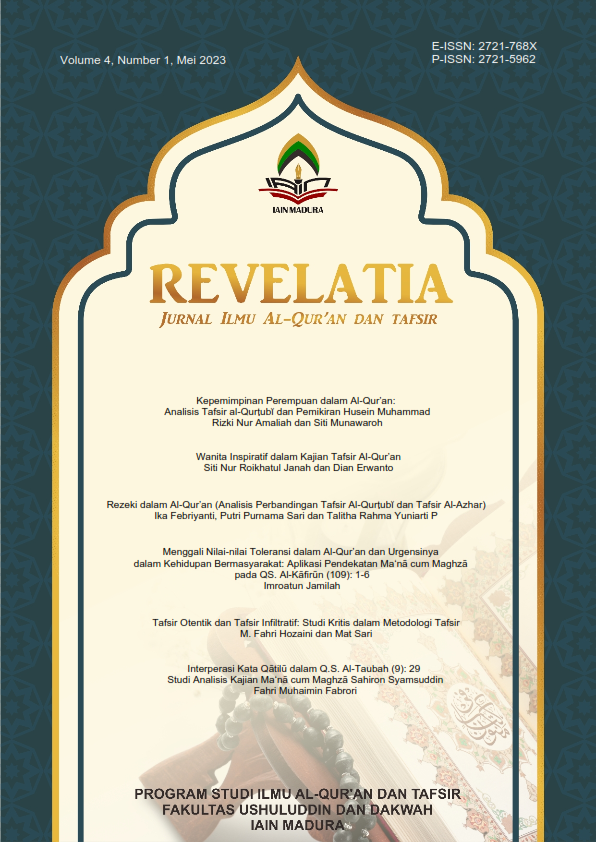 The journal operates an Open Access policy under a Creative Commons Non-Commercial Share-Alike license. All articles published Open Access will be immediately and permanently free for everyone to read and download.
• Creative Commons Attribution-NonCommercial (CC-BY-NC)
Revelatia: Jurnal Ilmu al-Qur`an and Tafsir by 
http://ejournal.iainmadura.ac.id/index.php/revelatia
is licensed under a 
Creative Commons Attribution-NonCommercial 4.0 International License
.
Based on a work at 
http://ejournal.iainmadura.ac.id.