Analisis Faktor Internal Perusahaan dalam Efisiensi BMT di Indonesia Perspektif Syariah Compliance
M Fuad Hadziq

Universitas Terbuka

Erika Amelia

UIN Syarif Hidayatullah Jakarta, Indonesia
Abstract views:
314
,
PDF downloads:
252
Abstract
Berdasarkan fakta di lapangan, saat ini banyak BMT kurang berkembang dan mengalami kepailitan. Hal itu disebabkan faktor internal seperti manajemen usaha, manajemen sumber daya manusia, laporan keuangan serta pengawasan. Riset ini bertujuan menganalisis faktor yang mempengaruhi efisiensi BMT dilihat dari faktor internalnya ditinjau dari syariah compliance. Adapun metode riset menggunakan deskriptif analisis dengan kritis mengelaborasi data lapangan secara langsung melalui deep interview & observasi ke manajer keuangan, karyawan serta direktur. Adapun samplingnya menggunakan metode judgement di BMT Pulau Jawa yang merupakan pulau berpenduduk terbanyak di Indonesia. Efisiensi dilakukan dengan menganalisis variabel input dan output yaitu aset likuid, total pembiayaan, pendapatan bagi hasil, biaya operasional, beban tenaga kerja pembiayaan dan aset tetap. Hasil riset menyatakan BMT belum efisien secara keseluruhan. Permasalahan BMT terletak pada tata kelola manajemen, sumber daya manusia, laporan keuangan serta pengawasan. Inefisiensi terutama disebabkan biaya operasional dan biaya tenaga kerja. Beberapa BMT belum melakukan manajerial sumber daya manusia secara profesional. BMT belum melakukan efisiensi terstruktur dan terjadwal. Efisiensi hanya dilakukan dengan pengurangan biaya operasional dan perjalanan dinas. Belum ada standar baku dalam standar efisiensi, serta tidak adanya aturan pemerintah atau regulator dalam efisiensi terutama di laporan keuangan. Strategi efisiensi dilakukan terutama dalam pengurangan dan meminimalkan biaya perjalanan, tidak untuk biaya tenaga kerja. Dalam syariah compliance, BMT sebagai entitas koperasi syariah harus mengikuti peraturan KUKM dalam PSAK, SAK Syariah dan SAK ETAP. Mengingat BMT adalah berbasis syariah maka BMT wajib menggunakan SAK syariah karena SAK ETAP tidak mengatur transaksi syariah serta PSAK yang 27 yang telah dicabut. (Based on the facts, currently many BMTs are not growth and bankruptcy. This is due to internal factors such as business management, human resource management, financial reports and supervision. This article aims to analyze the factors that affect the efficiency of BMT seen from internal factors in terms of sharia compliance. The research method uses descriptive analysis by critically elaborating field data directly through deep interviews & observations to financial managers, employees and directors. The sampling used the judgment method in BMT of Java Island, which is the most populous island in Indonesia. Efficiency is done by analyzing the input and output variables : liquid assets, total financing, revenue sharing, operating costs, financing labor costs and fixed assets. The results of the research state that BMT has not been efficient as a whole. The problem of BMT in management governance, human resources, financial reports and supervision. Inefficiency is basicly due to operational costs and labor costs. Some BMTs have not done professional human resource management. BMT has not carried out structured and scheduled efficiency. Efficiency is only done by reducing operational costs and official travel. There are no standard standards for efficiency standards, and there are no government regulations or regulators on efficiency, especially in financial reports. The efficiency strategy is carried out mainly in reducing and minimizing travel costs, not for labor costs. In sharia compliance, BMT as a sharia cooperative entity must follow KUKM regulations in PSAK, Sharia SAK and SAK ETAP. Considering that BMT is sharia-based, BMT is required to use sharia SAK because SAK ETAP does not regulate sharia transactions and PSAK which has been revoked.)
Downloads
Download data is not yet available.
References
Afif, Wildan Syafik, and Darwanto. "Tata Kelola Baitul Maal Wa Tamwil (BMT) Studi Pada BMT Mekar Da ' Wah" 1, no. July (2017): 121–38.
Ali, M Mahbubi, Stei Tazkia, and Bank Indonesia. "Analisis Efisiensi Baitul Maal Wat Tamwil Dengan Pendekatan Two Stage Data Envelopment Analysis ( Studi Kasus Kantor Cabang BMT MMU Dan BMT UGT Sidogiri )" 5, no. 2 (2010): 110–25.
Almizan. "Pembangunan Ekonomi Dalam Perspektif Ekonomi Islam." Maqdis : Jurnal Kajian Ekonomi Islam 1, no. 2 (2016): 204–22.
Ascarya, D. Y, and S. R Guruh. Analisis Efisiensi Perbankan Konvensional Dan Perbankan Syariah Di Indonesia Dengan Data Envelopment Analysis (DEA). Jakarta: Prenada Media Group, 2009.
Ascarya, and Yumanita. "Comparing The Development of Islamic Financial / Bond Markets in Malaysia and Indonesia." Development, no. October (2016): 375–407.
Aziz, Amin. Pedoman Pendirian BMT. Jakarta: Pinbuk Press, 2004.
Berger, Allen N, and David B Humphrey. "Efficiency of Financial Institutions : International Survey and Directions for Future Research." European Journal of Operational Research 98 (1997): 175–212.
Dieter, Hans, and Dwi Agung. "Islamic Microfinance in Indonesia," 2006.
Hadad, Muliaman D, Wimboh Santoso, Eugenia Mardanugraha, and Dhaniel Illyas. Pendekatan Parametrik Untuk Efisiensi Perbankan Indonesia. Universitas Indonesia, 2003. Universitas Indonesia.
Mughal, M. Z. "Empowering SMEs for Financial Inclusion and Growth." In Internasional Conference "Empowering SMEs for Financial Inclusion and Growth. Jakarta, 2014.
Nasution, A. C. "Efficiency of Baitul Maal Wa Tamwil (BMT): An Effort towards Islamic Wealth Management in Microfinance Institution." The Journal of Muamalat and Islamic Finance Research 11, no. 1 (2014): 59–74.
Nisak, Badratun. "Analisis Manajemen Risiko Pembiayaan Musyarakah Pada Baitul Qiradh Bina Insan Mandiri Banda Aceh." Share 3, no. 1 (2014): 41–55.
Noor, Vini Sapta. Analisis Perbandingan Efisiensi Bank Syariah Dan Bank Konvensional Dengan Menggunakan Metode Data Envelopment Analysis (DEA), 2013.
OJK. "Statistik Perbankan Syariah." Departemen Perizinan dan Informasi Perbankan, 2019. https://www.ojk.go.id/id/kanal/syariah/data-dan-statistik/statistik-perbankan-syariah/default.aspx.
Prastiawati, Fitriani, and Emile Satia Darma. "Peran Pembiayaan Baitul Maal Wat Tamwil Terhadap Perkembangan Usaha Dan Peningkatan Kesejahteraan Anggotanya Dari Sektor Mikro Pedagang Pasar Tradisional." Jurnal Akuntansi Dan Investasi 17, no. 2 (2016): 197–208.
Sakti, Ali. "Mapping of Condition and Potential of BMT: Partnership to Expand the Market and Linkage of Islamic Banking Services to the Micro Enterprises." Jurnal Al-Muzara'ah I, no. 1 (2013): 1–18.
Santoso, B.S. "Analisis Tingkat Kesehatan BMT Ditinjau Dari Aspek Manajemen." Jurnal Akuntansi-Bisnis & Manajemen 14, no. 4 (2003): 144–58.
Suseno, Priyonggo. "Analisis Efisiensi Dan Skala Ekonomi Pada Industri Perbankan Syariah Di Indonesia. Pusat Pengkajian Dan Pengembangan Ekonomi Islam." Pusat Pengkajian Dan Pengembangan Ekonomi Islam 2 (2008): 25–55.
Sutawijaya, Adrian, and Etty puji Lestari. "Efisiensi Teknik Perbankan Indonesia Pascakrisis Ekonomi: Sebuah Studi Empiris Penerapan Model DEA." Jurnal Ekonomi Pembangunan 10, no. 1 (2009): 49–67.
Yuningrum, Heny. "Mengukur Kinerja Operasional BMT Pada Tahun 2010 Ditinjau Dari Segi Efisiensi Dengan Data Envelopment Analysis (DEA) (Studi Kasus BMT Di Kota Semarang)." Jurnal Economica II, no. 2 (2012): 111–28.
Yusanto, M Ismail, and M. Arif Yunus. Pengantar Ekonomi Islam. Bogor: Al Azhar Press, 2009.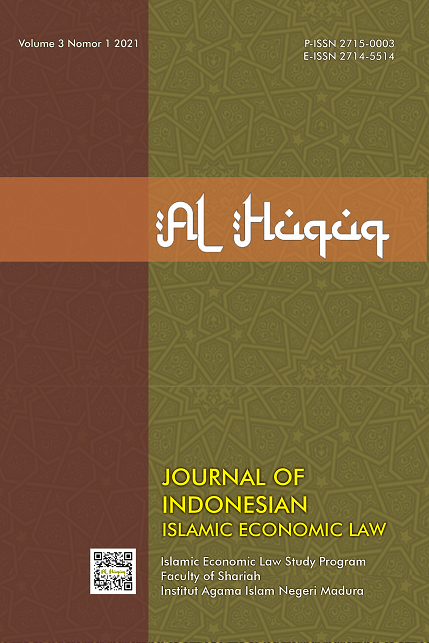 How to Cite
Hadziq, M. F., & Amelia, E. (2021). Analisis Faktor Internal Perusahaan dalam Efisiensi BMT di Indonesia Perspektif Syariah Compliance. Al-Huquq: Journal of Indonesian Islamic Economic Law, 3(1), 52-80. https://doi.org/10.19105/alhuquq.v3i1.4178