Google Meeting Sebagai Media Alternatif di Masa Pandemi Dalam Pembelajaran Maharah Kitabah
Abstract views:
250
,
pdf downloads:
196
Abstract
During online learning, many applications have been launched to support the learning process in the world of education. Starting from the existence of the Learning Management System (LMS), the use of various kinds of Video Conferencing, even to the use of social media which is not a medium for learning but still used for the expected learning to take place. The research objective was to find out how to process and student's responses related to the use of Video conferencing (Google Meet) in learning Khat Imla' in the Arabic Language Education Department (PBA) in Semester II and IV of IAIN Surakarta. This type of research is qualitative with descriptive methods. The data collection techniques are interviews and questionnaires. The result of this study is the learning process using Google Meet video conferencing has been going quite well, seen from the level of student participation in attending lectures is very satisfying. In terms of understanding the material, it is quite understandable by students. However, from the point of view of using google meet to practice writing khat imla', it is still less effective, due to signal problems which cause the video stucked when the lecture is practicing writing khat imla', so that in the training and evaluation process there are still many students who complain of difficulties.
Downloads
Download data is not yet available.
References
سراج, محمّد خبير. (2020) " فعالية التعلمية عبر الإنترنت باستعمال تطبيق الواتساب واليتيوب على تعليم قواعد اللغة العربية لدى الطلاب كليات الاقتصاد والأعمال الإسلامية جامعة "تولونج أكونج" الإسلامية الحكومية تولونج أكونج جاوا الشرقيّة". التدريس: المجلد الثامن- العدد الثاني، 2020.
Al-Maroof, R. S., Salloum, S. A., Hassanien, A. E., & Shaalan, K. "Fear From COVID-19 and Technology Adoption: The Impact of Google Meet During Coronavirus Pandemic.", Interactive Learning Environtments, 2020.
Anim dan Mapilindo. "Persepsi Mahasiswa Pendidikan Matematika Tentang Pembelajaran Daring Selama Masa Learn from Home (LFH) Pandemic COVID-19", Jurnal: Matematics Pedagogic, Vol. 5 No. 1, 2020.
Audina, Noor Amalia dan Muassomah. "Instagram: Alternatif Media Dalam Pengembangan Maharah Al-Kitabah", Al-Ta'rib: Jurnal Ilmiah Program Studi Pendidikan Bahasa Arab IAIN Palangkaraya, Vol. 8, No. 1, 2020.
Chen, N. S., Ko, H. C., Kinshuk, & Lin, T. "A Model for Synchronous Learning using The Internet", Innovations in Education and Teaching International, 2005.
Ekawardhana, Nattaya Emeralda. "Efektivitas Pembelajaran Dengan Menggunakan Media Video Conference", Seminar Nasional Ilmu Terapan IV, A 9-5, 2020.
Fakhruddin, Afief. "Using Google Meet In Teaching Speaking", Journal of English Language Learning (JELL), Vol. 2, No. 2, 2019.
Hijrat, Lalu Akmal. "Pembelajaran Khat Wa Qowa'idul Imla' Mahasiswa UIN Mataram Dan Problematikanya", Al-Islamiyah: Jurnal Pendidikan dan Wawasan Studi Islam. Vol. 2, No. 1, 2020.
Ita Purnama, Yuniarta. "Analisis Respon Mahasiswa Terhadap Pengimplementasian Google Meet Pada Mata Kuliah Speaking for Daily Context", PROSIDING SEMINAR NASIONAL PENELITIAN DAN PENGABDIAN, 2021.
Nalurita, Sari. (2021) "Pemanfaatan Aplikasi Google Meet Pada Mata Kuliah Teknik Proyeksi Bisnis Semester Gasal Tahun Pelajaran 2020/2021 Di Universitas Dirgantara Marsekal Suryadarma (UNSURYA) (Studi pada Mahasiswa Prodi Manajemen Kelas G)", Jurnal Ilmiah Manajemen Surya Pasca Scientia, Vol. 10, No. 1, 2021.
Rustaman, Abdul Haris. (2020) "Efektivitas Penggunaan Aplikasi Daring, Video Conference Dan Sosial Media Pada Mata Kuliah Komputer Grafis 1 Di Masa Pandemi Covid-19", Jurnal Ilmu Sosial dan Pendidikan, Vol. 4 No. 3, 2020.
Sette-de-Souze, P. H. (2020) "Motivating Learners in Pandemic Period Throug WhatsApp and Google Meet", J Dent Educ. 2021; 85 (Suppl. 1).
Sugiyono. Metode Penelitian Pendidikan: pendekatan Kuantitatif, Kualitatif, dan R&D. Bandung: Alfabeta, 2016.
Taubah, Miftachul. "Maharah dan Kafa'ah Dalam Pembelajaran Bahasa Arab", STUDI ARAB: Jurnal Pendidikan Bahasa Arab, Vol. 10, No. 1, 2019.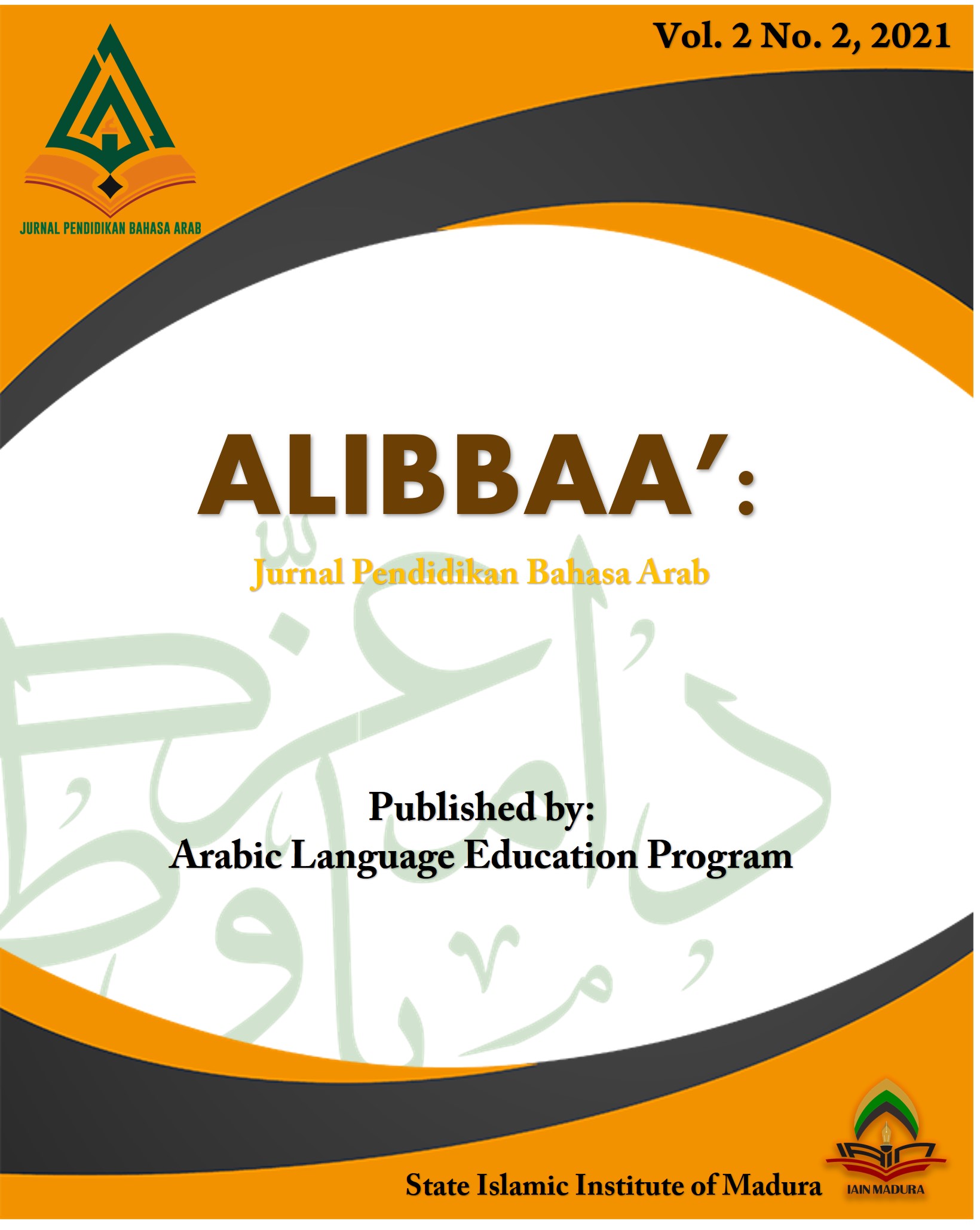 Authors who publish with this journal agree to the following terms:
a. Authors retain copyright and grant the journal right of first publication with the work simultaneously licensed under a Creative Commons Attribution License that allows others to share the work with an acknowledgement of the work's authorship and initial publication in this journal.
b. Authors are able to enter into separate, additional contractual arrangements for the non-exclusive distribution of the journal's published version of the work (e.g., post it to an institutional repository or publish it in a book), with an acknowledgement of its initial publication in this journal.
c. Authors are permitted and encouraged to post their work online (e.g., in institutional repositories or on their website) prior to and during the submission process, as it can lead to productive exchanges, as well as earlier and greater citation of published work (See The Effect of Open Access).
Alibbaa': Jurnal Pendidikan Bahasa Arab have CC-BY-SA or an equivalent license as the optimal license for the publication, distribution, use, and reuse of scholarly work.
In developing strategy and setting priorities, Alibbaa': Jurnal Pendidikan Bahasa Arab recognize that free access is better than priced access, libre access is better than free access, and libre under CC-BY-SA or the equivalent is better than libre under more restrictive open licenses. We should achieve what we can when we can. We should not delay achieving free in order to achieve libre, and we should not stop with free when we can achieve libre.
Alibbaa': Jurnal Pendidikan Bahasa Arab is licensed under a Creative Commons Attribution 4.0 International License
You are free to:
Share — copy and redistribute the material in any medium or format
Adapt — remix, transform, and build upon the material for any purpose, even commercially.
The licensor cannot revoke these freedoms as long as you follow the license terms.