Problematika Pembelajaran Maharah Qiraah Daring: Studi Kasus Terhadap Mahasiswa PBA IAIN Syaikh Abdurrahman Siddik Bangka Belitung
Ela Munawwaroh

IAIN Syaikh Abdurrahman Siddik Bangka Belitung
Abstract views:
366
,
pdf downloads:
618
Abstract
Online learning during this pandemic poses many problems. A common problem is that not all students have smartphones or a good network in their homes. Therefore, this study is intended to see more about what problems students face in learning reading skills. This study used a quantitative approach with descriptive methods. The subject of this research is students in the Arabic education program in the 4th semester. To collect data, the researcher used questionnaires and analyzed them using percentage techniques. The results of this research showed that the problems in learning reading skills faced by students of the Arabic education program IAIN SAS Bangka Belitung include: 1) Linguistic Aspect. More than 50% of students have poor language skills, especially in the mastery of nahwu and sharf, and 2) Non-linguistic Aspect. There are no significant problems, except for problems with the lost network caused by changes in weather or power outages.
Downloads
Download data is not yet available.
References
Ana, Saiul. "PEMBELAJARAN BAHASA ARAB DARING (Studi Kasus Mahasiswa Hukum Kelurga Islam (HKI) STAI Taruna Surabaya)", Al-Fakkaar, Vol. 1, No. 2, 2020.
Asyrofi, Syamsuddin, Metodologi Pembelajaran Bahasa Arab, Yogyakarta: Idea Press, 2010.
Corinna, Dwi Felita, Intan Rembulan, and Faisal Hendra. "PROBLEMATIKA PEMBELAJARAN BAHASA ARAB SECARA DARING: STUDI KASUS MAHASISWA PROGRAM STUDI BAHASA DAN KEBUDAYAAN ARAB UNIVERSITAS AL-AZHAR INDONESIA", Prosiding Konferensi Nasional Bahasa Arab, Vol. 6, No. 6, 2020.
Fadilla, Annisa Nurul, Ayu Suci Relawati, and Nani Ratnaningsih. "PROBLEMATIKA PEMBELAJARAN DARING PADA PEMBELAJARAN MATEMATIKA DI MASA PANDEMI COVID-19", Jurnal Jendela Pendidikan, Vol. 1, No. 02, 2021.
Haryadi, Rudi and Fitria Selviani. "PROBLEMATIKA PEMBELAJARAN DARING DI MASA PANDEMI COVID-19", Academy of Education Journal, Vol. 12, No. 2, 2021.
Hermawan, Acep, Metodologi Pembelajaran Bahasa Arab, Bandung: PT. Remaja Rosdakarya, 2011.
Morrisan, Metode Penelitian Survei, 5th edition, Depok: Prenada Media Group, 2018.
Nengrum, Thityn Ayu, Najamuddin Pettasolong, and Muhammad Nuriman. "Kelebihan dan Kekurangan Pembelajaran Luring dan Daring dalam Pencapaian Kompetensi Dasar Kurikulum Bahasa Arab di Madrasah Ibtidaiyah 2 Kabupaten Gorontalo", Jurnal Pendidikan, Vol. 30, No. 1, 2021.
Rathomi, Ahmad. "Pembelajaran Bahasa Arab Maharah Qira'Ah Melalui Pendekatan Saintifik", Ta'dib: Jurnal Pendidikan Islam, Vol. 8, No. 1, 2019.
SHINTIA, WULANDARI, Mahluddin Mahluddin, and Imran Imran. "PROBLEMATIKA GURU SELAMA PEMBELAJARAN DARING DENGAN MENGGUNAKAN APLIKASI WHATSAPP GROUP PADA MATA PELAJARAN BAHASA ARAB PADA SISWA KELAS V DI MI AN-NIZHAM KOTA JAMBI", UIN Sulthan Thaha Saifuddin Jambi, 2021.
Syagif, Ahmad. "PROBLEMATIKA PEMBELAJARAN BAHASA ARAB MENGGUNAKAN APLIKASI WHATSAPP SELAMA PANDEMI COVID-19 PADA SISWA MADRASAH IBTIDA'IYAH DI KOTA BIMA", Fashluna: Jurnal Pendidikan Dasar Dan Keguruan, Vol. 1, No. 02, 2020.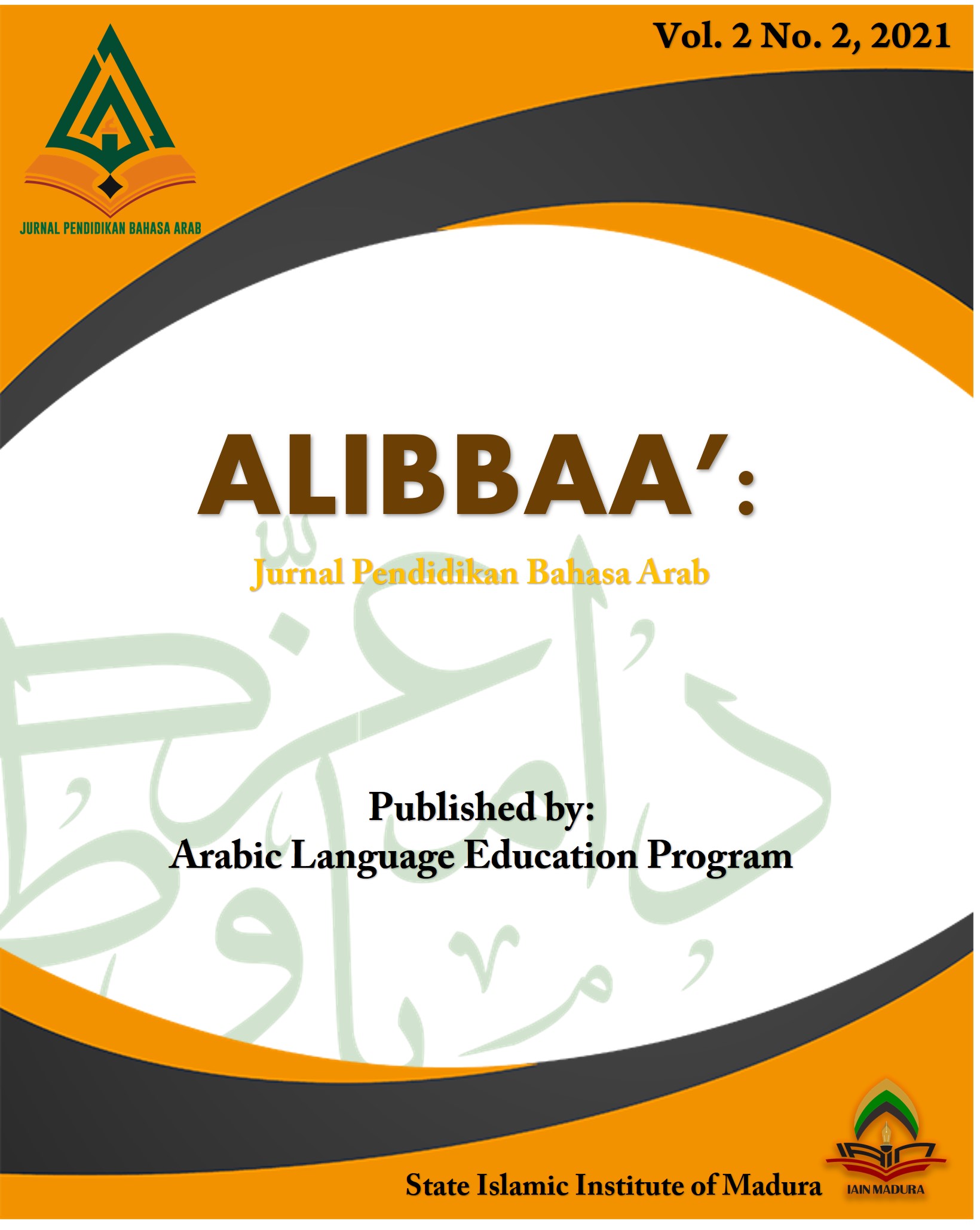 Authors who publish with this journal agree to the following terms:
a. Authors retain copyright and grant the journal right of first publication with the work simultaneously licensed under a Creative Commons Attribution License that allows others to share the work with an acknowledgement of the work's authorship and initial publication in this journal.
b. Authors are able to enter into separate, additional contractual arrangements for the non-exclusive distribution of the journal's published version of the work (e.g., post it to an institutional repository or publish it in a book), with an acknowledgement of its initial publication in this journal.
c. Authors are permitted and encouraged to post their work online (e.g., in institutional repositories or on their website) prior to and during the submission process, as it can lead to productive exchanges, as well as earlier and greater citation of published work (See The Effect of Open Access).
Alibbaa': Jurnal Pendidikan Bahasa Arab have CC-BY-SA or an equivalent license as the optimal license for the publication, distribution, use, and reuse of scholarly work.
In developing strategy and setting priorities, Alibbaa': Jurnal Pendidikan Bahasa Arab recognize that free access is better than priced access, libre access is better than free access, and libre under CC-BY-SA or the equivalent is better than libre under more restrictive open licenses. We should achieve what we can when we can. We should not delay achieving free in order to achieve libre, and we should not stop with free when we can achieve libre.
Alibbaa': Jurnal Pendidikan Bahasa Arab is licensed under a Creative Commons Attribution 4.0 International License
You are free to:
Share — copy and redistribute the material in any medium or format
Adapt — remix, transform, and build upon the material for any purpose, even commercially.
The licensor cannot revoke these freedoms as long as you follow the license terms.