I'dâd al-Mawâd al-Ta'lîmiyyah li Mahârati al-Kalâm Fî Dhoui al-Madkhal al-Wadzhîfî Fî Maskan al-Khairiyyah Sukorejo Situbondo
Shofwatul Fu'adah

Universitas Ibrahimy, Indonesia
Abstract views:
71
,
pdf downloads:
100
Abstract
Learning materials are very important in learning Arabic. But in reality, there are many learning processes that do not use even do not have the right textbooks or teaching materials, like the researcher found in Al-Khoiriyah Ma'hadul Qur'an dormitory Sukorejo Situbondo. This was impacting on their lack of speaking skills, while they have to communicate in Arabic and English everyday as bilingual dormitory. Therefore, they need specific learning textbooks so that teaching and learning activities can be directed correctly, especially the textbooks that can support learning maharah kalam, so they can improve their speaking skills. This study aims to preparation textbooks of maharah kalam using functional approach because students need materials that related with their daily activities and functional verbal expressions. The method of this research was research and development (R&D)"which was proposed by Borg and Gall. The design of the product trial went through the expert validation, content and instructional design expert. The results of this textbook trial showed that this textbook was effective to meet the students need to increase speaking skills which using pre-test and post-test exercise, with pre-test result from 58,6 then increase in post test to be 85 and also the result of the teachers and students questionnaire is very good and effective to use after using this product. Therefore the teaching materials useful for their Arabic daily communication
Downloads
Download data is not yet available.
References
الخولي، محمد علي. المهارات اللدّراسية. الأردن: دار الفلاح للنشر والتوزيع، 2000.
السليتي، فراس وفوءاد مقدادي. "أثر برنامج التعليمي قائم على المدخل الوظيفي في تحسين مهارات القراءة الناقدة لدى الطلاب الصف التاسع الأساسي في الأردن". مجلة جامعة النجاح للأبحاث (العلوم الإنسانية). المجلة 26 (9). 2012. ص. 1979.
شحاته، حسن. استراتيجيات حديثة في تعليم اللغة العربية وتعلمها. القاهرة: الدار المصرية البنانية، 2016.
صالح، هدى محمد إمام ومحمدعبد العزيز صالح الربعي. الاتجاهات الحديثة في تدريس اللغة العربية : الأسس والمصطلحات. الرياض: دار الزهراء للنشر والتوزيع، 2012.
طعيمة، رشدي أحمد وآخرون، المرجع مناهج تعليم اللغة العربية للناطقين بلغات أخرى، القاهرة: دار الفكر العربي، 2010.
عبد الله، عبد الحميد و ناصر عبد الله الغالي. أسس إعداد الكتب التعليمبة لغير الناطقين بالعربية. الطبعة الأولى. الرياض: دار الغالي.
عريف، أ.هنية و أ.دلبوخ بوجملين. " المداخل الحديثة في تعليم اللغة العربية من تعليم اللغة إلى تعليم التواصل باللغة". مجلة الأثر، العدد 23، 2015.
عوض، أحمد عبده. مداخل تعليم اللغة العربية : دراسة مسحية نقضية. مكة المكرمة : جامعة أم القرى، 2000.
مرادي، أحمد. "إعداد مواد اللغة العربية لغير الناطقين بالعربية وتأليفها (تعليقا على إعداد مواد اللغة الربية بمركز تطوير اللغات في جامعة أنتاساري الإسلامية الحكومية بنجرماسين)". Jurnal Tarbiyah) Jurnal Ilmiah Kependidikan), Vol. 6, No. 1, 2017.
الناقة، محمود كامل ورشدي أحمد طعيمة. الكتاب الأساسي لتعليم اللغة العربية للناطقين بلغت أخرى. مكة المكرمة: جامعة أم القرى. 1983.
________. Metode Penilitian Kuantitatif, Kualitatif, dan R&D. Bandung: Alfabeta. 2011.
Agusvian, Hidayat et al. "Pengembangan Media Komik Pada Pembelajaran Qiroah Materi Perkenalan Kelas VII
Mts Muallimin NW Pancor", al-Mahara: Jurnal Pendidikan Bahasa Arab, Vol 7, No. 1, 2021.
al-Ghali, Abdullah & Abdul Hamid Abdullah. Menyusun Buku Ajar. Padang: Akademia Permata. 2012.
Hamid, MA et al. "Pengembangan Bahan Ajar Bahasa Arab Berbasis Teori Belajar Konstruktivisme Untuk Mahasiswa", Arabi: Jurnal of Arabic Studies, Vol. 4, No. 1, 2019.
Hanum, Syarifah & Rahmawati. "Implementasi Pendekatan Fungsional dalam pembelajaran Bahasa Arab melalui Metode Community Language Learning", Lisanuna, Vol. 9, No. 2, 2020.
Jamil, Husnaini & Nur Agung. "Designing the Arabic Learning Book Based on The Hiwar Approach for Non-Arabic Education Program at Muhammadiyah Islamic University of Sinjai", Al-Ta'rib: Jurnal Ilmiah Program Studi Pendidikan Bahasa Arab, Vol. 7, No. 2, 2019.
Prastowo, Andi. Panduan Kreatif Membuat Bahan Ajar Inovatif. Yogyakarta: DIVA Press. 2012.
Prawiradilaga, Dewi Salma. Prinsip Desain Pembelajaran. Jakarta: Kencana Prenada Media Group. 2007.
Sugiyono. Metode Penelitian & Pengembangan Research & Development. Bandung: Alfabeta. 2016.
Tur'aeni, Een. "Implementasi Pendekatan Fungsional Dalam Pembelajaran Bahasa Arab di MTSN Al-Hilal". Jurnal Shaut Arabiyah, Vol. 7, No. 2, 2019.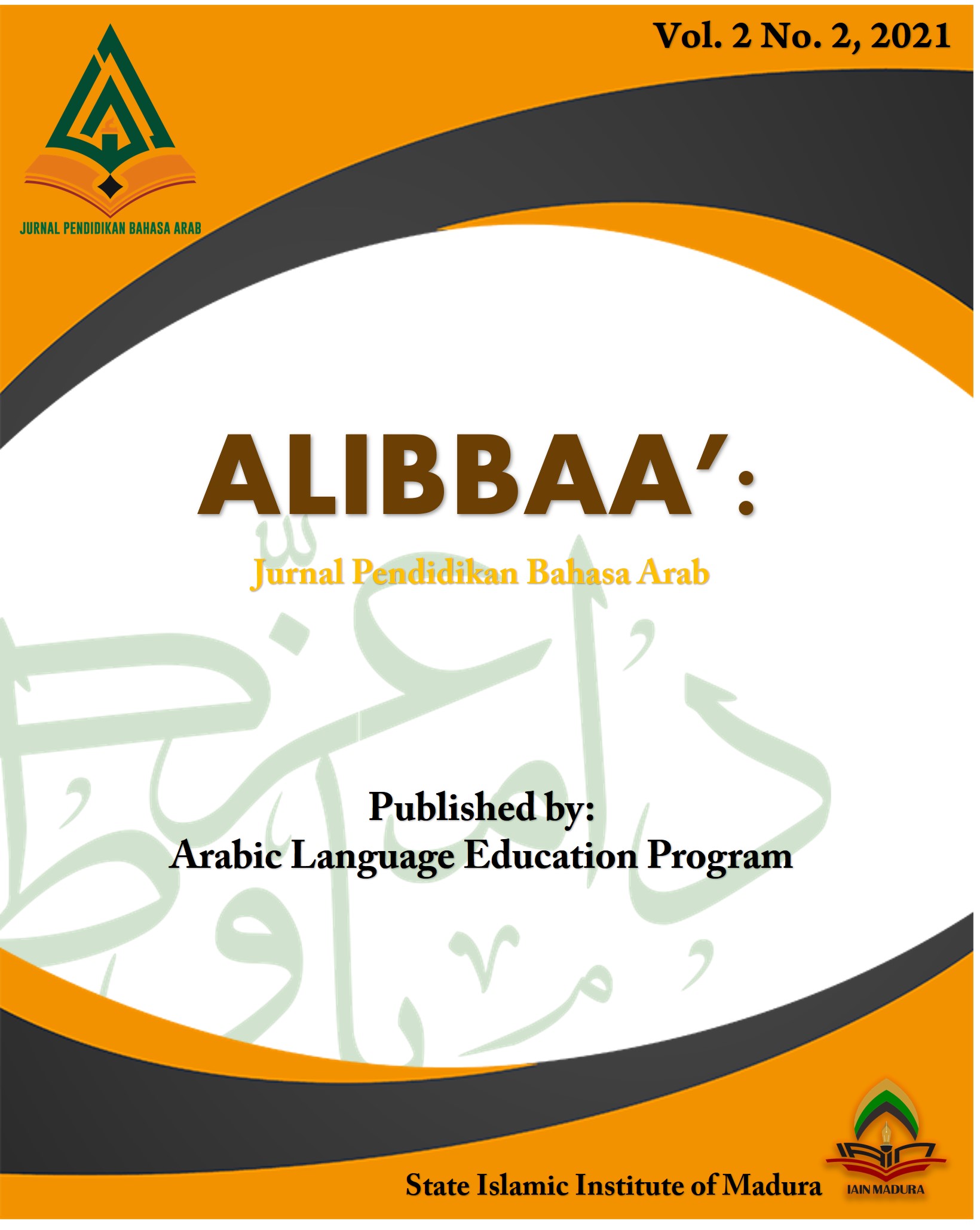 Authors who publish with this journal agree to the following terms:
a. Authors retain copyright and grant the journal right of first publication with the work simultaneously licensed under a Creative Commons Attribution License that allows others to share the work with an acknowledgement of the work's authorship and initial publication in this journal.
b. Authors are able to enter into separate, additional contractual arrangements for the non-exclusive distribution of the journal's published version of the work (e.g., post it to an institutional repository or publish it in a book), with an acknowledgement of its initial publication in this journal.
c. Authors are permitted and encouraged to post their work online (e.g., in institutional repositories or on their website) prior to and during the submission process, as it can lead to productive exchanges, as well as earlier and greater citation of published work (See The Effect of Open Access).
Alibbaa': Jurnal Pendidikan Bahasa Arab have CC-BY-SA or an equivalent license as the optimal license for the publication, distribution, use, and reuse of scholarly work.
In developing strategy and setting priorities, Alibbaa': Jurnal Pendidikan Bahasa Arab recognize that free access is better than priced access, libre access is better than free access, and libre under CC-BY-SA or the equivalent is better than libre under more restrictive open licenses. We should achieve what we can when we can. We should not delay achieving free in order to achieve libre, and we should not stop with free when we can achieve libre.
Alibbaa': Jurnal Pendidikan Bahasa Arab is licensed under a Creative Commons Attribution 4.0 International License
You are free to:
Share — copy and redistribute the material in any medium or format
Adapt — remix, transform, and build upon the material for any purpose, even commercially.
The licensor cannot revoke these freedoms as long as you follow the license terms.