Cooperative Learning Dalam Bahasa Arab: Metode Belajar di MA Nurul Huda
Satriadi satriadi satriadi

UIN Maliki

Muassomah

Universitas Islam Negeri Maulana Malik Ibrahim Malang
Abstract views:
78
,
pdf downloads:
98
Abstract
The paper elaborates about the application of Arabic learning with the Cooperative Learning method, along with the results obtained after applying this method to 11 students of class XI MA Nurul Huda Pandan Jaya. This research used a qualitative descriptive approach with observation, interview and documentation research instruments. The results showed that the applied Cooperative Learning method is able to affect student's outcomes, besides that students are more motivated to think more critically in solving problems in the form of discussions, and are more courageous to express their arguments both in their groups and to deliver to the class.
Downloads
Download data is not yet available.
References
Alwan, M., "Pengaruh Strategi Pembelajaran Cooperative Learning Tipe Rotating Trio Exchange Terhadap Prestasi Belajar Matematika Siswa Mts", Jurnal Al-Muta'aliyah STAI Darul Kamal NW Kembang Kerang, 2020.
Dalimunthe, M., & Suyanti, R. D. Pembentukan karakter dan peningkatan hasil belajar kimia siswa sma melalui pengintegrasian strategi dan media pembelajaran pada materi hidrokarbon. -, 5(02), 2016.
Erita, S., "Beberapa model, pendekatan, strategi, dan metode dalam pembelajaran matematika", Tarbawi: Jurnal Ilmu Pendidikan, Vol. 1, No. 2, 2016.
Herianto, A., & Ibrahim, I., "Analisis Efektivitas, Kelebihan Dan Kekurangan Desain Model Cooperative Learning Dalam Meningkatkan Motivasi Dan Hasil Belajar Geografi Lingkungan Pada Mahasiswa Program Studi Pendidikan Geografi Di Pulau Lombok", Prosiding Seminar Nasional Pendidik dan Pengembang Pendidikan Indonesia, pp. 17-27, 2018.
Irawan, F. J., & Ningrum, N. (2016), "Pengaruh penggunaan Model Cooperative Learning Tipe Group Investigation (GI) terhadap Hasil Belajar Prakarya Dan Kewirausahaan (PKWU) siswa Kelas X semester Genap SMK Negeri 1 Metro Tp 2015-2016", PROMOSI: Jurnal Program Studi Pendidikan Ekonomi, Vol. 4, No. 2, 2016.
Isjoni, Cooperative Learning, Bandung: Alfabeta, 2009.
Israil, I., "Implementasi Model Pembelajaran Cooperative Learning Tipe STAD untuk Meningkatkan Motivasi Belajar Siswa dalam Pembelajaran IPA di SMP Negeri 1 Kayangan", Jurnal Kependidikan: Jurnal Hasil Penelitian Dan Kajian Kepustakaan Di Bidang Pendidikan, Pengajaran Dan Pembelajaran, Vol. 5, No. 2, 2019.
M. Nafiur Rofiq, "Pembelajaran Kooperatif (Cooperative Learning) dalam Pengajaran Pendidikan Agama Islam", Jurnal Falasifa. Vol. 1, No. 1, 2010
Moleong, L. J., & Edisi, P. R. R. B., Metodologi Penelitian. Bandung: Penerbit Remaja Rosdakarya, 2004.
Murbaetty, N. S. "PENGGUNAAN STRATEGI PEMBELAJARAN COOPERATIF LEARNING UNTUK MENINGKATKAN HASIL BELAJAR METODE PEKERJAAN SOSIAL JAKARTA", Jurnal Pendidikan Kewarganegaraan, Vol. 4, No. 1, 2017.
Nurhadi, Pembelajaran Kontextual (Contextual Teaching dan Learning/CTL) dan Penerapannya Dalam KBK, Malang: UIN Press, 2004.
Nurlaila, N., & Muassomah, M., "The Collaboration of Herbart Method with Cooperative Learning: Optimizing writing Skills at IAIN Madura", Alsinatuna: Journal of Arabic Linguistics and Education, Vol. 5, No. 2, 2020.
Rochmawati, I., Sutarto, J., & Anni, C. T., "Pengembangan Model Cooperative Learning Melalui Chained Games untuk Meningkatkan Kemampuan Kerjasama Anak Usia 5-6 Tahun", Journal of Primary Education, Vol. 6, No. 2, 2017.
Setiawan, A., Yudiana, Y., Ugelta, S., Oktriani, S., Budi, D. R., & Listiandi, A. D., "Hasil Belajar Pendidikan Jasmani dan Olahraga Siswa Sekolah Dasar: Pengaruh Keterampilan Motorik (Tinggi) dan Model Pembelajaran (Kooperatif)". TEGAR: Journal of Teaching Physical Education in Elementary School, Vol. 3, No. 2, 2020.
Wahyuni, A., & Abadi, A. M., "Perbandingan keefektifan pembelajaran Cooperative Learning type STAD dan type TPS pada pembelajaran bangun ruang siswa SMP". Jurnal Riset Pendidikan Matematika, Vol. 1, No. 2, 2014.
Wirati, N. N., "Meningkatkan Aktivitas dan Hasil Belajar Penanganan Barang Bawaan Tamu Melalui Model Cooperatif Learning dengan Teknik Bermain Peran (Role Play)", Journal of Education Action Research, Vol. 4, No. 4, 2020.
Zaman, B, "Implementation of Cooperative Learning Strategies in Islamic Religious Education". IJECA (International Journal of Education and Curriculum Application), Vol. 3, No. 2, 2020.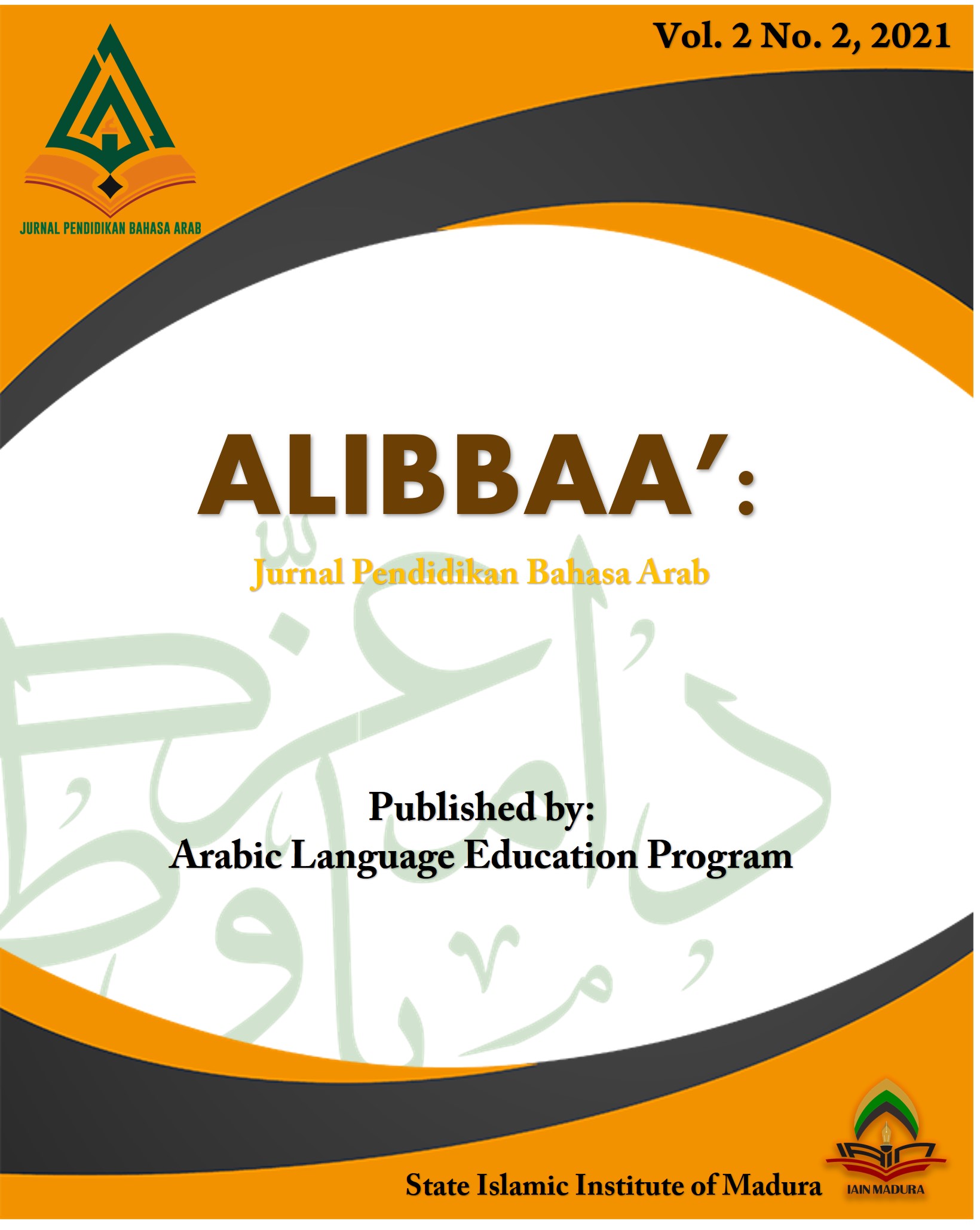 Authors who publish with this journal agree to the following terms:
a. Authors retain copyright and grant the journal right of first publication with the work simultaneously licensed under a Creative Commons Attribution License that allows others to share the work with an acknowledgement of the work's authorship and initial publication in this journal.
b. Authors are able to enter into separate, additional contractual arrangements for the non-exclusive distribution of the journal's published version of the work (e.g., post it to an institutional repository or publish it in a book), with an acknowledgement of its initial publication in this journal.
c. Authors are permitted and encouraged to post their work online (e.g., in institutional repositories or on their website) prior to and during the submission process, as it can lead to productive exchanges, as well as earlier and greater citation of published work (See The Effect of Open Access).
Alibbaa': Jurnal Pendidikan Bahasa Arab have CC-BY-SA or an equivalent license as the optimal license for the publication, distribution, use, and reuse of scholarly work.
In developing strategy and setting priorities, Alibbaa': Jurnal Pendidikan Bahasa Arab recognize that free access is better than priced access, libre access is better than free access, and libre under CC-BY-SA or the equivalent is better than libre under more restrictive open licenses. We should achieve what we can when we can. We should not delay achieving free in order to achieve libre, and we should not stop with free when we can achieve libre.
Alibbaa': Jurnal Pendidikan Bahasa Arab is licensed under a Creative Commons Attribution 4.0 International License
You are free to:
Share — copy and redistribute the material in any medium or format
Adapt — remix, transform, and build upon the material for any purpose, even commercially.
The licensor cannot revoke these freedoms as long as you follow the license terms.