The Study of Maqashidi Sharia Toward Maduresse Traditional Inheritance by Using System Approach
Mohammad Hipni

Universitas Trunojoyo Madura
Abstract views:
298
,
PDF downloads:
211
Abstract
In traditional societies such as Maduresse who carry out religious teaching strongly, women in certain contexts are generally positioned in the lower position than men. However, in the cultural context of Maduresse inheritance, women are on the equal footing with men. Even, parents give more priority on the legacy to their daughters. The purpose of this study is to understand the phenomenon of the women position in traditional Maduresse legacy by using maqashid sharia particularly the system approach. The use of system approach aims to explain parts that influence the position of women in Maduresse traditional inheritance system and determine the legislation ratio on the legal phenomenon. This research discovers that women in Madurese society are considered not only as passive family members, but also as a symbol of honor and sustainability in Madurese family. These arguments make Maduresse's understanding on the inheritance verses more comprehensive. Therefore, women are positioned equal with men for the legacy distribution in Madura traditional inheritance (Pada masyarakat tradisional seperti Madura dengan karakter keras memegang teguh agama, wanita pada konteks tertentu diletakkan dalam posisi yang lebih rendah dari pada laki-laki. Namun, dalam konteks kewarisan adat Madura, wanita diposisikan setara dengan kaum laki-laki. Bahkan, orang tua memberikan prioritas lebih atas bagian waris anak perempuannya. Penelitian ini bertujuan memahami fenomena kedudukan wanita dalam waris adat Madura dengan menggunakan maqãshid syarĩah khususnya pendekan sistem. Analisis sistem ini diharapkan mampu menjelaskan bagian-bagian yang memengaruhi kedudukan wanita dalam sistem waris adat Madura dan mengetahui ratio legis dari fenomena hukum tersebut. Penelitian ini menghasilkan temuan bahwa wanita dalam masyarakat Madura dianggap tidak hanya sebagai anggota keluarga pasif, namun sebagai simbol kehormatan dan simbol keberlangsungan keluarga masyarakat Madura. Pandangan yang demikian membuat pemahaman terhadap ayat waris lebih komprehensif. Oleh karena itu, wanita diposisikan setara dengan laki-laki dalam pembagian waris adat yang dipraktikkan dalam adat masyarakat Madura)
Downloads
Download data is not yet available.
References
Abd Salam, 'Izzuddin Ibnu, Mukhtashar al-Fawaid fi Ahkam al-Maqashid al-Ma'ruf bi al-Qawaid al-Sughra, Arab Saudi: Daar al-Furqan, 1997
Absori, "Transformation of Maqashid al-Syari'ah (an Overview of the Development of Islamic Law in Indonesia), in al-Ihkãm, vol 11, No I Juni 2016.
Auda,Jasser,Maqãshid al-Sharĩ'ah as Philosophy of Islamic Law: a Sistems Approach , London: The International Institute of Islamic Thought, 2007
'Ashur, Thãhir Ibnu, Maqashid al-Syari'ah al-Islamiyah, Kairo:Dar Kutub al-Misri, 2011
'Ãsyũr,Muẖammad Thãhir Ibnu,Tafsĩr al-Tahrĩr wa al-Tanwĩr, Vol Iv, Tũnisia:al-Dãr al-Tũnisiyah li al-Nasr, s.a
al-Sayuti, al-Dzurr al-Manthũr al-Tafsir bi al-Ma'tũr,juz IV,Kairo:Markaz lil Buhũs wa al-Dirãsah al-'Arabiyyah wa al-Islamiyah, 2003
al-Yubĩ,Saad Ahmad,Maqãshid al-Syarĩ'ah al-Islamiyah wa Alãqatihã bi al-Adillah al-Syar'iyyah, Saudi Arabiya:Dãr Hijrah li an-Nasr wa al-Tawzĩ', 1993
al-Khin,Mustafã, dkk, al-Fiqh al-Manhajĩ alã Madzhab al-Imãm al-Syafĩ'i, Vol V, Damaskus: Dãr Qalam, 1992
Danandjaja, James, Antropologi Psikologi: Teori, Metode, dan Sejarah Perkembangannya, Jakarta: Rajawali, 1988
Geerzt, Clifford, Kebudayaan dan Agama, transl: Fransisco Budiman Hardiman, Yogyakarta : Kanisius, 1992
Hanafi, Hasan, al-Ijtihãd al-Kalamĩ, Lebanon: Dar al-Hadi, 2002
Hallaq, Wael B., An Introduction To Islamic Law,(USA :CambridgeUniversity Press, 2009
Khalaf, 'Abdul Wahãb,Ilmu Ushũl Fiqh, Jakarta:Dãr Kutub al-Islamiyah, 2010
Maulana Surya Kusumah, "Sopan, Hormat, dan Islam Ciri-ciri Orang Madura", in Kepercayaan, Magi, dan Tradisi dalam masyarakat Madura, Jember : Penerbit Tapal Kuda, 2003
Maulidi, "Paradigma Progresif dan Maqashid Syariah: Manhaj Baru Menemukan Hukum Responsif", in Asy-Syir'ah: Jurnal Ilmu Syariah dan Hukum, Vol 49 no. 2, Desember 2015
Mustafã al-Khin, dkk, al-Fiqh al-Manhajĩ alã Madzhab al-Imãm al-Syafĩ'i, Vol VI, Damaskus: Dãr Qalam, 1992
Mutakin,Ali, "Teori Maqashid al-Syariah dan Hukubungannya Dengan Metode Istimbath Hukum" in Kanun Jurnal Ilmu Hukum, Bol 19 No. 3, August 2017
Nasution,Bahder Jihan, "Kajian Filosofis tentang Keadilan Daba Hukum (Dari Pemikiran Klasik Hingga Modern)", in al-Ihkam, Vol 11, no. 2 December 2016
Rahman, Fazlur, Islam,(London: Chicago University, 1979
Rifa'i,Mien, Manusia Madura, Jakarta: Pillar Media, 2007
Sadari, "Qur'anic Studies: Ber-ushul Fiqh dengan Maqashid Syariah sebagai Metode dalam Prespektif Adian Wahyudi, in Shahih, Vol 3 No. 1 January 2018.
Syam, Nur, Islam Pesisir, Jogjakarta: LkiS, 1995
Syafe'i, Rachmat,Ilmu Ushul Fiqih, Bandung:Pustaka Setia, 2015
Syuwaĩh, 'Adil, Ta'lĩl al-Ahkãm fĩ al-Syarĩ'ah al-Islamiyyah, Thantah:Dãr Basyĩr li al-Tsaqãfah wa al-'Ulũm, 2002
Thabrani,Abdul Mukti, "Maqashid Revitalization in Global Era : Istidlal Study from Text to Context" in al-Ihkam, Vol. 13 no.2 December 2018.
Tibi, Bassam, Islam and the Cultural Accomodation of Social Change, America:Wastview Press, 1991
Wiyata,Latief, Mencari Madura, Jakarta:Bidik-Phronesis Publishing, 2013
Zuẖailĩ,Wahbah, al-Tafsĩr al-Munĩr: Fi al-'Aqĩdah wa al-Syarĩ'ah wa al-Manhaj juz II, Damaskus:Daar Fikr, 2003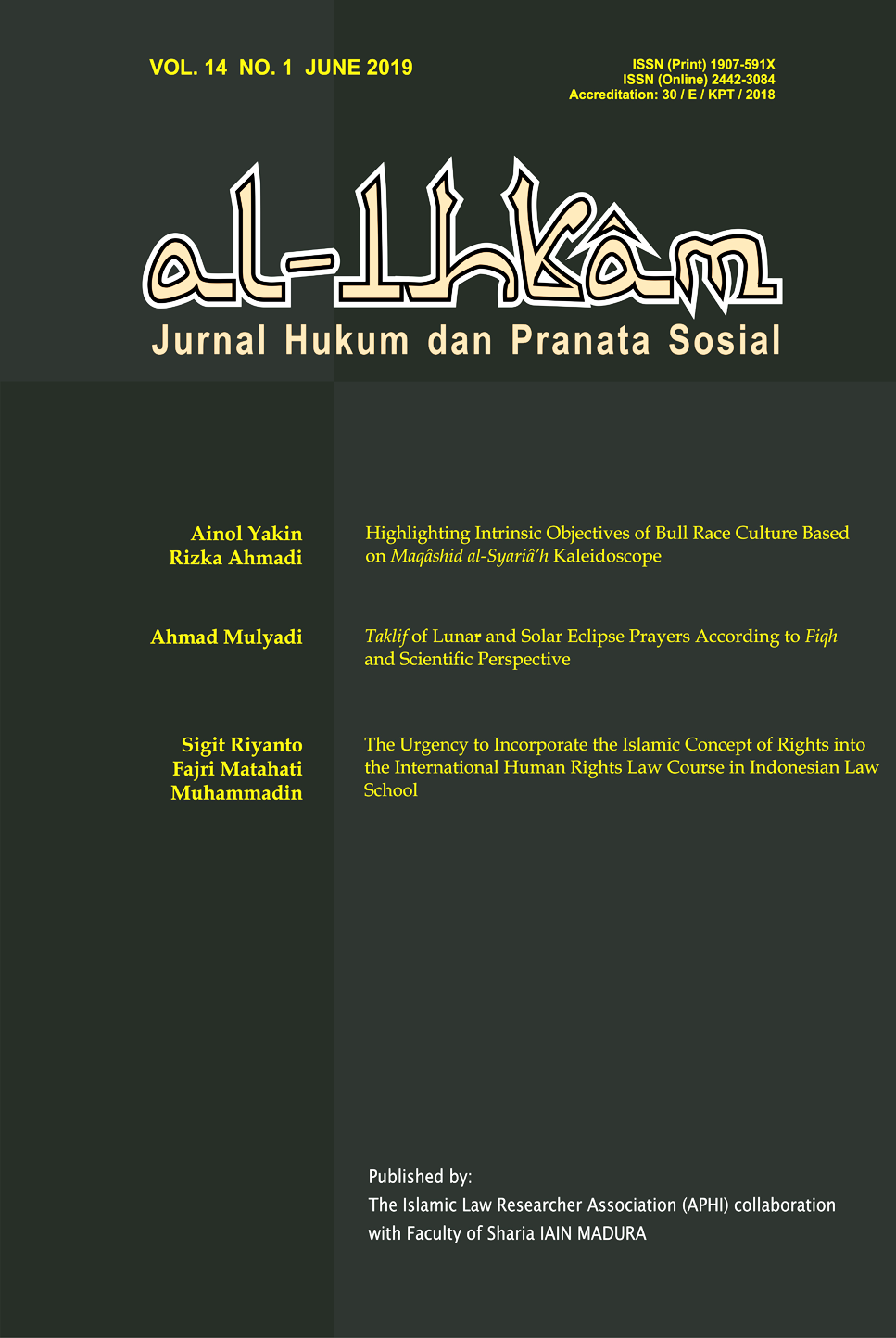 Publishing your paper with Al Ihkam (Jurnal Hukum & Pranata Sosial/Journal of Law & Social Studies) means that the author or authors retain the copyright in the paper. Al Ihkam granted an exclusive non commercial reuse license by the author(s), but the author(s) are able to put the paper onto a website, distribute it to colleagues, give it to students, use it in your thesis etc, so long as the use is not directed at commercial advantage or toward private monetary gain. The author(s) can reuse the figures and tables and other information contained in their paper published by Al Ihkam in future papers or work without having to ask anyone for permission, provided that the figures, tables or other information that is included in the new paper or work properly references the published paper as the source of the figures, tables or other information, and the new paper or work is not direct at private monetary gain or commercial advantage.
Al Ihkam journal (Journal of Law & Social Studies) provides immediate open access to its content on the principle that making research freely available to the public supports a greater global exchange of knowledge. This journal is licensed under a Creative Commons Attribution-ShareAlike 4.0 International License.This license lets others remix, tweak, and build upon your work non-commercially, and although their new works must also acknowledge & be non-commercial, they don't have to license their derivative works on the same terms.

Al Ihkam journal Open Access articles are distributed under this Creative Commons Attribution-ShareAlike 4.0 International License (CC BY-SA). Articles can be read and shared for noncommercial purposes under the following conditions:
BY: Attribution must be given to the original source (Attribution)
NC: Works may not be used for commercial purposes (Noncommercial)