STRATEGI MENGENALKAN AL-QURAN SEJAK PENDIDIKAN DASAR DI LEMBAGA PENDIDIKAN HIDAYATULLAH KUDUS JAWA TENGAH
Abstract views:
35
,
PDF downloads:
51
Abstract
Abstrak
Riset ini bertujuan untuk memahami kekhasan pembelajaran menanamkan cinta al-Quran bagi siswa Sekolah Dasar Islam Terpadu Yayasan al-Aqsho Lembaga Pendidikan Hidayatullah di Kudus Jawa Tengah. Data diperoleh dengan literature dan observasi, analisis yang digunakan deskriptif kualitatif. Dimana penelitian kualitatif ini memudahkan proses penelitian untuk digambarkan lebih spesifik sesuai dengan tujuan penelitian. Hasil riset, model pembelajarannya inquiri, project, and problem based learning, dan discovery learning. Ketiganya memadukan tiga gaya belajar yakni penglihatan, pendengaran, dan gerak. Ekstrakulikulernya qiroah, kaligrafi, pramuka, panahan, pianika, paduan suara, rebana, beladiri, jurnalistik, dan seni mewarnai. Profil yang diobsesikan akidah yang lurus, berakhlak al-Quran, semangat beribadah dengan berjamaah sebagai bekal mewujudkan kecerdasan qolbu. Kredonya, membuka hati dengan pendidikan integral berbasis tauhid dan mewujudkan terciptanya generasi yang berakhlakul karimah, tertradisi membaca al-Quran di kelas, asrama, masjid, dan menghapalkannya. Hal ini didukung dengan pelaksanaan pendidikan karakter religius, jujur, disiplin, mandiri, tanggung jawab, suka membaca al-Quran dan menghapalnya menjadi budaya sekolah.
Kata Kunci: Hidayatullah, generasi quran, dan berakhlakul karimah
Abstract
This research aims at understanding especially learning student elementary school in SDIT under the auspices of Yayasan al-Aqsho Pesantren Hidayatullah Kudus. Data of this paper are gathered through literature, interview and observation which then analyzed in descriptive qualitative method. Where this qualitative research facilitates the research process to be described more specifically in accordance with the research objectives. Al-Aqsha Hidayatullah Foundation is unique for its role play learning inquiri, project, problem based learning, and discovery learning. The model's, to combined three models learning, visual, auditory, and kinetic. The ekstrakulikuler covers qiroah, kaligrafi, scout, archery, piano and choir, tambourine, pencak silat, jurnalistic, dan coloring art. Expected figure straight akidah, morality Quran, the spirit of worships, for intellectual and intelegents qolbu. Motto, heart open by integral education and tauhid basic. The hope, realy etic generation, get used to read al-Quran and memorize. This institution supported character education are religiousity, honest, discipline, responsible, love to read and memorize the Quran and make school culture.
Keywords: Hidayatullah, al-Quran generation, and morality.
Downloads
Download data is not yet available.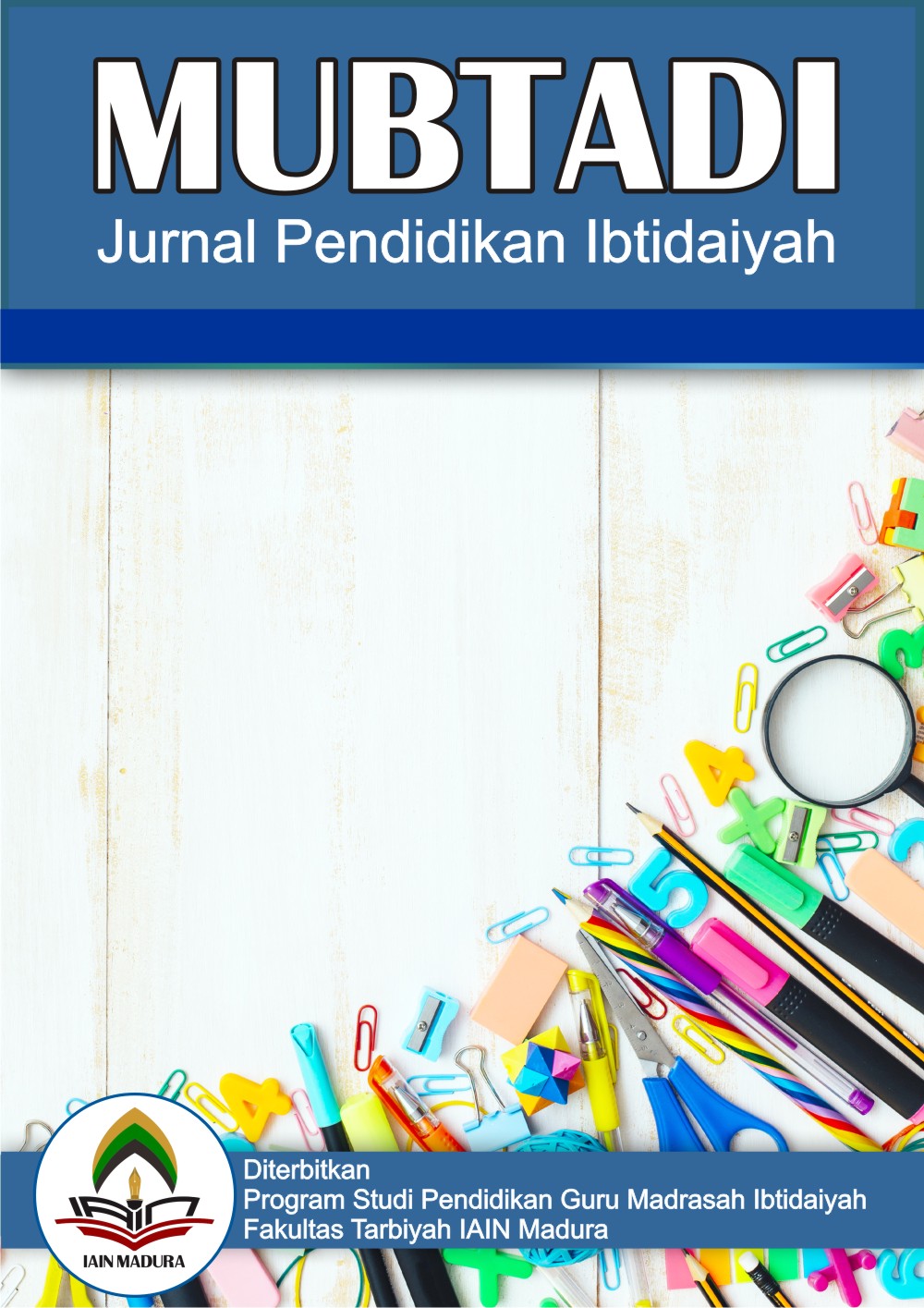 Mubtadi: Jurnal pendidikan ibtidaiyah, adalah jurnal yang tidak berbasis komersial. tetapi memberikan lisensi kepada penulis atas karyanya. naskah penulis yang sudah di muat dapat dibuka oleh siapapun dan dapat diperguanakn oleh siapapun dengan catatan berbagi informasi tanpa dipungut baiaya apapun.