PENGEMBANGAN MEDIA PEMBELAJARAN INTERAKTIF BERBASIS POWERPOINT DAN ISPRING DI ANDROID UNTUK MENINGKATKAN EFEKTIFITAS PEMBELAJARAN IPA DI KELAS 3 SD
Kun Hayyuningtyas, Hamdan Husein Batubara

UIN walisongo semarang
Abstract views:
250
,
PDF downloads:
158
Abstract
Abstrak
 Media interaktif berbasis PowerPoint adalah media pembelajaran kembangan, berisi materi pembelajaran IPA yang dirancang tersistem untuk peserta didik di kelas 3 Madrasah Ibtidaiyah melalui program dasar powerpoint dan dikembangkan dengan ispring, agar kegiatan belajar mengajar  dapat lebih efektif dan maksimal meskipun  pembelajaran di lakukan tanpa tatap muka atau pembelajaran jarak jauh. Penelitian ini termasuk penelitian dan pengembangan (Research and Development), dengan menggunakan model penelitian ADDIE dari tahap Analyze, Design, Develop, Implement, dan Evaluate (Branch, 2009).  yg melalui beberapa tahap yaitu analisis, desain (perancangan), pengembangan, implementasi, dan evaluasi. Uji coba media pembelajaran interaktif didukung dengan penilaian kevalidan tim ahli, dan data angket kevalidan dari para responden yaitu guru guru Madrasah Ibtidaiyah, dan berdasarkan hasil penelitian 76% media pembelajaran ini layak untuk digunakan.
Kata kunci : media interaktif, berbasis powerpoint, Android.
Abstract
PowerPoint-based interactive media is a developed learning media, containing science learning materials that are systematically designed for students in grade 3 Madrasah Ibtidaiyah through the basic powerpoint program and developed with ispring, so that teaching and learning activities can be more effective and maximal even though learning is done without face-to-face or distance learning. This research includes research and development (Research and Development), using the ADDIE research model from the Analyze, Design, Develop, Implement, and Evaluate stages (Branch, 2009). which goes through several stages, namely analysis, design (design), development, implementation, and evaluation. Interactive learning media trials are supported by a team of expert validity assessments, and validity questionnaire data from respondents, namely Madrasah Ibtidaiyah teachers, and based on research results 76% of this learning media is feasible to use.
Keywords : interactive media, powerpoint based, Android.
Downloads
Download data is not yet available.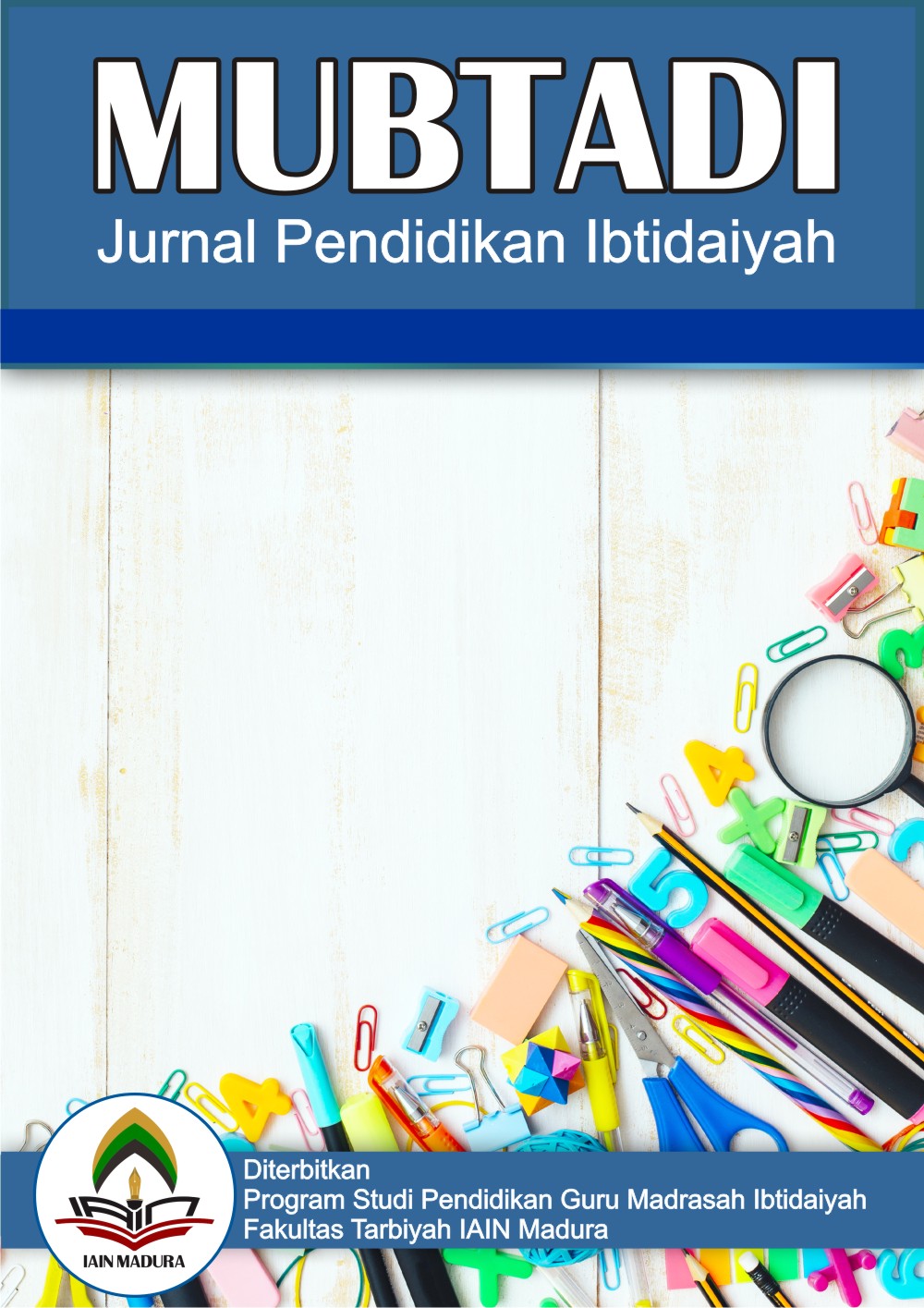 Mubtadi: Jurnal pendidikan ibtidaiyah, adalah jurnal yang tidak berbasis komersial. tetapi memberikan lisensi kepada penulis atas karyanya. naskah penulis yang sudah di muat dapat dibuka oleh siapapun dan dapat diperguanakn oleh siapapun dengan catatan berbagi informasi tanpa dipungut baiaya apapun.