LOGOSENTRISME JACQUES DERRIDA DALAM FILSAFAT BAHASA
Eko Ariwidodo

STAIN Pamekasan
Abstract views:
4939
,
PDF downloads:
1594
Keywords:
logosentrisme, kebenaran, differance
Abstract
Tradisi filsafat Barat sepenuhnya didasarkan pada apa yang disebut sebagai logosentrisme atau 'metafisika kehadiran' (metaphysics of presence). Logosentrisme merupakan sistem metafisik yang mengandaikan logos atau kebenaran transendental di balik segala hal yang tampak di permukaan atau segala hal yang terjadi di dunia fenomenal. Makna tidak pernah hadir kecuali dalam intertekstualitas tanda. Derrida mengajak untuk melampaui bahasa seperti yang dihasilkan oleh sistem linguistik dan logika. Hubungan antara bahasa dan pikiran merupakan hubungan yang timpang. Pikiran selalu diperlakukan lebih tinggi danpada kata-kata, Pikiran menjadi sumber dari bahasa, sementara bahasa hanya kepanjangan tangan dari pikiran. Bahasa bertugas menyampaikan sesuatu yang ingin diekspresikan oleh pikiran. Derrida menolak supremasi pikiran sebagai fakultas tersendiri yang bebas dari bahasa, dan sebaliknya menegaskan bahwa pikiran juga terkontaminasi oleh bahasa dan diferensialitas tanda-tanda. Derrida mengoperasikan differance untuk membedah kelemahan internal dari metafisika Barat. Pengaruh dari differance juga melebar ke institusi-institusi pengetahuan lainnya yang membentuk nalar epistemik dari setiap pemikiran yang baku, tertutup, dan final. Differance menjadi anasir yang tak terelakkan dalam setiap disiplin keilmuan. Sistem-sistem pemikiran dibangun di atas 'teks' dan beroperasi dengan cara kerja teks, tak dapat menghindar dari differance. Kehadiran differance juga menggerakkan seluruh permukaan teks yang terlihat datar dengan memfungsikan kembali 'logika permainan' yang direpresi oleh logika yang dominan. Kebenaran, makna, atau referens dalam teks tidak menjadi prioritas utama yang dicari. Semua ini dialami lebih sebagai proses. Differance secara terus-menerus mempertanyakan asumsi-asumsi yang mapan dan mengujinya dengan kemungkinan-kemungkinan baru yang lebih radikal, paradoksal, atau bahkan absurd.
Downloads
Download data is not yet available.
References
Derrida, Jacques, Speech and Phenomena, and Other Essays on Husserl's Theory of Signs, terj. David B. Allison dan Newton Carver, Evanston: Northwestern University Press, 1973.
_____________, Of Grammatology, terj. Gayatri Chakravorty Spivak. Baltimore: The John Hopkins University Press, 1974; revisi, 1976.
_____________, Writing and Difference, terj. dan anotasi Alan Bass, Chicago: The University of Chicago Press, 1978.
_____________, Spurs: Nietzsche's Styles, terj. Barbara Harlow, Chicago: The University of Chicago Press, 1979.
_____________, Dissemination, terj. dan anotasi Barbara Johnson, Chicago: The University of Chicago Press, 1981.
_____________, Positions, terj. dan anotasi Alan Bass, Chicago: The University of Chicago Press, 1981.
_____________, Margins of Philosophy, terj. dan anotasi Alan Bass, Chicago: The University of Chicago, 1982.
_____________, The Postcard: From Socrates to Freud and Beyond, terj. dan anotasi Alan Bass, Chicago: The University of Chicago Press, 1987.
______________, Psyche: Inventions de l'autre, Paris: Galilee, 1987.
______________, Sauf le nom, Paris: Galilee, 1993.
______________, Archive Fever: A Freudian Impression, terj. Eric Prenowitz, Chicago: The University of Chicago Press, 1996.
______________, Feu la cendre. Paris: Des femmes, rendition (cet.II) 1998.
______________, On Cosmopolitanism and Forgiveness, terj. Mark Dooley dan Michael Hughes, London dan New York: Routledge, 2001
______________, Without Alibi, terj. dan ed. Peggy Kamuf, Stanford: Stanford University Press, 2002.
______________, "Of An Apocalyptic Tone Recently Adopted in Philosophy", terj. John P. Leavey Jr., Semeia, (23), 1982.
______________, "Des Tours de Babel", terj. Joseph F. Graham, Semeia (54), 1992.
______________, "Adieu", terj. Pascale-Anne Brault dan Michael Naas, Philosophy Today, (40), Fall 1996
Asyhadie, Nuruddin, Hampiran Hamparan Gramatologi Derrida, Yogyakarta: LKiS, 2004.
Bertens, K., Filsafat Barat Kontemporer: Francis, Jakarta: Gramedia, 2001.
Canfield, Kip, "Microstructure of Logocentrism: Sign Models in Derrida and Smolensky", Postmodern Culture, vol. 3, (3), Mei 1993.
Caputo. John D., Radical Hermeneutics: Repetition, Deconstruction, and The Hermeneutic Project, Bloomington dan India¬napolis: Indiana University Press, 1987.
Colebrook, Claire, "The Future-to-Come: Derrida and The Eth¬ics of Historicity", Philosophy Today, vol. 42. no. 4/4, Musim Dingin 1998.
Crowell, Steven Gait, "Husserl, Derrida, and the Phenomenol¬ogy of Expression", Philosophy Today, 40, Musim Semi 1996. .,- .
David, Alain, "Derrida avec Levinas", Lc Magazine litteraire, Paris Avril 2003, hlm. 31-34.
Hakim, Abdul 'Dubbun', "Diskursus Filosofis Modernitas: Debat Jurgen Habermas dan Jacques Derrida", Majalah Filsafat Driyarkara, tahun XXV, no. 2.
___________________, Melampaui Positivisme dan Modernitas. Yogyakarta: Kanisius, 2003.
Heidegger, Martin, Being and Time, terj. Joan Stambaugh, Al¬bany: State University of New York Press, 1996.
_______________, On Time and Being, terj. John Stambaugh, New York: Harper and Row Publishers, 1972.
Jeannot, Thomas M., "Plato and Aristotle on Being and Unity", New Scholasticism, (LX) No. 4, Musim Gugur 1986.
Joines, Richard E., " Contratempts: Derrida's Ante and the Call of Marxist Political Philosophy", Cultural Logic, vol. 3, no. 1, Musim Gugur 1999.
Kant, Immanuel, On History, ed. Lewis White Beck. New York: Macmillan, cet VIII 1989.
McKenna, Kristine, "The Three Ages of Jacques Derrida: An Interview with the father of Deconstructionism", LA Weekly, 8-14 November 2002.
Piliang, Yasraf Amir, Hipersemiotika: Tafsir Cultural Studies atas Matinya Makna, Yogyakarta: Jalasutra, 2003.
Sokal, Alan D., "Transgressing the Boundaries: Towards a Trans-formative Hermeneutics of Quantum Grativity", Social Text, no. 46/47, Musim Semi/Musim Panas 1996.
Spivak, Gayatri Chakravorty, A Critique of Postcolonial Reason: Toward A History of the Vanishing Present. Cambridge: Harvard University Press, 1999.
Sturrock, John (ed.), Structuralism and Since: From Levi-Strauss to Derrida. Oxford: Oxford University Press, 1979.
Sugiharto, I. Bambang, Postmodernisme: Tantangan Bagi Filsafat. Yogyakarta: Kanisius, 1996.
__________________, "Mengembalikan Filsafat kepada Metafor", Kalam (5), 1995.
Sunardi, St. Semiotika Negativa, Yogyakarta : Kanal, 2002
Wood, David (ed.), Derrida: A Critical Reader, Oxford dan Cam¬bridge: Blackwell, 1999.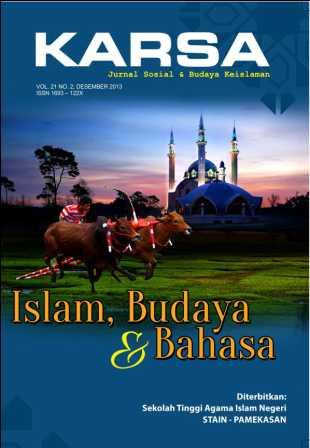 How to Cite
Ariwidodo, Eko. 2013. "LOGOSENTRISME JACQUES DERRIDA DALAM FILSAFAT BAHASA". Karsa: Journal of Social and Islamic Culture 21 (2), 340-55. https://doi.org/10.19105/karsa.v21i2.38.
Section
Original Articles
The journal operates an Open Access policy under a Creative Commons Non-Commercial Share-Alike license. Authors who publish with this journal agree to the following terms:
Authors retain copyright and grant the journal right of first publication with the work simultaneously licensed under a Creative Commons Attribution License that allows others to share the work with an acknowledgement of the work's authorship and initial publication in this journal.
Authors are able to enter into separate, additional contractual arrangements for the non-exclusive distribution of the journal's published version of the work (e.g., post it to an institutional repository or publish it in a book), with an acknowledgement of its initial publication in this journal.
Authors are permitted and encouraged to post their work online (e.g., in institutional repositories or on their website) prior to and during the submission process, as it can lead to productive exchanges, as well as earlier and greater citation of published work.