PENGENALAN METODOLOGI FILOSOFIS DALAM KAJIAN FIKIH BUDAYA DAN SOSIAL
Idri Idri

Fakultas Syariah IAIN Sunan Ampel Surabaya Jl. Ahmad Yani 117 Surabaya, JawaTimur
Abstract views:
52
,
PDF downloads:
24
Abstract
Abstrak:
Pemahaman dan penetapan hukum dalam fikih tidak dapat dipisahkan dari teks-teks sumber ajaran Islam seperti Al-Qur'an dan Hadits Nabi juga konteks yang berupa fakta empiris dalam kehidupan masyarakat muslim. Kedua aspek ini menjadi konsiderasi meskipun posisi dan porsinya tidak mesti sama. Sebagai ajaran samawi tentu teks lebih dikedepankan daripada konteks, tetapi melupakan konteks sama sekali bukanlah tindakan yang benar karena pada dasarnya hukum Islam diturunkan untuk kepentingan manusia agar mereka bahagia di dunia dan akhirat. Teks atau dalil-dalil hukum Islam sifatnya terbatas, sementara persoalan-persoalan hukum dalam masyarakat tidak terbatas. Budaya dan kehidupan sosial masyarakat senantiasa berkembang. Terlebih pada zaman globalisasi sekarang ini yang menuntut adanya cara pendekatan tertentu dalam penetapan hukum Islam kontemporer.Tulisan ini mencoba untuk memper-kenalkan metodologi filosofis dalam kajian fikih yang berkenaan dengan budaya dan sosial. Setidaknya ada tiga pendekatan filosofis terhadap fikih budaya dan sosial. Pertama, pendekatan historis, yaitu hukum Islam yang sudah dipraktikkan umat Islam dalam sejarah, bukan semata-mata sebagai aturan hukum syariat. Kedua, mempertimbangkan prinsip-prinsip hukum Islam yang bersifat absolut dan universial dalam menetapkan fikih sosial dan budaya. Ketiga, melakukan pemahaman yang seimbang antara pendekatan tekstual dan kontekstual.
Abstract:
The understandingand establishmentof law inIslamic jurisprudencecan not beseparatedfrom thetextsof Islamicsource such asthe Qur'an and Traditions of the Prophet as well as the context which are the empirical factsin the life of Muslim community. The two aspects become considerationalthough their positionandportions are notnecessarily the same. Certainly, as thedivineteachings, the text is moreadvancedthanthe context, but forgetting thecontextis not the correct actionbecause basicallyIslamic lawrevealedto mankindso thatthey are happyin this world and hereafter. Texts ofIslamic law are limited, while thelegalissuesin the communityare endless and unlimited.Culturalandsocial life ofthe communityare constantly evolvingespecially in theeraof globalization,demands aparticularapproachin setting the contemporaryIslamic law.This paper attemptstointroduce aphilosophicalmethodologyin the study ofIslamicjurisprudencewith regard toculturaland social issues.There are at leastthreephilosophicalapproachtosocial and cultural jurisprudence. First,the historical approach, the Islamic law that has beenpracticedinMuslimhistory,not merelyas a ruleof practice.Secondly, considering the principlesof Islamic law which areabsoluteanduniversialin settingsocial andculturalfiqh. Third,understandingthebalancebetweentextual andcontextualapproaches.
Kata Kunci:
Fikih, hukum Islam, sosial, budaya, filosofis, metodologi
Downloads
Download data is not yet available.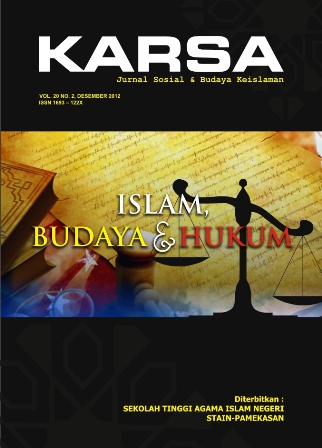 How to Cite
Idri, Idri. 2013. "PENGENALAN METODOLOGI FILOSOFIS DALAM KAJIAN FIKIH BUDAYA DAN SOSIAL". Karsa: Journal of Social and Islamic Culture 20 (2), 165-75. https://doi.org/10.19105/karsa.v20i2.40.
Section
Original Articles
The journal operates an Open Access policy under a Creative Commons Non-Commercial Share-Alike license. Authors who publish with this journal agree to the following terms:
Authors retain copyright and grant the journal right of first publication with the work simultaneously licensed under a Creative Commons Attribution License that allows others to share the work with an acknowledgement of the work's authorship and initial publication in this journal.
Authors are able to enter into separate, additional contractual arrangements for the non-exclusive distribution of the journal's published version of the work (e.g., post it to an institutional repository or publish it in a book), with an acknowledgement of its initial publication in this journal.
Authors are permitted and encouraged to post their work online (e.g., in institutional repositories or on their website) prior to and during the submission process, as it can lead to productive exchanges, as well as earlier and greater citation of published work.