Islamism Denounced: Madura Kiais' Perspective of Nationalism
Abd A'la

Fakultas Adab dan Humaniora, Universitas Islam Negeri Sunan Ampel Surabaya

Muktafi Muktafi

Fakultas Ushuluddin dan Filsafat, Universitas Islam Negeri Sunan Ampel Surabaya

Abu Bakar

Fakultas Ushuluddin dan Filsafat, Universitas Islam Negeri Sunan Ampel Surabaya

Mukhammad Zamzami

Fakultas Ushuluddin dan Filsafat, Universitas Islam Negeri Sunan Ampel Surabaya

Ahmad Fathan Aniq

Institute of Islamic Studies, Mcgill University, Montreal
Abstract views:
213
,
PDF downloads:
82
Keywords:
Islamism; Madura; Nahlatul Ulama; Front Pembela Islam; nationalism
Abstract
The transmission of Islamism among the kiais and their students in Madura has become more critical to examine in the last decade. However, some kiais of Nahdlatul Ulama (NU) in Bangkalan Madura see that Islamism or political Islam will gradually erode their national commitment. This article intends to reinterpret the nationalism vision of several kiais of NU and measure the extent of their views on the ideology of Islamism discoursed by the Islamic Defenders Front (FPI). By interviewing several kiais, this study finds that the propagation of Islamism in Bangkalan has not been as massive as occurred in Pamekasan, another sub-districts in Madura. The FPI-style Islamism in Bangkalan has been propagated only by a small group though they are vigorously active on social media. The majority of the NU community remains devoted to nationalism, committing that the NKRI is the final state. Islamic moderation promulgated by the kiais has been widely accepted and deeply rooted among the NU community. They believe nationalism and religion should not be separated from the spirit of their struggle (khittah). These two elements have united within their fighting spirit and become the primary trigger in devoting themselves to the nation and state to preserve national sovereignty and the integrity of Indonesia.
Downloads
Download data is not yet available.
References
A'la, Abd and Ahwan Mukarrom. "Power-knowledge Relations of the Elder and the Younger Madurese Muslim Scholars in Propagating Islamism in Madura: A Counter-narrative." Teosofi: Jurnal Tasawuf dan Pemikiran Islam 10, no. 1 (2020): 81-109. https:// doi.org/10.15642/teosofi.2020.10.1.81-109.
A'la, Abd., Ahwan Mukarrom, and Mukhammad Zamzami. "Islam dan Agamaisasi Politik: Studi Analisis terhadap Peran dan Pergerakan Forum Kiai Muda (FKM) Pamekasan Madura." Jurnal Review Politik 8, no. 1 (2018). http://jurnalfuf.uinsby.ac.id/index.php/JRP /article/view/1089.
A'la, Abd., Ahwan Mukarrom, and Mukhammad Zamzami. "Kontribusi Aliansi Ulama Madura (AUMA) dalam Merespons Isu Keislaman dan Keumatan di Pamekasan Madura." Religió: Jurnal Studi Agama-Agama 8, no. 2 (2018): 227-55. https://doi.org/10.15642/ religio.v8i2.793.
A'la, Abd., Mukhammad Zamzami, Nur Hidayat Wakhid Udin, and Ahmad Fathan Aniq. "Islamism in Madura: From Religious Symbolism to Authoritarianism." Journal of Indonesian Islam 12, no. 2 (2018): 159-194. htpps://doi.org/10.15642/JIIS.2018.12.2. 159-194.
Al-Zastrouw, Ngatawi. Gerakan Islam Simbolik: Politik Kepentingan FPI. Yogyakarta: LKiS Pelangi Aksara, 2006.
Anam, Choirul. Pertumbuhan dan Perkembangan NU. Surabaya: Duta Aksara Mulia, 2010.
Arikunto, Suharsimi. Prosedur Penelitian: Suatu Pendekatan Praktik. Jakarta: Rineka Cipta, 1998.
Assegaf, Abd. Rachman. "Gerakan Transnasional Islam dan Globalisasi Salafi di Islamic Center Bin Baz Yogyakarta." Millah 16, no. 2 (2017): 147-172. https://doi.org/10.20885/millah.vol16.iss2.art1.
Bernard, H. Russell. Metodologi Penelitian: Pendekatan Kuantitatif dan Kualitatif. Jakarta: Ghalia Indonesia, 1994.
Bruinessen, Martin van. NU: Tradisi, Relasi-Relasi Kuasa, Pencarian Wacana Baru. Yogyakarta: LKiS, 1994.
Burhani, Ahmad Najib. "Lessons from Madura: NU, Conservatism, and the 2019 Presidential Election," September 10, 2019, ISEAS Perspective (2019). https://www.iseas.edu.sg/articlescommenta ries/iseas-perspective/201972-lessons-from-madura-nu-conservat ism-and-the-2019-presidential-election-by-ahmad-najib-burhani/.
Dhofier, Zamakhsyari. Tradisi Pesantren: Studi tentang Pandangan Hidup Kyai. Jakarta: LP3ES, 1994.
DPP PKS. "FPI Bangkalan Deklarasikan Dukungan ke PKS dan Prabowo-Sandi." March 1, 2019. Dewan Pengurus Pusat Partai Keadilan Sejahtera. https://pks.id/foto/fpi-bangkalan-deklarasi kan-dukungan-ke-pks-dan-prabowo-sandi?page=2.
Fadeli, Soeleiman and Moh. Subhan. Antologi NU. Khalista: Surabaya, 2008.
Feillard, Andree. NU vis-à-vis Negara: Pencarian Isi, Bentuk, dan Makna. Yogyakarta: LKiS, 1999.
Haidar, Ali. Nahdatul Ulama dan Islam di Indonesia: Pendekatan Fikih dalam Politik. Jakarta: PT Gramedia Pustaka Utama, 1994.
Hamdi, Ahmad Zainul. "Radicalizing Indonesian Moderate Islam from Within: The NU-FPI Relationship in Bangkalan, Madura." Journal of Indonesian Islam 7, no. 1 (2013): 71-95. https://doi.org/ 10.15642/JIIS.2013.7.1.71-95.
Hariyanto, Erie. "Gerbang Salam: Telaah atas Pelaksanaanya di Kabupaten Pamekasan." KARSA: Journal of Social and Islamic Culture 15, no. 1 (2009): 73-81. http://ejournal.iainmadura.ac.id/ index.php/karsa/article/download/116/107/
Hosen, Nadirsyah. "Religion and the Indonesian Constitution: A Recent Debate." Journal of Southeast Asian Studies 36, no. 3 (2005): 419-40. http://www.jstor.org/stable/20072669.
Imron, RKH. Fuad Amin. Syaikhona Kholil Bangkalan: Penentu Berdirinya Nahdlatul Ulama. Surabaya: Khalista, 2012.
Ismail, Faisal. Islam and Pancasila: Indonesian Politics 1945-1995. Jakarta: Balitbang Agama dan Diklat Keagamaan, Depag RI, 2001.
Ismail, Faisal. "Religion, State, and Ideology in Indonesia: A Historical Account of the Acceptance of Pancasila as the Basis of the Indonesian State." Indonesian Journal of Interdisciplinary of Islamic Studies (IJIIS) 1, no. 2 (2018): 19-58. https://doi.org/10. 20885/ijiis.vol1.iss2.art2.
Ismail, Faisal. "The Nahdlatul Ulama: Its Early History and Contribution to the Establishment of Indonesian State." Journal of Indonesian Islam 5, no.2 (2011): 247-282. https://doi.org/10. 15642/JIIS.2011.5.2.247-282.
Karim, Abdul Gaffar. "Islam di Panggung Politik Indonesia: Latar Belakang, Dinamika, dan Pergeserannya." Jurnal Ilmu Sosial dan Ilmu Politik 1, no. 2 (1997): 41-55. https://doi.org/10.22146/jsp. 11173.
Lubabah, Raynaldo Ghiffari. "PKS dan FPI Madura Rapatkan Barisan Menangkan Prabowo-Sandiaga." February 27, 2019, Liputan6. com. https://www.liputan6.com/pilpres/read/3905701.
Muslimin, JM. "Islamic Law in the Pancasila State." Ahkam: Jurnal Ilmu Syariah 12, no. 1 (2012): 15-26. https://doi.org/10.15408/ ajis.v12i1.976.
Nasution, Adnan Buyung. The Aspiration for Constitutional Government in Indonesia: a Socio-legal Study of the Indonesian Konstituante, 1956-1959. Translated by Sylvia Tiwon. Jakarta: Grafitti, 1995.
PBNU, Tim. Pokok-Pokok Pikiran tentang Pemulihan Khittah NU 1926. Jakarta: Lajnah Ta'lif wa al-Nasyr PBNU, 1983.
Pimpinan MPR-RI dan Tim Kerja Sosialisasi MPR Periode 2009-2014, Empat Pilar Kehidupan Berbangsa dan Bernegara. Jakarta: Sekretariat MPR-RI, 2012.
Rahmat, M. Imdadun. Arus Baru Islam Radikal: Transmisi Revivalisme Islam Timur Tengah ke Indonesia. Jakarta: Erlangga Press, 2006.
Rubaidi. "Variasi Gerakan Radikal Islam di Indonesia." Analisis: Jurnal Studi Keislaman 11, no. 1 (2011): 33-52, https://doi.org/10.24042/ ajsk.v11i1.607.
Sitompul, Einar Martahan. NU dan Pancasila. Yogyakarta: LKiS, 2010.
Subaharianto, Andang. Tantangan Industrialisasi Madura: Membentur Kultur, Menjunjung Leluhur. Malang: Bayumedia, 2004.
Yafie, Ali. Menggagas Fiqih Sosial: dari Soal Lingkungan Hidup, Asuransi hingga Ukhuwah. Bandung: Mizan, 1994.
Zubaidi, Ahmad. "Kontribusi Hadratusy Syeikh Hasyim Asy'ari dalam Menegakkan NKRI." Tim Museum Kebangkitan Nasional (ed.), KH. Hasyim Asy'ari: Pengabdian Seorang Kyai untuk Negeri. Jakarta: Museum Kebangkitan Nasional Direktorat Jenderal Kebudayaan, Kementerian Pendidikan dan Kebudayaan RI, 2017.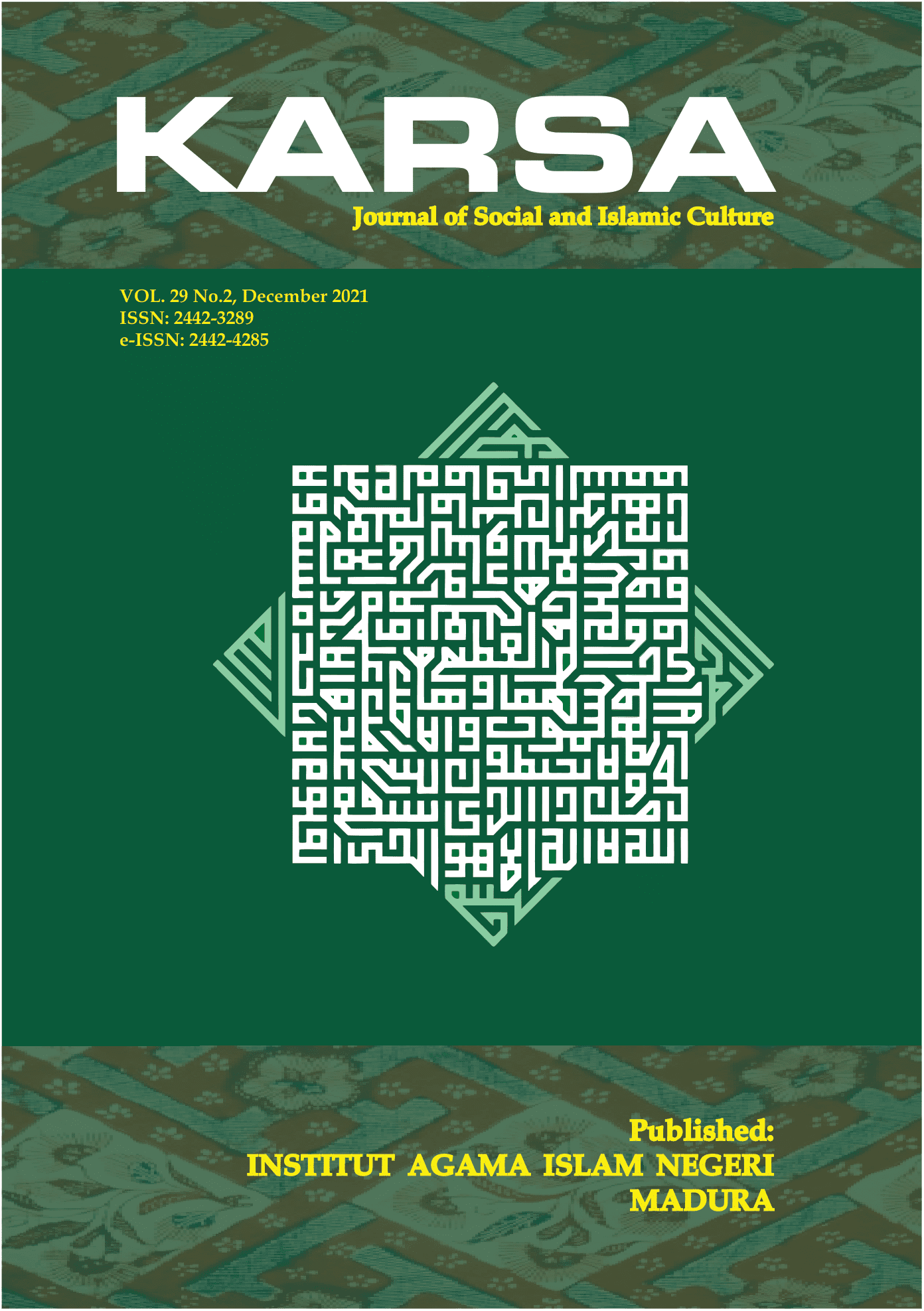 How to Cite
A'la, Abd, Muktafi Muktafi, Abu Bakar, Mukhammad Zamzami, and Ahmad Fathan Aniq. 2021. "Islamism Denounced: Madura Kiais' Perspective of Nationalism". Karsa: Journal of Social and Islamic Culture 29 (2), 388-414. https://doi.org/10.19105/karsa.v29i2.4876.
The journal operates an Open Access policy under a Creative Commons Non-Commercial Share-Alike license. Authors who publish with this journal agree to the following terms:
Authors retain copyright and grant the journal right of first publication with the work simultaneously licensed under a Creative Commons Attribution License that allows others to share the work with an acknowledgement of the work's authorship and initial publication in this journal.
Authors are able to enter into separate, additional contractual arrangements for the non-exclusive distribution of the journal's published version of the work (e.g., post it to an institutional repository or publish it in a book), with an acknowledgement of its initial publication in this journal.
Authors are permitted and encouraged to post their work online (e.g., in institutional repositories or on their website) prior to and during the submission process, as it can lead to productive exchanges, as well as earlier and greater citation of published work.