PEREMPUAN KORBAN PERDAGANGAN MANUSIA DI MADURA
Abstract views:
171
,
PDF downloads:
136
KUASA TUBUH ATAS PEREMPUAN: STUDI TERHADAP PEREMPUAN KORBAN PERDAGANGAN MANUSIA DI MADURA downloads:
0
Keywords:
Perempuan, korban, perdagangan manusia
Abstract
The study views the problematic of human trafficking in depth, that becomes a crucial issue in politic domain since 1990's. Feminists, human right organizations, women social movements, and all thes sides that care about the issue are on attempts to reveal human trafficking, women who are immigrated forcedly and prostituted. This is an international problem and type of modern day slavery. By this point the researcher tends to describe women, the victims of human traficcking in Madura. The study uses biographic qualitative method resulting the description of the process of human trafficking genesis, victim period, and post victim period when they get back home. Economy, family endorsement, education, and self motivation have been the reasons of the human trafficking. The early process, placing, and returning cannot be seperated with the various kinds of sorrows—sexual harassment, raping, unsalaried, tortured, and longer woring hours. What a very long and sad biography. The researh result is hopefullyable  to attract the intentions of those who care against the human trafficking in order to act,  prevent, and to avoid cheated women in future.
Copyright (c) 2015 by KARSA. All right reserved
Downloads
Download data is not yet available.
References
Banawiratma. J. B./Sindhunata. "Di Ba-wah Bayang-bayang Budaya Ke-kuasaan Lelaki", Majalah Basis, No. 07-08, Tahun Ke-45, (Oktober, 1996)
Budiman, Arief. Pembagian Kerja Secara Seksual: Sebuah Pembahasan Sosiolo-gis tentang Peran Wanita di dalam Masyarakat. Jakarta: Gramedia, 19-81.
Dzulkarnain, Iskandar et.al. TKI, Remi-tan, dan Grameen Bank: Studi Kasus di Malang dan Kepulauan Madura. Jakarta: Hibah Buku Teks Dikti, 2013.
Fakih, Mansour. Analisis Gender & Trans-formasi Sosial. Yogyakarta: Pustaka Pelajar, 1999.
Hilmy, Ummi et.al. "Akses dan Kontrol Pada Penghasilan dalam Proses Bermigrasi (Studi di Desa Kedung-salam Kecamatan Donomulyo Ka-bupaten Malang)", Laporan Peneli-tian Solidaritas Perempuan. Malang: Dian Mutiara Crisis Centre, 2008.
Kapanlagi.com. "Kasus Perdagangan Manusia Marak di Jatim", http://berita.kapanlagi.com/hukum-kriminal/kasus-perdagangan-manusia-marak-di-jaxsu7b1k_print.html. Diakses tanggal 9 Februari 2012.
Nasution, Zaky Alkazar. Perlindungan Hukum terhadap Perempuan dan A-nak Korban Perdagangan Manusia. Tesis pada Magister Ilmu Hukum Universitas Diponegoro, Sema-rang, 2008.
Rahayu, Devi Rahayu. Trafficking Buruh Migran. Sidoarjo: Qithos Digital Press, 2008.
Santoso, Widjajanti M. Sosiologi Feminis-me: Konstruksi Perempuan dalam In-dustri Media. Yogyakarta: LKiS, 2011.
Subono, Nur Imam. "Trafficking in Hu-man Beings dalam Angka dan Perdebatan", Jurnal Perempuan, (68, 2010)
Suryakusuma, Julia I. State Ibuism: The Social Construction of Womanhood in New Order Indonesia. Jakarta: Ko-munitas Bambu, 2011.
Syafa'at et.al. Menggagas Kebijakan Pro TKI: Model Kebijakan Perlindungan TKI Ke Luar Negeri di Kabupaten Bli-tar. Yogyakarta: Lappera Pustaka Utama, 2002.
Woodward, Kathryn (ed.), Identity, and Difference: Culture, Media, and Iden-tities. London: Sage, 1997.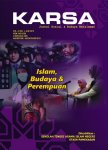 How to Cite
Dzulkarnain, Iskandar. 2015. "PEREMPUAN KORBAN PERDAGANGAN MANUSIA DI MADURA". Karsa: Jurnal Sosial Dan Budaya Keislaman 23 (1), 36-56. https://doi.org/10.19105/karsa.v23i1.608.
Section
Original Articles
The journal operates an Open Access policy under a Creative Commons Non-Commercial Share-Alike license. Authors who publish with this journal agree to the following terms:
Authors retain copyright and grant the journal right of first publication with the work simultaneously licensed under a Creative Commons Attribution License that allows others to share the work with an acknowledgement of the work's authorship and initial publication in this journal.
Authors are able to enter into separate, additional contractual arrangements for the non-exclusive distribution of the journal's published version of the work (e.g., post it to an institutional repository or publish it in a book), with an acknowledgement of its initial publication in this journal.
Authors are permitted and encouraged to post their work online (e.g., in institutional repositories or on their website) prior to and during the submission process, as it can lead to productive exchanges, as well as earlier and greater citation of published work.