Analisis Rasio Likuiditas Dalam Mengukur Kinerja Keuangan PT Adira Dinamika Multi Finance Tbk Tahun 2020 - 2021
Karunia Syiffani

IAIN Kudus

Nurul Fatimah

IAIN Kudus

Falecia Janeta

IAIN Kudus
Abstract views:
245
,
PDF (Bahasa Indonesia) downloads:
273
Abstract
In this study, data were collected using 3 methods, namely by literature review, non-observational behavior in the form of an annual report published by Adira Dinamika Multi Finance Tbk for the period 2020 and 2021, and drawing conclusions. This study aims to determine and identify the liquidity ratios that have an influence on Adira Dinamika Multi Finance's ability to fulfill financial obligations to external parties. Based on the calculation results, it can be concluded that in 2021 the current ratio (Current Ratio), cash ratio (Cash Ratio), and cash exchange ratio (Turn Cash Ratio) have increased compared to 2020. The current ratio increased by 2.27%, the ratio cash increased by 0.12%, and cash exchange ratio increased by 1.15%.
Downloads
Download data is not yet available.
References
Finance, Multi, T B K Cabang, and Samarinda Pada. "Analisis Tingkat Likuiditas Pt. Adira Dinamika Multi Finance Tbk. Cabang Samarinda Pada Tahun 2014-2018," 2018.
Kasmir (2013:153). "Analisis Pengaruh Rasio Likuiditas, Profitabilitas, Aktivitas,Leverage, Terhadap Return Saham." Journal of Chemical Information and Modeling 53, no. 9 (2017): 1689–99. file:///C:/Users/User/Downloads/fvm939e.pdf.
Sari, Dian Indah. "Analisa Rasio Likuiditas Laporan Keuangan Pada Adira Dinamika Multi Finance Tbk." Jurnal Moneter 4, no. 1 (2017): 48–55. http://ejournal.bsi.ac.id/ejurnal/index.php/moneter/article/view/1537/1245.
Selvia Nuriasari. "Analisis Rasio Likudtas Dalam Mengukur PT. Mustika Ratu,Tbk." Jurnal Riset Bisnis Dan Investasi Vol. 4, No, no. 2 (2018): 1–9.
Yansi, Nur Hari, Bambang Tetuko, Nur Hari Yansi, Bambang Tetuko, Program Studi Manajemen, and Universitas Mercu Buana. "Analisis Kinerja Keuangan Pt Adira Dinamika Multi Finance Tbk Dengan Analisis Rasio Dan Analisis Du Pont." Ilmiah Manajemen Dan Bisnis 1, no. 3 (2015): 1–14.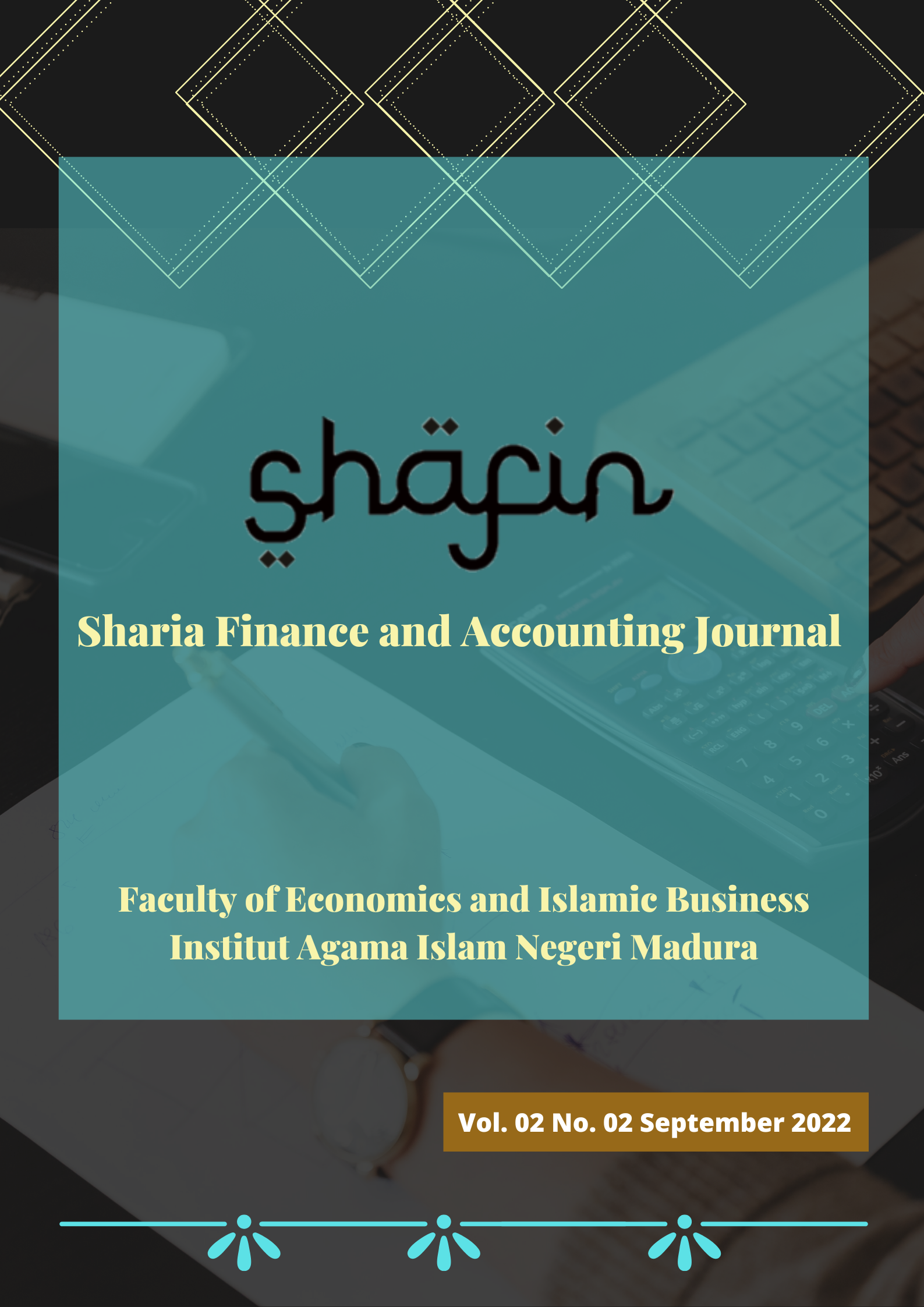 How to Cite
Syiffani, Karunia, Nurul Fatimah, and Falecia Janeta. 2022. "Analisis Rasio Likuiditas Dalam Mengukur Kinerja Keuangan PT Adira Dinamika Multi Finance Tbk Tahun 2020 - 2021". Shafin: Sharia Finance and Accounting Journal 2 (2), 198-208. https://doi.org/10.19105/sfj.v2i2.6602.
The journal operates an Open Access policy under a Creative Commons Non-Commercial Share-Alike license. All articles published Open Access will be immediately and permanently free for everyone to read and download.
• Creative Commons Attribution-NonCommercial (CC-BY-NC)
Shafin: Finance and Sharia Accounting Journal by http://http://ejournal.iainmadura.ac.id/index.php/shafin is licensed under a Creative Commons Attribution-NonCommercial 4.0 International License.
Based on a work at http://ejournal.iainmadura.ac.id.