Urgensi Fatwa MUI dalam Pembangunan Sistem Hukum Ekonomi Islam di Indonesia
Abstract views:
2846
,
PDF downloads:
858
PDF downloads:
947
Keywords:
MUI Guidance, Syariah economy, Islamic economy system
Abstract
Fatwa tidak sama dengan hukum positif yang memiliki kekuatan mengikat bagi seluruh warganegara, namun fatwa dapat memiliki kekuatan mengikat setelah ditransformasi ke dalam peraturan perundang-undangan. Fatwa yang dikeluarkan oleh DSN-MUI (Dewan Syariah Nasional Majelis Ulama Indonesia) kurang lebih sebanyak 107 fatwa dan telah memberi kontribusi positif terhadap regulasi sistem hukum ekonomi syariah. Fatwa DSN-MUI menjadi bagian penting dalam sistem Hukum Republik Indonesia yang berdasarkan pada Pancasila sila pertama adalah Ketuhanan Yang Maha Esa dan salah satu dari the living law-nya adalah Hukum Islam. Metode penelitian yuridis normatif ini dilakukan dengan pendekatan deskriptif analitis, yaitu menggambarkan secara sistematis, faktual dan akurat, segala fakta dan permasalahan yang diteliti dikaitkan dengan teori-teori hukum dan dengan (1) pendekatan perundang-undangan (statute approach), (2) pendekatan sejarah (hystorical approach), (3) pendekatan  politis (Political approach). Selanjutnya, data yang diperoleh dianalisis secara yuridis kualitatif dengan memperhatikan sistem hukum yang berlaku dan kemudian dilakukan penafsiran. (Fatwa is not the same as the state law which has binding force for all citizens, but it may have binding force after being transformed into a legislation. Fatwas that have been issued by the DSN-MUI (the National Sharia Council of Indonesian Ulama Council) are approximately 107 fatwas and have contributed positively to the regulation of the legal system of Islamic economics. Fatwa of the DSN-MUI has became an important part in the law system of the Republic of Indonesia which is based on Pancasila (The Five Principles) in which the first principle of the Pancasila is the Almighty God and one of its living law is Islamic law. This research applies normative legal method with analytical descriptive approach, which describes systematically, factually and accurately all the facts and problems being studied. This is done by associating them with theories of law through (1) statute approach, (2) hystorical approach, and (3) Political approach. Next, the data obtained are analyzed through juridical qualitative method by considering the legal system before being interpreted)
Downloads
Download data is not yet available.
References
Alamsyah, Halim, (Deputi Gubernur BI), Perkembangan dan Prospek Perbankan Syariah Indonesia, Tantangan Dalam Menyongsong MEA 2015, makalah disajikan dalam ceramah ilmiah IAEI, (Jakarta 13 April 2012).
Arto, Mukti, Fatwa MUI sebagai Sumber Penemuan Hukum Dalam Putusan Hakim, Makalah disajikan dalam Seminar di Universitas Indonesia, (Depok Jawa Barat 9 Februari 2017)
A.V Dicey, An Introduction to Study of Law of The Constitution, (London: Mac Millan & Co., 1959)
Azhari, Muhammad Tahir, Negara Hukum Suatu Studi tentang Prinsip Prinsipnya Dilihat Dari Segi Hukum Islam, Implementasinya pada Periode Negara Madinah dan Masa Kini, (Jakarta: Bulan Bintang, 1992).
Fariana, Andi. "Teori kebenaran menurut Al Ghazali dan Ibnu Khaldun, dalam perspektif Filsafat ilmu", Jurnal Komunike, Vol. 6, Nomor. 1 (Juni 2014).
Fauzi, Yuslam, Prospek Ekonomi Syariah, Makalah disajikan dalam seminar IAEI bekerjasama dengan ABFII Perbanas, (Jakarta, 20 Februari 2013)
Giyantoro, pelaku bisnis perbankan syariah dalam diskusi di Pascasarjana ABFII Perbanas tanggal 25 Februari 2017
Huda, Ni'matul, Negara Hukum, Demokrasi dan Judicial Review, (Jogyakarta: UII Press, 2005)
Hartono, Sunaryati, Politik Hukum Menuju Satu Sistem Hukum Nasional, (Bandung: Alumni, 1991)
Hartono, Sunaryati, Bhineka Tunggal Ika sebagai Asas Hukum Bagi Pembangunan Hukum Nasional, (Bandung: Citra Aditya Bakti, 2006)
Imaniyati, Neni Sri, Aspek Hukum Peluang dan Tantangan Perbankan Syariah di Era Masyarakat Ekonomi Asean, Makalah disajikan dalam Semiloka Nasional Hukum Ekonomi Syariah, (Bandung, 20-21 Desember 2016)
Iswanto Bambang, "Peran Bank Indonesia, Dewan Syariah Nasional, Badan Wakaf Indonesia dan Baznas dalam Pengembangan Produk Hukum Ekonomi Islam di Indonesia", Jurnal Iqtishadia Vol 9, No. 2, 2016, P-ISSN: 1979-0724, E-ISSN:2502-3993
Iswahyudi, "Majelis Ulama Indonesia dan Nalar Fatwa-Fatwa Eksklusif", Jurnal AL Ihkam Vol. 11 No. 2, Desember 2016, P-ISSN 1907-591X dan E-ISSN 2442-3084
Khaldun, Ibnu, Mukadimah, (Jakarta: Pustaka Al Kautsar, 2012)
Mahfud, Moh. MD, "apakah fatwa MUI harus diikuti?", Detiknews, (17 Januari 2017)
Martowardoyo Agus (Gubernur Bank Indonesia), Syariah Economic Festival, Surabaya, kompas, .co.id, 27 Oktober 2016
Muhammad Ibnu Afrelian,Sainul, "Aspek Hukum Fatwa DSN-MUI Dalam Operasional Lembaga Keuangan Syariah", Jurnal Hukum dan Ekonomi Syariah, Vol. 3, Nomor 2, September 2015
Najib, Ainun. "Fatwa Majelis Ulama Indonesia dalam Perspektif Pembangunan Hukum Responsif". Jurnal Fak Syariah IAIN Ibrahimiy, Volume 4, No.2, (Desember 2012).
Permana K. Achmad (Sekretaris Jenderal Asbisindo), compass.co.id, 21 November 2016
Riadi, M. Erfan, "Kedudukan Fatwa ditinjau dari Hukum Islam dan Hukum Positif (analisis yuridis normatif)", Jurnal Ulumuddin, Volume VI, Tahun IV, (Januari-Juni 2010)
Sabine, George, A History of Political Theory, (London: George G. Harrap & CO.Ltd., 1995)
Sani, Asrul, fatwa MUI dalam Legislasi di Indonesia, Makalah disajikan dalam Seminar Nasional Fatwa MUI, Universitas Indonesia, (Depok Jawa Barta,9 Februari 2017)
Soekanto, Soerjono, Penelitian Hukum Normatif, (Jakarta: Raja Grafindo Persada, cetakan 14, juni 2012)
Soemantri, Sri, Bunga Rampai Hukum Tata Negara Indonesia, (Bandung, PT Alumni, 1992)
Suntana, Ija, Politik Hukum Islam, (Bandung: Pustaka Setia, 2014).
Sirajuddin, Politik Ketatanegaraan Islam, (Jogyakarta: Pustaka Pelajar, 2007)
Syaukani, Imam Syaukani dan A. Ahsin Thohari, Dasar-dasar politik hukum, (Jakarta: Raja Grafindo Persada, 2004).
Thalib, Dahlan, Kedaulatan Rakyat Negara Hukum dan Hak-hak Asasi Manusia, Kumpulan Tulisan dalam rangka 70 Tahun Sri Soemantrri Martosoewignyo, (Jakarta: Media Pratama, 1996)
Triyanta, Agus, Hukum Ekonomi Islam,dari politik hukum ekonomi Islam sampai pranata ekonomi syariah, (Jogyakarta: FH UII Press, 2012)
Utomo, Setiawan Budi, Kajian Hukum Atas Keabsahan Produk Perbankan Syariah Dikaitkan Dengan Fatwa Dewan Syariah Nasional Dalam Tujuan Negara Kesejahteraan (Disertasi Program Doktor Ilmu Hukum Unpad Bandung, 2011)
Yanggo, T. Huzaemah, Urgensi fatwa pada zaman sekarang, makalah disajikan dalam seminar Hukum Islam di Universitas Indonesia, (Depok Jawa Barat, 9 februari 2017)
Wikipedia.org. Pengertian fatwa, diakses 7 Februari 2017
Zakirman, Al Fakhri, "Metodologi Fatwa Majelis Ulama Indonesia", Jurnal Al Hikmah Vol 10, No. 2, 2016, ISSN 1978-5011, E-ISSN: 2502-8375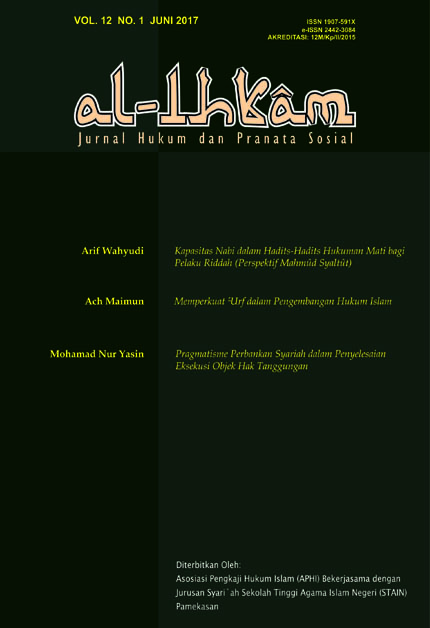 Publishing your paper with Al Ihkam (Jurnal Hukum & Pranata Sosial/Journal of Law & Social Studies) means that the author or authors retain the copyright in the paper. Al Ihkam granted an exclusive non commercial reuse license by the author(s), but the author(s) are able to put the paper onto a website, distribute it to colleagues, give it to students, use it in your thesis etc, so long as the use is not directed at commercial advantage or toward private monetary gain. The author(s) can reuse the figures and tables and other information contained in their paper published by Al Ihkam in future papers or work without having to ask anyone for permission, provided that the figures, tables or other information that is included in the new paper or work properly references the published paper as the source of the figures, tables or other information, and the new paper or work is not direct at private monetary gain or commercial advantage.
Al Ihkam journal (Journal of Law & Social Studies) provides immediate open access to its content on the principle that making research freely available to the public supports a greater global exchange of knowledge. This journal is licensed under a Creative Commons Attribution-ShareAlike 4.0 International License.This license lets others remix, tweak, and build upon your work non-commercially, and although their new works must also acknowledge & be non-commercial, they don't have to license their derivative works on the same terms.

Al Ihkam journal Open Access articles are distributed under this Creative Commons Attribution-ShareAlike 4.0 International License (CC BY-SA). Articles can be read and shared for noncommercial purposes under the following conditions:
BY: Attribution must be given to the original source (Attribution)
NC: Works may not be used for commercial purposes (Noncommercial)