Rekonstruksi Kisah Nabi Musa dalam al-Quran: Studi Perbandingan dengan Perjanjian Lama
Syukron Affani

Pamekasan State College for Islamic Studies (STAIN Pamekasan)
Abstract views:
1672
,
PDF downloads:
1053
Abstract
Rekonstruksi kisah Nabi Musa dalam al-Quran secara kronologis ini, ditujukan untuk mengetahui alur bercerita al-Quran secara umum dan bukan dari sisi gaya ceritanya (al-fann al-qashashi). Tulisan ini fokus perunutan cerita untuk kepentingan komparasi dengan teks di luar al-Quran, yaitu Perjanjian Lama). Metodenya adalah pertama, mengumpulkan seluruh ayat yang berisi tentang cerita Nabi Musa; kedua, merekonstruksi ayat-ayat terkumpul dalam satu alur kisah dan membabakkannya; ketiga, menerjemahkan ayat-ayat tersebut dengan lebih terbuka dalam suatu deskripsi-narasi yang bertutur. Metode yang sama juga ditempuh pada Perjanjian Lama. Secara tehnis, kisah Nabi Musa dalam Perjanjian Lama lebih mudah dikonstruksi daripada kisah Nabi Musa dalam al-Quran karena dalam Perjanjian Lama, kisah nabi Musa diceritakan dengan gamblang terutama di dalam Kitab Keluaran (exodus). Hasil perbandiangan menunjukkan perbedaan-perbedaan kisah Nabi Musa di dalam al-Quran dan Perjanjian Lama terutama dari sisi detail cerita. Dalam disiplin ilmu al-Quran, narasi Perjanjian Lama tentang Nabi Musa merupakan sumber israiliyat yang polemis.
Downloads
Download data is not yet available.
References
Al-Quran al-Karim, cet. Dar el-Ma'rifah, Damaskus, Syria, 1999
Imad al-Din Abu al-Fida' Ismail bin Katsir al-Dimasyqi, Tafsīr al-Quran al-'Adzīm, Jilid 9, (Beirut: Maktabah al-Nûr al-Ilmiyah, 1992)
Muhammad Ahmad Khalafullah, al-Fann al-Qashashi fi al-Quran al-Karīm, (Sina: London-Beirut-Kairo, 1999)
Attihami Naqrah, Sikulujiyat al-Qishshah fi al-Quran, (Seri Desertasi: Universitas al-Jazair, 1971)
Muhammad Qutb, al-Qishshah fi al-Quran: Maqāshid al-Dīn wa Qiyām al-Fann, (Dar Qubba': Kairo, 2002)
Manna' Al-Qatthan, Mabâhits fi Ulûm al-Quran, (Riyadh: Mansyûrât al-`Âshr al-Hadîts, 1973)
Abu Ja'far Muhammad bin Jarir al-Thabari, Tārīkh al-Thabari: Tārīkh al-Rusul wa al-Muluk, Jilid 1, Cet. II, (Dar al-Ma'arif: Mesir, tth)
Abu al-Faraj Abdurrahman bin Ali bin Muhammad bin Ibn al-Jauzi, al-Muntadzam fi Tārīkh al-Muluk wa al-Umam, Jilid 1, (Dar al-Kutub al-Ilmiyah: Beirut, 1992)
Syauqi Abu Khalil, Athlas al-Quran, (Dar al-Fikr: Damaskus, 2003)
Yahya C. Staquf, Catatan atas Catatan, Kompas/2/1/08
Dedy Suardi, Fir'aun Kontemporer, (Remaja Rosdakarya : Bandung, 1997)
Mazheruddin Shiddiqi, Konsep Qur'an tentang Sejarah, (Pustaka Firdaus:Jakarta, 1986)
Muzaffaruddin Nadvi, Sejarah Geografi al-Quran, (Pustaka Firdaus:Jakarta, 1997)
http://www.harunyahya.com/indo/buku/kaumkaum008.htm yang direkam pada 13 Okt 2007 13:55:22 GMT.
http://jcsm.org/StudyCenter/indo/keluaran_34.html yang direkam pada 13 Des 2007 09:56:27 GMT.
http://www.gkipi.org/files/bible_tks/041209.htm yang direkam pada 8 Des 2007 18:48:13 GMT.
Richard L. Strauss, Hal Terpenting, dalam http://www.bible.org/page.php?page_id=3728 yang direkam pada 15 Des 2007 05:26:19 GMT
http://www.bible.org/page.php?page_id=3672 yang direkam pada 15 Des 2007 05:48:04 GMT.
http://www.sarapanpagi.org/15-tuhan-mengeraskan-hati-firaun-vt1557.html yang direkam pada 6 Des 2007 21:07:50 GMT
Software DivineIslam's Qur'an Viewer software v2.913 by Jamal Nashir
Software Digital Quran ver.3.2 tahun 2003-2004 by Sony Sugema
Software Program alKitab v. 2.7 (1999-2000) by J.F Kassenda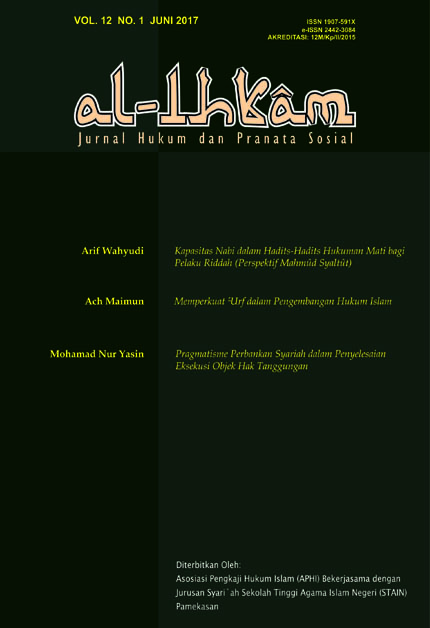 Publishing your paper with Al Ihkam (Jurnal Hukum & Pranata Sosial/Journal of Law & Social Studies) means that the author or authors retain the copyright in the paper. Al Ihkam granted an exclusive non commercial reuse license by the author(s), but the author(s) are able to put the paper onto a website, distribute it to colleagues, give it to students, use it in your thesis etc, so long as the use is not directed at commercial advantage or toward private monetary gain. The author(s) can reuse the figures and tables and other information contained in their paper published by Al Ihkam in future papers or work without having to ask anyone for permission, provided that the figures, tables or other information that is included in the new paper or work properly references the published paper as the source of the figures, tables or other information, and the new paper or work is not direct at private monetary gain or commercial advantage.
Al Ihkam journal (Journal of Law & Social Studies) provides immediate open access to its content on the principle that making research freely available to the public supports a greater global exchange of knowledge. This journal is licensed under a Creative Commons Attribution-ShareAlike 4.0 International License.This license lets others remix, tweak, and build upon your work non-commercially, and although their new works must also acknowledge & be non-commercial, they don't have to license their derivative works on the same terms.

Al Ihkam journal Open Access articles are distributed under this Creative Commons Attribution-ShareAlike 4.0 International License (CC BY-SA). Articles can be read and shared for noncommercial purposes under the following conditions:
BY: Attribution must be given to the original source (Attribution)
NC: Works may not be used for commercial purposes (Noncommercial)