Women on The Text According To Amina Wadud Muhsin in Qur'an and Women
Abu Bakar

Fakultas Ushuluddin dan Filsafat, UIN Sunan Ampel Surabaya
Abstract views:
493
,
PDF downloads:
328
Keywords:
Patriarchal exegesis, hermeneutics, equality, justice
Abstract
This article explains hermeneutic concept of Amina Wadud stating that men and women are equal. It is based on the interpretation of both Qur'anic keywords (nafs, min and azwaj) and Qur'anic concepts (qiwamah, angel and nusyuz). Wadud reasoned that those key words and concepts were, unfortunately, red partially by most of commentators and resulted gender biased exegetical works. Using the method of descriptive and critical, this article aims to elaborate how Wadud argued against the pathriarcal  exegesis of the Qur'an in her book, Qur'an and Women. At the conclusion, it is found that Wadud criticized the biased works using two steps of hermeneutical approach. The first is by examining on how The Qur'an mentions some relating issues and second is by creating generalization on special respons about historical background
Downloads
Download data is not yet available.
References
Andiani, Asna. "Konsep Penciptaan Perempuan: Studi Atas Pemikiran Amina Wadud dalam Buku Qur'an And Woman" Kontemplasi, Vol. 01 No. 02 (November 2013).
al-'Asqalânî, Ibn Hajar. 1993. Fathu al-Bârî, Vol. 2. Beirut: Dâr al-Fikr.
A'la, Abd. 2003. Dari Neo Modernisme ke Islam Liberal. Jakarta: Paramadina.
Baz, Ibn. 1988. Majmû' al-Fatâwâ, Vol. 1. Beirût: Dâr al-Qalâm.
al-Bâqi', Muhammad Fuâd 'Abd. 1992. Mu'jamu al-Mufahrâs li Alfâzhi al-Qur'â}n. Kairo: Dâr al-Fikr.
Dewi, Ernita. "Pemikiran Amina Wadud tentang Rekonstruksi Penafsiran BerbasisMetode Hermeneutik". Substantia, Vol. 15, No. 2 (October 2013).
Engineer, Asghar Ali. 1992. The Right of Women in Islam. Lahore: Vanguard Books (PVT) LTD.
el-Fadl, Khaled Abou. 2004. Atas Nama Tuhan.Jakarta: Serambi,
¬---------------------------, Melawan Tentara Tuhan: Yang Berwenang dan Yang Sewenang-wenang, transl. Kurniawan Abdullah. Jakarta: Serambi, 2003.
Fakih, Mansour (dkk). 2000. Membincang Feminisme, Diskursus Gender dalam Perspektif Islam. Surabaya: Risalah Gusti.
Irsyadunnas. "Tafsir Ayat-Ayat Gender Ala Amina Wadud Perspektif Hermeneutika Gadamer". Musâwa, Vol. 14, No. 2 (July 2015).
Kurzman, Charles (ed.). 1998. Liberal Islam. New York: Oxford University.
------------------------, 2001. Wacana Islam Liberal, Pemikiran Islam Kontemporer Tentang Isu-Isu Global, transl. Bahrul Ulum and Heri Junaedi. Jakarta: Paramadina.
Lihardson, Alan (Ed.). 1969. Dictionary of Christian Theology. London: SCM Press.
Mannheim, Karl. 1991. Ideologi dan Utopia, Menyingkap Kaitan Pikiran dan Politik, transl. F. Budi Hardiman. Yogyakarta: Kanisius, 1991.
Mustaqim, Abdul dan Sahiron Syamsuddin (eds.). 2002. Studi al-Qur'an Kontemporer. Yogyakarta: Tiara Wacana.
Mutrofin."Kesetaraan Gender dalam Pandangan Amina Wadud dan Riffat Hasan". Teosofi: Jurnal Tasawuf dan Pemikiran Islam, Vol. 3 No. 1 (June 2013).
Nasr, Sayyed Hossein. 1967. Islamic Studies: Essay on Law and Society. Beirut: Libreirie Du Liban.
Nuryanto, M. Agus. 2001. Islam, Teologi Pembebasan dan Kesetaraan Gender: Studi atas Pemikiran Asghar Ali Engineer. Yogyakarta: UII Press.
Rahman, Fazlur. 1995. Islam dan Modernitas tentang Transformasi Intelektual. Bandung: Pustaka.
--------------------, 1987. Metode dan Alternatif Neomodernisme Islam. Bandung: Mizan.
Saenong, Ilham B. 2002. Hermeneutika Pembebasan: Metodologi Tafsir al-Qur'an Menurut Hasan Hanafi. Jakarta: Teraju, 2002.
Saidah, Nor. "Bidadari dalam Konstruksi Tafsir al-Qur'an: Analisis Gender atas Pemikiran Amina Wadud Muhsin dalam Penafsiran al-Qur'an". PALASTREN, Vol. 6, No. 2 (December 2013).
Shâwî, Ahmad.Tafsîr Shâwî, Vol. 4. Ttp: Dâru Ihyâ' Kutubi al-Arabiyyah, tt.
Soleh, A.Khudori. 2003. Pemikiran Islam Kontemporer. Yogyakarta: Jendela, 2003.
Syahrûr, Muhammad. 1990. Dirâsât Islâmiyah Mu'ashirah, Nahwa Ushûl al-Jadîdah li al-Fiqh al-Islâmî. Damaskus: al-Ahâli.
al-Thabârî, Abû Ja'far bin Jarîr. 2007. Tafsîr al-Thabârî, Vol. 9, Vol. II. Beirût: Dâr al-Salâm.
Tim Risalah Gusti (ed.). 2000. Membincang Feminisme; Diskursus Gender Perspektif Gender. Surabaya: Risalah Gusti.
Wadud Muhsin, Amina. 2008. Inside the Gender Jihad, Women's Reform in Islam. England: Oneworld Publications, 2008.
-------------------------------, Qur'an and Women. Kuala Lumpur: Fajar Bakti Sdn Bdn, 1994.
Zayd, Nasr Hamd Abu. 2004. Dawâir al-Khawf: Qirâatu 'alâ Khitâbi al-Mar'ah, Vol. III. Beirut: Dâr al-Baidla'.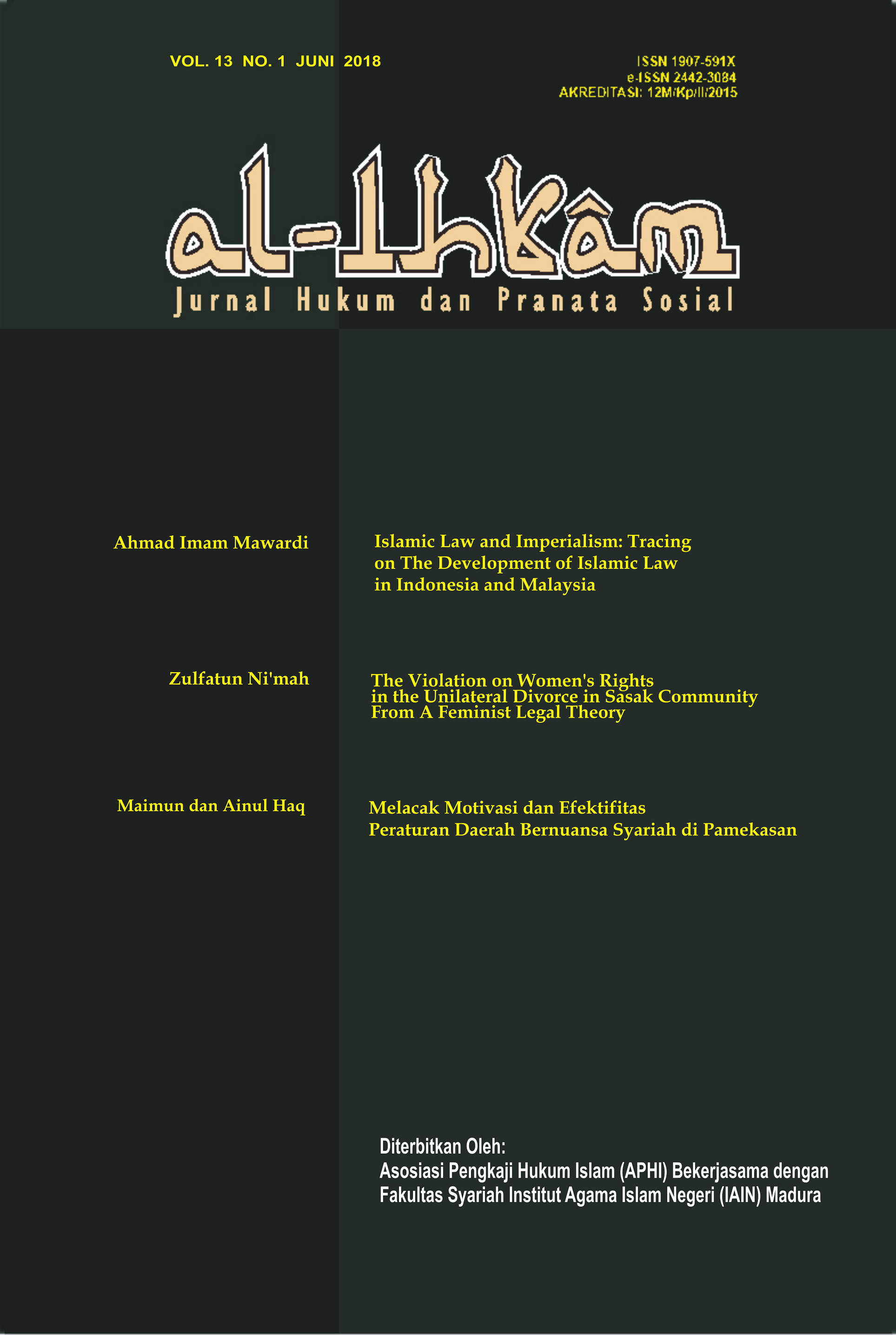 Publishing your paper with Al Ihkam (Jurnal Hukum & Pranata Sosial/Journal of Law & Social Studies) means that the author or authors retain the copyright in the paper. Al Ihkam granted an exclusive non commercial reuse license by the author(s), but the author(s) are able to put the paper onto a website, distribute it to colleagues, give it to students, use it in your thesis etc, so long as the use is not directed at commercial advantage or toward private monetary gain. The author(s) can reuse the figures and tables and other information contained in their paper published by Al Ihkam in future papers or work without having to ask anyone for permission, provided that the figures, tables or other information that is included in the new paper or work properly references the published paper as the source of the figures, tables or other information, and the new paper or work is not direct at private monetary gain or commercial advantage.
Al Ihkam journal (Journal of Law & Social Studies) provides immediate open access to its content on the principle that making research freely available to the public supports a greater global exchange of knowledge. This journal is licensed under a Creative Commons Attribution-ShareAlike 4.0 International License.This license lets others remix, tweak, and build upon your work non-commercially, and although their new works must also acknowledge & be non-commercial, they don't have to license their derivative works on the same terms.

Al Ihkam journal Open Access articles are distributed under this Creative Commons Attribution-ShareAlike 4.0 International License (CC BY-SA). Articles can be read and shared for noncommercial purposes under the following conditions:
BY: Attribution must be given to the original source (Attribution)
NC: Works may not be used for commercial purposes (Noncommercial)