Sistem Kekhalifahan dan Konstruksi Budaya Politik Arab
Ahmad Faidi

STAIN Pamekasan
Abstract views:
838
,
PDF (Bahasa Indonesia) downloads:
633
Abstract
Jejak sistem kekhalifahan dalam sejarah pemerintahan umat Islam, khususnya di Arab muncul pasca wafatnya Nabi Muhammad. Gelar khalifah yang disandang oleh Abu Bakar yang terpilih untuk meminpin umat Islam pasca Rasulullah, ditengarai oleh sebagian kelompok umat Islam saat ini adalah bagian dari doktrin agama dengan sistem kekhalifahan-nya. Namun pada saat yang sama, sebagian kelompok umat Islam yang lain memandang sistem kekhalifahan dalam sejarah pemerintahan Islam bukan merupakan bagian dari ajaran Islam dan tidak lebih hanya sekedar tradisi politik bangsa Arab atau konstruksi budaya politik masyarakat arab pada saat itu. Atas dasar tersebut artikel ini ditulis, untuk melacak sistem kekhalifahan yang pernah terjadi dalam sejarah pemerinthan umat Islam di Arab pasca kepemimpinan Nabi Muhammad. Tentunya, dengan tujuan untuk memahami eksistensi sistem kekhalifahan dalam sejarah pemerintahan umat Islam di Arab, antara doktrin agama atau konstruksi budaya Arab. Dengan menggunakan metode analisis data kualitatif terhadap beberapa literatur pemikiran tokoh yang membahas persoalan tersebut, penulis berkesimpulan bahawa sejarah kekhalifahan bukanlah merupakan bagian dari doktrin agama, melainkan tak lebih hanya sekedar konstruksi budaya politik masyarakat Arab pada saat itu. (The Caliphate system in the history of the Muslims' governance, especially in Arabia emerged after the death of Prophet Muhammad. The Caliph title held by Abu Bakar who was elected to lead the Muslims after Muhammad has been considered part of Islamic doctrine by some Muslims. However by some other Muslims, the title of Caliph is not part of the religious doctrine or Islamic doctrine. But only the political tradition of Arab society or construction of Arab political culture. This Article was written to trace the caliphate system that had occurred in the history of the governance of Muslims in Arabia after the leadership of Mohammed. Certainly with a view to understanding the existance of the caliphate system in the history; among a Islamic doctrine or cultural construction. By using qualitative data analysis method for some literatures, the authour concluded the the caliphate system is not part of the relegious doctrine or Islamic doctrine, but rather the construction of Arab political culture)
Downloads
Download data is not yet available.
References
Asad, Muhammad. 1961. The Principles of State and Government in Islam. Berkely: University Of California Press.
Al-Ghazali, Abu Hamid, Muhammad. 1988. at-Tibr al-Masbûk fî Nâsihat al-Mulûk. Beirut: Dar
Al-Mawardi, 1996. Al-Ahkām al-Sulthāniyah. Bairut: Maktabah Islami.
An-Nabhani, Taqiyuddin. 2006. Daulah Islam. Terj. Umar Faruq, dkk. Jakarta: HTI Press.
At-Thabari, 1987. Tarikh al-Umam wa al-Mulûk, Beirut: Dar al-Fikr
.Abdillah, Masykuri. 1999. Demokrasi di Persimpangan Makna; Respon Intlektual Indonesia terhadap Konsep Demokrasi (1966-1993). Yogyakarta: Tiara Wacana.
Azra, Azyumardi. et. al. 2002. Ensiklopedi Islam. Jakarta: Ikhtiar Baru Van Hoeve.
_______________, 1996. Pergolakan Politik Islam; dari Fundamentalisme, Modernisme, Hingga Post-Modernisme. Jakarta: Paramadina.
Ansori, Ahmad Yani. 2008. Menuju Khalifah Islamiyah, Perjuangan Ikhwanul Muslimin. Yogyakarta: Siyasat Press.
__________________. 2008. Untuk Negara Islam Indonesia; Perjuangan Darul Islam dan al-Jama'ah al-Islamiyah. Yogyakarta: Siyasat Press.
Anis, Ibrahim. 1972. al-Mu'jam al-Wasīth. Kairo: Dār al-Ma'rifat.
Armida, M. Nina, dkk. t.t. Ensiklopedi Islam. Jakarta: P. T. Ikhtiar Baru Van Hoeve
Fukuyama, Francis. 2004. The End of History and The Last Man, Kemenangan Kapitalisme dan Demokrasi Liberal. Terj, MH. Amrullah Yogyakarta: Qalam.
Hadiwijono, Harun. 2002. Sari Sejarah Filsafat Barat I. Yogyakarta; Kanisius.
Hasan, Ibrahim Hasan. 1989. Sejarah dan Kebudayaan Islam. Terj. Djahdan Humam, Yogyakarta: Kota Kembang.
Haikal, Muhamad Husen, 1994. Khalifah Abu Bakar Ash-Siddiq. Terj. Abdur Kadir Mahdamy, Solo: C. V. Pustaka Mantiq.
Hitti, Philip K. 1970. The History of Arabs. London: The Micmillan Press.
Karim, M. Abdur. 2009. Sejarah Pemikiran dan Peradaban Islam, Yogyakarta: Pustaka Book Publisher.
Lapidus, Ira M. 1999. Sejarah Sosial Umat Islam. Jakarta: Raja Grafindo Persada.
Ma'arif, Ahmad Safi'i. 1987. Islam dan Masalah Kenegaraan. Jakarta: LP3ES.
Raziq, Ali Abd. 1925. al-Islâm wa Ushûl al-Hukm: Bahts fi al-Khilâfah wa al-Hukûmah fi al-Islâm. Beirut: Maktabah al-Hayah.
Rumokoy, A. Donald. 2001. "Perkembangan Tipe Negara Hukum dan Peranan Hukum Administrasi Negara di Dalamnya", dalam Dimensi-Dimensi Hukum Admistrasi Negara. Yogyakarta: UII Press.
Sjadzali, Munawir. 1993. Islam dan Tata Negara; Ajaran, Sejarah dan Pemikiran. Jakarta; UI Press.
Rahman, Budhi Muawar, 2006. Ensiklopedi Nurcholis Majid. Bandung: Mizan.
Ma'shum. "Islam Dan Pencarian Identitas Politik: Ambiguitas Sistem Khilafah dalam Institusi Politik Islam". Asy-Syir'ah Jurnal Ilmu Syari'ah dan Hukum, Volume 47, Nomor 2 (Desember 2013).
Rahim, Abd. "Khalifah dan Khilafah Menurut Al-Quran". Hunafa: Jurnal Studi Islamika, Volume 9, Nomor 1 (Juni 2012).
Irfan, Santoso. "Al-Khilâfah Menurut Al-Mâwardi". Jurnal Khatulistiwa – Journal of Islamic Studies. Volume 3, Nomor 2 (September 2013).
Ahmad Iwan Zunaih, Ahmad. "Khilafah: Sistem Pemerintahan yang Profan". Jurnal Ummul Qura. Volume IV, Nomor 2 (Agustus 2014).
Hariyanto, Erie. "GERBANG SALAM: Telaah atas Pelaksanaanya Di Kabupaten Pamekasan." KARSA: Journal of Social and Islamic Culture 15, no. 1 (25 Maret 2012).
Hayati, Nilda. "Konsep Khilafah Islamiyyah Hizbut Tahrir Indonesia: Kajian Living al-Qur'an Perspektif Komunikasi". Episteme; Jurnal Pengembangan Ilmu Keislaman, Volume 12, Nomor 1 (Februari 2017).
Akbar, Idil, "Khilafah Islamiyah: antara Konsep dan Realitas Kenegaraan". Journal of Government and Civil Society. Volume 1, Nomor 1, (April 2017)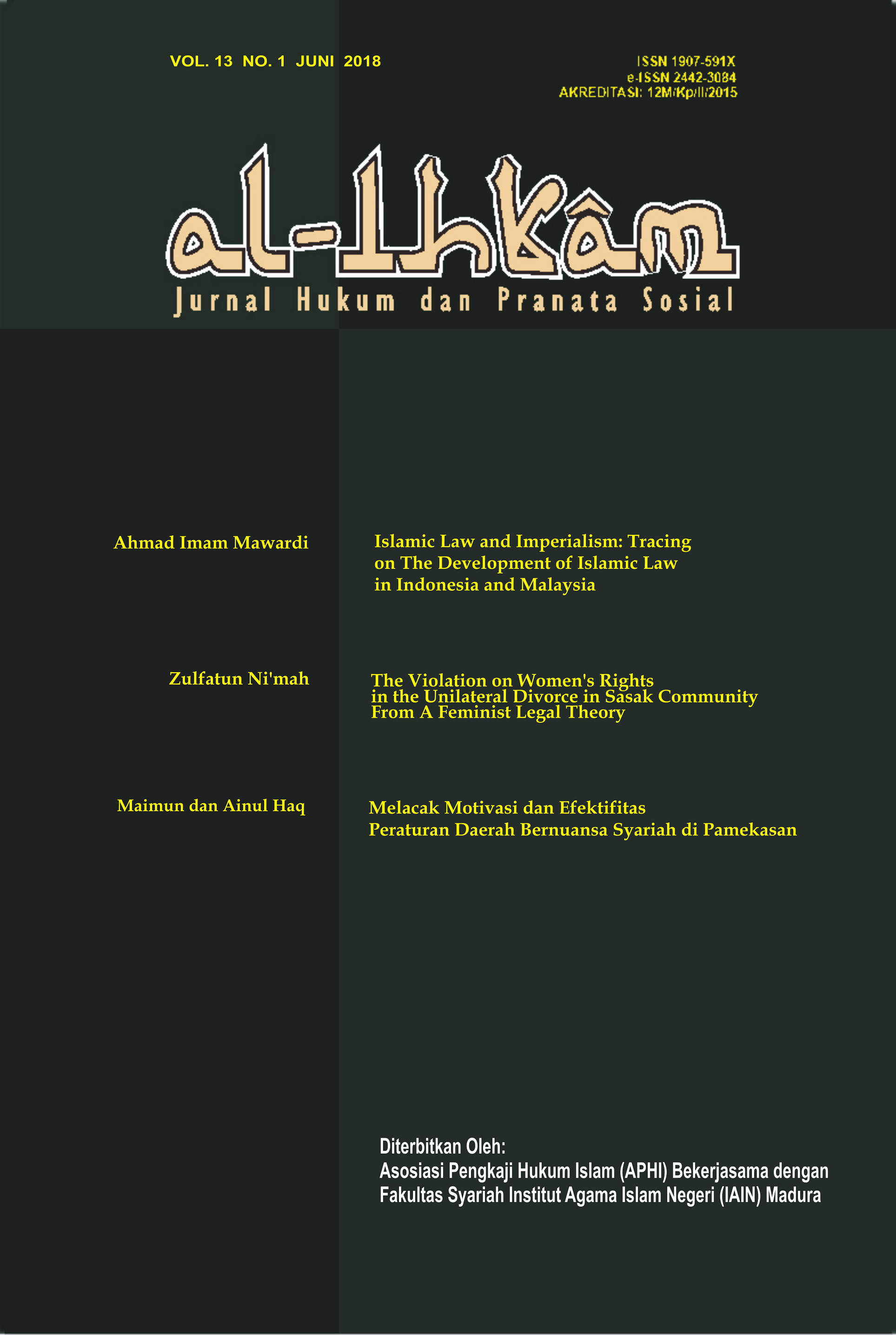 Publishing your paper with Al Ihkam (Jurnal Hukum & Pranata Sosial/Journal of Law & Social Studies) means that the author or authors retain the copyright in the paper. Al Ihkam granted an exclusive non commercial reuse license by the author(s), but the author(s) are able to put the paper onto a website, distribute it to colleagues, give it to students, use it in your thesis etc, so long as the use is not directed at commercial advantage or toward private monetary gain. The author(s) can reuse the figures and tables and other information contained in their paper published by Al Ihkam in future papers or work without having to ask anyone for permission, provided that the figures, tables or other information that is included in the new paper or work properly references the published paper as the source of the figures, tables or other information, and the new paper or work is not direct at private monetary gain or commercial advantage.
Al Ihkam journal (Journal of Law & Social Studies) provides immediate open access to its content on the principle that making research freely available to the public supports a greater global exchange of knowledge. This journal is licensed under a Creative Commons Attribution-ShareAlike 4.0 International License.This license lets others remix, tweak, and build upon your work non-commercially, and although their new works must also acknowledge & be non-commercial, they don't have to license their derivative works on the same terms.

Al Ihkam journal Open Access articles are distributed under this Creative Commons Attribution-ShareAlike 4.0 International License (CC BY-SA). Articles can be read and shared for noncommercial purposes under the following conditions:
BY: Attribution must be given to the original source (Attribution)
NC: Works may not be used for commercial purposes (Noncommercial)