Reinterpretasi Makna Nafkah dalam Bingkai Islam Nusantara
Abstract views:
685
,
PDF (Bahasa Indonesia) downloads:
529
Abstract
The controversy about the concept of nafkah in Islam seems never ending, especially the strengthened of Islamic trans-national understanding in society which emphasizes the importance of Qur'an but with the scriptualistic model and denying other elements that can be formulated as a means to reinterpret verses of God, such as the verse of nafkah living that is used as a justification of men's power over the women. So that, examine the harmony of revelation and local culture in the context of the verse about nafkah with the approach of Islamic Nusantara is important to be explained in order to be create a responsive understanding and shalih li kulli zamân wa makân. The direction of that reinterpretation formulates the concept of economic agreement in a family, where the reading of the verse must be related to the early history of Islam which treats women in a minor but with positive progress toward the major treatment, so that women (wives) who were previously prohibited in earning of nafkah could be transformed to participate in constructing the economic family or even as the main provider of nafkah in a family.
Downloads
Download data is not yet available.
References
al-Anshârî, Zakariyyâ., Fath al-Wahhâb, Beirût: Dâr al-Kutub al-'Ilmiyyah, 1418 H
al-Damsiqî, Abû al-Fidâ' Ismâ'îl bin Umar bin Katsîr al-Qurasyî., Tafsîr al-Qur'ân al-'Azhîm, Damaskus: Dâr Thayyibah, 1999
al-Hashfakî, al-Dur al-Mukhtâr, Beirût: Dâr al-Fikr, 1386 H
al-Jazirî, Abd ar-Rahmân., al-Fiqh 'alâ al-Madzâhib al-'Arba'ah, Beirût: Dâr al-Fikr, 1996
al-Nisâbûrî, Abû al-Husein Muslim bin al-Hajjâj bin Muslim al-Qusyairî., al-Jâmi' al-Shahîh al-Musammâ Shahîh Muslim, Beirût: Dâr al-Afâq al-Jadîdah, t.t.
al-Qurthûbî, Abû Abdillâh Muhammad bin Ahmad al-Anshârî., al-Jâmi' li Ahkâm al-Qur'ân, Kairo: Dâr al-Hadîts, 2002
al-Râfi'î, Sâlim bin Abd al-Ghanî., Ahkâm al-Ahwâl al-Syakhshiyyah li al-Muslimîn fi al-Gharb, Beirût: Dâr Ibn Hazm, 2002
al-Sa'dî, Abd ar-Rahmân bin Nâshir., Taisîr al-Karîm al-Rahmân fi Tafsîr Kalâm al-Mannân, Alih Bahasa oleh Muhammad Iqbal, at al., Tafsir Al-Qur'an Surat An-Nisâ' – Al-An'am, cet. 6, Jakarta: Darul Haq, 2015
al-Zuhailî, Wahbah., al-Fiqh al-Islâmî wa Adillatuh, Suriah: Dâr al-Fikr, 2002
Bahri, Syamsul., "Konsep Nafkah dalam Hukum Islam", Kanun Jurnal Ilmu Hukum, 66 & 18, 2015
Dimyathî, Abû Bakr bin Sayyid Muhammad Syathâ., I'ânah al-Thâlibîn, Beirût: Dâr al-Fikr, t.t.
Engineer, Asghar Ali., The Rights of Women in Islam, London: C. Hurst & co., 1992
Haqqî, Ismâ'îl., Tafsir Rûh al-Bayân, Beirût: Dâr Ihyâ' at-Turâts al-'Arabi, t.t.
Hazairin, Hukum Kewarisan Bilateral Menurut Al Quran dan Hadits, Jakarta: Tintamas, 1990
Hosen, Ibrahim., Fiqh Perbandingan Masalah Pernikahan Jilid 1, Jakarta: Pustaka Firdaus, 2003
Hudaya, Hairul., "Hak Nafkah Isteri (Perspektif Hadis dan Kompilasi Hukum Islam)", Mu'adalah Jurnal Studi Gender dan Anak, 1 & 1, 2013
Kamrava, Mehran, (ed.), The New Voices of Islam: Rethinking Politics and Modernity, Berkeley and Los Angeles: University of California Press, 2006
Khalâf, Abd al-Wahâb., Ahkâm al-Ahwâl al-Syakhshiyyah fî al-Syarî'ah al-Islâmiyyah, cet. 2, Kuwait: Dâr al-Qalam, 1990
Latief, Hilman., Nasr Hamid Abu Zaid: Kritik Teks Keagamaan, Yogyakarta: eLSAQ Press, 2003
Ma'luf al-Yasu'i, Louis., al-Munjid, Beirut: al-Syirkiyah, 1986
Muhammad, Abû al-Qâsim al-Husain bin., al-Mufradat fi Gharîb al-Qur'an, Beirut: Dar al-Fikr, t.th.
Muhammad, Husein., Ijtihad Kyai Husein: Upaya Membangun Keadilan Gender, Jakarta: Rahima, 2011
Munawwir, Ahmad Warson., Al-Munawwir Kamus Arab-Indonesia, Yogyakarta: Pondok Pesantren Al-Munawwir, 1984
Nasution, Khoiruddin., Islam Tentang Relasi Suami dan Istri (Hukum Perkawinan I) Dilengkapi Perbandingan Undang-undang Negara Muslim, Yogyakarta: Tazzafa Academia, 2004
Nelli, Jumni., "Analisis Tentang Kewajiban Nafkah Keluarga dalam Pemberlakuan Harta Bersama", Al Istinbath: Jurnal Hukum Islam, 2 & 1, 2017
Nurmila, Nina., "Indonesian Muslim's Discourse of Husband-Wife Relationship", Al-Jami'ah: Journal of Islamic Studies, 51 & 1, 2013
Nurnazli, "Nafkah dalam Pendekatan Interdisipliner", Asas Jurnal Hukum dan Ekonomi Islam, 5 & 2, 2013
Pusat Bahasa, Kamus Bahasa Indonesia, Jakarta: Departemen Pendidikan Nasional, 2008
Rajafi, Ahmad., "Islam dan Kearifan Lokal: Pembaruan Hukum Keluarga di Indonesia Model Inkulturasi Wahyu dan Budaya Lokal", Akademika: Jurnal Pemikiran Islam, 21 & 1, 2016
---------, Inkulturasi Wahyu dan Budaya Lokal Serta Implikasinya Terhadap Pembaharuan Hukum Keluarga di Indonesia, Disertasi, Lampung: IAIN Raden Intan, 2015
---------, dan Yudistiawan, Rahmat., "Kewarisan Produktif: Meramu Makna Adil Melalui Waris Produktif", Al-Risalah: Forum Kajian Hukum dan Sosial Kemasyarakatan, 16 & 2, 2016
Rozali, Ibnu., "Konsep Memberi Nafkah Bagi Keluarga dalam Islam", Intelektualita, 6 & 2, 2017
Sâbiq, Sayyid., Fiqh al-Sunnah, Kairo: Dâr al-Fikr, 2002
Shihab, M. Quraish., Wawasan Al-Qur'an: Tafsir Maudhu'i atas Pelbagai Persoalan Umat, Bandung: Mizan, 1996
Subaidi, "Konsep Nafkah Menurut Hukum Perkawinan Islam", Isti'dal: Jurnal Studi Hukum Islam, 1 & 2, 2014
Syarifuddin, Amir., Pembaharuan Pemikiran Dalam Hukum Islam, Padang: Angkasa Raya, 1993
Syuhada, "Analisis Tentang Konsekuensi Harta Bersama Terhadap Kewajiban Suami Memberi Nafkah dalam KHI", Tafaqquh, 1 & 1, 2013
Zaîd, Nasr Hâmid Abû., at-Tafkîr fî Zamân at-Takfîr: Dhid al-Jahl wa az-Zaif wa al-Khurafât, cet. 2, Kairo: Maktabah Madbûlî, 1995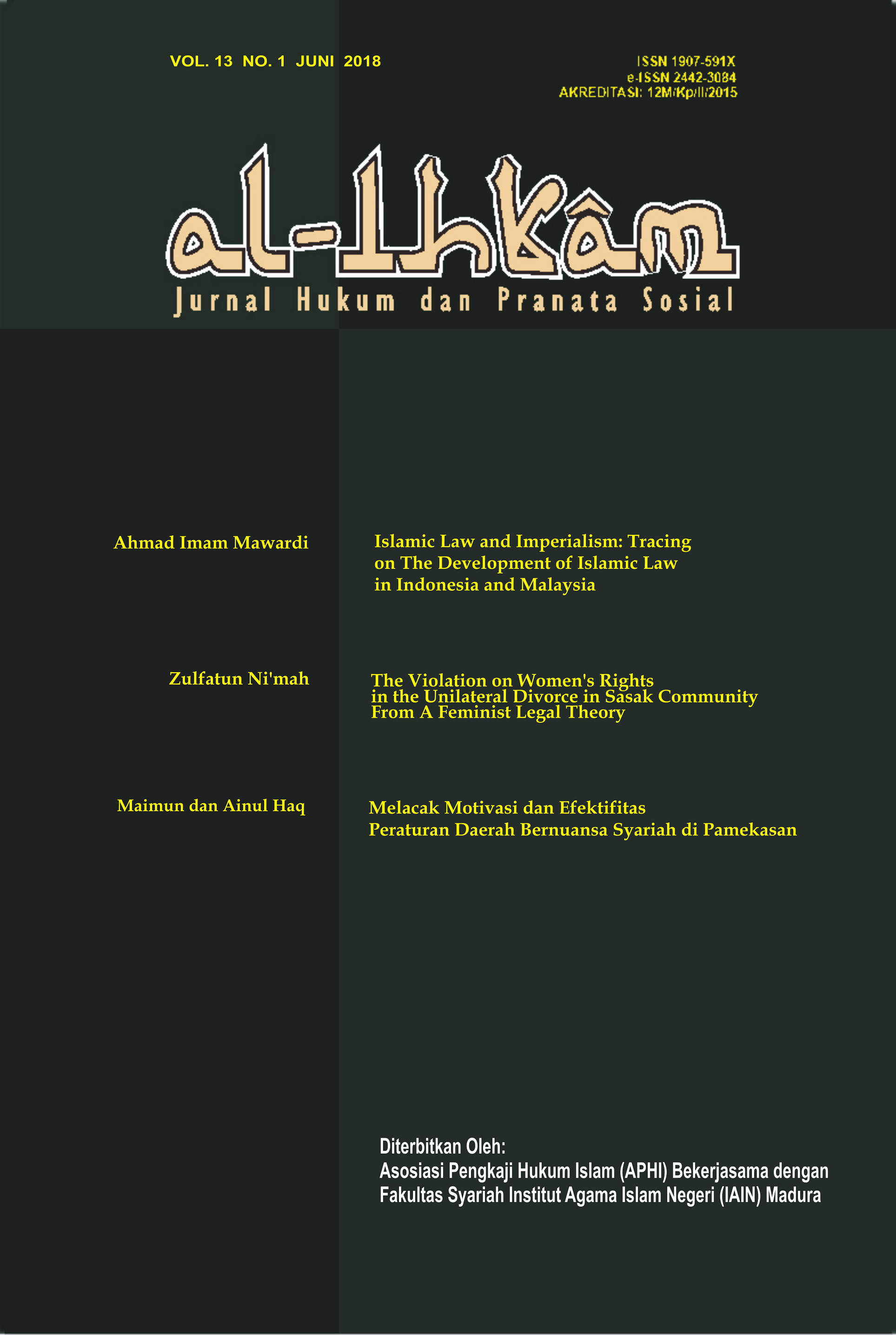 Publishing your paper with Al Ihkam (Jurnal Hukum & Pranata Sosial/Journal of Law & Social Studies) means that the author or authors retain the copyright in the paper. Al Ihkam granted an exclusive non commercial reuse license by the author(s), but the author(s) are able to put the paper onto a website, distribute it to colleagues, give it to students, use it in your thesis etc, so long as the use is not directed at commercial advantage or toward private monetary gain. The author(s) can reuse the figures and tables and other information contained in their paper published by Al Ihkam in future papers or work without having to ask anyone for permission, provided that the figures, tables or other information that is included in the new paper or work properly references the published paper as the source of the figures, tables or other information, and the new paper or work is not direct at private monetary gain or commercial advantage.
Al Ihkam journal (Journal of Law & Social Studies) provides immediate open access to its content on the principle that making research freely available to the public supports a greater global exchange of knowledge. This journal is licensed under a Creative Commons Attribution-ShareAlike 4.0 International License.This license lets others remix, tweak, and build upon your work non-commercially, and although their new works must also acknowledge & be non-commercial, they don't have to license their derivative works on the same terms.

Al Ihkam journal Open Access articles are distributed under this Creative Commons Attribution-ShareAlike 4.0 International License (CC BY-SA). Articles can be read and shared for noncommercial purposes under the following conditions:
BY: Attribution must be given to the original source (Attribution)
NC: Works may not be used for commercial purposes (Noncommercial)