Genealogi Studi Hukum Islam di Perguruan Tinggi Keagamaan Islam Indonesia
Wildani Hefni

Institut Agama Islam Negeri (IAIN) Jember
Abstract views:
482
,
PDF (Bahasa Indonesia) downloads:
487
Abstract
Genealogi studi hukum Islam di lingkungan Perguruan Tinggi Keagamaan Islam berlangsung dinamis dan transformatif. Pembentukan genealogi tersebut tidak bisa dilepaskan dari jaringan keilmuan yang terbentuk sejak berdirinya Perguruan Tinggi Keagamaan Islam. Jaringan keilmuan yang telah terbentuk kemudian memunculkan dua tipologi studi hukum Islam di lingkungan Perguruan Tinggi Keagamaan Islam yaitu kontekstualisasi mazhabi dan rekonstruksi interpretatif. Genealogi ini berjalan dalam jejaring genealogis yang cair tanpa sekat sistem atau batasan formal-struktural dengan menggunakan pendekatan keilmuan sosial. Temuan ini menunjukkan bahwa hukum Islam tumbuh menyatu dengan realitas kehidupan masyarakat yang beragam sehingga diskursus hukum Islam secara dinamis memunculkan nuansa dan perspektif baru yang secara nasab merupakan anotasi dari karya lama dan tumbuh dalam kerangka keragaman, dinamis dan perubahan. (Genealogy of Islamic law studies among Islamic universities has become dynamic and transformative. The genealogy has been transformed since the scientific networks existed in state of Islamic university. These networks eventually form two typologies of Islamic law studies which are reconstruction of mazhab and interpretative reconstruction. The genealogical process exists without formal and structural borders while using interdisciplinary approach from social science. It proves that Islamic law has exprienced a dynamic process which is indicated by new perspectives, that rooted from old approaches and develops in the frame of three principles which are diversity, change and continuity)
Downloads
Download data is not yet available.
References
Abdullah, M. Amin, "Bangunan Baru Epistemologi Keilmuan Studi Ilmu Hukum Islam dalam Merespon Globalisasi" dalam Jurnal Asy-Syir'ah: Jurnal Ilmu Syariah dan Hukum, Vol. 46 No II, Juli-Desember 2012.
Azizy, A. Qodri, Eklektisisme Hukum Nasional: Kompetisi antara Hukum Islam dan Hukum Umum. Yogyakarta: Gama Media, 2002.
_____, Pengembangan Ilmu-Ilmu Keislaman, Semarang: Aneka Ilmu, 2004.
_____, Reformasi Bermazhab: Sebuah Ikhtiar Menuju Ijtihad Saintifik-Modern. Jakarta: Teraju, 2003.
Azhar Basyir, Ahmad. "Corak Lokal dalam Hukum Positif Islam di Indonesia: Sebuah Tinjauan Filosofis", dalam Mimbar Hukum, No. 13, 1994.
Fadhil Lubis, Nur. Hukum Islam dalam Kerangka Teoritis Fiqh dan Tata Hukum Indonesia. Medan: Pustaka Widyasarana, 1995.
______,. "Islamic Legal Literature and Substantive Law in Indonesia" Studia Islamika, Indonesian Journal for Islamic Studies, Volume 4, No. 4, 1997.
Fuad, Mahsun. Hukum Islam Indonesia, Dari Nalar Partisipatoris Hingga Emansipatoris. Yogyakarta: LKiS, 2013.
Foucault, Michel. "Genealogy and Social Criticism" dalam The Postmodern Turn: New Perspectives on Social Theory, S Seidman (Eds). Cambridge: Cambridge Universiy Press, 1994.
_______. "Nietzche, Genealogy, History", dalam From Modernism to Postmodernism: An Anthology, L. Cahoone (Eds). Cambridge: Blackwell Publisher, 1996.
Hasan, Noorhaidi, "Meretas Involusi Kajian Hukum Islam di Indonesia: Pengalaman Fakultas Syariah dan Hukum UIN Sunan Kalijaga Yogyakarta", Asy-Syir'ah: Jurnal Ilmu Syariah dan Hukum, Vol. 46, No. II, Juli-Desember, (2012): 388-398.
Hariyanto, Erie. "Qua Vadis The Quality of Online Scientific Journal Publishing In State Islamic Religious University (PTKIN) " Vol. 4, No. 1 (2016): 15.
Hazairin. Tujuh Serangkai tentang Hukum. Jakarta: Tintamas, 1874.
Hidayat, Komaruddin. Problem dan Prospek IAIN: Antologi Pendidikan Tinggi Islam. Jakarta: Departemen Agama RI, 2000.
Hossen, Ibrahim, "Kerangka Landasan Pemikiran Islam" dalam Mimbar Ulama, No. 91, 1985.
Hossen, Ibrahim. "Fiqih Siyasah dalam Tradisi Pemikiran Islam Klasik" Jurnal Ulumul Qur'an, No. II, 1996.
Kamali, M. Hasyim, "Fiqh Adaptation to Social Reality", dalam The Muslim Word, Vol. XXXXVI, No. 1, 1996
Liebesny, Herbert J. "Stability and Change in Islamic Law," Middle East Journal, Vol. 21, No. 1, 1967.
Mahfudh, Sahal. Nuansa Fiqh Sosial. Yogyakarta: LKiS, 1994.
______, "Ijtihad Sebagai Sebuah Kebutuhan". Majalah Pesantren, No. 2, Vol. II, 1985.
Mastuki. Perguruan Tinggi Agama Islam di Indonesia: Sejarah Pertumbuhan dan Perkembangan. Jakarta: Direktorat Jenderal Kelembagaan Agama Islam, 2003.
Mas'udi, Masdar F. Agama Keadilan: Risalah Zakat (Pajak) dalam Islam. Jakarta: P3M, 1991.
Minhaji, Akh. Islamic Law and Local Tradition: A Socio Historical Approach. Yogyakarta: Kurnia Kalam Semesta Press, 2008.
Moulin, Anne Marie. "How To Write The History of Modern Surgery in The Arab and Muslim World?: Methodological Problems and Epistemological Issues:, Majallehye Tarikh-e 'Elm 5, 1385, (2011).
Mudzhar, M Atho. Pendekatan Studi Islam Dalam Teori dan Praktik. Yogyakarta: Pustaka Pelajar, 2007.
______, "Studi Hukum Islam dengan Pendekatan Sosiologi" dalam Seri Kumpulan Pidato Guru Besar: Rekonstruksi Metodologi Ilmu-Ilmu Keislaman. Yogyakarta: Suka Press, 2003.
______, "Studi Hukum Islam dengan Pendekatan Sosiologi", pidato pengukuhan Guru Besar Madya Ilmu Sosiologi Hukum Islam pada IAIN Sunan Kalijaga Yogykarta, 15 September 1999.
______, "Kajian Ilmu-Ilmu Syariah di Perguruan Tinggi: Sudahkah Merespon Tuntutan Masyarakat?", Asy-Syir'ah: Jurnal Ilmu Syariah dan Hukum, Vol. 46, No. II, Juli-Desember, 2012.
Musahadi, "Islam sebagai Sasaran Studi: Indentifikasi Awal terhadap Problem, Pola, dan Pendekatan Studi Islam di Indonesia", dalam Proceeding ACIS V, (Jakarta: Direktorat Pendidikan Tinggi Islam, 2005.)
Riyanto, Waryani Fajar. Mazhab Sunan Kalijaga: Epistemologi Studi Hukum Islam Integratif. Yogyakarta: Kurnia Kalam Semesta dan Fakultas Syariah UIN Sunan Kalijaga Yogyakarta: 2014.
______,Studi Islam Indonesia 1950-2014: Rekonstruksi Sejarah Perkembangan Studi Islam Integratif di Program Pascasarjanaa Perguruan Tinggi Agama Islam (PTAI). Depok: Kurnia Salam Semesta, 2014.
Sarjan, M Andi. "Hasbi Ash-Shiddiqie wa Tajdid al-Fiqh fi Indunisiya," Studia Islamika, Indonesian Journal for Islamic Studies, Volume 3, No. 3 (1996).
Salahuddin, Marwan. "Model Pengembangan Pendidikan Tinggi Islam di Indonesia," Ulumuna: Jurnal Studi Keislaman, Volume 18, No. 1 (2014).
Wahid, Abdurrahman. "Hukum Islam sebagai Penunjang Pembangunan", dalam Jurnal Prisma, No. 14, Agustus 1975.
Yafie, Ali. Menggagas Fiqih Sosial. Bandung: Mizan, 1994.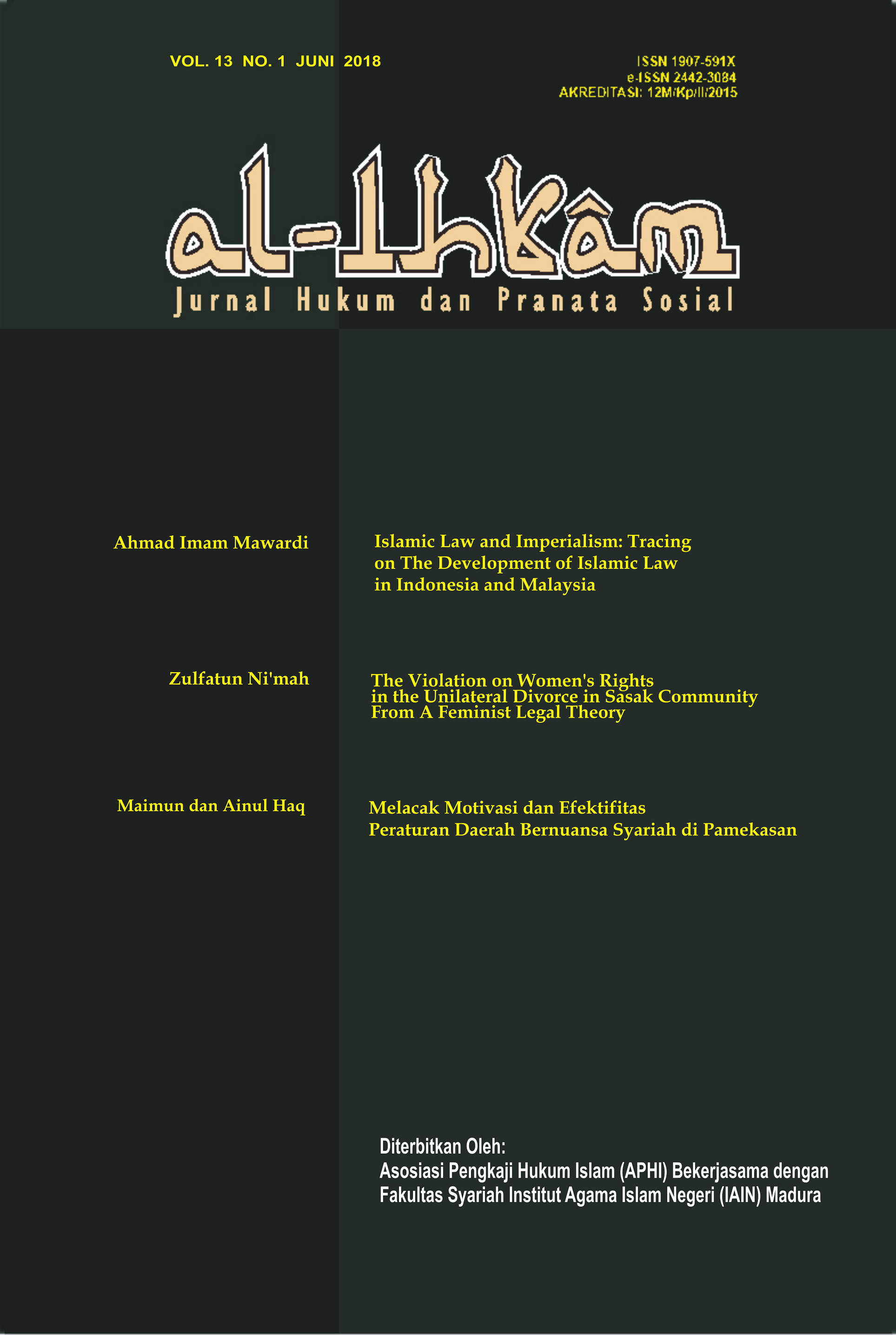 Publishing your paper with Al Ihkam (Jurnal Hukum & Pranata Sosial/Journal of Law & Social Studies) means that the author or authors retain the copyright in the paper. Al Ihkam granted an exclusive non commercial reuse license by the author(s), but the author(s) are able to put the paper onto a website, distribute it to colleagues, give it to students, use it in your thesis etc, so long as the use is not directed at commercial advantage or toward private monetary gain. The author(s) can reuse the figures and tables and other information contained in their paper published by Al Ihkam in future papers or work without having to ask anyone for permission, provided that the figures, tables or other information that is included in the new paper or work properly references the published paper as the source of the figures, tables or other information, and the new paper or work is not direct at private monetary gain or commercial advantage.
Al Ihkam journal (Journal of Law & Social Studies) provides immediate open access to its content on the principle that making research freely available to the public supports a greater global exchange of knowledge. This journal is licensed under a Creative Commons Attribution-ShareAlike 4.0 International License.This license lets others remix, tweak, and build upon your work non-commercially, and although their new works must also acknowledge & be non-commercial, they don't have to license their derivative works on the same terms.

Al Ihkam journal Open Access articles are distributed under this Creative Commons Attribution-ShareAlike 4.0 International License (CC BY-SA). Articles can be read and shared for noncommercial purposes under the following conditions:
BY: Attribution must be given to the original source (Attribution)
NC: Works may not be used for commercial purposes (Noncommercial)