Specific Treatment of Elderly Pilgrims on Hajj According to the Hadith ; The Approach of Mukhtalif Ahadis
Masyithah Mardhatillah

Madura State Institute for Islamic Studies (IAIN)
Abstract views:
297
,
PDF downloads:
155
Keywords:
Elderly Hajj Pilgrims, Hadith, Mukhtalif Ahâdits, Manasik
Abstract
Most of Indonesian hajj pilgrims are elderly due to approximately 23 years waiting period. This paper aims to elaborate specific treatment of elderly pilgrims according to the hadith. Some hadith imply indirect prohibition to perform hajj by themselves while others still  motivate the hajj in a hard condition. Using the approach of mukhtalif ahâdits, this paper seeks to answer three questions. First, how did hadith say about specific treatment of elderly hajj pilgrims. Second, how to deal with two groups of hadith which slightly look different. Third, how is proper contextual interpretation on the hadith in Indonesian contemporary life. The data compilation is through literature reviews and interviews. Then, the two groups of hadith are compromised using a method called al-jam'u wa al-tawfiq. It truns out that the first hadith applies for those who can't really perform the hajj while another is for those with physical problems but could still stand for hajj using some facilities and policies. Those all lead to an inevitable need for a special hajj manasik for elderly so they could perform the hajj with better preparation. (Dengan waktu tunggu keberangkatan kurang lebih 23 tahun, sebagian besar jama'ah haji Indonesia adalah lansia. Penelitian ini mendiskusikan pandangan hadist soal perlakuan khusus terhadap jama'ah lansia. Beberapa hadist menyiratkan imbauan untuk tidak melaksanakan haji secara langsung, sedang beberapa lain tetap memotivasi pelaksanaan haji dalam keadaan sulit sekalipun. Dengan pendekatan mukhtalif ahâdits, penelitian ini fokus menjawab tiga persoalan. Pertama, bagaimana pandangan hadist terhadap jamaah lansia. Kedua, bagaimana mengompromikan dua (kelompok) hadist yang sekilas tampak berbeda. Ketiga, bagaimana interpretasi kontekstual hadist-hadist tersebut dalam konteks Indonesia dewasa ini. Data penelitian didapat melalui penelusuran pustaka dan wawancara. Dua kelompok hadist kemudian dikompromikan dengan metode al-jam'u wa al-tawfiq. Hasilnya menunjukkan bahwa hadist pertama berlaku bagi jama'ah yang benar-benar tidak bisa melaksanakan haji, sedang yang kedua adalah bagi mereka dengan kemampuan fisik yang minim namun masih memanfaatkan fasilitas dan kebijakan yang ada. Dari situ, adanya sebuah manasik (kelas haji) khusus lansia di Indonesia menjadi keniscayaan agar jama'ah lansia dapat semakin maksimal memersiapkan dan melaksanakan haji)
Downloads
Download data is not yet available.
References
A. Alzeer (et al), "Tuberculosis is the Commonest Cause of Pneumonia Requiring Hospitalization During Hajj (Pilgrim to Makkh)," Journal of Infection, Vol. 36, issue 3 (May 1998).
Al Munawar, Said Agil Husin and Abdul Halim. Fikih Haji; Menuntun Jama'ah Mencapai Haji Mabrur. Jakarta: Ciputat Press, 2003.
Al-Adlabi, Shalahuddin bin Ahmad. Menalar Sabda Nabi; Menerapkan Metode Kritik Matan dalam Studi Hadist transl. Ita Qonita. Yogyakarta: Bintang Pustaka Abadi. 2010.
Al-Asqalani, Ahmad Ibnu Ali Ibnu Hajar. Fathul Bari vol. 3. Kairo: Al-Maktabah Al-Tawfiqiyyah, 2008.
Al-Qudhat, Syaraf. 'Ilmu Mukhtalif Ahadis: Ushuluhu wa Qawa'iduhu. Amman: Al-Jami'ah Al-Urduniyah, 2001.
Alzeer, Abdulaziz H. "Respiratory Tract Infection during Hajj", Annals of Thoracic Medicine, Vol. 4 (2) (Apr-Jun 2009).
An-Nawawi, Yahya bin Syarif Abu Zakariyya. Syarh Nawawi 'ala Muslim. sl: Darul Khair, 1996.
Baqi, Muhammad Fu'ad Abdul. Mutiara Hadits Shahih Bukhari-Muslim Al-Lu'lu' wal Marjan transl. Salim Bahreisy. Surabaya: Bina Ilmu, 2005.
Bukhari, Imam. Shahih Bukhari vol. 1. Istanbul: Darul Fikr, s.a.
Elsayed, Khaled Abdelhay and Kamaruzaman Yusoff, "The Implication of Peace Treaties in Disseminating Da'wah Islamiyah (the Islamic Call) among non-Muslims: A Special Reference to Hudaibiya Treaty", Australian Journal of Basic and Applied Science, Vol. 6 (7), (2012).
Ferrari, Silvio and Andrea Benzo (ed), Between Cultural Diversity and Common Heritage: Legal and Religious Perspectives on the Sacred Places of the Mediterranean. London: Routledge, 2014.
Hitti, Phillip K. History of the Arabs. transl. Cecep Lukman Yasin & Dedi Slamet Riyadi. Jakarta: Serambi, 2006.
Ibrahim, Mahmoud (et al), "Recommendations for Management of Diabetes and Its Complications during Hajj (Muslim Pilgrimage)", Clinical Medicine, Vol. 11 (3) (June, 2011).
M. Julius St. Manajemen Perjalanan Haji Reguler. Malang: UB Press. 2011.
Mandourah, Yasser (et al), "Clinical and Temporal Patterns of Severe Pneumonia Causing Critical Illness during Hajj", BMC Infectious Disease, Vol. 12 (117), (2012).
Mandzur, Ibnu. Lisan Al-Arab. Beirut: Dar Shadr, s.a.
Porter, Venetia and Liana Saif. The Hajj: Collected Essays. Hockley: British Museum, 2013.
Rashid, Harunor (et al), "The Potential for Pneumococcal Vaccination in Hajj Pilgrims: Expert Opinion" Travel Medicine and Infectious Disease, vol. 11 (5) (June 2013).
Safri, Edi. "Al-Imam Al-Syafi'i; Metode Penyelesaian Hadist-Hadist Mukhtalif", dissertation, IAIN Jakarta, 1990.
Shari'ati, Ali. Hajj; The Pilgrimage. s.l: Free Islamic Literature, 1980.
Shihab, M. Quraish. Membaca Sirah Nabi Muhammad SAW dalam Sorotan Al-Qur'an dan Hadist-hadist Shahih. Jakarta: Lentera Hati, 2012.
Solikhin, Muhammad. Keajaiban Haji dan Umrah; Mengungkap Kedahsyatan Pesona Ka'bah dan Tanah Suci. Jakarta: Erlangga, 2013.
Syafi'ie, Imam. Al-Risalah. Beirut: Dar al-Kutub al-Ilmiyyah. s.a
Tariq A. Madani (et al), "Causes of Hospitalization of Pilgrims during the Hajj Period of the Islamic Year 1423 (2003)," in Ann Saudi Med, Vol. 26(5), (September-October 2006).
Thabrani, Akhmad Siddiq. Di Tengah Pusaran Ka'bah; Sejarah, Keajaiban, Mitos dan Mistik. Depok: Keira Publishing, 2014.
Tirmdzi, Imam. Al-Jami' Al-Sahih Sunan Tirmidzi vol. 3. Lebanon: Dar Kutub Al-Ilmiyyah. 2011.
Wahyudi, Arif. "Kontroversi Hadist-hadist Menangisi Mayit," Al-Ihkam, vol 9, numb. 1 (June, 2014).
Internet Websites
Diaz, "Musim Haji 2016 Kemenag akan Uji Cob Gelang GPS", https://haji.kemenag.go.id/v3/content/musim-haji-2016-kemenag-akan-uji-coba-gelang-gps (Accessed on August 18, 2018).
http://hadithportal.com/hadith-sharh-928-21662&book=3
http://library.islamweb.net/newlibrary/display_book.php?idfrom=3937&idto=3939&bk_no=53&ID=586
Redaksi, "60 Jama'ah Haji Indonesia 2018 Didominasi Lansia", in "https://haji.okezone.com/read/2018/04/25/398/1891271/60-jamaah-haji-indonesia-2018-didominasi-lansia.
Redaksi, "Kemenag Yogyakarta Siap Buka Kelas Bimbel Manasik Berbasis Lansia dan Disabilitas", in https://haji.kemenag.go.id/v3/content/kemenag-yogyakarta-siap-buka-kelas-bimbel-manasik-berbasis-lansia-dan-disabilitas
Redaksi, "Pemerintah Pertimbangkan Rancangan Kloter Khusus Lansia", https://haji.kemenag.go.id/v3/node/1082
Redaksi, "Pertanyaan yang Paling Sering Ditanyakan," in https://haji.kemenag.go.id/v3/ragam/faq-haji?body_value=&page=1
Redaksi, "PPIH Siapkan Transportasi Khusus Jemaah Haji", in https://haji.kemenag.go.id/v3/content/ppih-siapkan-transportasi-khusus-jemaah-haji-lansia.
Redaksi, "Tawaf Jamaah Pakai Kursi Roda Dijadwalkan Malam Hari," in https://haji.kemenag.go.id/v3/node/1399 .
Subarkah, Muhammad. "Layanan Kursi Roda bagi Jama'ah Haji Disiapkan", in https://www.republika.co.id/berita/jurnal-haji/berita-jurnal-haji/18/06/08/pa0jm5385-layanan-kursi-roda-bagi-jamaah-haji-disiapkan
Interview
Interview with Mr. Halik Yadi, an experienced guide who served as an officer of TPHI (Tim Pemandu Haji Indonesia, Indonesian Hajj Guide Team) at 1998 and 2006 and the chief of pilgrim group or as know as ketua rombongan at 2016. The interview in his office at IAIN Madura, August 05, 2018.
Interview with Mr. Afandi, the former chair division of hajj, The Ministry of Religious Affair, Pamekasan district, in his office, Jl. Brawijaya, Pamekasan, on August 27, 2018, 15.00-16.00.
Interview with Ayis Mukholik, a member of non-flight team of Indonesian hajj 2018 via WhatsApp messenger, May 29, 2019.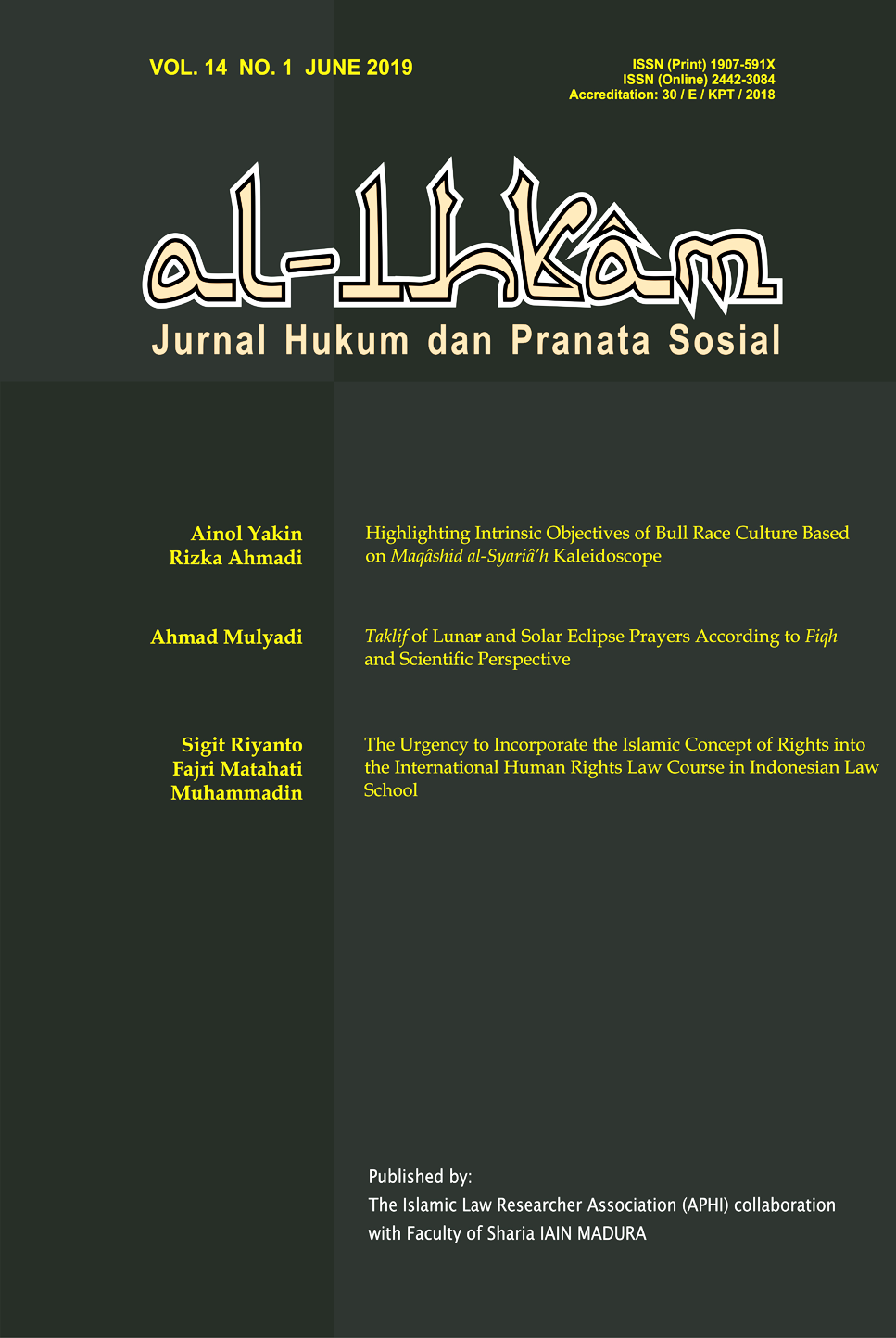 Publishing your paper with Al Ihkam (Jurnal Hukum & Pranata Sosial/Journal of Law & Social Studies) means that the author or authors retain the copyright in the paper. Al Ihkam granted an exclusive non commercial reuse license by the author(s), but the author(s) are able to put the paper onto a website, distribute it to colleagues, give it to students, use it in your thesis etc, so long as the use is not directed at commercial advantage or toward private monetary gain. The author(s) can reuse the figures and tables and other information contained in their paper published by Al Ihkam in future papers or work without having to ask anyone for permission, provided that the figures, tables or other information that is included in the new paper or work properly references the published paper as the source of the figures, tables or other information, and the new paper or work is not direct at private monetary gain or commercial advantage.
Al Ihkam journal (Journal of Law & Social Studies) provides immediate open access to its content on the principle that making research freely available to the public supports a greater global exchange of knowledge. This journal is licensed under a Creative Commons Attribution-ShareAlike 4.0 International License.This license lets others remix, tweak, and build upon your work non-commercially, and although their new works must also acknowledge & be non-commercial, they don't have to license their derivative works on the same terms.

Al Ihkam journal Open Access articles are distributed under this Creative Commons Attribution-ShareAlike 4.0 International License (CC BY-SA). Articles can be read and shared for noncommercial purposes under the following conditions:
BY: Attribution must be given to the original source (Attribution)
NC: Works may not be used for commercial purposes (Noncommercial)